Last year Xiaomi made its "Redmi" as a sub-brand of them and came with several smartphones, including flagship ones. Instead of the regular "Mi" branding, those devices came with "Redmi" branding. The Redmi K20 Pro was the first flagship from this sub-brand. And on March 24, the brand announced its successor, the Redmi K30 Pro. This is the cheapest smartphone with the Qualcomm Snapdragon 865 SoC. Few of you who bought this device have reported WiFi problems with Redmi K30 Pro. Well, let's learn how we can fix this issue.
Why WiFi problems is a huge issue is because we as a people have become addicted to our smartphones and since we are glued to the phone connected either to the mobile data which is expensive or WiFi which is inexpensive and fast, problems that result in a disruption in using the internet is a massive issue. You won't be able to access Instagram, or the WiFi connection will be too weak to load all the photos, send messages on Facebook and WhatsApp, or upload a cute GIF or send an email, etc. After noting down most of the WiFi problems ranging from disconnecting issues, slow internet, not connecting issues, I have devised an explicit guide on Redmi K30 Pro WiFi Problems and Fixes that you must go through.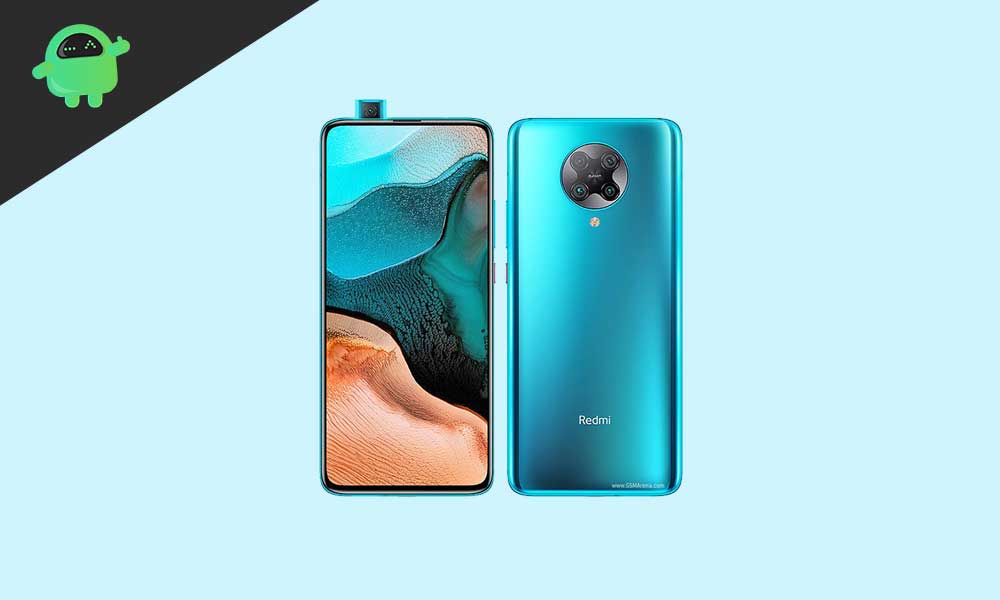 Xiaomi Redmi K30 Pro Device Overview
The Redmi K30 Pro 5G features a 6.67 inches Super AMOLED display with a Full HD+ resolution. That said, it has a resolution of 1080 x 2400 pixels, an aspect ratio of 20:9, a screen to body ratio of 87.2 percent, a pixel density of 395 PPI, it can blow up to 500 nits, DCI-P3 100%, HDR 10+. The device pairs with an in-display fingerprint scanner, get protected under the Corning Gorilla Glass 5. Coming to the internals, the Redmi K30 Pro sports the latest Qualcomm Snapdragon 865 SoC. It also pairs with Snapdragon X55 modem and is built on the 7nm process.
This octa-core setup in the SoC includes a single Kryo 585 core, which clocks at a higher speed i.e., at 2.84 GHz, other three Kryo 585 cores which clock at 2.42 GHz. And finally, four Kryo 585 core, which clocks at 1.80 GHz. To the GPU side, it has the Adreno 650, which clocks at 587 MHz. The device runs on the latest MiUi 11 based on the Android 10. Coming to the memory side, it is available in two RAM variants i.e., in the 6GB and 8GB RAM variants. Further, it is available in the 128GB and 256GB Internal storage variants. The 6GB + 128GB variant uses the UFS 3.0 tech. While all other variants come with UFS 3.1 tech. There is no option for expanding the storage via a micro SD card.
Coming to the optics, the Redmi K30 Pro sports a quad rear camera setup arranged in a circular shape. This setup includes a primary 64MP Sony IMX 686 sensor with PDAF. It pairs with a 5MP telephoto macro sensor with support for AF. As a tertiary sensor, it pairs with 13MP ultra-wide sensor, and finally, a 2MP depth sensor. This rear camera setup can shoot videos up to 8K resolution in 24 or 30fps. Just like its predecessor, the Redmi K20 Pro, this also sports a motorized pop-up unit. That said, this unit includes a 20MP sensor with support for HDR photos. It can shoot videos up to 1080 @ 30fps.
The Redmi K30 Pro packs a 4,700 mAh battery, which charges via the USB type c and supports 33W fast charging tech. The brand claims that it can charge up to 100% in 63 minutes. The device supports dual 5G connectivity on-board. Connectivity options on the Redmi K30 Pro include Wi-Fi 802.11 a/b/g, GPS, Bluetooth v5.10, NFC, USB Type-C, 3G, and 4G (with support for Band 40 used by some LTE networks in India) with active 4G on both SIM cards. Sensors on the phone include accelerometer, ambient light sensor, compass/ magnetometer, gyroscope, and proximity sensor. Apart from the in-display fingerprint scanner, it also supports for face unlock. Coming to the dimensions, it measures about 163.30 x 75.40 x 8.90mm (height x width x thickness) and weighs about 218.00 grams. It is available in four color options, namely the Moonlight White, Sky Blue, Star Ring Purple, and Space Gray colors.
Quick Troubleshoot to fix WiFi issue
Did you try connecting to the WiFi? It is either straightaway connected and working properly, in which case, here are some negative outcomes. It could be anything from unable to connect to the said WiFi, your Redmi K30 Pro is unable to find the WiFi network, you connected to the WiFi but the internet isn't working, the WiFi signal is low or the internet is slow, or it could be that WiFi is disconnecting itself over and over again. These are just a handful of the WiFi problems that people encounter usually although there are many issues that we will tackle here in this extract. Before commencing with it, here's are a few generic WiFi problems and fixes that must work well.
Verify if it's an intermediate issue
Before proceeding further, if you are connected to a WiFi network and the internet is not working, check if there's an intermittent issue with the ISP or not. If it is, no matter what method you follow from the given explicit guide below, it won't work since the problem is merely on the ISP's end and not yours. Call the ISP, ask them to troubleshoot or ask for a technician to get the problem fixed.
Restart the phone
One of the most jiffies methods to fix WiFi problems on any smartphone is to restart it. It takes just a minute or slightly more but it has key benefits such as all the hoarded resources are gone and the system is free of any apps and services active in the background. In fact, restarting the phone has many applications similar to WiFi problems and thus, it is here in the first position.
Toggle WiFi
If the phone isn't detecting the WiFi network or it isn't connecting to it, toggle the WiFi switch simply by dragging down the notification panel and check if it makes any difference. I would suggest toggling the switch several times so that whatever problem the system encountered when you tried to connect to a WiFi network is fixed.
Toggle the Airplane Mode
In case toggling WiFi doesn't work out, try toggling the Airplane mode and that must do the job. Simply drag the notification panel, tap on airplane mode icon to activate it. Tap on it again to deactivate it. Repeat several times in order to boost the phone to start working with WiFi right away or you could move to the next method listed here.
Clear cache memory from your device
Cache memory builds up every day on your phone as you go on accessing apps, playing games, watching videos, listening to your songs, or working on an app, etc. The cache memory actually helps the phone by speeding up the retrieval process and reduces the overheads, however, cache memory is susceptible to getting corrupted easily. In fact, these cache memory accumulates too much that it will reduce the performance of the system considerably. It could cause any functionality such as WiFi as we are talking about it right here. Therefore, it is recommended to get rid of cache memory almost every day or two and here's how you can do it.
App Cache: To clear app cache, go to Settings → Apps → Downloaded → Tap on an app individually → Tap on 'Clear Cache' & 'Clear Data' → Repeat the procedure for other apps.
Storage Cache: Open the Settings app on your phone and go to Storage>> Cache Memory. Tap on it to receive a prompt to delete it.
Cache Partition: This method requires users to log in to the recovery mode as you could follow in the 'Reset the phone' method listed below. You need to tap on 'wipe cache partition' to conclude the method.
Obstructions & distance do matter
These are two of the most prevalent reasons why you could be encountering WiFi problems on your phone. Either the phone is away from the router or modem that the signal is too weak or the internet is slow or the distance could be little but there are obstructions. Note that doors, walls, and even someone standing next to the router can seriously issue with the signal that your phone intercepts which are why reducing the obstructions are highly recommended. For this, you need to position the router higher from the ground and in such a way that it broadcasts signals to everywhere you want it to work well.
Reset the phone
Note that this isn't much of an ultimate step as you would lose all your data in this process if you haven't obtained a backup beforehand. Resetting the device is also known as the mother of all fixes which means the Redmi K30 Pro WiFi problems that we are discussing here will probably go subjected to the fact that it must be a software issue if the user does a factory reset. Here's how you can do it about.
Step 01: Turn off the phone.
Step 02: Press Power + Volume Up buttons together and hold it until step 03.
Step 03: When Mi logo pops up on the screen, let go the Power button only.
Step 04: You can release the volume up button when the recovery mode screen pops up.
Step 05: Select 'Wipe Data >> Wipe All Data' using the power button to confirm, volume buttons to navigate.
Step 06: Confirm the following, and the phone must reset itself.
Redmi K30 Pro WiFi Problems and Fixes
Problem #1: No connection to the WiFi
Consider that you are trying to connect the phone to the WiFi. However, you see that the phone is unable to detect your WiFi network. On the other hand, you may be unable to connect to a WiFi network even after trying several times. What do you do?
Fixes
#1: You can try rebooting the device. Doing so must help detect the WiFi network and connect to it right away.
#2: If the first method doesn't work, try deleting the WiFi network in question and wait for a minute. Next, tap on the network, insert the password, and try connecting to it again.
#3: If rebooting the device didn't work in your favor, try resetting the router for a change. Doing so is recommended since the router could have overworked, thus leading to problems like slow internet speeds or inability to connect to a network, etc. Turn off the router and wait for 30 seconds before restarting it and check out if it worked or not.
Problem #2: No Internet connection after connecting to the WiFi
This problem is common wherein you connected to a WiFI network but unable to access the internet. Well, if you are using a laptop or desktop, you can detect if the internet is working or not by merely checking out the 'Limited' status under the WiFi network. When it comes to smartphones like Xiaomi Redmi K30 Pro, an exclamation mark on the WiFi icon on the status bar must give a hint about it.
Fixes
#1: The first thing you should do in such cases is to check for common issues. Hit up the ISP and get the diagnosis done to reveal if the problem in on their ends or yours.
#2: Routers tend to stay active for hours and even days without relaxing a bit. This can cause the system to suffer from overwork or overload, which is where it tends to disconnects the internet temporarily. The fix to the problem is to turn off the router, tap on the reset button, and wait for a minute or two before restarting it. This must resolve the issue at this moment.
Problem #3: WiFi connection keeps dropping off
Now, this is also a common issue where the phone is connected to the WiFi network. However, it drops the connection abruptly. Swinging the phone a bit grabs the connection again, and it keeps on wobbling, and this could drive you crazy if you are in the middle of watching a movie or doing something that requires constant internet access. Well, here's what you are going to do.
Fixes
#1: Check if there's any other device such as home appliances with microwaves causing the interference. If so, turn them off and check if the WiFi drops or not.
#2: The neighbor's router signals may be causing your router to wobble a bit. If that is so, try upgrading the firmware of your router. Reset the router and start again. You can also tweak the channel i.e., from 2.4GHz to 5GHz if your router supports it where the latter is more spacious, and you won't ever end up getting entangled in constant signal drops from your router ever again.
Problem #4: The WiFi signal is weak
Another common issue with WiFi on Redmi K30 Pro is that the WiFi signal is weak. It could occur due to a number of reasons and here's what you can do to fix it up.
Fixes
#1: Consider this. Your router is placed in such a way that there are too many walls between the router and the place where you are using the phone or computer. Walls can interfere with the signal and so are other any obstacles which are why you need to get rid of these interfering articles away by adjusting the router accordingly.
#2: If adjusting the position of the router isn't an option, try lifting the router to a comparatively higher location i.e. if it was 2-feet above the floor, try lifting it up to 4-feet or more. This will magnify its signals as well. Furthermore, try alternating the antennas if you have two or more antennas on the router. This will ensure that the router broadcasts signals to a wider range than usual, and thus, it must resolve the weak WiFi issue.
#3: You can buy WiFi range extenders, which are external devices that you can affix at a specific location from the router where it will broadcast signals to a broader area without losing the signal strength.
Problem #5: Slow Internet speeds
If you are facing slow internet speeds on your Redmi K30 Pro, here are a few common fixes that you can try.
Fixes
#1: Adjust the antennas or relocate the router to get higher signal strength.
#2: Check the internet speeds on to know if you are getting the speed that you paid for or call ISP for the diagnosis and redressal of the issue.
#3: Download third-party app like the 'WiFi Analyzer' app to detect the strength of signal across the house and use the phone in the sweet spots accordingly.
#4: Upgrade to a powerful router, and that must fix the problem away.
Seek Help!
I prescribed tens of methods to fix WiFi problems on Redmi K30 Pro, but what if the problem is related to the hardware of your device? Well, if that's the case, you need to take help from Xiaomi's authorized service center to get it fixed.