There has never been a shortage of communication apps. At any given time in the period between the reign of feature phones and now when smartphones are in major use globally, there has always been at least two to three apps that can be used to effectively send messages back and forth between our mobile devices, either as instant messaging or in advanced forms like video chat and video conferencing.
However, in times like these when the use of applications for video conferencing has exploded due to the global situation which has forced many to stay at home and caused companies and corporate teams to pivot to remote work, it's very important to pick the right tool to ensure a smooth workflow and exchange of information over the internet. In this article, we compare three of the most popular video-conferencing apps; Zoom, Microsoft Teams, and Google Meet.
Two of these tools – Microsoft Teams and Google Meet – are from large tech corporations that have built an ecosystem of products around their offerings and consumers' lifestyles over the years, while Zoom is a company that started purely on the basis of providing video communication capabilities to the end-users. Hence, they all have quite different offerings, and the performance you get depends on how you intend to use them.
With that in mind, there are still some similarities among them, and a comprehensive exposition of the similarities and the differences between these video-conferencing apps is essential in choosing which one(s) to use. By the time you finish reading this article, you should have all the information you need to make that decision on which video conferencing app is best for your needs.
I'll start by outlining the major individual offerings of the three apps, and then go on to compare them based on several criteria that are important to all categories of users involved with video-conferencing.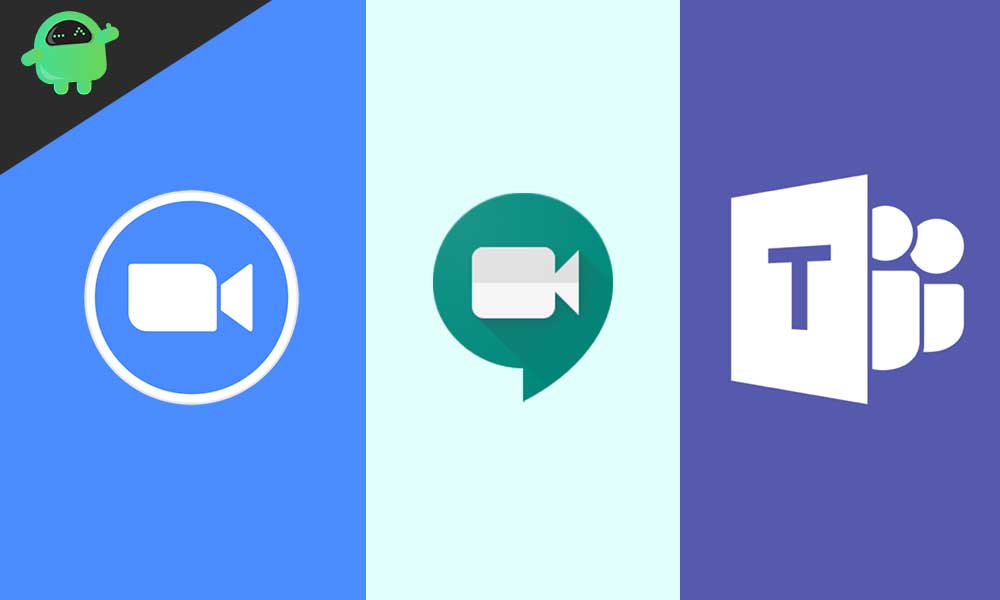 Zoom vs. Microsoft Teams vs. Google Meet: Individual Offerings Breakdown
Zoom
Zoom is the most beloved of the three apps compared here, and it's the only one not tied to a larger product offering like G Suite and Microsoft 365. Communication over video – video conferencing and video chats – has been the main focus of Zoom since day 1, and this maintenance of direction is the reason for its massive popularity and relevance today.
The most impressive thing about Zoom is that it doesn't try to do too much, and the things it claims to do are done very well. That doesn't mean, however, that there is a shortage of features on Zoom.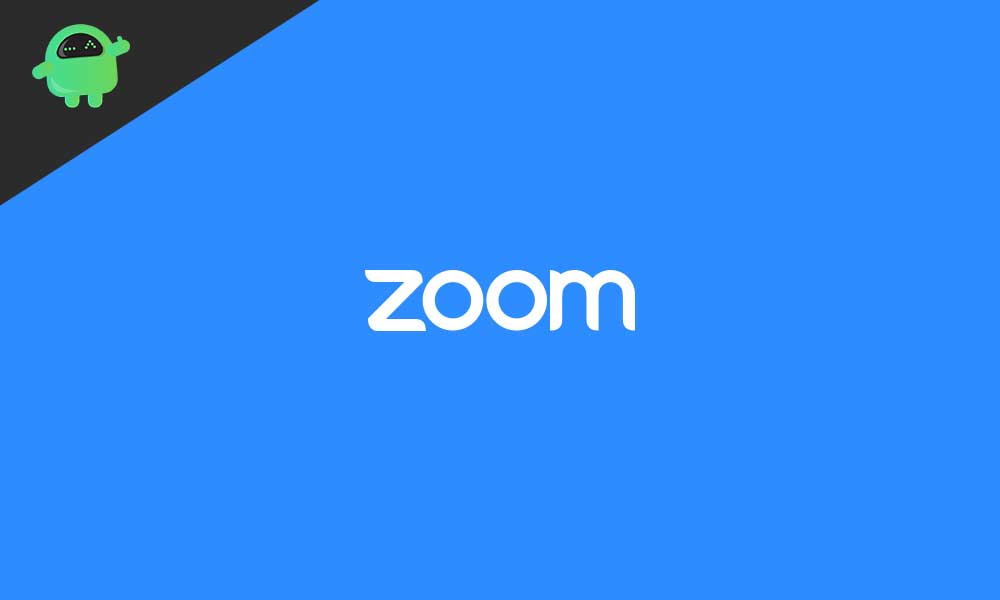 Zoom Offerings
Available on Web, Android, iOS, Windows, Mac, Linux & Blackberry.
HD Audio & Video capabilities.
Collaboration tools like simultaneous screen-sharing, co-annotations, whiteboards, and remote control.
Ability to also communicate via chat.
Advanced settings like custom virtual backgrounds & end-to-end encryption.
Free account plan available.
Four types of account plans with affordable pricing across-board.
Microsoft Teams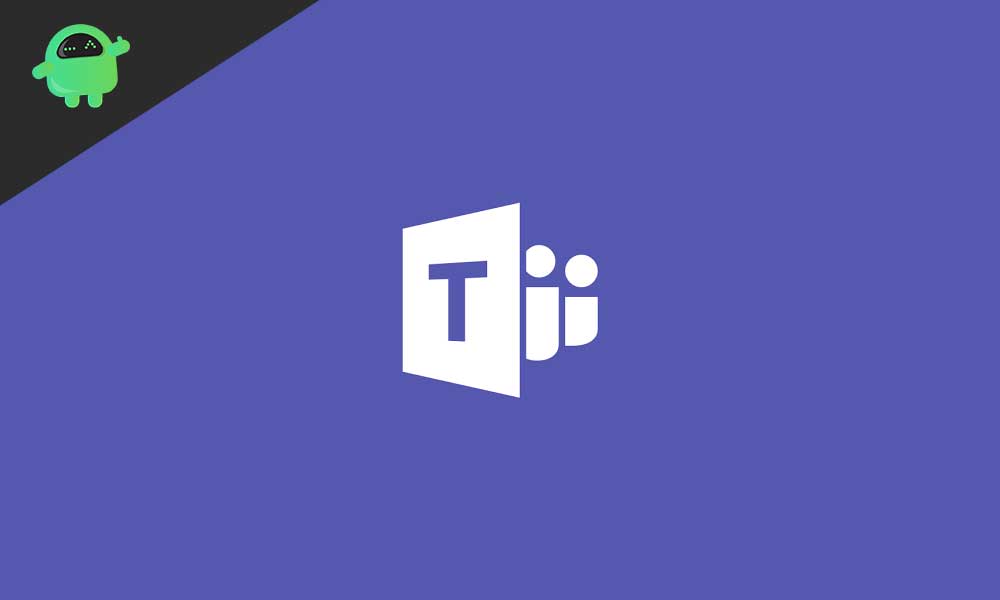 This might actually get confusing to some as Microsoft already owns Skype, but Microsoft Teams has been around for quite a while now, and while Skype is the company's offering for more personal chats and video calls, Teams is Microsoft's expansive communication and messaging solution for workplaces, corporate teams, and businesses.
With full integration with other Microsoft services in the Microsoft 365 package, Microsoft Teams is much more than just a video conferencing solution, and while that might be suitable for large businesses and teams that host webinars and large meetings over the web, it might be quite cumbersome for individual and small groups of users who just want to have a chat with friends, family, and co-workers over video.
Microsoft Teams Offerings
Inline audio transcription.
Full integration with Microsoft Office 365.
Ability to add bots for advanced features.
Instant messaging for individuals and groups.
Live broadcasts with up to 10,000 attendees.
Collaboration tools, screen-sharing, file-sharing.
Automatic captioning.
Available from all devices.
Google Meet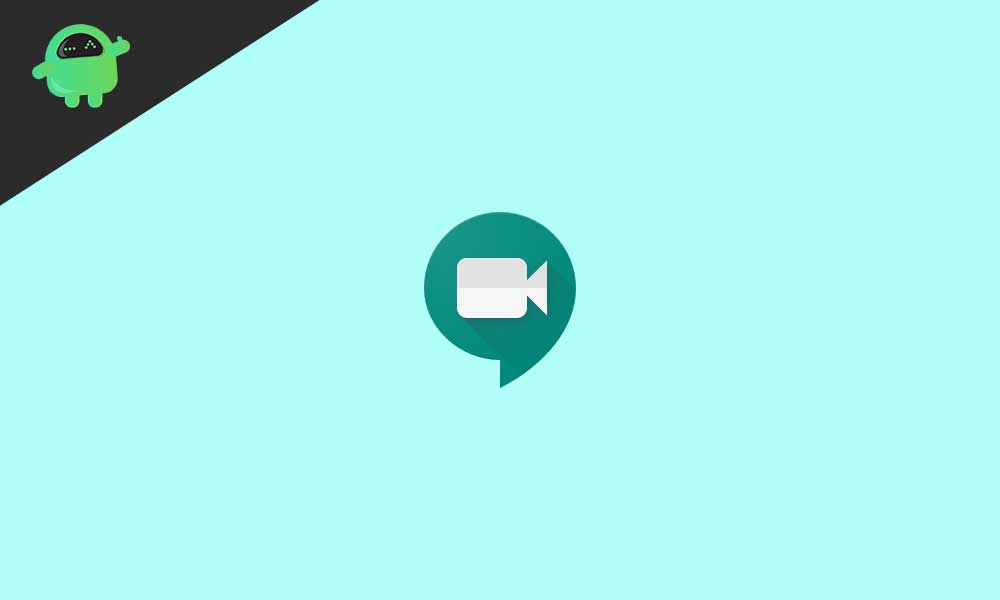 Google Meet, also known as Google Hangouts Meet, is an extra layer over the established Google Hangouts application, Google's major offering for communication and messaging. To avoid confusion, Google Meet is the business-oriented version of Google Hangouts, with additional features like phone call-ins and collaboration tools.
The beauty of Google Meet is in its simplicity; even though it has full integration with Google apps and services available on the G Suite platform, its interface is not overloaded and the app isn't cumbersome to use. It even has extra optimizations for low network speeds, allowing people with poor internet connections go through a meeting successfully. Additionally, most, if not all of its app features are available over the web, meaning you don't have to install extra software to enjoy its full capabilities.
Google Meet Offerings
Full integration with Google Apps & Services/G Suite.
Real-time captioning for audio and video chats.
Available on Android, iOS and Web.
Host up to 250 attendees (free till September 2020).
Free call-ins from mobile numbers.
Collaboration with screen-sharing, file-sharing.
Zoom vs. Microsoft Teams vs. Google Meet: Comparison Breakdown
User Experience/Ease of Use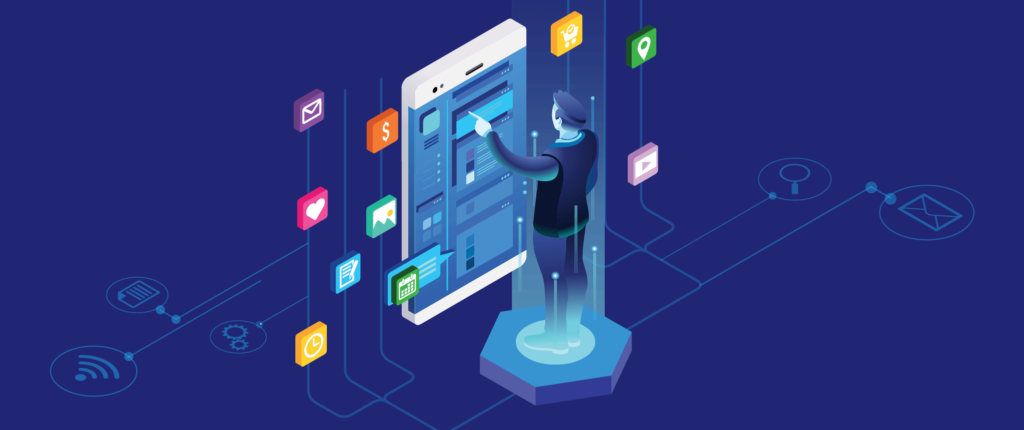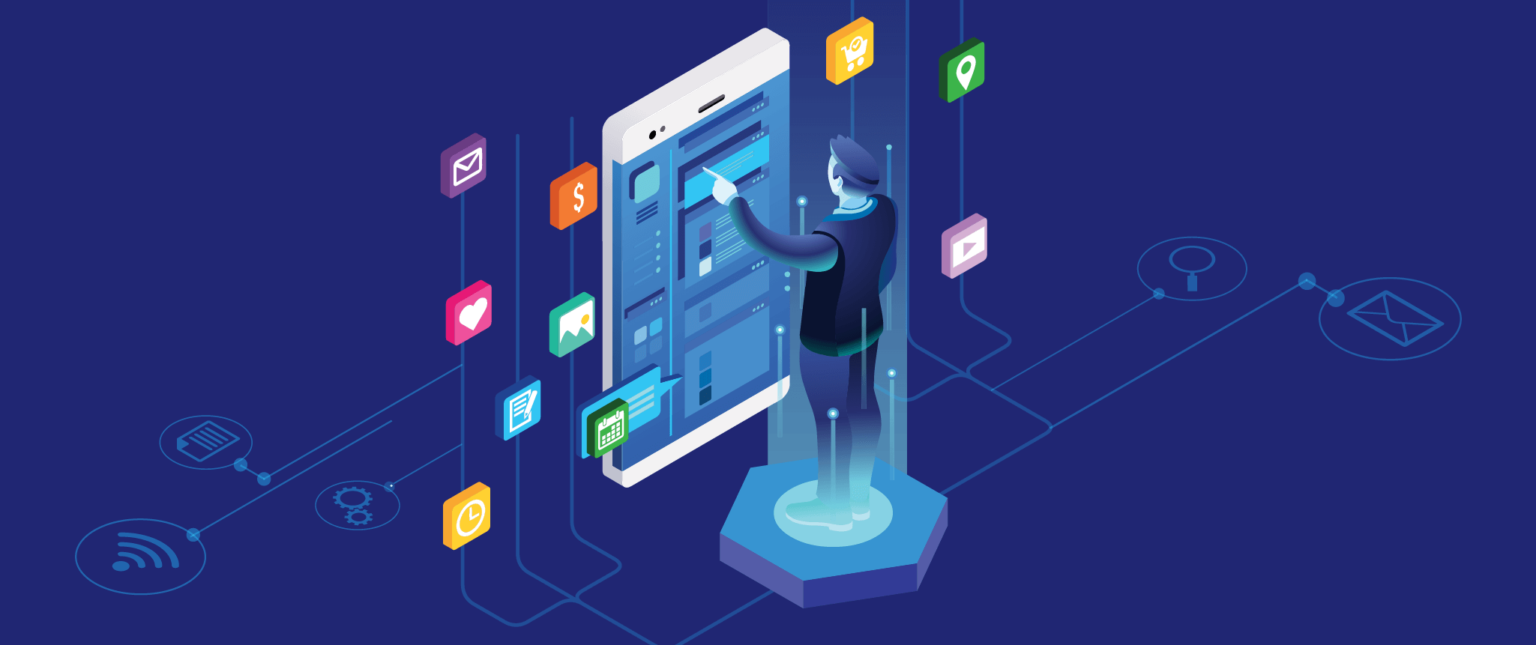 This is one of the most important parts of a product, as products with numerous features would make little impact if users are not able to discover or use these features due to terrible user experience. Google Meet has the simplest interface and ease of setup, and the ability to call in with mobile numbers for free gives it an edge over Zoom which has a similar offering, but requires a monthly fee for it. As noted earlier, Microsoft Teams is made up of much more than video communication tools, and has a user interface many people would find cumbersome. However, the fact remains that once you complete the setup for these three tools and use them a couple of times, future experiences would be better.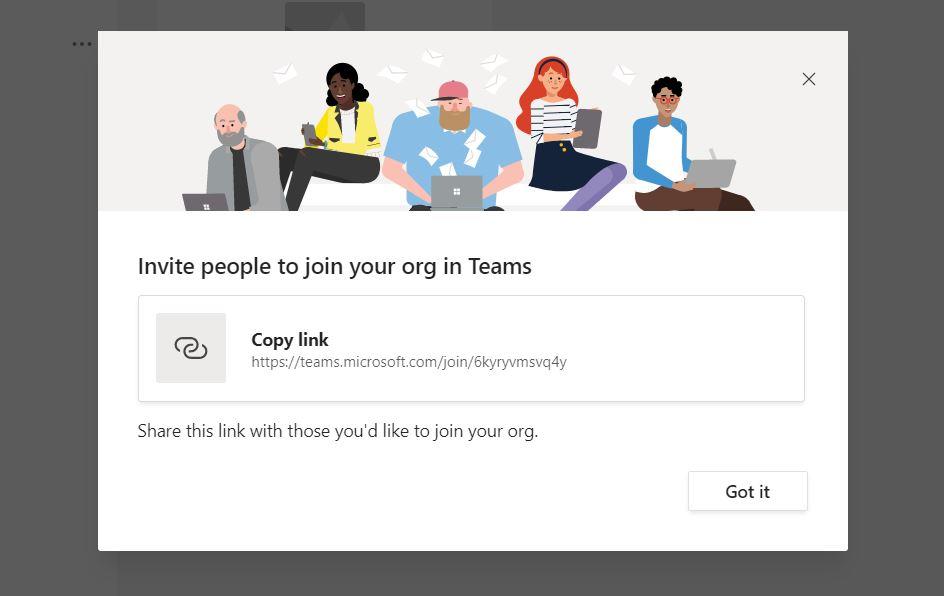 To wrap this point up, Zoom offers the best user experience, and is well suited for both individual/small meetings and large webinars/group meetings. First-time users find both Google Meet and Zoom easy to get adjusted to, while Microsoft Teams plays well with those already accustomed to corporate tools such as Slack.
Features
As can be seen from the offerings listed above for each app, there are multiple features to be utilized on all platforms. It then becomes a question of what scenarios and use cases these features are applicable to. The suite of collaboration tools offered by Zoom, which includes whiteboarding, screen-sharing, remote control and two-way annotations, makes it suitable for teaching online classes and hosting meetings where a lot of interactions have to happen between users, asides video communication. Google Meet's smaller set of collaboration tools limits it to occasional use in such situations, while the inclusion of robust solutions for instant messaging, live broadcasts, etc. on Microsoft Teams adheres it to more corporate settings.
Security & Privacy
With more people turning to these video conferencing apps for WFH (work from home) purposes, the importance of tight security and privacy of users' data on these platforms cannot be overstressed. The issue came to the fore with the discovery of security bugs and issues in Zoom which allowed hackers to hijack meeting sessions from others, and the company has had to halt its product development plans to fix all their security and privacy issues.
Currently, Zoom ranks lowest in this regard, but it's worth noting that the company is working speedily and tirelessly to mitigate all security risks. Google Meet leverages on Google's decades of consumer and enterprise app experience to provide robust security and encryption, as detailed here, and Microsoft takes things up a notch by setting up a Transparency Hub in addition to a detailed report of its security practices for Microsoft Teams.
Pricing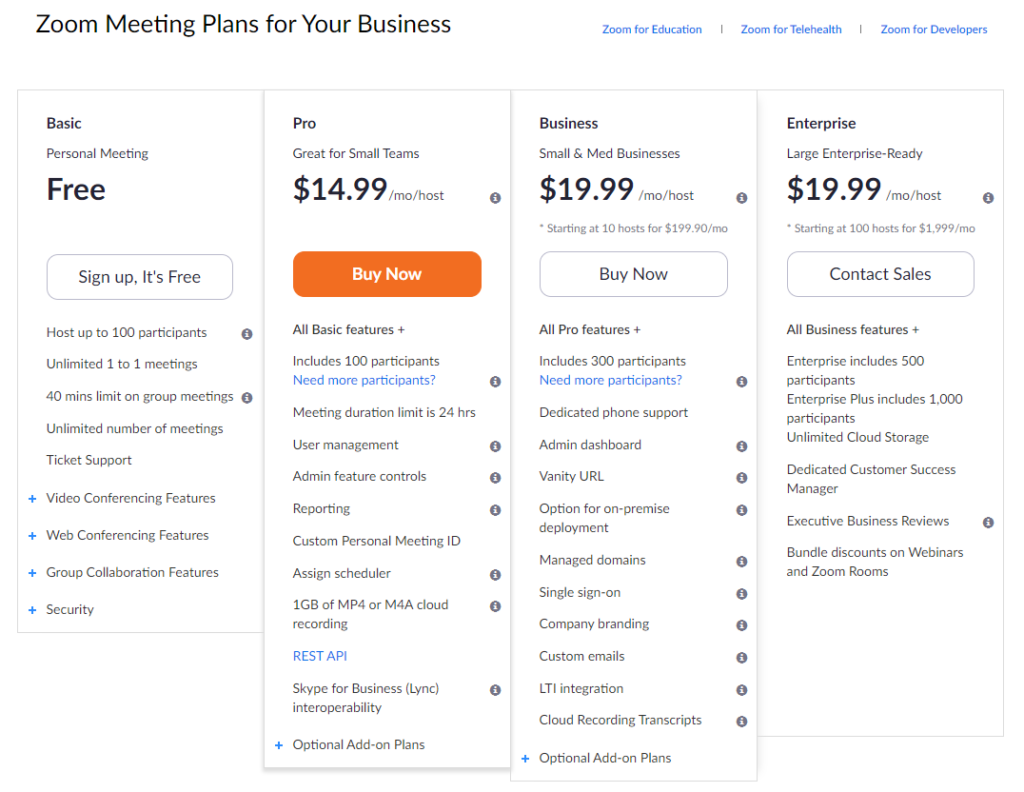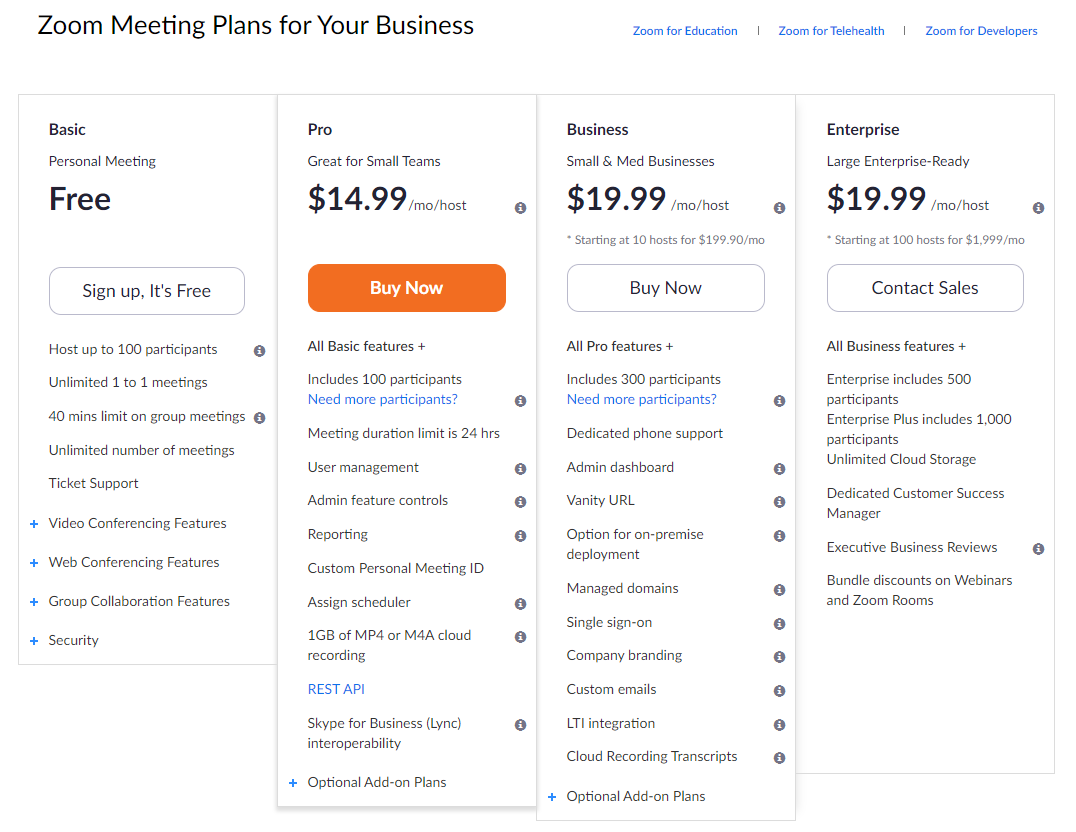 Zoom has four account plans, the first being Zoom Basic which allows free meetings with a 40-minute limit for meetings with more than two participants. Its Pro plan costs $14.99 per month with a limit of 100 participants for meetings, while its Business and Enterprise plans cost $19.99.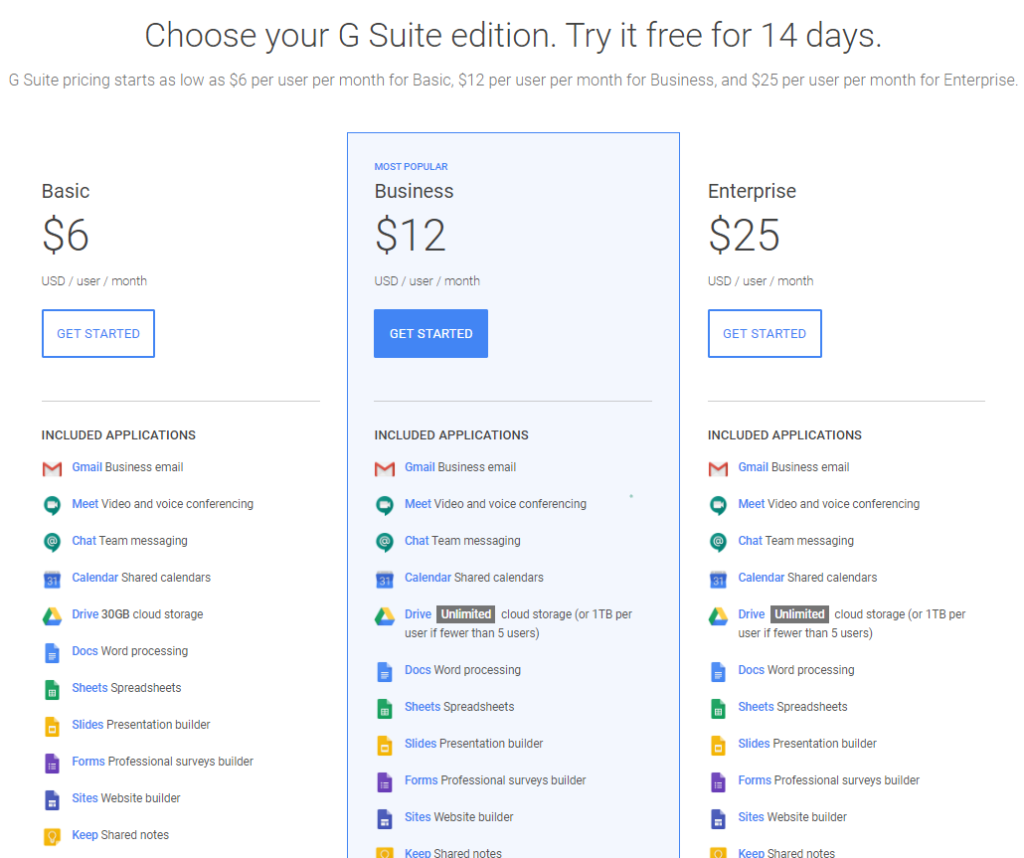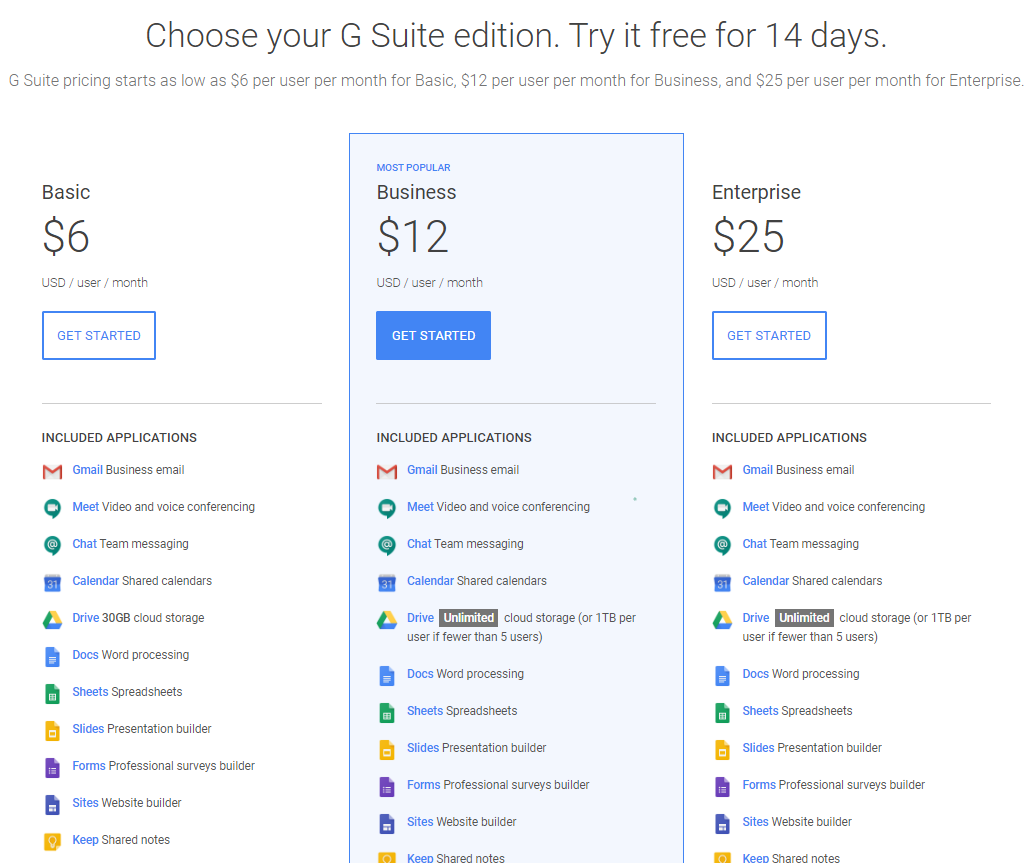 Google Meet comes as part of a G Suite subscription, the most expensive of which is a $25 per month offering. On the other hand, Microsoft Teams is bundled with an Office 365 subscription, with the plans with Microsoft Teams being Business Essentials for $5 per month, Business Premium for $12/month, and Enterprise (E3) for $20/month.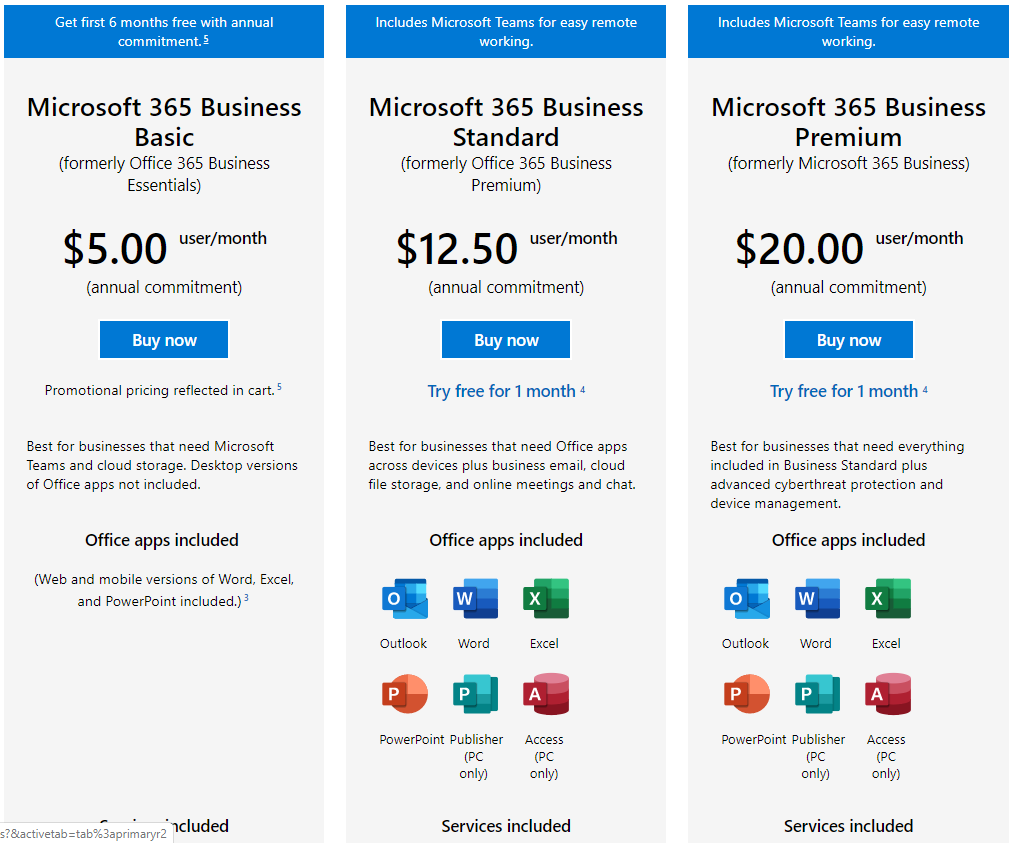 When compared with the features offered for the various plans, Zoom offers a great value for money as a standalone video-conferencing application. However, when compared to the two other apps we're looking at in this article, it starts to look a bit expensive, more so as you have access to a wider range of products and services in the G Suite and Office 365 subscriptions that Google Meet and Microsoft Teams respectively are packaged with.
Final Verdict
The truth is, there is no one "best" app here. They all have different offerings and can be applied differently in varying situations. Moreso, you don't have to choose "one" to use; many organizations are now adopting a multi-platform approach, where several similar tools are used within the same organization, but for different purposes and situations. This ensures that you get the best of all worlds and satisfy all your different use cases, without having to limit yourself in blind or misguided loyalty to a particular tool or technology stack.
The most important things to keep in mind here while making a comparison between these tools is: Zoom is the go-to video conferencing app when you can't quite come to a decision, and it works fine for individuals, small groups, and small to large scale organizations and businesses; Microsoft Teams excels in large organizations and business settings where a robust and comprehensive solution, not just video-conferencing, is needed; while Google Meet works best when you need to host quick meetings and most of your participants have a Google account or G Suite package.
Determine exactly what you need a video-conferencing app for and the features that would help you achieve your goals, and pick one of these tools that fit into your uses based on the points outlined above. If more than one of these apps would meet your needs, don't hesitate to combine their usage to achieve maximum productivity.