Smartphones have gone way past from being a device for communication to a hub of entertainment and work. You can perform almost all kinds of tasks and play games at high quality. In fact, mobile gaming has seen a sharp incline thanks to the brilliant gaming devices fro the likes of Asus, Nubia, or the Razr Phone. Moreover, there are a lot of heavy gaming titles that have made their way for the mobile platform, as today's smartphones are well capable of performing smoothly with the heavy games. Besides, there are a lot of gaming accessories also that you can attach to your device to make your gaming experience more smooth and convenient.
Adding to this convenience is a Magisk module that brings PlayStation and Xbox gaming controller support for Android devices. The name of the Magisk Module is 1Controller. But, there is a catch if you wish to get the two gaming console's controller support on your Android device. You need to have root access on your Android device, and if you are okay with it, you can go ahead with this post. So, without any further ado, let us get straight into the article itself: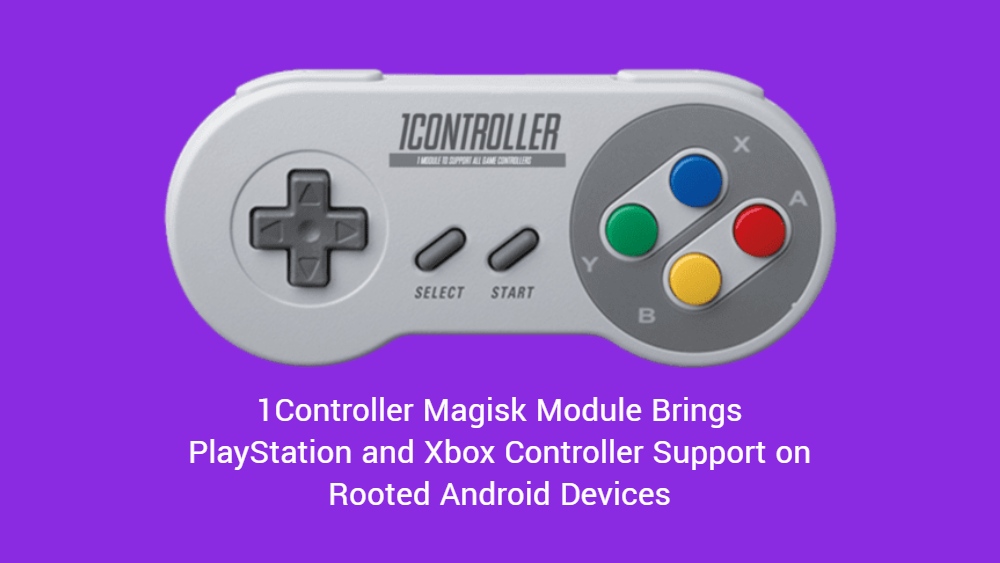 1Controller Magisk Module Brings PlayStation and Xbox Controller Support on Rooted Android Devices
Although you can find different gaming controllers that support but, they lack the durability and convenience of the PlayStation or Xbox controllers. But with the help of the 1Controller Magisk module, you can easily get both the gaming console's controller support on rooted Android smartphones. Previously, you could connect your wired or wireless gaming controllers easily with the Android device but, there was no guarantee that the button pressed on the controller will respond exactly on your Android device. This is due to the fact that there are different Keylayout for different controllers, there are high chances that they might not have been added to your Android device.
Here comes in the 1Controller Magisk Module that is meant for devices that do not support anyone or both the popular gaming controller. This module introduces key layouts for various gaming controllers ranging from PlayStation DualShock 4, DualShock 3, Xbox 360, Xbox One, Xbox One S, and Switch Pro controller. If you have any one of the controllers available with you then you can make use of the 1Controller module and install it on your device. Note that this module does not work on non-rooted Android devices and on MIUI 10 running Xiaomi devices.
So, there you have it from my side in this post. I hope you guys liked this post. As mentioned above this Magisk module requires your Android device to have root access. Until the next post…Cheers!
Source: XDA