We all use a computer daily, sometimes for personal and other times for official use. But, the thing gets worse when your computer does not start, and you receive error messages showing hindrances in your PC. Sometimes, you encounter ACPI_BIOS_ERROR that does not allow you to access your system and hard drive.
In such situations, you need to know something which can help you in fixing ACPI_BIOS_ERROR. To get rid of this error, you need to know what it means and the reasons behind the issue. If you want to know these things, then you must read this article to the last for the best and workable fixes to your problem.
What does it mean by ACPI Bios Error?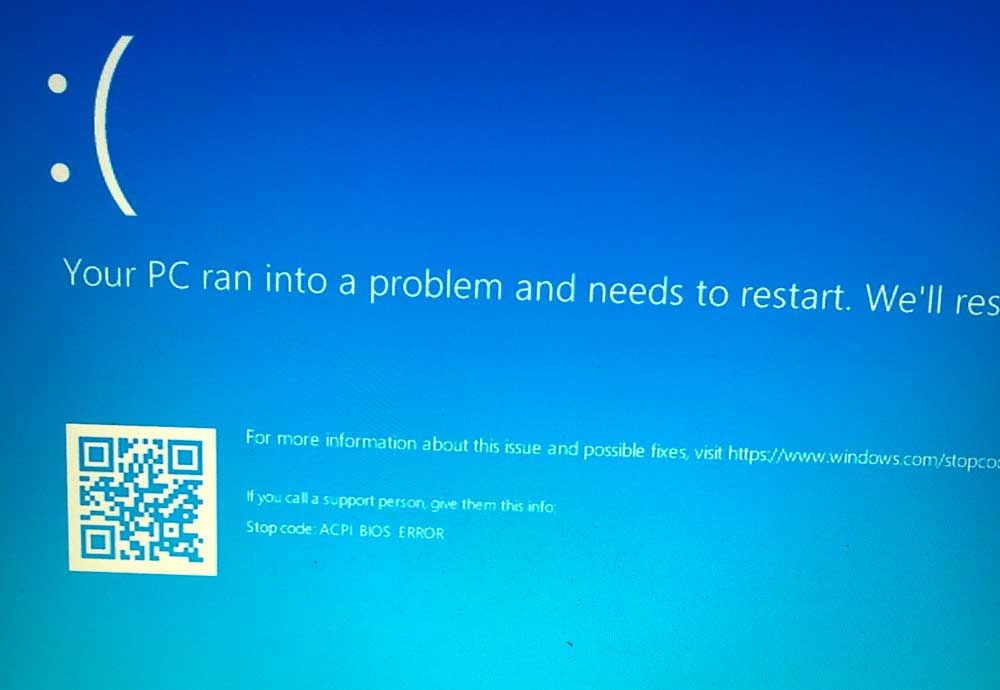 A plethora of people says that they witness a blue screen with an error saying ACPI_BIOS_ERROR. They are unaware of the cause, but the following guide can help all of you in the introduction to such Blue Screen of Death error or can say BSOD along with solutions.
What is ACPI?
ACPI stands for Advanced Configuration and Power Interface. Since its release in December 1996, it is handling the power consumption in computers as well as mobile phones being the industry specification. It is beneficial for discovering and configuring computer hardware components.
Its essential functions are:
Deciding turn on or off time for a device.
It is useful for changing power consumption to a low-level when the battery goes low.
Keeping necessary programs and blocking the rest.
It reduces clock speed by actual requirements of apps.
It reduces the motherboard's power requirements without activating devices advance.
Enabling the power of modem and receiving faxes to keep standby mode "On."
It is useful in Controlling drive when it is connected to PC aptly.
Reasons behind ACPI_BIOS_ERROR on Windows
Improper configuration of system drivers.
Damaging or expiring of device drivers.
Conflict of system drivers with the installation of new hardware.
Destroy of Windows registry database due to recent software change.
Virus or Malware attack on PC.
Damage of bootable hard drive
Addition of RAM to the computer when it's hibernating (the system can detect this while Hiberfil.says file will be loading)
How to get rid of ACPI BIOS error?
When you are encountering ACPI BIOS error due to any reasons, you can abide by the following steps for the solution.
Update BIOS driver
If you are facing ACPI BIOS error during the startup process of PC, then it might be that your drivers are not compatible or outdated. As drivers play a leading role in recognizing and utilizing the hardware; therefore, these can cause an error and can crash your system if not working correctly. If it happens, follow the below-mentioned steps.
Reboot your computer.
Visit the hardware manufacturing site.
Browse corresponding models to download the latest drivers.
Do the installation process of drivers.
If you are not sure about the specific driver, which is inviting trouble, then you need to update all the drivers. Also, open your Device Manager and look for old drivers and then right-click on them. Afterward, you need to choose on Update Driver and then select Search automatically for updated driver software. Wait for some time, and then you will find an update to install.
System Backup & Restore
When it comes to restoring your system, you can scroll down to know how you can do it.
Go to the Windows search box and type. Create a restore point.
Press Enter.
Open System Protection folder and then tap on System Restore.
Press Next and choose a restore point.
Again press Next to read all information.
Tap on Finish to confirm and wait until the restore process completes.
3. Update BIOS
Identically, it is also possible that your BIOS is too old, then also ACPI BSOD error can appear. Therefore, you can go by following methods to update BIOS of your system.
Make sure you confirm the BIOS version of your system.
Check your motherboard's model.
Browse the corresponding website to get the latest version.
Extract the BIOS version that you download. For instructions, you can refer its .readme file)
Type the BIOS directly and then make a Windows-based program (a DOS USB drive program) and get the latest version to BIOS.
Reboot your computer.
If you are not able to update the BIOS's latest version, then you can turn off ACPI mode by following ways to fix this issue.
After receiving an instruction to install storage drivers by the system, you need to press the F7 key on the keyboard.
With this, you will also be able to remove ACPI from your computer to continue the installation procedure.
4. Delete Microsoft ACPI compliant Driver
Enter into Device Manager.
Find the options Microsoft ACPI Compliant Control method battery.
Right-click on that and choose the Uninstall device option.
Tap on the Scan for hardware changes tab, and then you need to wait.
Let the installation of the new drivers complete by Windows automatically.
Reboot your system.
5. Change ACPI mode to S1.
Sometimes people find ACPI_BIOS_ERROR when they wake up their PC from sleep mode. If you also undergo the same scenario, take the assistance from the following steps.
Restart your computer and tap on a specific button to enter into BIOS; read the instructions appearing on the screen carefully to know which option is necessary to press. (Generally, entry keys for BIOS are F2, Del, Esc, and F10).
Open BIOS Power Settings by using the arrow keys.
Find the Advanced Power Management option, or it can be present with name APM, Power settings, etc.
Utilize the arrow keys to select the APM option and then tap on the "Enter" option to confirm.
Modify the mode to S1.
Exit the BIOS screen and save all changes.
Other methods
Stop AHCI Mode
Open BIOS
Look for Storage options or identical names.
Choose IDE/RAID to replace it with AHCI.
Exit the screen and save the changes.
Utilize Startup Repair
Take an installation DVD of Windows 10.
Connect a USB to computer (Make sure USB is bootable)
Reboot your computer and tap on Next
Choose the option of saying Repair your computer.
Select Troubleshoot.
Tap on Advanced options and then select Startup Repair.
Follow all instructions and the whole complete procedure.
Make changes to OS image ID.
Open BIOS.
Search for Advanced option and choose System component
Look for OS Image ID here and make the setting to Windows.
Exit the screen to save changes.
Reboot your PC.
How to back up your computer to the local drive?
Here is the guide to back up your computer to a local drive.
Search download the installation program (If you do not rely on it, then you can take Trial edition first).
Start the installation program and complete the installation procedure by tapping on Finish.
Run the software and tap on Keep Trial.
Select Local and tap on the Connect button in folder saying This Computer.
The software will choose the destination folder by itself, but if you want to make changes into it, you can tap on Destination.
Select the option Back up Now and wait for some time.
If you have any overclocking software, then you must remove overclock settings to get rid of ACPI BIOS error. Also, if you are a user of the X9DAI motherboard, then disabling jumper JPME1 can be the best option to fix the error. By any chance, all of the methods fail, then reinstall your Windows in UEFI mode.
The ACPI BIOS error happens too often; therefore, you need not panic if you face it. Try the methods mentioned above to fix the issue and if it happens, then check the processes carefully and see if you are following the procedures aptly or not. Correct your mistakes there, and then get rid of it. After reading this writing, if you have any queries or feedback, please write down the comment in the comment box.