Adobe Photoshop is one of the most important pieces of software any graphic or UI designer can one, as their whole career depends on this piece of software. And when it doesn't work, all the important things come to a halt. I work with Adobe Photoshop from time to time. Whether it is for creating Youtube thumbnails or marking some instructions over a screenshot, the software really helps to make the task easier. But when it does work, it is quite difficult to pinpoint the exact problem. Here are some troubleshooting steps if you are facing issues similar to Adobe Photoshop Crashing / Freezing on Windows 11.
If the app has just crashed, it usually means the RAM is not enough to run the app. So make sure any additional apps, games, etc, are not running. If you are watching any movie in MKV or AVI format, it might be the cause of issues. Photoshop is a very graphic intensive and heavy software to run, so make sure it has proper RAM to work with. If you think RAM is sufficient, and that's not the problem, then download below are some troubleshooting ways you can work with.
Also Read: Fix: Adobe InDesign Crashing / Freezing on Windows 11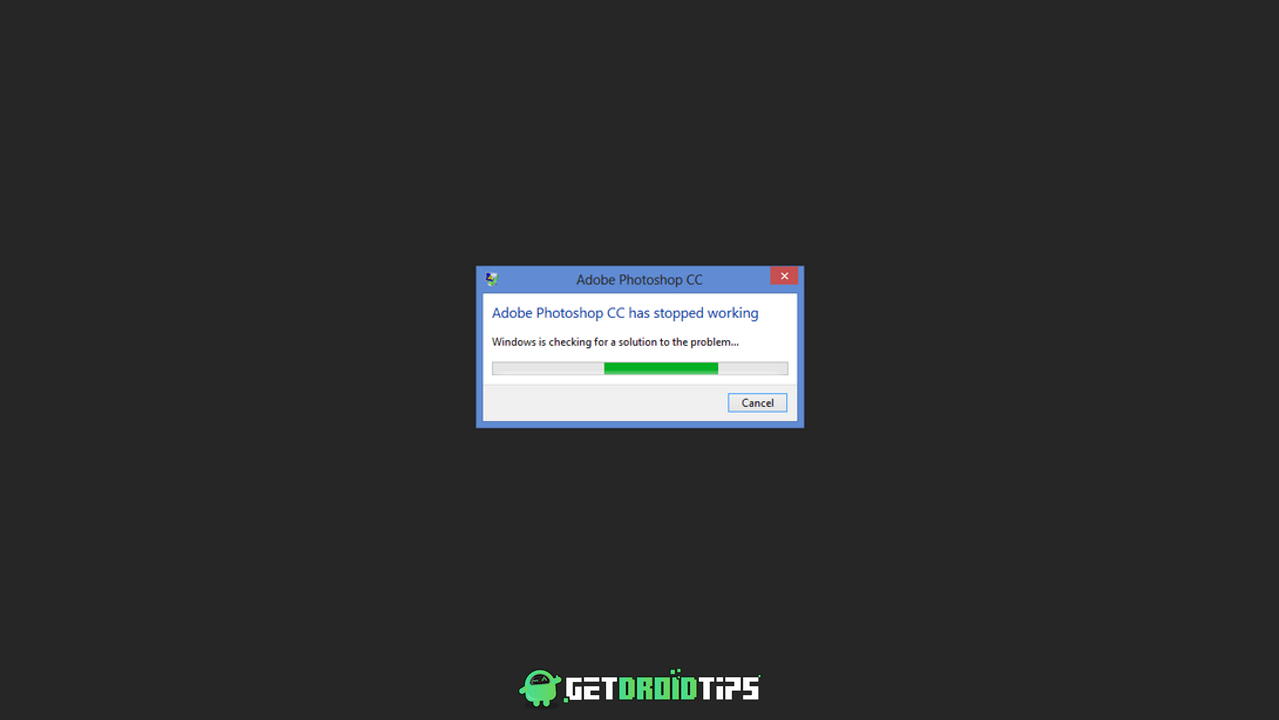 Fix: Adobe Photoshop Crashing / Freezing on Windows 11
Before you go through the steps below, we recommend you run your PC with your antivirus and antimalware software. Sometimes the issue is not within the software itself, but due to computer viruses only. If you are not using antivirus, then we recommend you use one which suits your budget. For a quick malware check, you can use Malwarebytes.
Update your Adobe CC or Photoshop application
If you have just updated to windows 11 from Windows 10, then a simple update to Adobe CC or the Photoshop app would fix the issue. So here's how you can update Photoshop or other CC apps.
Open the Creative Cloud Desktop application.
Go to the Apps tab and click on All apps.
If an update is available, you should be able to see it under updates.

Click on the update icon to download and install the latest updates for your Photoshop application.
Once the update is complete, restart your PC and then try opening the Photoshop app. Check if the issue is solved.
Use the Creative Cloud Cleanup tool and reinstall
Sometimes, a simple update could not solve the issue. So, in this case, we have to re-install the whole suit once again.
First, take all necessary backups of all your files related to Photoshop. This may remove everything related to Creative cloud from your PC.
Download and install the Creative cloud cleaner tool from here.
Install it and follow the on-screen prompts to completely remove the existing software.
After completing, reboot your PC.
Download the latest installer for your Photoshop or CC from the download link. Or if you already have an installer, then you can use that.
Install the application, reboot, and check if the issue is resolved.
Update all drivers including GPU drivers
If you are still facing crashing or freezing issues, it is best to update all your drivers, including GPU drivers. The best way to get updates is from Windows update.
Open the setting app and go to Updates.
Click on check for updates and let it run for a while.
If any updates are available, it will download and install them for you.
Simply restart and check if the issue is resolved.
Another good idea is to get the latest drivers for your Nvidia or AMD card. Because many people who had the issue found out that just installing the latest drivers for their GPU fixed it. If you have a card that supports Studio drivers, you can try them as well, if you are not planning on using your computer for gaming.
Do not use the Neural Filter feature
Some people have also reported that the issue started occurring when they enabled the Neural filter feature. In some worst cases, the PC hard shut down without any warning, errors. The last time we checked, it was fixed after updating the Photoshop application. So try to update your application before using this feature.
Run SFC scan now, or Re-install Windows 10
If nothing else works, you can try the following fixes.
Open the start menu, type in CMD, and click on run as admin.
Now type in SFC /SCANNOW and wait for it to complete.
If there are any problems with your system files, this should try to fix them
Reboot your computer and check if the issue is resolved.
If that doesn't work, then the best idea would be to install Windows 10 again. Windows 10 is still supported by Microsoft and if your application works on it, then it is better to re-install windows 10.