Adobe is a popular brand for all photo, video, and document-related software applications. Adobe InDesign is a segment of Adobe creative Suite used for industry-leading layout and page design software for print and digital media. Moreover, You can also create posters, flyers, brochures, magazines, books, newspapers, etc. Also, Adobe is one of the preferable applications by renowned graphic designers from the industry and is available across all platforms.
Since the launch of Windows 11, many new features were launched with the emphasis on more compatibility of apps and software across devices. But to the contrary, much important software such as Adobe InDesign has been stopped working or either crashed on Windows 11 PC. This issue is most likely to be installation file-related or graphics-related. So here are some troubleshooting steps you can use to fix this.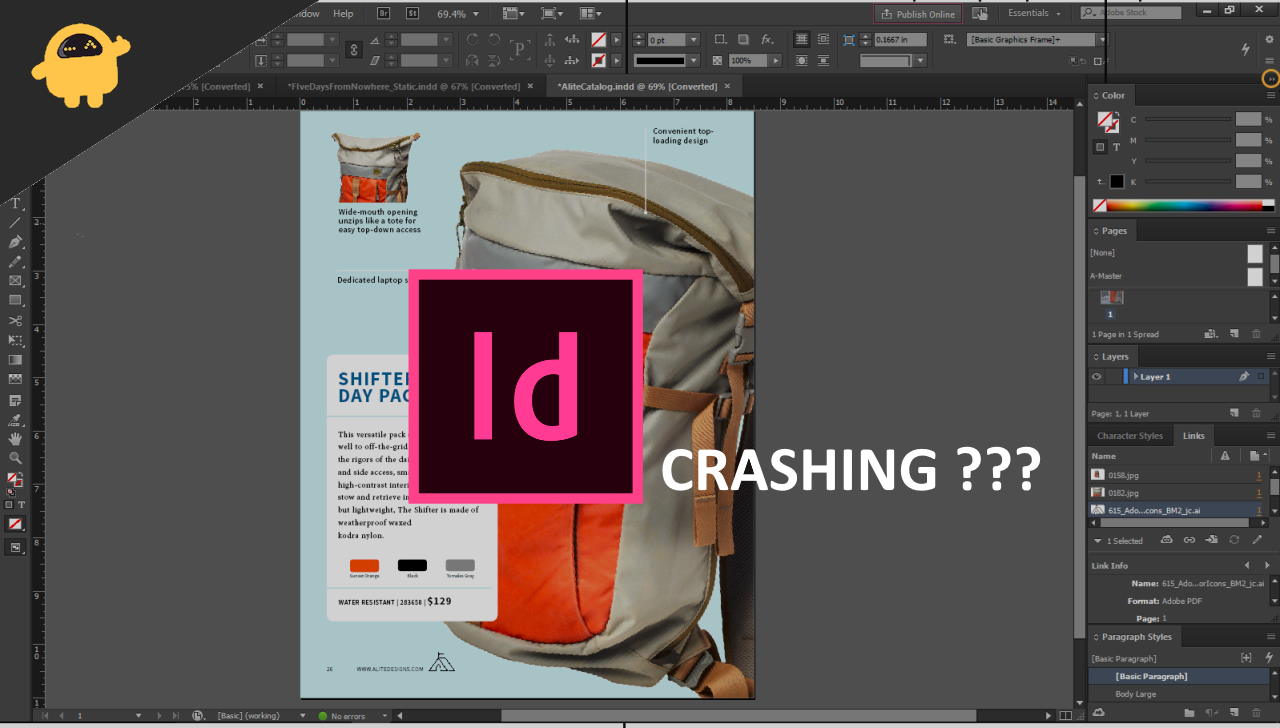 Fix: Adobe InDesign Crashing / Freezing on Windows 11
There may be many reasons behind the crashing /freezing of the application, and if it is an internal issue, the devs will fix the issue with an update soon. Before troubleshooting, try to restart the system once to ensure the issue is not with your system, as restarting the system will remove all the minor bugs.
Also, check and remove any newly installed plugin for Adobe Indesign or third-party application incompatible with your system configuration.
Delete any newly installed fonts that are older, damaged, or mismatched from the application's version. If you recently have installed some new pairs of fonts on your PC, then it might be the reason for the crash.
Method 1: Reset Preferences of Adobe Indesign
If the Adobe Indesign application creates crashing/ freezing or any performance issue, it might be due to a damaged preference file. The Indesign saved data and Indesign Default file are the primary application files that store all the plugins, settings, and other data.
Moreover, resetting the Preferences will delete all the customized settings, including documents, print presets, custom stroke style, or personalize workspace. Therefore, before performing the reset preference, take a backup of the setting in the cloud so that you can restore it whenever it is needed.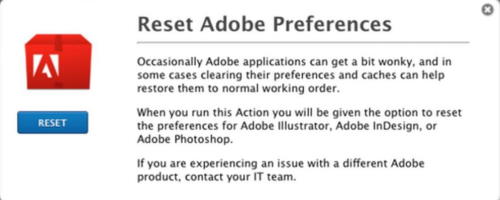 Launch Adobe Indesign Application and press and hold Ctrl + Alt and Shift Key.

Wait till you get a pop-up message on your screen to reset the preferences.

Then click on Yes to reset and wait till the process to complete and then relaunch the application.
Method 2: Delete the temp folder of InDesign
In Windows 11, many apps are crashing unnecessary. And the main reason behind this is the temp folder. When software fails to override the data in the temp folder, it usually crashes. So you can easily fix this by deleting the temp folder inside your C drive.
Temp folder usually stores temporary information, so make sure to save your unsaved files or project before deleting this folder.
Open File Explorer and navigate to C: Users >> [Your username] >> AppDataRoaming >> Adobe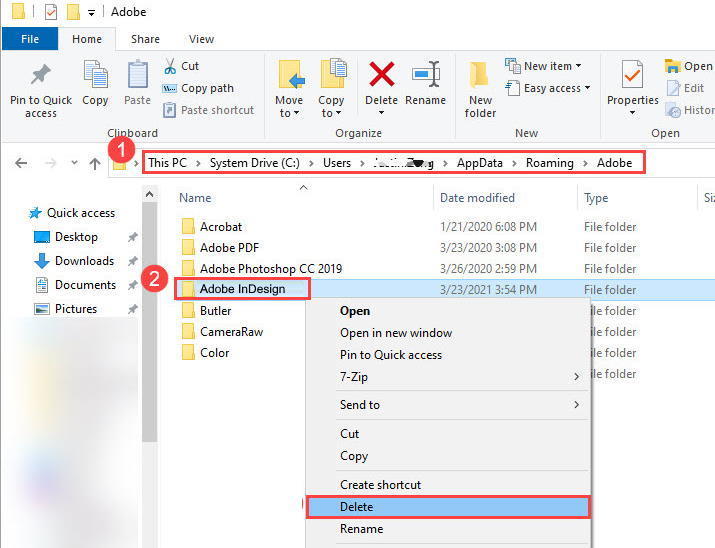 Find the InDesign folder and delete it. Now Launch Adobe InDesign to see if this issue persists.
Method 3: Modify Corrupt Document
Sometimes the crashing /freezing issue is due to a corrupt application file. If you face a problem while opening any particular file, follow the below step to fix the issue.
Launch Adobe Indesign application and click on File/ Export.

Now save the document/File as an IDML file.

After that, reopen the IDML file again and save the file as a Standard Indesign file.
Method 4: Update Graphic Driver
It's important to keep your graphic driver updated as it's the major component Adobe uses to run its applications. We have a complete detailed post on How to Update Graphics Card Drivers.
Below are the links for your graphics card, head over to their respective website and download it:
You will have to select the exact model of your computer's graphics card, which we got from the previous step.
You also have the option of letting the site scan your system to automatically determine what drivers you need. Just be aware that sometimes, you'll be asked to install a utility that performs the scan.
Note: A lot of users have Intel integrated graphics in place of actual GPU units. For Intel users, they have to manually update their graphic card drivers as the Windows 10 version of drivers will not work for Windows 11. So head on to the Intel website and download the latest drivers.
Method 5: Update / reinstall InDesign
If none of the above methods works for you, then it means that your installation is corrupt. It usually happens when one or more important files from the software directly are missing or deleted. So you have to reinstall InDesign to fix this issue.
Method 6: Disable Fullscreen Mode
This can be thought of as a temporary method but it works for the majority of users. You can think of it as a bug that when you move Adobe InDesign in fullscreen mode, the app crashes. So make sure to run the app in windowed mode.
When the app starts, click on the "Windows" button on the keyboard and the app will run in window mode only. I hope this works for you until Adobe comes with an official fix.
Conclusion
We hope the above method will fix the Adobe crashing /freezing issue in Windows 11. However, if none of the methods will resolve your issue, you may contact the Adobe support page and share your issue in the community. Also, share your feedback and any alternate solution to fix the crashing problem in the comment box to help others.