Why put so much time into something that could be done with the help of AI in just a few clicks? AI has brought a complete revolution in human life today. With rapid enhancements, Artificial Intelligence has become so capable, that it can do a variety of tasks even better than us in just a few seconds. From being a conversation partner, helping us find answers, to converting our texts to speech, it can easily perform a bunch of complex tasks. Likewise, today we have some amazing software that could even help us generate high-quality images in no time. These AI professional headshot generator tools are widely available on the internet and can make our work seem effortless and easy.
AI headshot generator tools basically generate images based on the input we provide to get our desired output. These tools use Generative Adversarial Networks (GAN) and other machine learning algorithms to generate the images. Fortunately, today we have a handful of names from this category. However, if you are looking for a professional yet free AI professional headshot generator, you will hardly find something. But worry no more as we have always got your back. In this article, we will be looking at the best AI Headshot generators that are known for producing accurate results and are available for free.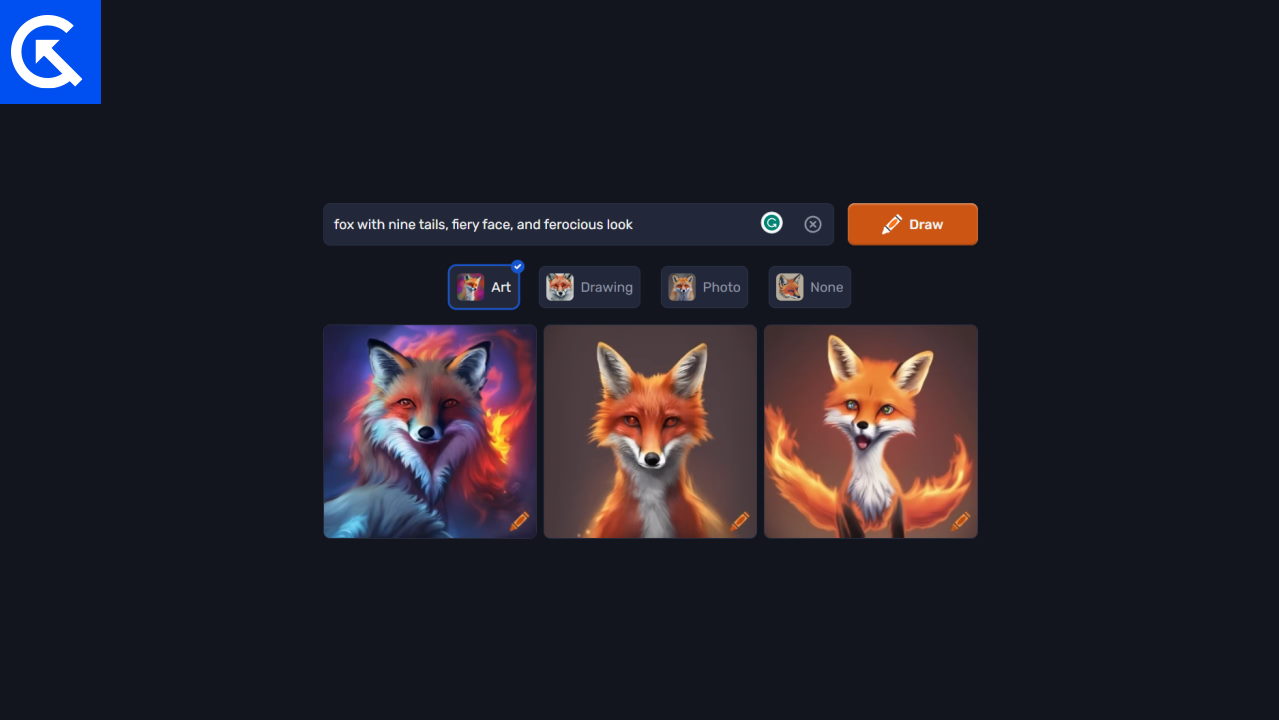 11 Best AI Professional Headshot Generator Tools for Free
With the tremendous growth of AI, we can easily come across some of the best AI headshot/ image generators on the internet. However, most of the professional-level tools come for a good price. And if you are looking for something for some experimental purpose or to work on minor projects, the price tags might not be justifiable for you. But here's a list of the 11 best professional-level AI headshot generators that will produce some astonishing results without even costing a penny.
1. Fotor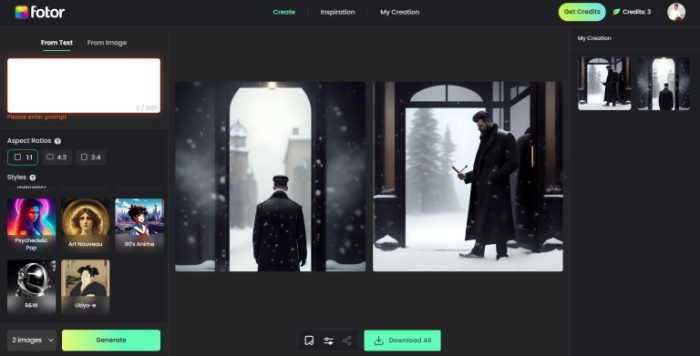 Fotor has already earned huge popularity as a photo editor. And now, it has also stepped its foot into the AI industry by launching an AI professional headshot generator tool. It proposes a text-to-image generator that takes text prompts as input and generates the desired output image. The best thing about this tool is its high precision and quality service.
Also read: Using AI in online casinos
It features an easy-to-use interface where you simply have to express your imagination in a sentence. Fotor's free headshot generator will take a while to process but surely looks after the rest. It allows you a maximum of 600 words to describe your imagination in detail. Thus, you can further go deeper with minor details such as color, shapes, etc to get an accurate result.
Furthermore, you can also choose from a variety of styles such as concept art, photography, Japanese art, 3D, and so on. You can also select the aspect ratio of the image you want and generate up to 6 images for the same prompt at a time. Most importantly, you can seamlessly download the generated images by clicking on the download button below.
2. NightCafe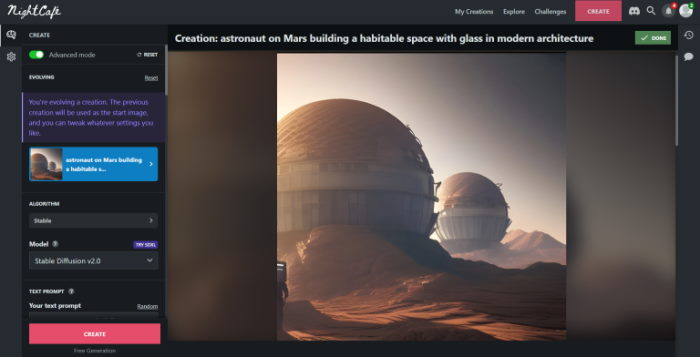 Next, we have NightCafe, a free-to-use AI professional headshot generator that could generate some exceptional images based on the prompts you provide. Once again, this tool is extremely easy to use. You just need to sign in and you become a part of the NightCafe community itself. Next, you can simply type in to describe the image you wish to generate along with all the essential details you want to see in your image. NightCafe produces high-quality images that look very much realistic. However, if you want something more like an artistic style, mention the requirements in the prompt itself.
Once your image is generated, you can further evolve your creation to bring it closer to your expectations. You can further change the type of algorithm. By default, NightCafe generates your image in the Stable algorithm. However, you can later evolve it to DALL-E 2, Coherent, or other available algorithms. You can even play with the image noise, aspect ratio, number of images, custom seed, and so on. Interestingly, after you are done creating, NightCafe allows you to download or publish your creation with the NightCafe Community.
3. Midjourney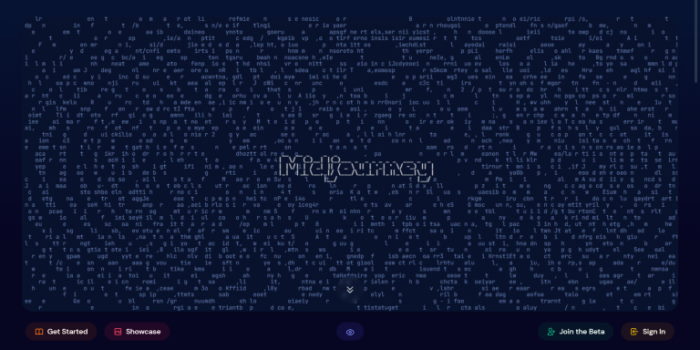 Midjourney is another extremely astonishing AI-based image generator. This tool is even one of my personal favorites as it is easy to use and generates high-quality images on your command. The best part is, it generates the images instantly with great precision. One of its generated paintings has even won first prize at the Colorado State Fair among the top 20 arts. The entire project is aimed to bring the best outcomes of our imaginative powers using AI.
The project is governed by a small team consisting of 11 full-time staff and is entirely self-funded. Hence, for the time being, Midjourney is temporarily hosted on the Discord server only. So, if you want to try out this tool, you need to join their discord server. You can go with any of their channels and simply implement the commands followed by your imaginative ideas. Midjourney will take care of the rest and provide you with 4 outputs at a time. It also allows you to upscale the images or generate a different set of images and download them.
Although it might seem to be a simpler version of the previous ones, it is still a considerable one that produces some mind-bending results with the help of its advanced algorithms.
4. ArtBreeder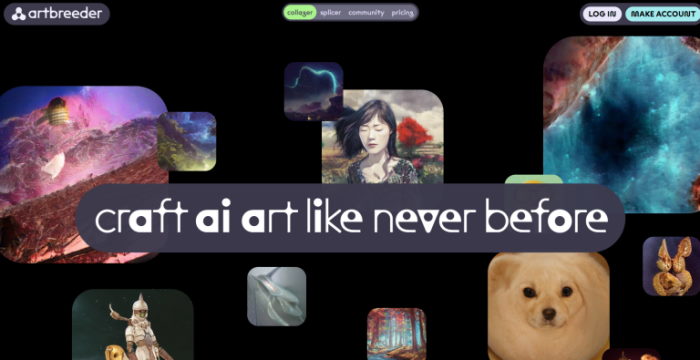 Next, we have ArtBreeder, a bit more fancier and advanced AI headshot generator tool known for its diverse features. Just like the other tools, it also brings out your imaginative thoughts to life. ArtBreeder generates a whole new image out of your commands with higher precision, quality, and the most appropriate genre. However, it goes a little out of the box and provides additional tools like a collage and splicer.
Also read: How AI Is Changing the Face of Your Entertainment
The ArtBreeder collager lets you create a collage out of the shapes or images you generate using the tool. On the other hand, the splicer mixes up the genres of different images producing something unique out of the whole. Once you sign up to ArtBreeder, you also become a member of their community where you can connect and share your talents with millions of others.
5. DALL-E 2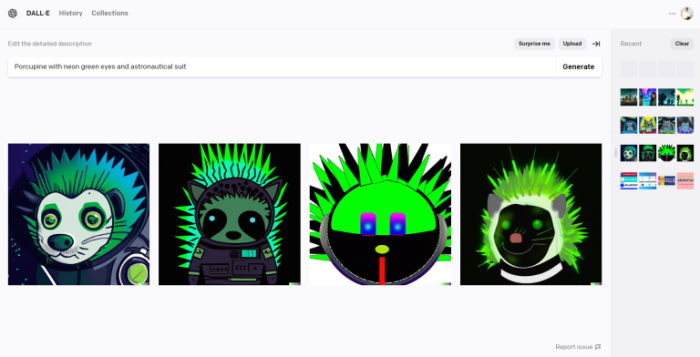 If you are a huge admirer of ChatGPT, you must definitely try out DALL-E 2 a brand-new polished AI image generator. This modern-age tool is developed by the same team who developed GPT 3. And this is what raises the standard of DALL-E 2 making it one of the most advanced AI image generators in the market.
DALL-E 2 generates completely original and realistic images from your given text description. It can further combine the concepts, attributes, and styles to provide you with the most accurate results. The best part is, just like GPT 3, you can also try this amazing AI headshot generator for free. Once you express your thought through a text description, DALL-E processes the natural language to generate the most accurate images. It generates a total of 4 images. For instance, I wanted to generate an image of a 'porcupine with neon green eyes and astronautical suit'. And you can see the result in the above image. Overall, it's an impressive tool that is getting better day by day to give shape to our imagination.
6. Dream by WOMBO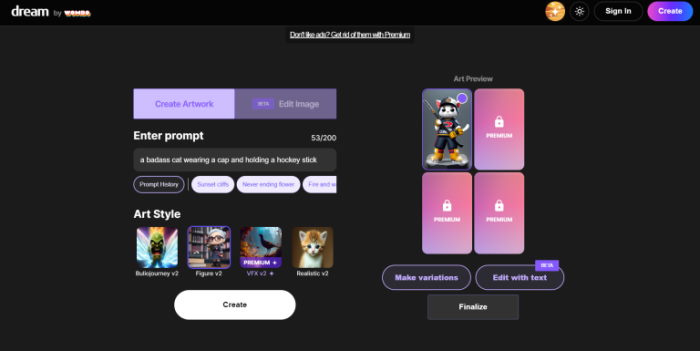 Dream by WOMBO is another exclusive AI professional headshot generator. It is known for generating some extremely precise images from your text description. It allows you to describe your thoughts in 200 words and produces some eye-catching results from your idea. The tool offers both free and premium versions; however, both these plans have huge differences between them.
The free version comes with ads and generates only a single image based on your text prompt. On the other hand, the premium version has a handful of features to offer. For instance, it provides an arod-free experience, generates 4 images for a prompt, and allows you to make variations to the generated images. Furthermore, it also opens up a few more options such as access to premium art styles, faster image generation, saving as video, and unlocking it on Discord.
7. DreamStudio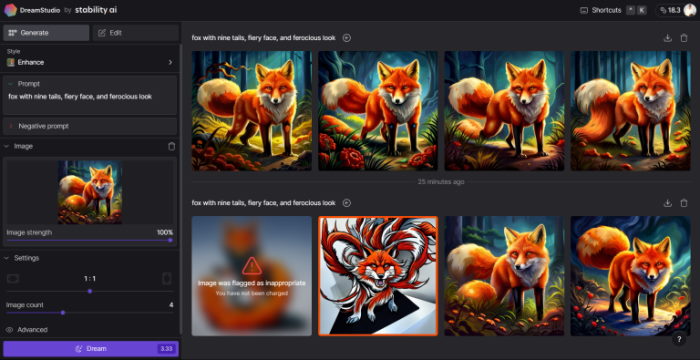 Dream Studio is simply an AI headshot generator that lets your dreams come true. It makes AI image generation much easier and more accessible with its intuitive interface and easy-to-use generation tool. However, in order to use it, a sign-up is mandatory. Once you type your thoughts in the textbox and hit the generate button, DreamStudio generates a full-fledged image out of your text in just a few seconds. It generates 4 images at a time. You can select the most appropriate one and generate more variations out of it.
Also read: Can Teachers, Professors or Universities Detect ChatGPT Content?
In addition to that, DreamStudio also offers a dedicated window to edit the chosen image and provides some useful tools. It also offers an additional option to upload a photo along with a written description using which it can generate photographic images as well. All in all, DreamStudio is an efficient tool that could be used for multiple purposes such as creating normal or photographic images, logos, illustrations, 3D models, etc. Moreover, being an open-source tool, it has earned a lot of attention in a really short time.
8. Starryai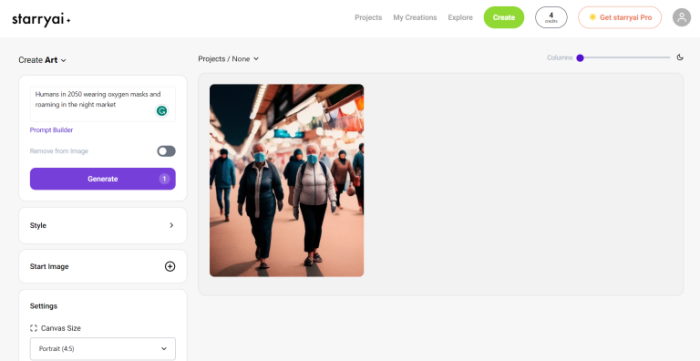 Next, we have Starryai, a simple-to-use AI image generator. Currently, it can generate images in only two styles, i.e., Art and Photo. But the best thing about this tool is its quality and precise results. It generates 4 images for a prompt and fortunately, the results are truly mesmerizing. All you have to do is log in to the website and hit the Create button. Next, choose one style, type in the words to describe the type of image, and click on the Generate button.
Although it might take a while, sometimes even a few minutes, it will surely not disappoint you with the result. Staryai is also available as a dedicated app for both Android and iOS. Besides, it is mostly used to convert images into NFTs. Since this AI tool provides you the complete ownership over your generated results, you need not have to worry about copyright issues for using them for personal or commercial purposes.
9. Craiyon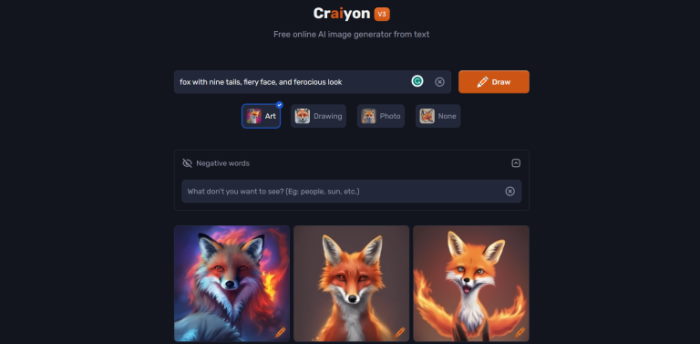 Craiyon comes with a minimalist user interface and offers a free to use AI professional headshot generator. It is developed by the researchers of Google and Hugging Face. It features an easy-to-use tool where you simply need to mention your thoughts and Craiyon will do the rest to generate the image out of your text. It generates 9 different images at once that you can further upscale or download.
Also read: How To Check for Writing Made With ChatGPT | Best AI Detection Tool 2023
Moreover, it offers three different styles, i.e., Art, Drawing, and Photo. You also get a negative words section where you can mention things that you do not prefer to see in the generated images. One thing I like the most about Craiyon is that you can use it without even logging in. However, the image generation process is relatively slower than the other generators. If you want to access faster image generation, you need to purchase their paid plan.
10. Deepai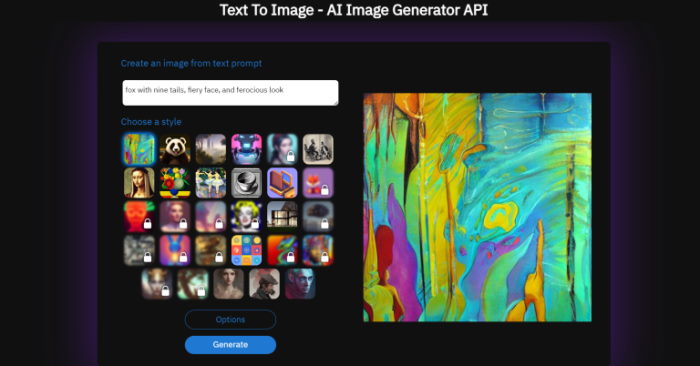 Deepai is a very simple yet reliable AI image generator based on stable diffusion. It is again an easy-to-use tool that comes in a variety of styles such as artistic, oil pain, B&W, Photo, and so on. Just like Craiyon, Deepai also does not require a login to use. You can simply visit the website, type in your text, and hit the generate button.
The only thing that drags Deepai is that it produces only a single image at a time and most importantly, you won't find higher accuracy in the generated images. To generate something up to your expectation, you need to be very accurate with your prompt.
11. Aragon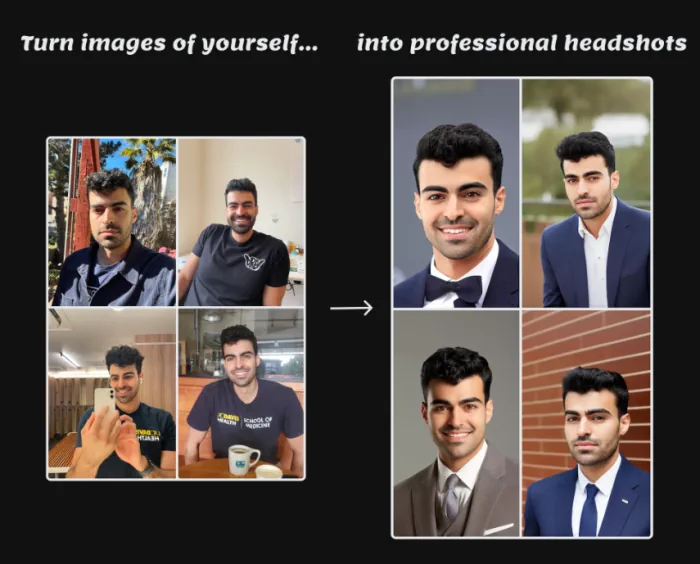 Aragon is a convenient tool that can effortlessly transform regular photographs into remarkable headshots, eliminating any complications. The retouching process is completed within a mere thirty minutes. The software needs a minimum of 12 of your photos to create these business class professional headshots.
By utilizing twelve of your photos, Aragon trains its AI algorithm to gain a deep understanding of your unique appearance. With this knowledge, the algorithm produces exceptional headshots that highlight your distinct facial features. It is widely acknowledged that a subpar LinkedIn profile picture often leads to candidate rejection by recruiters, and with Aragon, you can be assured that no recruiter will ever reject your profile based on your photographs.
Try Aragon
Conclusion
In conclusion, AI image generators have made it easier for humans to develop great-looking images in no time. In fact, in some scenarios, these generators have even surpassed our expectations producing some award-winning pictures as well. And with the rapid growth of AI, they are getting much better with time. All we need is our imaginative power and the words to describe it, and AI takes the responsibility to bring them to life. They can be very useful in various fields such as creating logos, illustrations, and so on. And these AI generators are currently among the top-notch choices for you. So, let us know which one would you prefer to use and why.