One-stop home speaker Alexa has received a positive response since its release. Many have even set it up as the all-in-one home audio solution for controlling all the home devices with simple commands. This device has an LED strip that shows up different colors during different processes.
One such color is the blue or cyan line that shows up during different operations. If you are someone who is seeing this blue line more often than you expect, this article should give you the answers. Here, we have mentioned all the occasions where you might see the blue light and how to get rid of it. So without any further ado, let's get into it.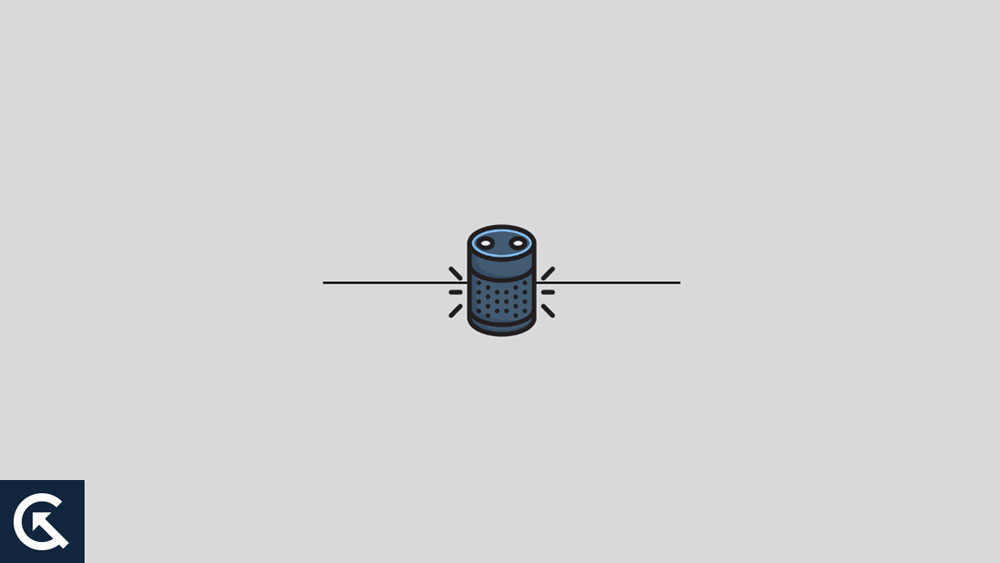 Why is Alexa spinning blue light? Reason and Solution
The blue spinning light on Alexa can show up for different reasons, and here we will address all of them so that you get a clear idea about what you are dealing with.
Rebooting and ready for setup:
If you have just opened up the Alexa device and see a blue light spinning right away, it just means it is starting up. When you boot up the machine for the first time, you will see this light indicating that the device is ready for setup. Once you set up the device and connect it to your smartphone or TV, the device's color will change from blue to orange. The orange light indicates that the Alexa is not set up correctly yet, and successfully setting up the connection should eliminate the blue and orange light for you.
Try the next solution if you see the blue light spinning even after a connection is established.
Ready for voice command:
Much like every other voice-operated device, Alexa also takes in commands from the user for operation. Initially, the command word is set as Alexa, and when you shout out Alexa, the device will show a blue light. This means that the device has picked your trigger word and is ready for any command you throw. As soon as you give it the order, the blue light will go away, and your command will be executed.
Try the next solution if the blue light continues to stay lit even after you have given it the command.
Misinterpreting a command:
Sometimes when you say something the speaker did not pick up correctly, it will continue to glow in blue. This does not mean that the speaker is malfunctioning in any way. Instead, it is waiting for a proper command from you to execute it. It will continue to show up the blue spinning light until you give it a good command of what it should perform.
If you believe this is not the case, or giving it a command is not taking away the blue light, move on to the following given solution.
Follow-Up Mode:
There are several trigger words set for the Alexa device. This includes: "Alexa," "Amazon," "Echo," and "Computer." However, if you do not want to set up a trigger word for every command you give to the device, you can use the follow-up mode. With this mode turned on, you just need to use the trigger word once and continue to give commands to it.
With this mode turned on, the device will continue to listen to your command even when you don't give out the trigger word. And when the device is in listening mode, it will continue to show the blue light. A solution to this would be to turn off the Follow-Up mode entirely. This will mean you will have to use trigger words every time you use a command, but it will solve the continuous blue light issue.
To turn off follow-up mode,
Open up the Alexa app on your phone and select Devices.
Choose Echo and Alexa.
After this, go to Device Settings.
Scroll through the options and find the Follow-Up Mode option. Once you see it, tap on it.
Then turn off the toggle for it.
If turning off the follow-up mode does not solve your problem, try the next solution below.
Do Not Disturb Mode:
This mode keeps Alexa from following your commands when turned on. When you say the trigger word, the device will show a blue light, but after you give out the command, the light will change to purple. This is a unique feature that, when turned on, limits Alexa's functioning to only listening and not acting on it. To fix this, you need to turn off the DND mode.
Open the Alexa app.
Go to Devices.
Select Echo and Alexa.
And then select your device.
Now find the DND option and then turn it off.
If this does not help your issue, move on to the following solution.
Software Update:
Another reason why you could be seeing the blue light on Alexa is when it is updating itself. Yes, there is a way to update the device manually through the app. But the default device has a feature to update itself automatically.
So if an update is available for the device, and it is connected to the internet, it will start installing the update on its own, which is when you will see a constant blue light spinning across the device. In such a scenario, you must wait until the device successfully installs the update.
If even waiting does not solve your problem or you are sure that the device is already updated to the latest version, try the next solution.
It is pairing mode:
When you set up the Alexa device, you can pair it up with your smartphone via Bluetooth connectivity. This gives the home speaker device extra functionality and gives you more control.
But when you pair the device for the first time, and it is not pairing up or stuck in the pairing process, you will see the blue ring continuously spinning around the device. This will go on until the connection is successfully established.
If your smartphone is paired with your Alexa device but still shows blue spinning light, it could only mean that you are dealing with a hardware defect here. In that case, follow the final solution mentioned below.
Contact customer support:
If none of the reasons above worked out for you or gave you an answer about the cause behind the blue spinning light, there is possibly an issue with the device's hardware. So to fix this, contact Amazon's customer support via call or Email, and they should provide you with a proper resolution. If the Alexa device you are dealing with is new and under warranty, you could also get a replacement for it.
So these are all that you need to know about the blue spinning light in the Alexa device. If you have any questions or queries about this article, comment below, and we will get back to you. Also, check out our other articles on iPhone tips and tricks, Android tips and tricks, PC tips and tricks, and much more for more helpful information.