If you have familiarity with smartphone technologies, you must have heard of the AirDrop feature. Normally, this feature is found on iPhones and other Apple devices. It allows the users to easily transfer a file from one device to another. Similar to that technology, now Android devices have also the Nearby Share feature. It helps the user to transfer any file between multiple Android devices.
It's working is simple. When you initiate the sharing process on your device it will look for nearby devices. If someone is within 6 feet distance of your device then he can easily receive the file that you send on their device. This will work fine in your home or your office. The transfer will use various popular protocols such as Bluetooth, WiFi, Hotspot, etc.
Guide | How to Increase the Resolution of Image on Android Devices
This part is quite important to be aware of. Not every Android device can support this feature. Only those smartphones running on Android 6.0 Marshmallow or the higher OS version can support this feature. Since it is quite new, it is available on Pixel devices and some selected models of Samsung Galaxy series flagship units. It is also available on Oneplus devices.
We are sure that within the next few weeks this feature will be available to all the other major Android-based smartphone models. The Nearby share feature is a part of Google Play Services. This means it will automatically update and integrate with the device. There won't be an OTA rollout to induce this feature to the Android devices.
Go to Settings > go to Google
Then tap on Device Connections
Under that, you should see the Nearby Share option. Tap on it.

Then tap on the toggle to enable it
Understanding the Device Visibility
Under Nearby Share, there is a tab Device Visibility. It has three options that you can set as per your requirements.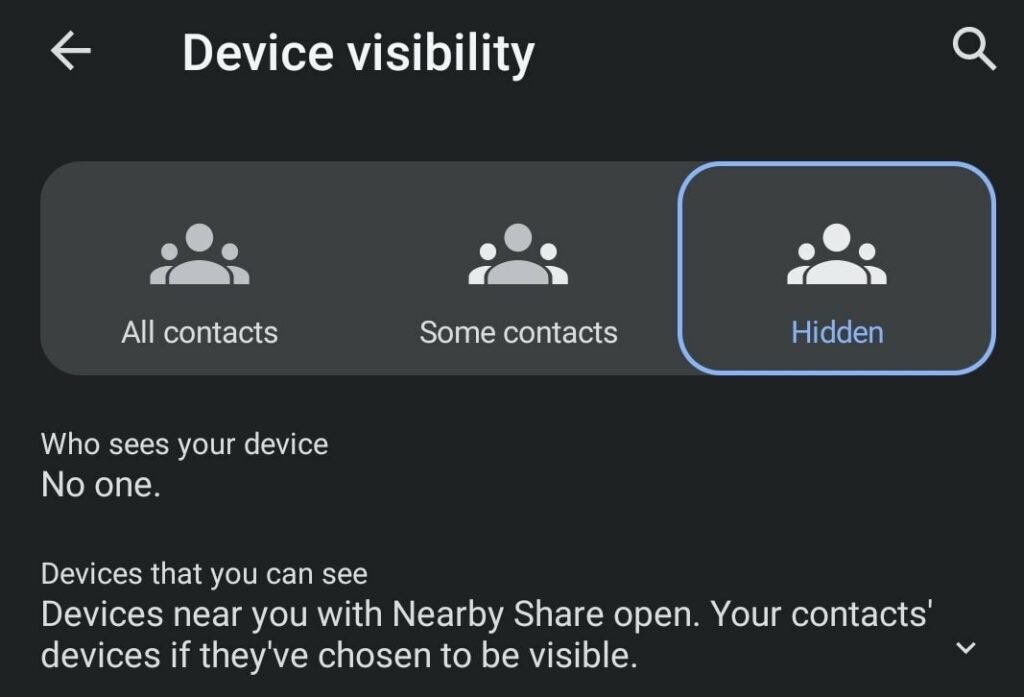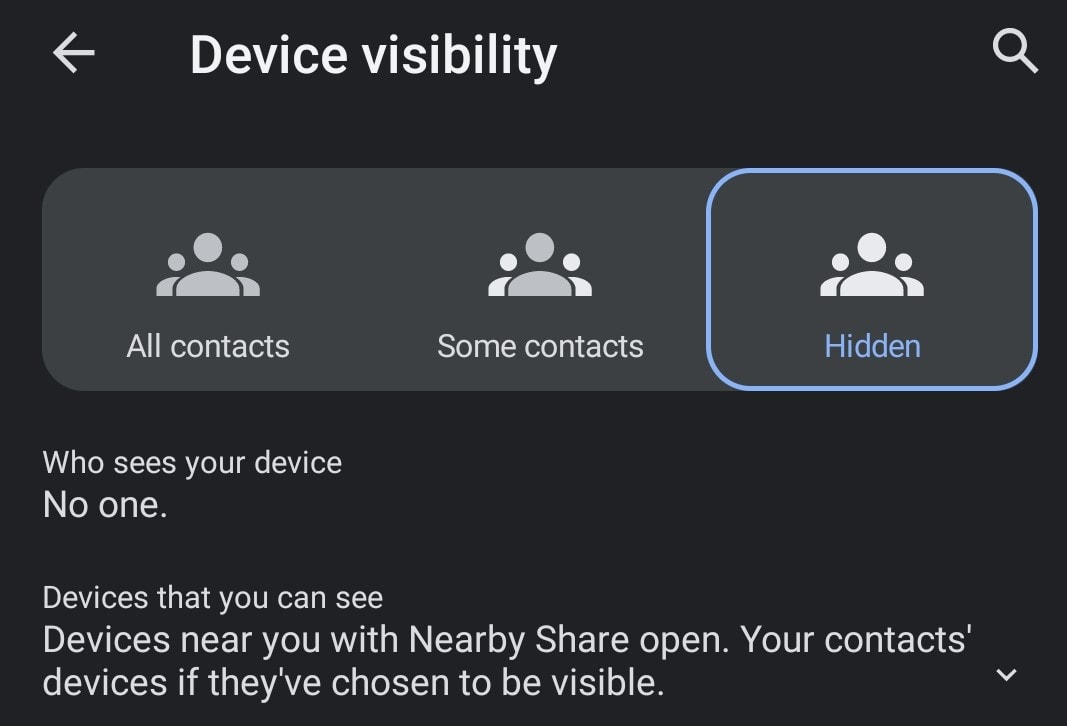 All Contacts: This means all the contacts on your devices can detect your device if Nearby Share is enabled on their respective devices.
Some Contacts: With this option, you can choose which particular contact on your device can see your device receive any file from you.
Hidden: As the name suggests no one will get to see your device irrespective of whether Nearby Share is enabled on their device or not.
To use this feature you need to have the email id of all the contacts with whom you wish to share files. Both your device and the device on the receiving end have to verify their phone number.
Specifying the Data Usage
Under Nearby Share, there is a tab Data Usage. From that, you can specify whether you wish to transfer small files with the active data plan available on your phone. You may also make the file transferable only when your device is connected to a WiFi network.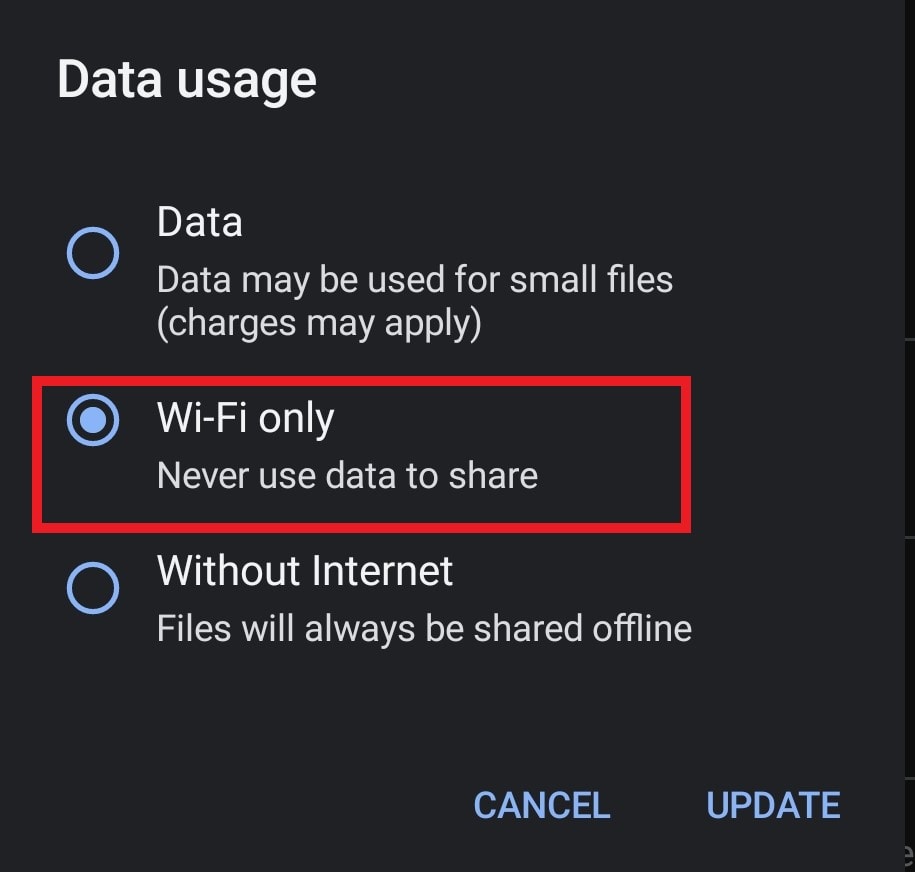 If you wish to transfer a file offline (via Bluetooth) then you can choose Without Internet option.
Let's say you wish to send an image file.
Tap on the Share button
Select Nearby share from the share menu
Your phone will search for Android devices nearby
The person nearby whose device can detect the sender's device will see a pop-up notification
Ensure to keep the Bluetooth and Location turned on the devices of both sender and the receiver.
The receiver has to tap on the notification to connect
The receiver's device will be visible on the sender's device
The sender has to tap on the device name of the receiver to initiate sharing
Sharing time will depend upon the file size. Smaller files will transfer in a few seconds and the larger files may take some more time.
So, that's all about the nearby Share feature of Android devices. Try it out and let me know whether this feature is available on your device or not.? If it's available, then does it work smoothly.? Share your experiences in the comments.
Read Next,