If, for a long time, you have been waiting for a comparison article between Apple Watch Ultra vs Garmin Forerunner 955 vs Forerunner 945, then here we are with it. In this article, you will get to know about all the features of these smartwatches. Moreover, at the end of this article, we will reveal which one you should buy. So, let's get started with it.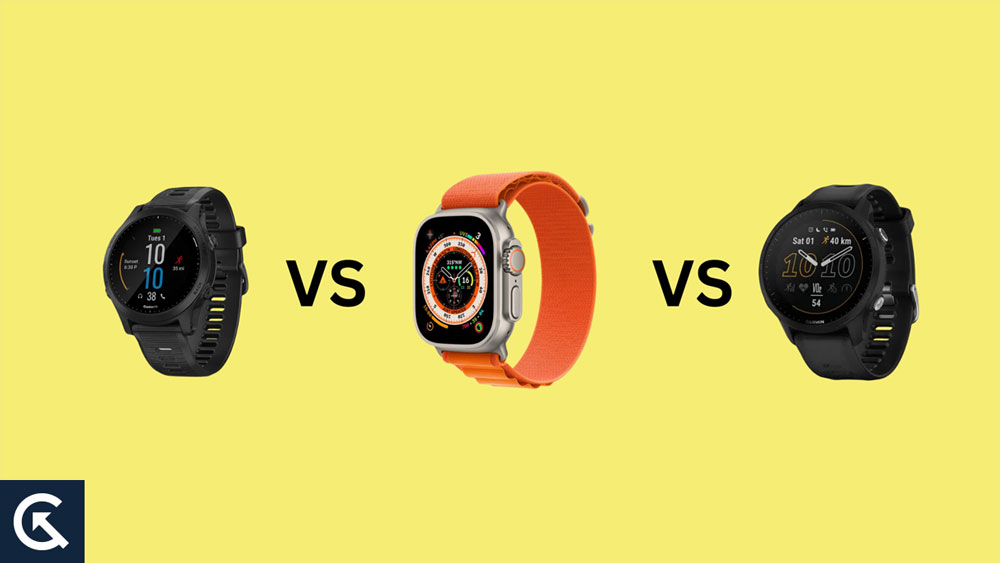 Apple Watch Ultra Specifications:
The Apple Watch Ultra is Apple's latest product line, designed specifically for endurance athletes and adventurers. The watch will be broken down in detail below, but first, let me quickly summarize some key differences:
An increase in case of size to 49mm has been made.

The display is made of sapphire glass and has a titanium case.

A new button on the control panel called the Action button is designed to be used with gloves.

Digital crown size has been increased for glove usage.

It has been upgraded to WR100 (100m) for diving use.

For louder outside volume, I added an extra speaker.

With three microphones, wind-cancelling audio is now possible.

To enhance emergency response and attention, a siren with 80 dB has been added.

Apple Watch Ultras come with cellular capabilities.

With Low Power Mode, the battery life is increased to 36 hours or up to 60 hours when on standby.

There is now a Low Power Workout Mode that is capable of handling an Ironman race (with GPS).

2,000 nits of brightness have been added to the display.

Cycle tracking has been improved with the addition of a temperature sensor (also on the Watch 8).

Updated compass app with trackback functionality.

A new dive computer mode and a partnership for an app specifically designed for dive computers were added.

There is no vehicular crash detection on all Watch models, including Watch 8 and Watch SE 2nd Generation models.
Garmin Forerunner 945 Specifications:
Its lighter weight and less bulk make the Forerunner 945 a great upgrade over the two-year-old Forerunner 935. Forerunner 945 interests me so much that I may even sell my Fenix 5 Plus. Music support is available onboard, along with advanced performance monitoring tools, a pulse oxygen sensor for tracking sleep and high altitude training with 10 hours of GPS mode.
It features a 1.2-inch colour display with 240×240 pixels, protected by Corning Gorilla Glass DX.

This watch band is made of a polymer case material reinforced with fibres and has a silicone QuickFit feature.

It is WiFi-enabled, Bluetooth-enabled, ANT+-enabled, and GLONASS/Galileo-enabled.

Dust and water resistance are rated at 5 ATM.

In smartwatch mode, the battery can last up to two weeks, while in GPS mode, it can last up to 36 hours; in GPS mode, with music, it can last up to ten hours.

It measures 47 x 47 x 13.7 mm and weighs 50 grams.
It is 15.8 mm thick and weighs 86 grams, whereas my Fenix 5 Plus is 15.8 mm thick and weighs 86 grams. There are stainless steel and sapphire glass in the Fenix 5 Plus and longer battery life.
Garmin Forerunner 955 Specification:
Many features are built into Garmin's new Forerunner 955 multisport watch, making it an excellent training tool for enthusiasts. It comes with advanced metrics, onboard maps, a higher-accuracy GPS, and solar power.
LCD screen with transflective MIP technology, 1.3 inches.

Dimensions of the case: 46.5 mm.

There is a 14.4mm thickness to the case.

Size of the band: 22mm.

Weight: 52 grams.

Up to 2,000 songs can be stored in 32GB of storage.

There is a water resistance of 50 metres (5ATM).

It features GPS (multiband GPS, Glonass, Galileo, BeiDuo, QZSS), a compass, a thermometer, a heart rate monitor, and a pulse oximeter.

The device has Bluetooth, ANT+, Wi-Fi, and NFC connectivity.
Garmin Forerunner 945 vs Forerunner 955:
Runners love the lightweight, minimalist, clean design of Garmin Forerunner running watches. Garmin's Forerunner 955 and 955 Solar actually retain a sleek design despite adding a substantial amount of features, making them ideal for runners and triathletes! Moreover, it is possible to create a larger GPS watch at the same time!
It weighs 52 grams, is 1.3 inches long, and has a case size of 46.5 mm, making it a lightweight titanium watch with this level of training capabilities.
Besides its 1.3″ display, 46.5 mm case, and 53 grams, the 2022 Forerunner 955 Solar is also solar-charging. Runner's watches this light are hard to come by.
You can also find the Forerunner 945 with a 1.2″ display, 44.4 mm case, and 49g weight if you want a smaller advanced multisport watch without Garmin training tools. What more could you ask for in a running watch than a new colour option, training tools, a better price, and the option to charge it with a solar panel?
It features a 44.4 mm case with a 1.2″ display and costs $599.99 if you buy the tri-bundle. The previous Garmin Forerunner 945 consists of two black and blue watches. You can choose between black or white in the base model or black or white in the Solar model in the 2022 Forerunner 955/955 Solar series.
It has a slightly larger case size of 46.5 mm with a smaller 1.3″ display but only weighs about a gram more than its predecessor. More features than before, but still light and sleek on the wrist. However, the Forerunner 955 Solar is still priced exactly the same as the Forerunner 945 Solar—$599.99—and the base model is $100 less!
Forerunner 945 And 955: Similarities
Forerunner 945 and 955 have the following features and sensors in common:
Accelerometer and thermometer

Garmin Play

MP3 Player

Advanced Training Tools

Glonass, GPS, Galileo

Heart rate monitor

Blood saturation monitor

Gyroscope

Round Trip Course generator

Fall Detection and assistance

Climb Pro and Mapping

Water Resistance up to 5 ATM
Garmin Forerunner 955 vs Apple Watch Ultra Comparison:
There is only one size of Apple Watch Ultra, and no separate cellular or GPS model is available. It would cost around $800 to buy the watch.
Also available in one size, the Garmin Forerunner 955 can be divided into Solar and Non-Solar variations. There is an additional $100 charge for the solar model. It costs around $500 for the base model.
Garmin watches aren't as feature-rich as Apple watches when it comes to smart features. In addition to making contactless payments through Garmin Pay, the FR 955 can also stream music from Deezer and Spotify. It offers only these two noteworthy features, however.
With the Apple Watch Ultra, there are many more features to choose from. You can also use the App Store to download many third-party apps, including contactless payments, music streaming, and a voice assistant called Siri. Both products are equally capable when it comes to practical features for runners, but the Apple Watch Ultra clearly wins here.
Apple Watch Ultra's biosensors can track your health. To measure your heart rate and rhythm, it has an ECG sensor. To monitor blood oxygen saturation, a blood oxygen sensor is included. In addition to sleep tracking, heart rate monitoring, and calorie counting, the app also has regular features.
With the exception of the ECG, the FR 955 offers all the features Apple offers for health monitoring. Fitness and health data can be accurately collected with Elevate V4 sensor and first beat analytics. Despite its battery life and running features, the Apple Watch Ultra is a top performer in every department.
Garmin Forerunner 955 is a smartwatch primarily designed for running. Garmin has had these features for years, even if Apple Watch Ultra offers what it claims. In addition, the solar panel provides significantly longer battery life.
Compare Garmin Forerunner 945 Vs Apple Watch Ultra:
Does Apple watch ultra or Garmin Forerunner 945 make more sense? Now that you have found us, you can stop searching. Choose the best Smartwatch based on your needs by comparing its Price in India, Body, Display, Storage, Connectivity, Camera, and Performance.
Apple watch ultra starts at $1,049, but the Garmin Forerunner 945 can be had for as little as $580. You can compare the specifications of both models by looking at the detailed comparison below. Also, don't forget to check expert opinions. Compared to the Garmin Forerunner 945's 14 days battery life, Apple Watch Ultra has a longer battery life with colour OLED.
Will the Apple Watch Ultra replace your Garmin?
Garmin's SatIQ automatically switches GPS modes to balance accuracy and battery life in the Apple Watch Ultra, but it's unclear whether the Apple Watch Ultra will feature such a feature. In a firmware update that's expected later this fall, it will have a battery optimization mode.
One of the biggest problems with the Apple Watch has always been its battery life when it comes to serious outdoor sports. In order to take part in off-grid adventures or multi-day events, the standard Apple Watch must be charged every day. There is something new about the Apple Watch Ultra.
Conclusion
In contrast to the Apple Watch Ultra, the Garmin Forerunner 945, 955 is compatible with Apple and Android users via the Garmin Connect app, like all the best Apple Watches. In the case of Android users, the decision is pretty simple. So, you can choose any of the smartwatches. Thus, we hope you find this guide helpful. Meanwhile, in case you need more info, comment below and let us know.