Are you having trouble with your Asus ROG Ally games stuttering or freezing? Looking for solutions? Worry not, as we are here to help. Gaming should be about excitement, not frustration, right? With that, though, we have compiled this article covering simple yet effective fixes.
Asus ROG Ally Games Stuttering or Freezing issues can be annoying sometimes. This error can make the gaming spirit fade away, especially while you are in the middle of the game and have progressed enough. However, as common as this error is, there are multiple quick and easy ways to fix the same. There's no need for complicated tech talk; we're all about straightforward solutions here.
So, join us in this article and say goodbye to those annoying stutters and freezes interrupting your Asus ROG Ally gaming flow. Get ready to enjoy non-stop gaming fun.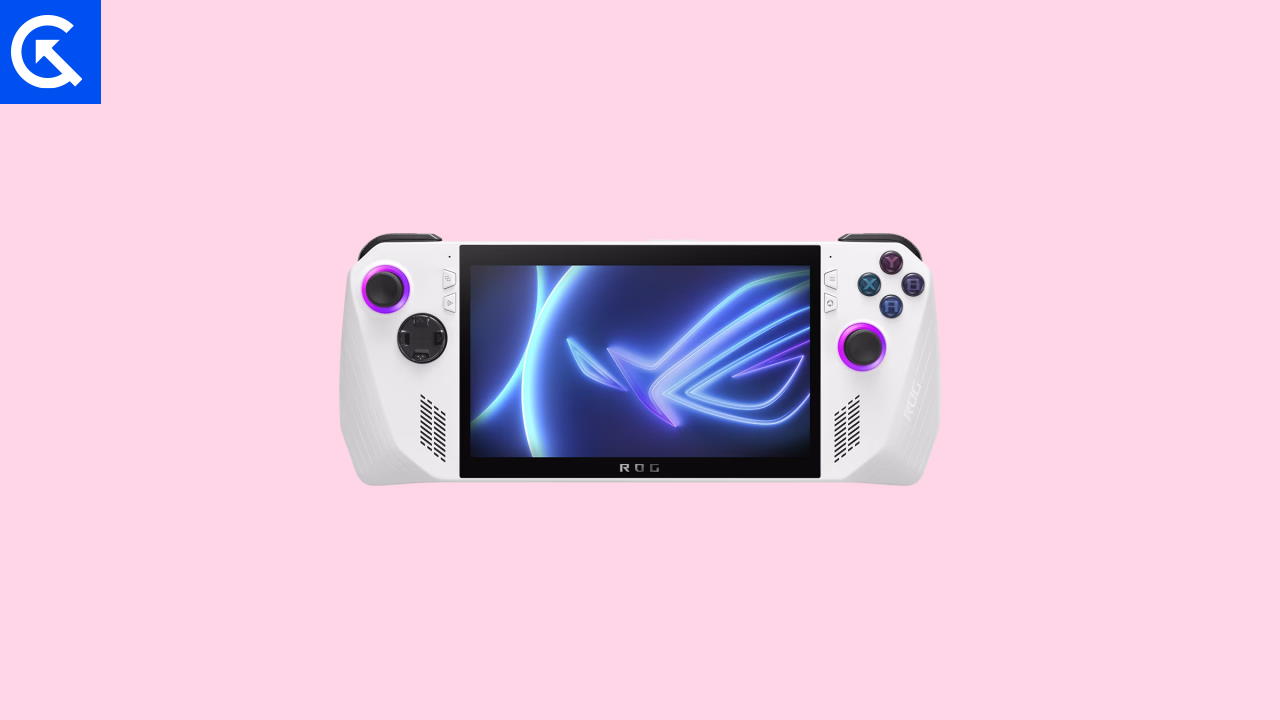 Why does Asus ROG Ally Shutter/ Freeze?
Asus ROG Ally stuttering or freezing can be caused by various factors. Some of the common reasons include:
Outdated GPU drivers or BIOS versions
Hardware is overheating, especially when the laptop is not well-ventilated or something is blocking the airflow.
Insufficient System Resources
Or, Disabled RSR and FPS limiter
Fixes: Asus ROG Ally Games Stuttering or Keep Freezing Issue
Before we move into the list of fixes, try these quick solutions and check if they help:
Optimize Refresh Rate: Adjust your refresh rate to 60Hz within the game settings. If performance remains consistent without stutters, consider experimenting with 120Hz for less demanding titles.
Vertical Synchronization: Activate vertical synchronization (v-sync). This syncs your game's frames per second (FPS) with your ROG Ally's display, minimizing unnecessary computations and the potential for stuttering.
Check Fan Settings: Go to the settings menu and locate the Operating Mode section. Here, set Preset to Manual preset and set the fan speed to maximum. Doing so might introduce some noise but plays a vital role in preventing overheating during intense gaming sessions.
By implementing these adjustments, you'll take proactive steps to ensure your gaming console runs smoothly. Enjoy a seamless gaming experience on your ROG Ally without the disruptions caused by overheating or inconsistent refresh rates.
However, if none of them are of any help, proceed with the solutions below:
FIX 1: Update the GPU Driver
Keeping your GPU driver up to date is crucial to prevent Steam games from stuttering on your ROG Ally. To do so, follow the step-by-step process explained below:
Firstly, visit the Asus Driver & Tools section on the Asus official website.
Now, locate your specific ROG Ally model. Further, choose your Operating System (Windows 11) and get the appropriate driver version.
Now, look for the Graphics section and click the Download button. It will download the latest GPU driver for your system.
Once the driver is downloaded, run the installation file on your ROG Ally and follow the on-screen instructions.
Please Note: Updating GPU drivers regularly ensures compatibility with the latest games and patches. It also reduces the chances of stuttering issues.
FIX 2: Update BIOS
Ensuring your BIOS is up to date is crucial for a smooth gaming experience on your ROG Ally. To update the BIOS, follow the steps given below:
Visit the Asus official website and navigate to the Bios & Firmware section.
Now, choose your specific ROG Ally model. Further, locate the BIOS update depending on your model and click Download. This will download the latest BIOS version that addresses known bugs and stuttering issues.
Once the BIOS update is downloaded, run the executable (.exe) file on your ROG Ally. As it initiates the update process, make sure you stick to the on-screen instructions provided by the BIOS update utility.
Please Note: Following BIOS updates ensure the latest optimizations and bug fixes while improving gaming performance.
FIX 3: Enable Radeon Super Resolution
Enabling the Radeon Super Resolution feature on Asus allows gamers to lower the game resolution to less than the native resolution. To do so, here's a quick step-by-step guide:
Launch the Game, go to its Settings, and reduce the game resolution to 1280×720.
Now activate RSR (Radeon Super Resolution) by using the Command Center button.
Lastly, restart the game and enjoy the enhanced visuals. The stuttering issue will no longer bother you.
FIX 4: Enable FPS Limiter
Keep your ROG Ally cool and your gaming performance smooth by enabling the FPS limiter. Here's the step-by-step process for the same:
Firstly, press the Armoury Crate button on the console and open the Settings menu.
Now locate the Plus symbol under the Edit Command Center section and click on it to add the FPS limiter to your arsenal of tools.
Now press the Command Center button and select the FPS limiter option. Here, choose the desired FPS limit.
TIP: Set the FPS Limit to 60FPS (for demanding games) and 120FPS (for lighter ones).
FIX 5: Check ROG Ally's Temperature
Monitoring your ROG Ally's temperatures is crucial to address potential overheating issues that might lead to game stuttering.
All you need to do is monitor your ROG Ally's temperatures while gaming. Remember, overheating can indeed result in performance problems.
If you notice high temperatures and suspect overheating (even or not if it is causing game stuttering), contact the store where you purchased the console. Addressing the issue to customer support can help diagnose and resolve the issue promptly. It is important to maintain optimal operating temperature, especially for ROG Ally's longevity and smooth gameplay.
FIX 6: Free Up Some Space
Creating sufficient free space on your ROG Ally is essential to prevent game stuttering caused by low memory. Here's how you can do the same:
First, verify if you have enough storage available. If not, find apps, files, or media you no longer need and delete them. Doing so will free up a lot of space.
Simultaneously, back up important data and then clear cache files from apps and browsers. Cache files accumulated over time take up important space, and thus, it is crucial to clear them.
You can also use external storage solutions like USB or hard drives to offload files. You can optimize your ROG Ally's performance by ensuring you have ample free space.
FIX 7: Factory Reset ROG Ally
The last resort is to perform a factory reset. Doing so can sometimes resolve persistent issues with your ROG Ally. Here's the step-by-step process for the same:
First, connect your ROG Ally with a 65W charger and press the Volume Down and Power button.
Then, allow the console to boot up with the BIOS and choose the Y button to exit from the EZ Mode.
Now navigate to the Advanced tab, select the ASUS Cloud Restore option, and click on A to continue the process.
Consider resetting the Windows operating system before going for a complete factory reset. Doing so is known to resolve software-related issues, but it doesn't erase your data in the first place.
However, if resetting Windows doesn't solve the problems, a factory reset might be necessary. Before doing so, back up all your important files since a Factory Reset will erase all your data and settings.
However, remember, a factory reset should only be considered after trying other troubleshooting steps and when you've exhausted all alternatives.
Wrapping up…
These were all the possible fixes for the "Asus ROG Ally Games Stuttering or Keep Freezing" issue. We hope you will find the information helpful and relevant.