Audacity is a free and easy to use audio editing program for major desktop platforms like Windows, Mac, and Linux. Its a widely used program for both professional as well as personal use. Hence it is one of my favorite and must to have programs. But recently I'm facing a peculiar issue and dealing with Audacity Internal PortAudio error on my Windows 10 PC. With such an error, it is hard to concentrate on my work and after some online digging, I found many users are facing the same.
Although it seems very easy to use, you will get into some errors if you didn't configure your device properly, especially in windows, where these errors are very common. So lately, many people started reporting that an Internal Port audio error started to appear on their Windows 10 machine. So in this article, we are going to explain a full step by step guide to solve this issue.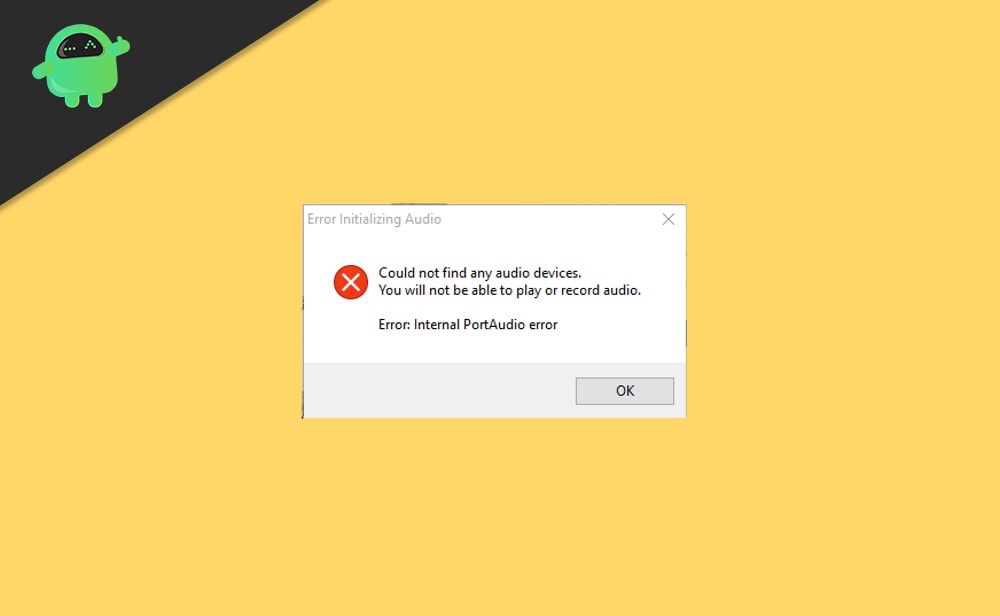 Fix: Audacity Internal PortAudio Error on Windows 10
Audacity Internal PortAudio errors are usually one time error which can be solved easily with a simple PC reboot. But in case you are facing the issue, there are some troubleshooting methods which you can try below.
Method 1: Check the audio device connection status
The first step in troubleshooting is to check if all devices are connected properly. If there are any loose connections or port damage, you may see this error. So first of all, check all devices are connected and are functioning properly.
After checking for connection, let's see if Windows recognize our devices. Use the sound recorder and see if you can record sound in the app. If it's not working, then we have to check it before we can continue.
Method 2: Check for Input devices in Windows Settings
Then it's a good idea to check if the audio device is working. To do so, follow these steps.
Right-click on the speaker icon on the taskbar and click on Sound settings.
Scroll down to Input and see what devices are listed in Input devices.

If it says no input devices found, then click on Manage devices, click on any device and try enabling them.

If all settings are checked here, we can move on to the next steps of troubleshooting.
Method 3: Run the Troubleshooting wizard
Windows comes with a very useful tool for troubleshooting basic issues. Before doing any fixes, it's wise to run the troubleshooter because it saves us some time by cutting down the hassles.
Open Sound settings, as mentioned in the above steps.
Go to input devices and click on troubleshoot.

Let it run for a while, and if it finds any issues, it will ask you to click on Apply fix.

Click on it and let it fix the issue for us.
Once it completes, check if the issue is solved. If not, you can move to the further steps.
Method 4: Check Audacity
Sometimes, Audacity will not update the device changes. Especially if you accidentally unplugged a device and replugged it, audacity will not recognize the change and will throw out the error message. So we should manually make Audacity to scan for Audio devices. To do so,
In the audacity menu, click on the Transport menu from the menu bar.
Click on Rescan audio devices.

Let it scan and see if the issue is still present or not.
Method 5: Update Audacity
If you're still running the older version audacity, you may get this error. Because sometimes, older versions of audacity will not be compatible with Windows 10. In such cases, you have to re-download the latest version from the official page and install it to update it to the latest version.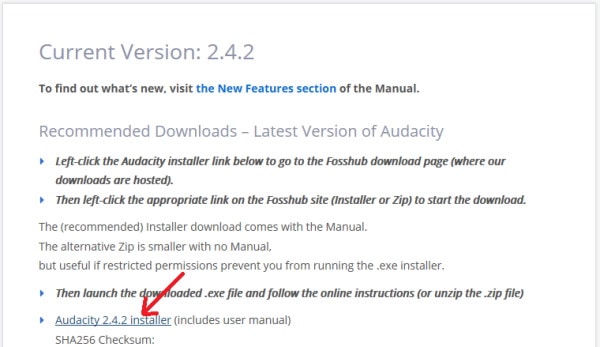 The better version of this is to uninstall the Audacity program first and then installing the new version because this will also fix any corrupted files causing this issue.
Method 6: Update Drivers
One of the main reasons behind this issue is when you are using outdated or incompatible drivers. So it's a good idea to always keep drivers up to date to eliminate such errors. Windows 10 can automatically check for updated driver software and install them. Although we can do it manually using the following steps.
Right-click on the Windows icon and select Device manager from the popup.

Now when the Device Manager opens, Scroll down and find the Sound device.
Expand the list and right-click on the device, and select Update Driver.

Now select "Search automatically for updated driver software" and let it run for some seconds.

If found, Windows will automatically install those drivers.
Although if not found, then you can click on "Search updated drivers in Windows update."

Selecting will take you to the windows update settings. If there are compatible updates, then you should download them and let windows install them for you. Although for some devices, you may not have updated drivers in Windows update. But don't worry, we have a solution for that too.
Method 7: Download official drivers
Now, windows come with generic drivers for all devices like Display, audio, and Wi-fi drivers. But these generic drivers only provide limited functionality and often create some issues with programs like Audacity. So it becomes necessary to install the correct drivers from the official website for your device. Let's see how you can do that.
Go to the official download page for your desktop or laptop. If it's a custom build PC, you have to find out the official website for your motherboard to download the latest driver software.
Below mentioned are some official download websites for respective brands for laptops and desktops.
Dell
Lenovo
HP
Acer
Asus
Although a quick google search will take you to the respective website plus, you can refer to the manual that came in with your device. Some manufacturers also include a driver utility CD along with the device.
Now on the website, select the appropriate Device type (Laptop/Desktop), Model no.
In OS selection, be sure to select Windows 10 and 32bit or 64bit (whichever you are currently on).
(To know which system you're using, open Right-click on This PC and click on Properties. You'll find the details.)
After selecting OS type, select audio device drivers and download them.
Now install it by double-clicking it, let it finish, and restart your system.
Now check if the issue is solved, then the issue should be solved now, and you can use Audacity without any issues.
Conclusion
So these were some fixes for Audacity Internal port Audio error in Windows 10. As you can see, these steps are not very hard to do and require only basic knowledge. Thanks to tools like Troubleshooter, fixing some basic things are very easy.
So try them one by one. If nothing else works for you, then there is a great chance of hardware fault. So at that point, there is nothing you can do except to give it to the professionals to fix.