Smartphones have unlocked the doors to many things in our generation. We no longer need to rely on traditional means of booking a cab, reading the news, or sending somebody an email. While there are many things a smartphone can help users with, entertainment is possibly the biggest reason for its success. We love watching YouTube videos, sharing memes on Instagram, and watching vines on TikTok. What if one day you decided to mess with your friends, in a harmless way of course?
Well, the Google Play Store has always been home to many apps that allow you to mess with your friends or family members. There are plenty of harmless and fun apps that allow you to prank somebody you know. Maybe it's a cracked screen or police sirens, anything that keeps your friends in a moment of shock! This is why we've taken the liberty to find and test some of the best prank apps for Android that we think you'll love to use to mess with your friends!
Best Prank Apps for Android to Mess With Your Friends
Do note that the following apps are purely made for casual and fun use. We do not recommend you use any of these apps to harm somebody in any way. Pranks are great but even they have a limit. With that being said, let's take a look at some of the best prank apps for Android that you can use to mess with your friends in 2020!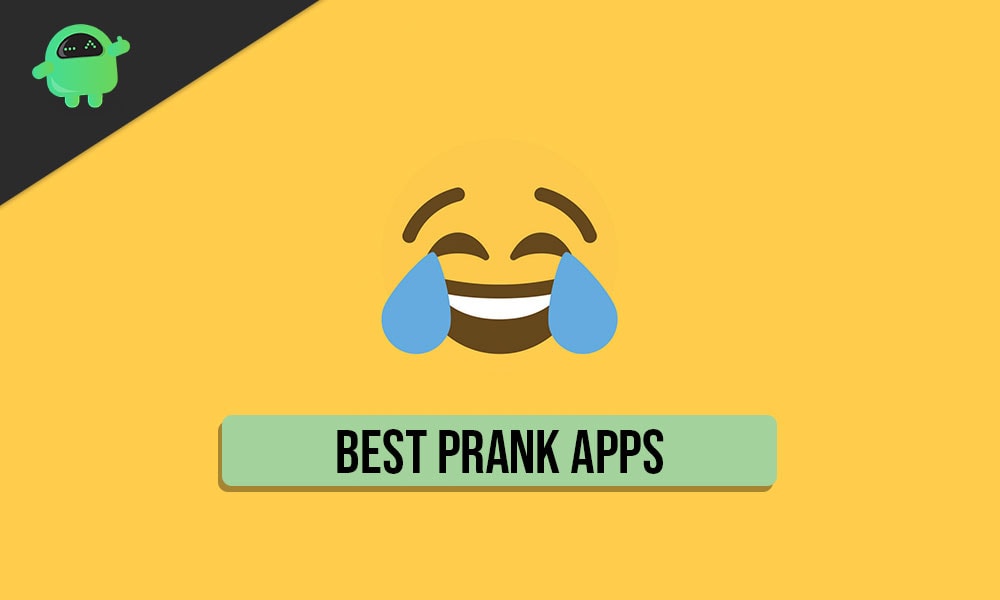 1. TV Remote Apps
If your phone has an IR Blaster, then this prank is probably the most fun thing you can do to mess with your friends or family members. While none of the TV remote apps that have been made have been built for this intent, it is still a hilarious prank to pull off. All you need to do is find a compatible TV remote app for your phone that also works for your TV. Once everything is set up and running, all you need to do is get creative and smash a few buttons to change the channels, turn the TV on or off, or anything that would startle your friends or family!
In case you need suggestions for some good TV remote apps that you can use to prank your friends, then worry not since we've got you covered. We've already listed some of the best TV remote apps in an article before which you can find by following the link below:
2. Broken Screen Prank
What's scarier than borrowing your friend's phone and giving it back with a cracked screen? We have a perfect app that does exactly that for you. The app is lightweight in size and takes no longer than a few seconds to install on any Android device. Once you have it installed, you can activate the fake screen crack simply by toggling an option or shaking the phone. This will bring up cracks on your screen and will surely scare the lights off your friend. The app also has a few other effects for cracks such as electric damage to make the situation even funnier.
3. Celebrity Voice Changer
In case you wanted to prank call your friend while posing as a famous celebrity, this app does wonders for you. While it only has a couple of celebrities to choose from, it is nonetheless a very enjoyable prank. All you need to do is record your voice with any message you want, save it with a good quality preset for compression, and then let the app do all the work for you! The app will do its best to try and make it seem like a famous personality has said the words you've just recorded. The app also adds a bit of echo, reverb, and noise from the environment to make the audio sound even more authentic.
You can choose from the voices of famous singers, celebrities, or other idols that the app currently supports. There are also various effects that allow you to convert your voice into that of a robot or a scary little girl. The possibilities with this app are endless and we think it would make up for a very good prank app for Android devices.
4. Air Horn Prank
While loud pranks are something most people instantly hate, it is no doubt that they are the ones that startle most people. If that's the case and if you just want to prank an annoying friend of yours, then there's nothing better (and louder) than an air horn. There are plenty of apps on the Play Store that stimulates the sound of an air horn and the one we've linked below works wonders. It also has other sounds such as a ship horn, air horn, or a siren. Just be prepared to get smacked once you startle your friend with this one!
5. Razor Prank
Everyone cares about the hair on top of their head and a razor is the last thing they'd expect going across their head randomly. Of course, doing this with a real trimmer would have dire consequences but this is where your Android device comes into action! There are plenty of good razor prank apps available on the Google Play Store and the one we've linked below works amazingly. When you toggle the switch on, the apps stimulate the sound of a real hair trimmer or razor. It also vibrates your phone for an even more realistic approach.
The app also uses your phone's proximity sensor for the most realistic experience. This is one scary prank and we wouldn't recommend you use it on any of your short-tempered friends or family members! Nonetheless, the classic razor prank is a harmless and fun way to troll your friends.
Conclusion
That's all folks! We hope you enjoyed our roundup of the best prank apps for Android in 2020! Which one among the list is your favorite, and how many of these prank apps for Android have you already known or have been using? Know other good apps to mess with your friends that you feel people might find interesting and fun? Do let us know in the comments section below, we'd be delighted to hear from you guys!