Due to the nature of my work, I write a lot. On an average day, I write around 2000 words. Earlier, when I started writing blogs, I had a less than decent computer which would crash almost every time I tried to run Google Chrome and MS Word simultaneously.
That's why I preferred writing on my smartphone. Things have changed these days and I no longer write lengthy blog posts on a 5-inch screen.
Thanks to the advancement in technologies, today we have so many apps that writing on smartphones doesn't seem that tough. With that said, here are some of the best writing apps for Android. No matter whether it's a blog post, product reviews, short stories, or a simple note, these apps will surely prove useful for jotting down your thoughts on the go.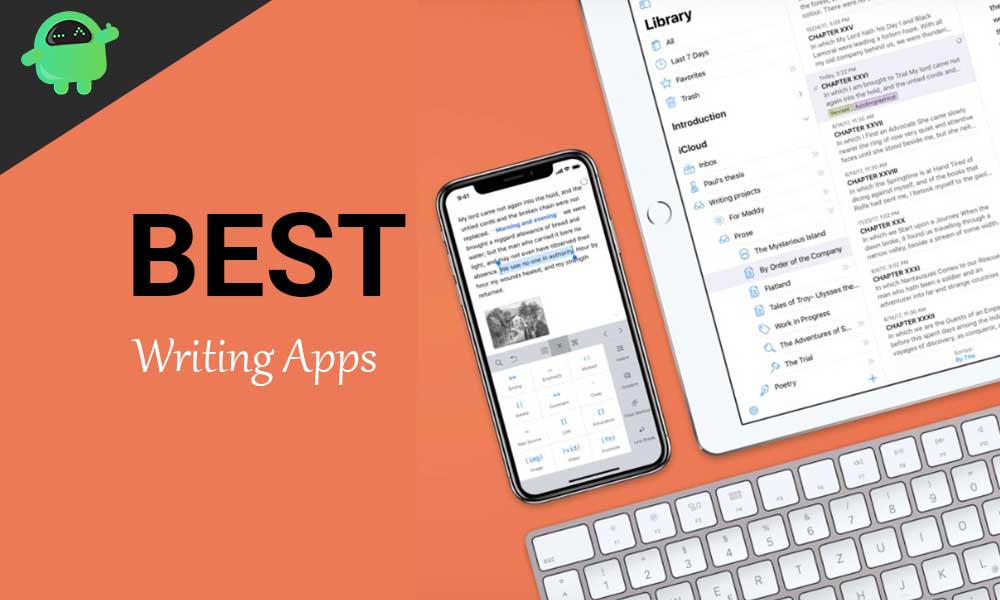 Best Writing Apps For Android
1. Google Docs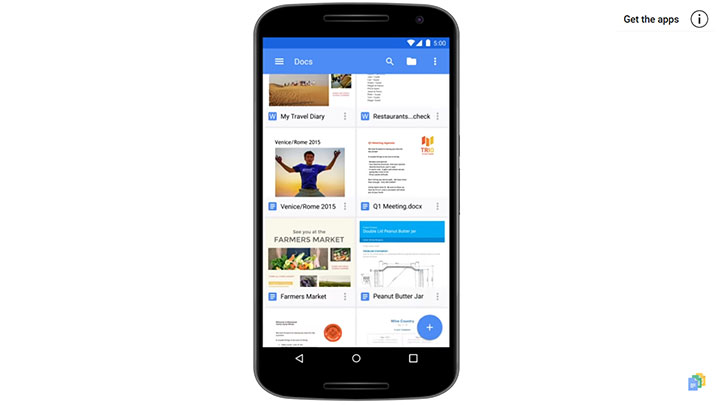 Everybody knows about Google Docs; after all, it comes preinstalled on every Android phone.
Google Docs is a powerful cloud-based word processor that's simple to use. Just open the app, create a new word file, and start writing. Since it's cloud-based, all your work is saved in real-time without you needing to save it over and over again just to make sure you're not losing any progress.
Since it's a Google product, you can expect seamless integration. All the files that you've worked on are available across all devices as long as you have an internet connection and don't forget your Google account credentials.
Google Docs is my writing app of choice on smartphones.
[googleplay url="https://play.google.com/store/apps/details?id=com.google.android.apps.docs.editors.docs&hl=en_IN"]
2. JotterPad – Writer, Screenplay, Novel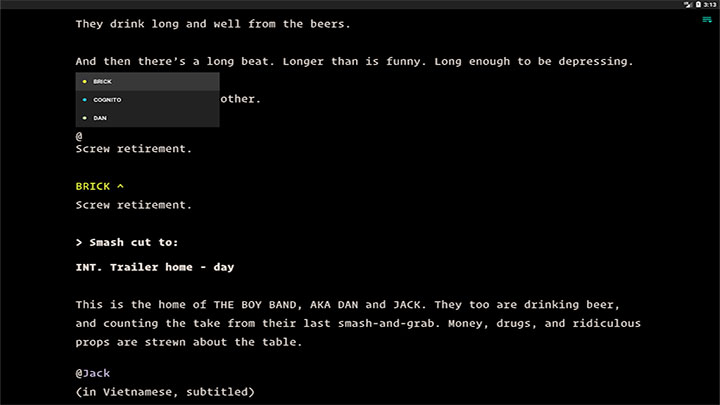 JotterPad has been around for so long that it has become an easy recommendation for anyone looking for the best writing apps for Android. In fact, it was one of the apps I used to use years ago when I started writing.
So, with this app, you can write, not only in English but in multiple languages. Moreover, it's designed with dedicated essay writers in mind who can easily jot down thousands of words on a daily basis. That's why it comes with a variety of features for different types of writing like screenplay or novels.
Some cool features include no-distraction mode, dark mode, word count, phrase search, Markdown support, cloud support, offline writing, and a lot more.
[googleplay url="https://play.google.com/store/apps/details?id=com.jotterpad.x&hl=en_IN"]
3. Microsoft Word: Write and edit docs on the go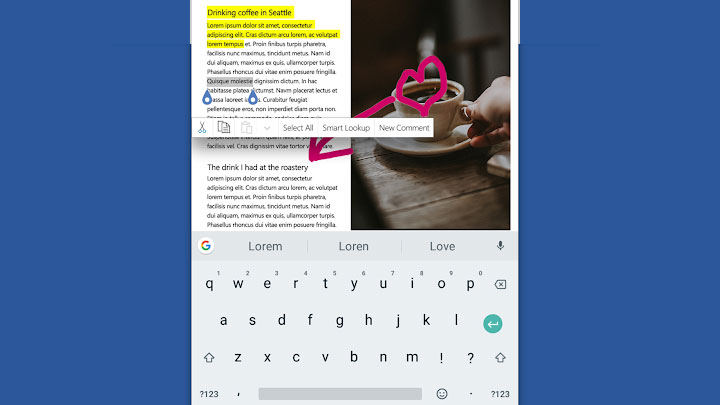 Microsoft Word or MS Word is probably the most used word processor of all time, and it works a lot like Google docs.
You can create a new file and start writing straight away or make use of some templates to get a head start. The app syncs seamlessly with Google drive as well as Microsoft's own OneDrive.
The interface of the app might seem familiar to you if you've used the recent desktop versions. The app can also be used as a PDF reader; so, that's a plus.
For a majority of users, features that come with the free version should be enough. But, power users might need to spend some cash to get the full version and use the app at its maximum capacity.
[googleplay url="https://play.google.com/store/apps/details?id=com.microsoft.office.word&hl=en_IN"]
4. Pure Writer – Never Lose Content Editor & Markdown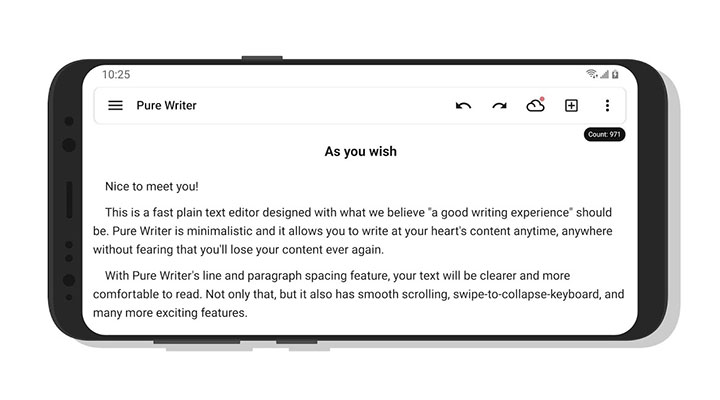 If you're looking for a minimal writer that reduces distractions and lets you focus just on writing, then you should give Pure Writer a try.
The word "minimal" shouldn't give away the idea that the app lacks features. In fact, it has all the essential features that you might need while getting in the zone. Options like line and paragraph spacing, smooth scrolling, swipe-to-collapse keyboard, and a lot more.
What's exciting here is that the content stays safe as long as you don't delete it manually. It saves as you write. If, for some reason, that doesn't work, it notifies the user and locks the app so that the content isn't lost accidentally. Failing that, the app also comes with a "history" feature in which you can recover anything that you've deleted.
Features like powerful undo, access to history, a recycle bin, etc. along with keeping things simple, make it a standout in this list.
[googleplay url="https://play.google.com/store/apps/details?id=com.drakeet.purewriter&hl=en_IN"]
5. Character Story Planner 2 – World-building App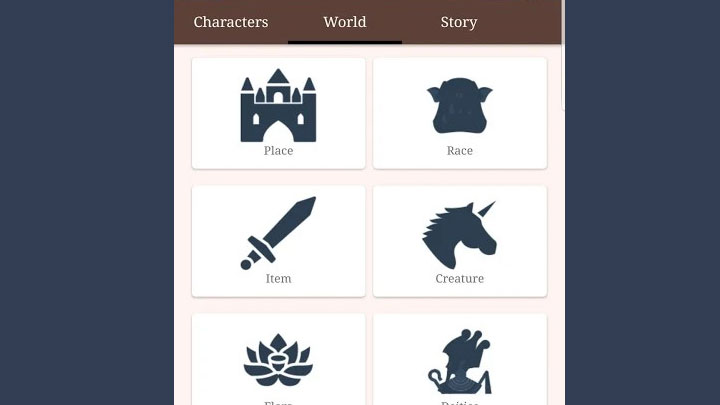 This one's a bit different from the rest of the apps in this list but in a good way.
Character Story Planner 2 is, well, a story planner. If you have a story in mind with rich background stories, deep character development, fantasy places, and whatnot, this app can help you organize all that with just a few taps. So, it's actually very useful for novelists on the go.
What's more? You can create an entire world here with amazing details. You can write a whole book and then move it to an actual word process for better control.
[googleplay url="https://play.google.com/store/apps/details?id=lfantasia.newstoryplanner&hl=en_IN"]
6. Markor: Markdown Editor – todo.txt – Notes Offline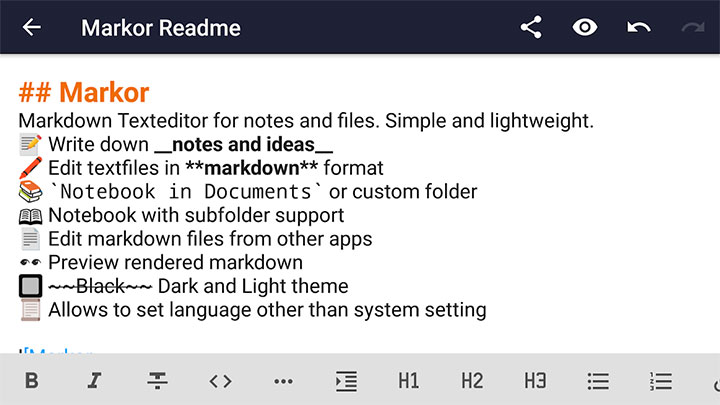 Markor is a simple and minimal writing app that focuses on Markdown for formatting texts. It's as simple as a word processor can be. You can use it for writing long paragraphs, make to-do lists, take notes, and a lot more. Once you're done, you can save the file normally or convert it into PDF. The good news? Markor is a completely free app without any intrusive pop-up ads or In-App Purchases.
[googleplay url="https://play.google.com/store/apps/details?id=net.gsantner.markor&hl=en_IN"]
7. Novelist: Write your novels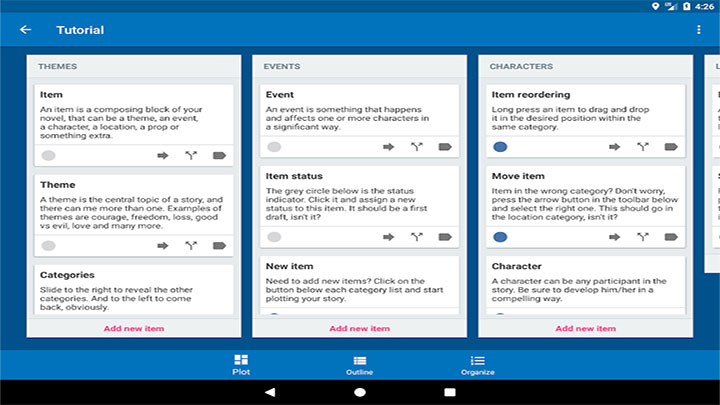 Novelist is a writing app aimed towards those who do a bit more than note-taking or making to-do lists. It's specifically designed to write long-form content with ease – like novels or short stories.
It has a variety of features designed to make the process of plotting, writing, preparing, and exporting as simple as possible. Other than that, it comes with automatic Google Drive backup, multiple templates, book preview, rich text editor with multiple formatting options, along with the ability to write on the web on any web browser.
Just like Markor, the app is completely free. No ads or In-App Purchases. Just focus on what you want to do and get it done.
[googleplay url="https://play.google.com/store/apps/details?id=it.returntrue.novelist&hl=en_IN"]
Wrap Up
Thanks to these apps, writing on smartphones isn't as cumbersome as it used to be.
All the apps mentioned above can be called the best writing apps for Android. But, that doesn't mean these are the only ones. Was your favorite app mentioned in the list? If not, what's your favorite app for writing on the go? Why do you like it? Share your thoughts with us in the comments below.