Where information is free, most websites use ads to cover the website's running costs. However, in most cases, these websites use excessive advertisements and can make the web experience cluttery and not friendly. Safari browsers do tend to discourage advertisers by not allowing them to read your personal information. However, you will still see many advertisements on your Safari browsers if you use Mac OS. So what's the solution? Well, there are certain steps you can do to block ads in Safari Browser on Mac OS.
Advertisements run based on your browser cookies, browsing pattern, your likings, and internet footprint. Most advertisements use google's analytics data to serve ads. There are many reasons why you might block any advertisements on your Safari browser. Maybe you do not see any relevant ads. Or maybe you will see annoying pop-up ads which you don't want to deal with. Whatever the case, people don't like ads when they are browsing websites. So today, we will guide you to block all unnecessary ads on your Safari browser.
What is Safari Browser?
In today's world, there are a lot of browsers available in the store. And all of them host a unique set of features. Starting from the most popular Google Chrome to the sluggish Internet Explorer, the store is flooded with all kinds of browsers. Here, each browser offers different features like ad blocking, auto downloader, and some even have a VPN installed in them. We would also like to add that there are also some command-based browsers, and others are graphical. Command Based are those in which you need to write commands to make to job done while in graphical, you can simply enjoy with just a click.
They were widely regarded as one of the biggest and the most reputed brands in the world, Apple Inc. So Apple has first introduced the Safari Web browser as their proprietary browser limited only to their macOS devices. This browser is based on the Webkit engine. Previously macOS devices used to come with Netscape Navigator, which was not so successful, so apple needs to develop something new. Now, it was 2003, and Apple had something new in their heads, and they came up with the Idea of the Safari web browser, which came along with Mac OSx 10.3. The browser was an immense success, and people appreciated Apple's effort toward this, and this had everything that was required a browser from the house of Apple.
How to Block Ads in Safari Browser on Mac
We understand your pain. Advertisements are sure as messy, and many of them ruin the web experience as well. But the good news for you as there are many ways to block any annoying advertisements on the Safari browser.
GetdroidTips gives you valuable information about the latest Android & iPhone trends, devices, and tutorials. And all of this cost is born by our advertisers, which in turn show ads on this website. We do not use excessive ads or disrupt your browsing experience. So we urge you not to block any ads on GetdroidTips.
Turn On Reader Mode in Safari
Reader mode is a special mode in the Safari browser, which blocks all un-necessary java scripts, ads, videos, etc. This mode only shows the text and images part, which is essentially what you would want.
You can set which websites you want reader mode to activate automatically. You can also turn it on by default for all websites you visit.
Note: Sometimes, websites may not look visually aesthetic when using the reader mode!
Setup Content Blockers in Safari
Content blockers is a special setting in the Safari browser, which blocks irrelevant Javascript content on a webpage. This means you will not see promotional videos, advertisements, etc.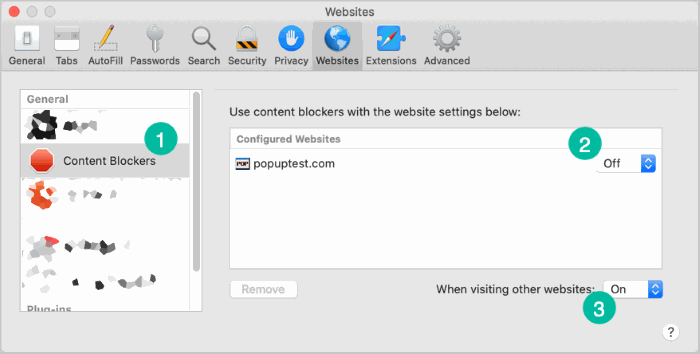 Similarly, you can decide which websites will activate content blockers automatically for a smooth browsing experience.
Blocking Auto-Playing Videos
I really hate it when I open up a website, and a random Youtube video starts playing. Thankfully you get the option of blocking such autoplay media files.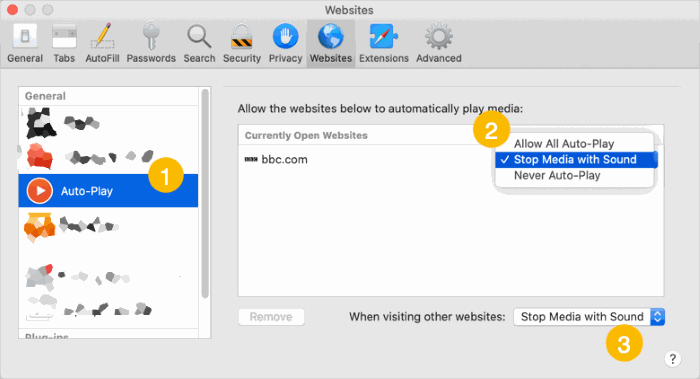 Here you can block all such annoying advertisement video media, which automatically plays on your Safari browser.
With Adblock Extension
The best way to automatically block all ads is to install any Adblock extension. Safari extensions add usability and functionality to the web browser. Extensions in Safari are quite helpful to meet the day to day requirements. And they also increase the productivity of an individual or a firm.
Download Adblock safari extension and install it on your browser

Go to safari extension tab and activate the plugin/extension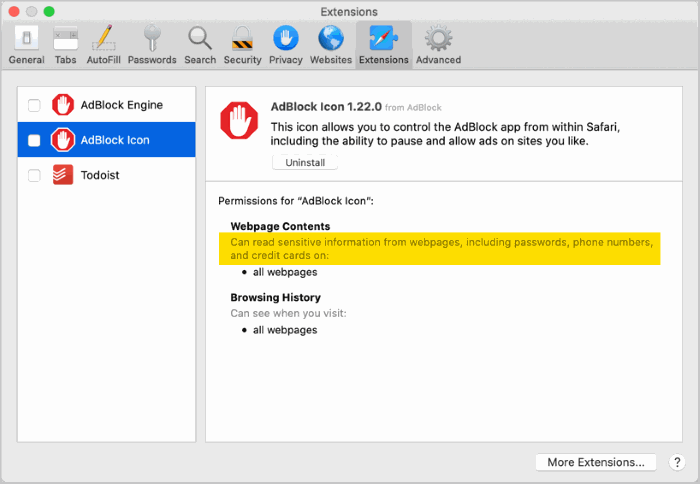 Enjoy ad-free surfing without any annoying ads on your Safari browser.
Conclusion
Advertisements are sure is annoying, and they are many ways to block ads on the Safari browser on Mac. I hope you have understood all the methods. I would recommend you to use any AdBlock extension on Safari to actively block such annoying ads. In case you feel any difficulty in any of the methods above, feel free to comment down below.