Call of Duty Mobile has just received a new update that offers Season 5: In Deep Water. It includes additional three new multiplayer maps, the Sea of Steel limited-time event, a new Battle Pass, etc. If you're also a die-hard CoD Mobile gamer then you should download the Call of Duty Mobile 1.0.24 APK and OBB file to jump into the CODM Season 5 In Deep Water.
CoD Mobile's "Season 5: In Deep Water" patch update offers three new Multiplayer maps such as Suldal Harbor (5v5), Docks (10v10), and Aniyah Incursion (10v10). It also includes the new Ground Mission mode, Attack of the Undead, a new limited period of time event called 'Sea of Steel'.
Additionally, Season 5 brings 50 Battle Pass rewards for both free and premium tiers. For further details, you can check out the changelog below.
Call of Duty: Season 5 In Deep Water – Changelog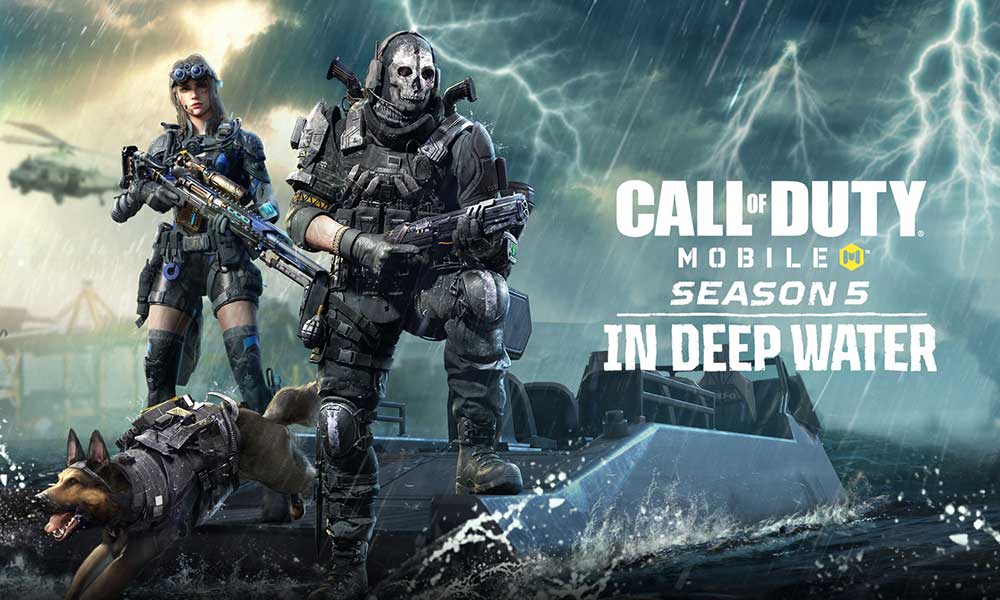 1. Earn New Rewards for the In Deep Water Battle Pass
Prepare for a fresh shipment of free and premium content in the Season 5 Battle Pass, featuring new ocean-ready Operators, a new functional weapon, Weapon Blueprints, Calling Cards, Charms, Call of Duty Points (CP), and more.
2. Battle Pass Free Tiers
Summon a trained companion with the new K9 Unit Operator Skill unlocked at Tier 14. Expand your arsenal with the new CR-56 AMAX functional weapon at Tier 21. Other free Tier items include the Kilo Bolt-Action – Warship, the Combat Axe – Lighthouse, and more.
3. Premium Pass Tiers
Purchase the Battle Pass for the chance to earn all of the content available in the In Deep Water stream. Get Merrick and Rorke – Man Hunter from Call of Duty: Ghosts, as well as Otter — Backstroke and Roze — Foreshadow. Intimidate your enemies with new Weapon Blueprints like the Ghost-themed BK57 — Counter Stealth Unit, the QXR — Close Catch, the DR-H — Rebreather, CR-56 AMAX, and the PP19 Bizon — Devilfish.
4. New Multiplayer Maps
– Suldal Harbor: Battle seaside on this medium-sized tactical map composed of shipping crates, narrow alleyways, and close-quarter interiors. Supported in 5v5 and 10v10 play.
– Docks: Deploy to a shipyard on the River Thames in this symmetrical small-sized map with plenty of vertical play. Will you fight in the open or rush inside? Supported in Gunfight.
– Aniyah Incursion: A bombed-out palace looms over the landscape surrounded by military supplies and housing. Fight in the luxurious palace interior or take your chances on the exterior grounds. Supported in 10v10, the new Ground Mission mode, and Attack of the Undead.
5. New Multiplayer Modes: Cranked: Confirmed and Ground Mission
Prepare for insane battles in Cranked: Confirmed, a mix of Cranked and Kill Confirmed. Enter the cranked state for a combat boost and keep the timer from running out by getting eliminations or collecting dog tags.
Ground Mission brings Domination to the big stage with five capture points and 10v10 play. Look for Cranked: Confirmed and Ground Mission in new Season 5 events.
6. New Events Bring Gung-Ho, Time Traveler
Get a speed boost with Gung-Ho, a new green perk that lets you hip-fire, throw grenades, and reload while sprinting. In Battle Royale, the new Time Traveler class can Glitch back in time, in addition to boasting high resistance to explosives.
7. New Themed Event: Sea of Steel
The battle lines are drawn, and a critical naval battle is impending. Choose your side: Ghosts or the Federation. Bombard your enemies as you race to capture territory and earn rewards for completing various daily tasks. The faction with the most map nodes at the end of the event wins.
Download Call of Duty Mobile 1.0.24 APK + OBB File
Here you can easily download and install the latest Call of Duty Mobile 1.0.24 APK + OBB files as a complete package for all Android devices. You can also install and run this on your PC using emulators. We've listed out two download links for your ease. Just download the APK file and then install it.
Either you can install Call of Duty Mobile: Season 5 – In Deep Water directly from the Google Play Store or install the APK + OBB file directly on your device using the link below.
Keep in mind that the game will require additional files to download after installing the Call of Duty Mobile Season 5: In Deep Water from the Play Store. The additional download will be around ~2GB. So, make sure that you've enough storage space.
Steps to Install CoD Mobile 1.0.24 APK + OBB
Once you download the APK and OBB file on your handset, install the APK file as usual.
Now, don't open the game > Just open File Manager and extract the OBB zip file.
You'll find out the com.activision.callofduty.shooter folder.
Next, go to the Internal Storage > Android > OBB folder.
Move the game's extracted folder inside the OBB folder.
You're done. Keep playing.
That's it, guys. We hope this guide was useful to you. If you've any queries, let us know in the comment below.
Source: Call of Duty Blog