Google Pixel smartphones come with the Google Phone app as their default dialer application. Moreover, devices under the Android One program and now most recently the Xiaomi phones are also coming pre-installed with the Google Phone app as their default dialer application. Well, to be specific, Xiaomi phones sold in Europe were coming with the Google Phone app which came in as a disappointment for the users as this would mean they have to let go of the in-built call recording option. However, Xiaomi did not disappoint its users and incorporated the call recording feature in its MIUI based dialer app.
MIUI is one of the most feature-packed UIs available, and this is the reason why it is very popular among the masses. Users in the EU where pretty desperate to get back the call recording feature on their default dialers app. Xiaomi has announced that they have to wait for an update to the default dialer app to get back the call recording feature. But due to lack of any update timeline, it was pretty hard to say which device will pick up the update.

Fortunately, an alternate method is present via which users can take advantage of the call recording option. This feature requires them to have an unlocked bootloader and also they are required to flash either the Indian ROM or the Indonesian ROM using the Mi Flash Tool. This piece of information has been confirmed by one of Xiaomi moderators. Here is what the official statement reads:
All new Xiaomi devices sold globally from late 2019 comes with Google apps pre-installed instead of its MIUI counterparts. For now, there is no call recording feature in Google Dialer, but it's under testing in Android One devices. As suggested above, if this feature is important to you, you may unlock the bootloader and flash the Indian (IN) or Indonesian (ID) ROM variants via Mi Flash Tool.

(Source)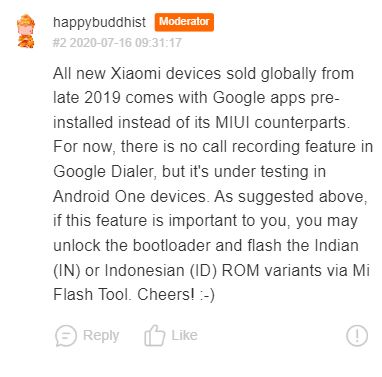 Although unlocking bootloader and flashing ROM might sound a bit difficult, it actually isn't. All you need to do is follow a guide and all the steps to perform the function which will allow all the call recording hopefuls to get this feature on their Xiaomi phone. And for that, here is a complete guide on how you can unlock the bootloader of any Xiaomi device using the Mi Flash Tool.
How to Unlock Bootloader on Any Xiaomi Devices Using Mi Flash Tool
---
Poco F1 created a stir when it was launched back in 2018 because it packed all the latest features and the then-latest Snapdragon 835 processor. However, after two years a new variant of the Poco F1 was launched, but this time around it was not a flagship smartphone that was launched, but it was a mid-ranger that goes by the name Poco F2 Pro. The phone comes with Android 10 out of the box and has already grabbed the MIUI 12 update. MIUI 12 brings in several new features like Super Wallpapers (3D models of Earth and Mars), dynamic weather, new animations, new icons, revamped system stat display, Focus Mode, Health App, new control center, dark mode 2.0, enhanced privacy, and much more.
Although this new iteration of MIUI comes with tons of new features and but there are still quite a few features that are specific to devices running stock Android UI. Like the call recording feature which allows the users to record the calls. This is by-default available with the Google Phone or Dialer app but it is missing from some OEMs like Xiaomi. In the past, Xiaomi has made this call recording feature available to a number of phones like Xiaomi Mi A2 Lite, Mi A3, and Mi A2. And in line with this, the OEM will soon be making this feature available for the Poco F2 Pro.
As per a statement by one of the members of the Xiaomi feedback team confirmed that this call recording feature will soon be pushed for the Poco F2 Pro in the upcoming update. Here is what the official statement in the Mi forum reads:
Hello,
Thank you for writing to the feedback subforum.
Call recording features will available soon with upcoming update. For MIUI 12 update- please refer to this link- https://en.miui.com for better assistance.
Thanks.

(Source)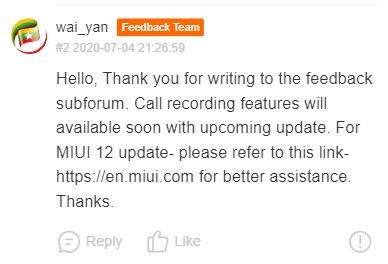 The above statement does not confirm that when the update will make its way for the Poco F2 Pro as there is no official timeline available for that. But all we can do is now hope that Xiaomi makes the call recording feature available for the Poco F2 Pro by the end of 2020. Till then, we will keep our eyes in the lookout and keep you posted once the update is available for the phone.