If in case, you're using the latest iPhone 11 handset and can't receive or send SMS on my iPhone 11, then you should check out this full troubleshooting guide below. In this scenario, either you have the cellular network issue or an internet issue or even the system/app is preventing incoming messages.
As most of the time, the iPhone 11 users are facing plenty of calling or messaging related issues after updating their devices to the latest iOS version which is currently iOS 13.2.3 version. So, if you're one of them and can't use your device properly, follow the troubleshooting guide.
I can't receive or send SMS on my iPhone 11 [Quick troubleshoot guide]
Make sure that you've properly checked whether your mobile cellular network and internet connectivity is working properly or not. Then keep in mind that all is the pending apps are updated to their latest version.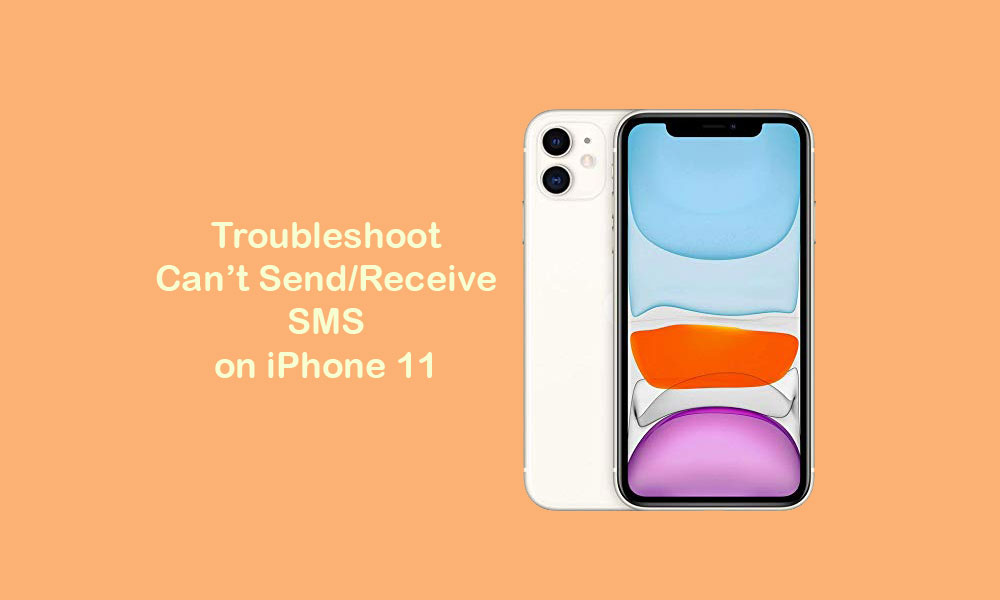 Additionally, you can turn on/off the airplane mode on your iPhone 11 to refresh the cellular network. Check the date and time on your iPhone according to your timezone. Meanwhile, you should eject and reinsert your sim card on your device.
1. Reboot your device
Press and hold both the Power/Side key + Volume Up buttons for a few seconds.
Release both the buttons when the Slide to Power off bar will appear.
Drag or swipe the slider to turn off your iPhone 11.
After a few seconds, press and hold the Power/Side button.
The Apple logo will appear and then release the button.
Your handset will boot into the system.
2. Use Airplane mode
Go to the device Settings > turn on the Airplane Mode toggle.
It will disable all the connections > wait for a couple of seconds and turn off the Airplane mode again.
Reboot your iPhone 11.
3. Delete unnecessary/older messages to fix issue can't receive or send SMS on iPhone 11
Go to the settings – tap on messages – message history.
Choose the time period that you want to delete.
Confirm the delete option.
4. Update Carrier Settings
From the Home screen, tap Settings.
Select General.
Tap About.
Select Carrier.
Additionally, you can update the carrier settings via iTunes.
Connect your device to the PC via iTunes.
Once your device gets connected and synced, you will see an iPhone icon.
Click on that icon and click on Summary.
Press and hold Shift key and click on Check for Updates.
It will initiate a prompt to install an iOS image (*.ipsw).
Then you have to change the format to iPhone/iPad Carrier Configuration File (*.ipcc).
5. Reset Network Settings
Tap on the Settings > General > tap on Reset.
Select Reset Network Settings.
If asked, enter the passcode and confirm it.
Reboot the iPhone and check the cellular data performance.
6. Reset All Settings to fix issue can't receive or send SMS on iPhone 11
Go to the Settings > Tap on General > Tap on Reset.
Tap on Reset All Settings.
If prompted, enter the passcode and continue.
Tap on Reset All Settings to confirm the process.
Next, restart your iPhone.
7. Enable Send and Receive feature on Message
Head over to the Settings > Messages > tap on send and receive > Verify it.
Check whether the signed in Apple ID is correct and connected with the Messages service.
Go back to the Messages option again and enable text message forwarding.
Select the devices you want to send and receive text messages from your device.
Enter the passcode to continue, if promoted.
Make sure that now you can send or receive SMS on your iPhone 11 by using the internet connection via mobile data or Wi-Fi.
That's it, guys. We hope you've found this guide useful. You can comment below for any queries.