Here we will share with you a full guide on how to download Chinese Miracle 2 Crack with Offline Loader Free Activation for MediaTek and Spreadtrum chipset running devices. As the name suggests, this is an exclusive tool for all the Chinese variant smartphones that run on Windows PC and offers a bunch of options that actually help users.
So, if you're using any of the Chinese variant devices and want to repair or unlock or change IMEI or flash the firmware or reset FRP lock or boot into fastboot mode, and more, then you should use this tool for once. This is an all-in-one utility tool that basically repairs or fixes most of the problems of your Chinese variant devices like both the feature phone & smartphone. Now, you don't need to rely on any other tool unnecessarily once you use this one.
Due to the customizations of Android, most of the Chinese variant device users always want more customizations and more options. In the end, except for some of the advanced users and developers, the rest of the users may fail to achieve what they want. But that's not the problem. The main issue arises when due to any error or file compatibility issue or flashing improperly your device gets bricked or locked and you may not be able to use the phone until fixed. In that case, this Miracle 2 comes in handy.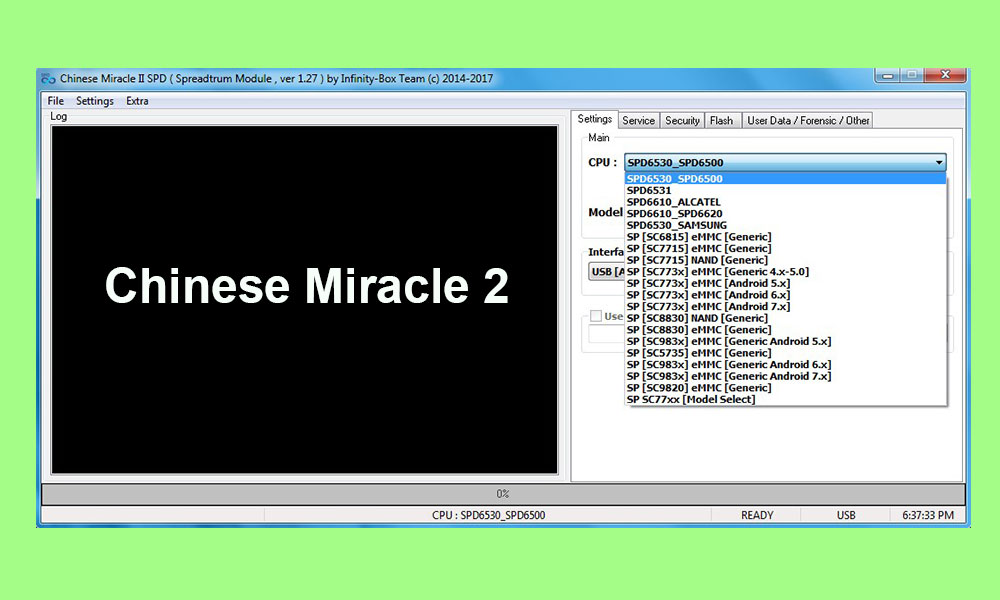 What is Chinese Miracle 2
Now, don't get confused with the Miracle Box and Chinese Miracle 2. The Chinese Miracle 2 is without the box setup and allow users to connect their devices to the Windows PC & perform their essential task very easily. Although, both the tools offer almost the same features, this lightweight tool is for Chinese variants. So, if in case, you have forgotten your device password or your device Wi-Fi or IMEI needs to be repaired then this tool does the work for you.
Additionally, you can add/change the MediaTek languages, flash ROMs, you can also check all the security information of your device. Meanwhile, users can read/write NV RAM, flash dump files, etc. Advanced users or developers can also use this Chinese Miracle 2 tool in order to repair ExtData, fix baseband version, configure modem files, can take secure data backup, repair dual-SIM devices, etc.
Features of Chinese Miracle 2 Crack with Loader
Can read and reset the user codes of all MediaTek chipset Chinese models.
You can also repair Wi-Fi.
Add the MediaTek languages.
It can also read or write the Firmware flash.
The users can also read all the security details of their phones.
Users can read or write NV RAM, flash system dump files, etc.
It can bypass Factory Reset Protection (FRP) lock on your device.
Easily removes the Pattern lock or password of your device.
Capable of repairing IMEI of dual-SIM devices like IMEI 1 and IMEI 2.
It can unlock the software code reader like the SP (Service Provider) lock.
You can also repair the ExtData of your device system.
This tool fully supports CDMA and GSM SIM Chinese devices.
It can fix the device baseband signal (if unknown).
It doesn't require an internet connection to work.
You can easily upgrade or downgrade the firmware version.
It can also read, repair, and flash EEPROM.
The Chinese Miracle 2 can configure device modem files.
Users can also boot their MTK or SPD Chinese devices in fastboot mode.
You can also perform a factory reset on your handset.
And more…
Chinese Miracle 2 Crack with (Without Box) Offline Loader V2.28 Full Setup
It's needless to say that the crack version with offline loader offers plenty of useful features that can't be available on the normal version. In order to get a full worry-free experience and all the possible functions, here we've shared with you a full cracked version that doesn't even require an internet connection while patching or using the tool. You will need to just download the cracked version from the link below and install it on your Windows computer.
The all-in-one tool offers various aspects for the China-specific MediaTek and Spreadtrum devices. However, there are some of the options available that you may find difficult to use. But most of your works should be done easily. The tool is 100% working with the latest version. You may find some other tools like CM2 Dongle Crack, etc but not even close to the Miracle 2 cracked one. So, without wasting any more time, let's jump into the download part below.
Warning!
Please note that it's illegal to change or edit IMEI in some regions. Make sure to check proper guidelines before doing anything. GetDroidTips won't be held responsible for any kind of damage or issue that may happen with your device by following this guide or installing the file. Do it at your own risk.
Download Link:
Latest Version Chines Miracle 2 CM2MTK V2.28 (131 MB): Download
Password: 12345678
Latest Version Chines Miracle 2 CM2MTK V2.27 (131 MB): Download
Password: 12345678
Latest Version Chines Miracle 2 CM2MTK V2.26 (140 MB): Download
Password: 12345678
Latest Version Chines Miracle 2 CM2MTK V2.25 (468 MB): Download
Password: 12345678
Latest Version Chines Miracle 2 CM2MTK V2.23 (468 MB): Download
Password: 12345678
Latest Version Chines Miracle 2 CM2MTK V2.14 (468 MB): Download
Old Version
Chines Miracle 2 CM2_MTK_v1.58: Download
Pre-Requirements:
You will need a Windows PC or Laptop.
Once installed the tool, a USB cable will be required to connect with the PC.
The tool zip file should be downloaded on your PC.
Steps to Install Chinese Miracle 2 Crack (V2.28)
First of all, download the CM2 Crack V2.28 version on your PC.
Now, extract the zip file using the WinRAR tool.
Open the extracted folder > Run the setup application (exe).
Tap on accept the agreement
Tap Next button
Agree to install


Finally, you will get a launcher on your desktop. Run as an administrator and start using it.
That's it, guys. We hope you've found this guide useful. For any queries, feel free to ask in the comment section below.