It's no more a back-fence talk that Huawei is all set to roll out its latest flagship smartphone on March 27. As per the latest news, it's going to be the Huawei P20 which is expected to launch in Paris later this month. There was a confirmation from the company about the existence of Huawei P20 in the Mobile World Congress (MWC) held in February at Barcelona this year. Huawei P20, P20 Lite, and P20 Pro (also known as Huawei P20 Plus) are the three variants expected to be launched by Huawei.
Huawei P20 and P20 Life are expected to be near identical from a design standpoint. Both have a notch headlining in the front with a dual camera setup on the back. But Huawei P20 is having a fingerprint sensor on the front side whereas the latter has it in the backside. Huawei P20 Pro is also having a notch along with a fingerprint sensor on the front side same as Huawei P20. Huawei P20 Plus is having an all-new triple camera setup when you flip the device over to the back. It has an iPhone-esque notch in the back. This notch same as in iPhone X is also seen in the Huawei P20 Lite.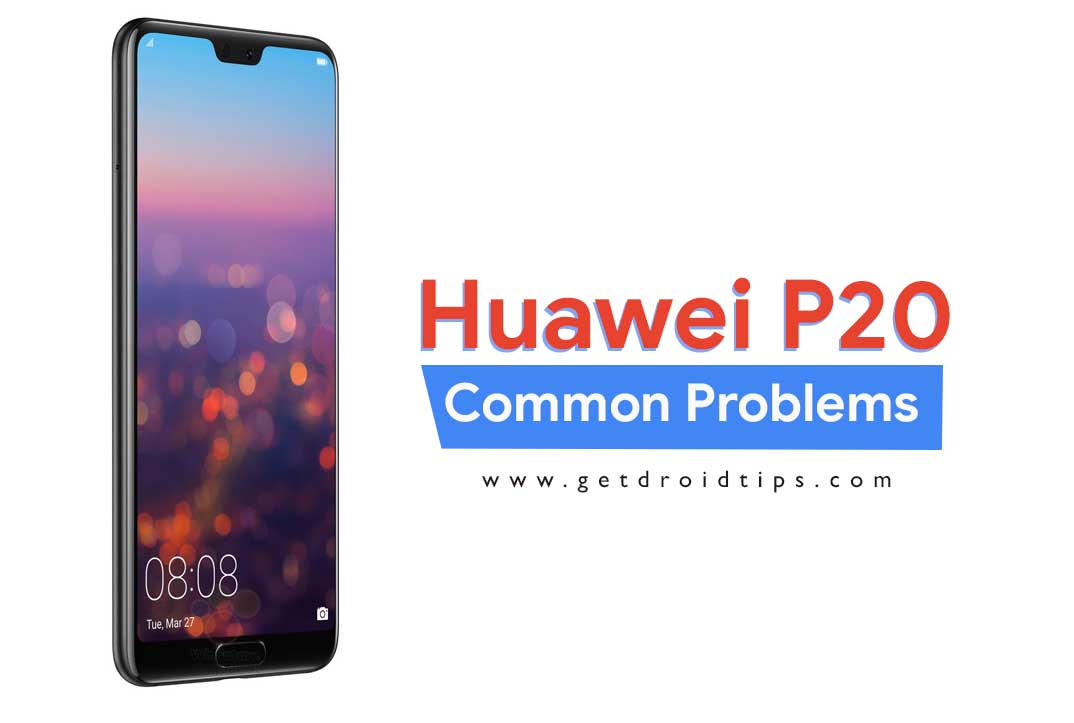 Huawei P20 will be sported with 5.8 inch IPS ultra talk screen (1440×2960 pixels), a 3GHz Kirin 970 octa-core processor, with 6GB RAM and an expandable internal storage of 64GB. It has a 3200 mAh non-removable battery whereas the Huawei P20 Pro will have a 4000mAh non-removable battery. Huawei P20 Lite is expected to sport a 5.8 inch 19:9 screen (1080×2280 pixels), an in-house Kirin 659 octa-core processor CPU with 4GB of RAM and an expandable internal storage of 64GB. 2900mAh non-removable battery is there to power Huawei P20 Lite.
As all are eagerly expecting the launch of Huawei P20 series later this month, we are here with solutions for some possible complaints it may face. So let's now deal with the common possible Huawei P20 problems and their fixes.
Common Huawei P20 problems and their fixes
The solutions that we are going to mention in this post about Huawei P20 problems and their fixes can be trusted. But still, it's worth remembering that we won't be held responsible for any problem that can cause to your phone because of the negligence while you follow these tips.
Connectivity issues
You may face this problem, a good number of times. But what is the actual cause will not be necessarily known all the time. So it is always better to know some methods or solutions to get these problems eliminated from your mobile. You should always keep in mind that the connectivity related issue can be due to low data network/ internet connection too. Fixes for the common connectivity issues like Bluetooth connectivity issues and Wi-Fi connectivity issues are discussed below.
Bluetooth connectivity issues
It's always better to reboot your device before you try something else.
You can try to toggle your Bluetooth connectivity icon by turning off and again pressing it to turn on for searching the device you want to connect.
Be sure that you enter the correct password on the other device whenever you see one on your screen.
Confirm that your device is not connected to any other device other than the device you want to connect with.
Clear the history of recently connected devices
Check and confirm that there are no restrictions on the connection laid down by you.
It always worthy that you check whether your power saving mode is turned on or not. If it's on then it is the culprit in the connectivity issue as the Bluetooth connectivity consumes a lot of power and such apps which consume a lot of energy will be disabled automatically when the power saving mode is on.
Wi-Fi connectivity issues
If you are encountering a Wi-Fi connectivity issue, first check whether you have exceeded the bandwidth limit.
Toggle you Wi-Fi by simply turning off the router to turn on after 15-20 seconds.
Be careful that you enter the correct password as the Wi-Fi passwords are case sensitive.
Check whether your device Wi-Fi antenna is working properly.
Make sure that other data exchange apps such as Shareit is not running in the background.
If you have recently installed the router, make sure that the cable connection is perfect.
Erase the previous Wi-Fi connection device and add it again.
Try to update tye device Wi-Fi driver.
Bad camera quality
It is not a hectic effort to deal with the poor camera quality. The problems regarding the camera quality can be corrected by following some basic troubleshooting tips. Let's have a look on the problems leading to poor camera quality and their fixes.
If you are trying to capture the photos using other installed camera apps, try to do the same with the default camera in your device.
The default camera in your device can always give you the best output.
Try to update your device's default camera.
Make sure that you have removed the transparent cover attached to the screen of your device.
Clean the camera lens properly before you snap your photos
Always focus on the object before capturing the snap to avoiding blurring of the photos.
Use your device flash before capturing the snap.
Device default memory should have some free space to save your photos.
The cache memory of your default camera app should be cleared.
Huawei P20 not recognizing Windows
Close attention should be paid to eliminate any of the possible barriers to create the successful working connection between your device and PC. We provide you some tips for the smooth connection of your device with the PC by eliminating the possible barriers to have a reliable data transfer experience.
Always use a genuine connecting cable that comes along with the device.
Make sure that you change the USB configuration to MTP.
You should make sure that the USB drivers are installed and updated.
Gently clean the connecting port.
If you are losing the connection then make use of a parallel port on the laptop.
After creating the connection, don't forget to reboot your device.
Check whether you have restriction on the connection due to the device security.
Make sure that you are not transferring the corrupted data.
Quick battery draining and slow charging issue
All the smartphones are capable to offer at-least a full day back up when it is fully charged. So is the matter about Huawei P20 too. Howbeit if you face any fast battery draining issue or slow charging issue the following tips might be helpful.
Be sure that you close all the apps once you are done with it. Clear the apps running in the background.
Turn off your Wi-Fi hotspot from sharing it with other devices as it can cause a quick battery drain.
Do not download bulk files simultaneously.
Do not install too many apps in your device.
Disable the app notifications (if you receive them a lot) which you don't need currently as it can consume a lot of power from the battery.
Set your device screen brightness to a comfortable level for your eyes without keeping it too high.
Always install apps from trusted source.
Make sure that you use only authorized accessories with your phone.
Always charge your phone when the battery level goes down 30%. 30-80% battery is the ideal charge for a battery.
Do not overcharge the battery by plugging it overnight.
Do not use the device while plugged in.
Rule out the chances for a faulty charger/battery/connecting cable/ power socket etc.
Overheating problems
It's always not easy to deal with the overheating problems of the devices. But if you have a good knowledge on how to eliminate the possible cause for overheating and their fixes, It's easy to deal with the overheating problem of Huawei P20.
Use a genuine power bank with a similar power rating to your phone while you are often charging with the help of a power bank.
Update your device firmware.
Keep your RAM free by closing the background apps from running.
Do not download multiple files simultaneously.
Check for any recent apps downloaded
After which you encountered the overheating issue. You can check it by using the device in the safe mode. If any such apps detected consider to uninstall the same.
Use a genuine charger (preferably the charger coming along with the device).
Keep your screen brightness to eyes' confirm level.
Unresponsive Touch-screen (Common Huawei P20 problems and their fixes)
Huawei P20 comes with a 5.8-inch screen which enables the users to get the best experience of the device. If you ever experience a problem with your touch-screen you can do the following tips.
Try rebooting your phone to solve the issue.
If you are using gloves, remove it before you touch the screen.
If the screen is too dirty with oil and dust or some other particles, clean it and then try to use the touch-screen.
Do not use your touch-screen with wet hands.
Rule out there is no power short circuit that might damage your touch-screen.
If there is a physical damage, even a minor, it can cause issues with the touch-screen.
Consider uninstalling the screen protector installed on the screen.
Update your firmware to the latest.
Users are ready to pay high to the manufacturers for the better performance. But even the top-notch smartphones now face the issues regarding the performance. If you know well how to tackle this issue, it's quite easy to overcome that.
You should not use your device while your device is already engaged in multitasking.
All the apps should be updated.
Rule out the presence of virus in your device.
Either update or remove the apps which show the unexpected behavior in your device.
Timely clear the memory and don't fill it with data.
Try a factory reset if none of these tips work for you.
If your SIM card is not performing well, the device is actually useless regardless of its high quality. You can simply solve the issues related to the SIM card following the tips.
Remove and re-insert your SIM card to solve the SIM undetected issue.
You can perform a basic rebooting.
Make sure that the SIM tray is not damaged and if so consider replacing it.
Be sure that you have a SIM with working condition.
Check whether the SIM frequency is same as to the device frequency.
Rule out that your SIM is not facing any network issue.
Check your SIM settings that your SIM is not disabled.
Try to search the network manually.
You can replace the SIM if none of the other methods could solve the issue.
Earpiece and sound quality issues of Huawei P20
A robotic sound can be a very bullying situation. Of course, we need a good sound quality and if you experience an under quality issue you can pay attention to the following Methods.
Always use a genuine earpiece.
To detect whether the problem is with the earpiece, use another one to check the sound quality.
The sound driver should be updated.
If all these tips fail, then perform a hard reset.
GPS issues
Most of the GPS related issues are connected with the poor network. We will guide you with some of the best available fixes for the GPS problem.
Turn off the mobile data.
Be in a place where you get a good signal strength.
The maps and navigation apps should be updated.
Update the device to the latest firmware.
SD card not detected
In the new era, everyone is behind the smartphones with more memory space. If you have more memory space you can enjoy the internet and entertainment sector more. Although Huawei is having an expandable internal storage of up to 64GB, the users may face memory space issues that can be either of phone or SD card. So some tips are for those who have to face the memory issues on Huawei P20.
Always free up some space on your SD card.
Use an SD card that is compatible with your device.
Always buy a good quality one.
Consider formatting the SD card before inserting it after a long time.
Rule out for any physical damage to the SD card.
So these are the common issues and their fixes that you might face with the all-new flagship smartphone Huawei P20, Huawei P20 Lite and Huawei P20 Pro. Hope you find this article helpful to solve the common problems with Huawei P20. If you face any other problem that is not mentioned in this article, feel free to inquire us about the same via comment or contact us in our page.