Finally, Huawei launched the much-anticipated smartphone from the Huawei P series called Huawei P20 and P20 Pro. The smartphone is photo-centric and the device comes with their Leica cameras which comes with a lot of excitement. According to BBC news, the device can see the dark. Many users of this device are in love with it, but some find this phone to be filled with bloatware that they want to remove it completely. Some users don't like Huawei's EMUI interface, so they may want to try out the different custom firmware. To try out all this, one may have to unlock the bootloader first. If you are looking to unlock the bootloader on this device, then you are in the right place. In this guide, we will help you to Unlock the Bootloader on Huawei P20 and P20 Pro Smartphones.
Coming into other specifications the P20 Lite comes with Android 8.0 Oreo-based EMUI 8.1 out of the box, while the P20 and P20 Pro updated to EMUI 8.1 based on Android 8.1 Oreo. The Octa-core HiSilicon Kirin 659 processor is added to the P20 Lite, and an Octa-core HiSilicon Kirin 970 processor is added with both P20 and P20 Pro. Huawei P20 gets 4GB RAM and 128GB ROM, P20 Pro gets 6GB RAM and 128GB ROM, and P20 Lite gets 4GB RAM and 64GB ROM. P20 and P20 Pro get Huawei SuperCharge feature with a 3400mAh and 4000mAh battery respectively. While P20 Lite gets a 3000mAh battery without the Huawei SuperCharge feature. Coming into the display size, P20 gets a 5.8-inch display, P20 Pro 6.1-inch display, and P20 Lite gets a 5.84-inch display.
By Unlocking Bootloader, your warranty may void. So we recommend you to try this only after the warranty period. You can always try this anytime you want. By unlocking the bootloader on Huawei P20 and P20 Pro, you can install any custom recovery, Custom Firmware, and even any supporting mods.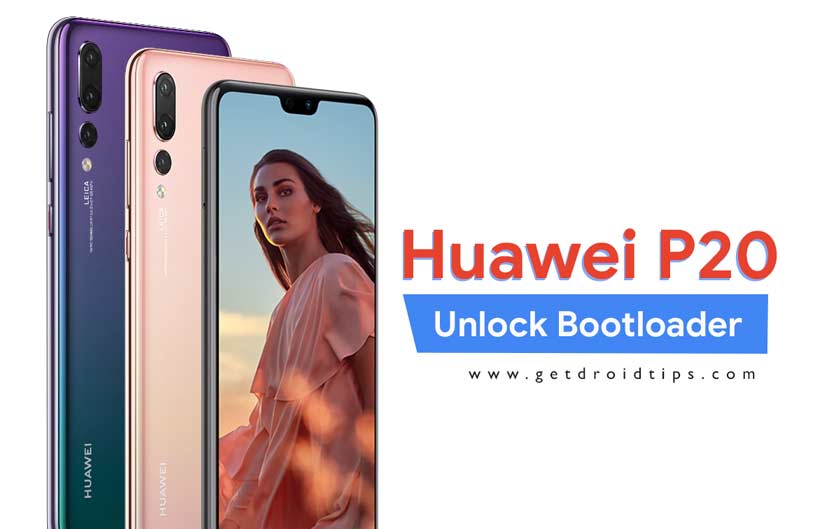 Here I will guide you on how to unlock the bootloader on Huawei P20 and P20 Pro. Actually, there are two methods to unlock Bootloader on Huawei P20 and P20 Pro, So follow any of the steps which are easy for you.
What is Unlock Bootloader?
A Bootloader is a code that runs when we turn on our device. This code initializes some hardware and then loads the kernel and ramdisk, and gets the boot process going. So this process is known as Bootloader. The same concept applies to all the technical stuff such as Laptop, PC, Smartphones and any such device. Every Android OEM manufacturers lock the bootloader even though it is an Open Source. So if you want to try any CUSTOM ROM, it is impossible to load the CUSTOM ROM without the Unlock Bootloader. So Manufacturer made a policy of making the smartphone with an Unlocked Bootloader will void the warranty. They want you to stick with the Stock ROM. Unlock Bootloader allows you to Root your android smartphone, Flash TWRP, and Custom ROM in a simple easy method.
How to Unlock Bootloader on Huawei P20 and P20 Pro :
Warning: Take a full backup before proceeding to unlock the bootloader on your phone. Your warranty may void, so we are not responsible if you brick or damage your device.
PRE-REQUISITE :
Your Phone must have 70% Of battery
You need a Laptop or PC to perform this Action
Back Up your Data to make sure you have data's in case if something Wrong (This Process won't lose your data)
Make sure you have followed the steps properly. Don't Skip and Read! – We are not responsible for any damage that you make to your phone.
What you need:
Now note your IMEI no by dialing *#06# also make note of the ProductId by dialing # *#1357946#*#*
You need to register on Huawei website to Get The Unlock Code – Click here
Download the Huawei ADB fastboot Tool: CLICK HERE
Instructions:
First of all, enable the Developer Option
To Enable the Developer Option, Go to your Settings –> System -> About Phone -> Now Tap on the Build Number 7-8 Times until you see a toast message "Developer option enabled"
Now go to Developer option in the settings and Enable OEM unlock
Download the Huawei Unlock Bootloader Tool: CLICK HERE and Extract it
Now note your IMEI no by dialing *#06# also make note of the Product Id by dialing # *#*1357946#*#*
Now Click this link and Register on Huawei website to get unlock code – CLICK HERE
You need to Login with Huawei id or Sign Up with a new one
First Click Download in the Huawei Portal
Then click the Bootloader unlock page
Enter your Nickname if it asks.
Click and Agree to the Unlocking agreement
Now enter the device information
In Case if you don't succeed with the unlocking then click CONTACT US and send an email with the phone details they will send you the unlock code 2-3 days
If you get it, then save the unlock code somewhere safe
Now open the extracted folder of Huawei Unlock Bootloader tool
Open the command.bat and select the language
Select language and hit enter (Hit Enter 2 TIMES)
Now you will be asked for a code.
Turn off your phone and Press Volume Up and Power button simultaneously to open Fastboot mode
Now connect the phone to PC using USB Cable
Now paste the Code which you got from Huawei Unlock website and paste it here. Done! Your phone will be unlocked.
Useful command:
To boot into Fastboot mode, type the below command in the black window:
adb reboot bootloader
To Unlock, you can even type the command with unlock code that you received from Huawei
fastboot oem unlock [unlock code]
That's it! You have unlocked the bootloader Huawei P20 and P20 Pro smartphone.