Many users have a strong desire to convert ESP (Encapsulated PostScript) files to PDF files, so as to merge their files to other documents. The EPS files are commonly used to save artworks, like logos and drawings. These saved files will be supported by many other drawing programs and vector graphics editing programs.
You can easily convert EPS files to PDF, JPG, PNG, and TIFF. While in this article we will introduce you to some tools to convert EPS files to PDF files. This conversion is possible online, using convert software and image editor. Let's check more about the tools and how conversion is possible.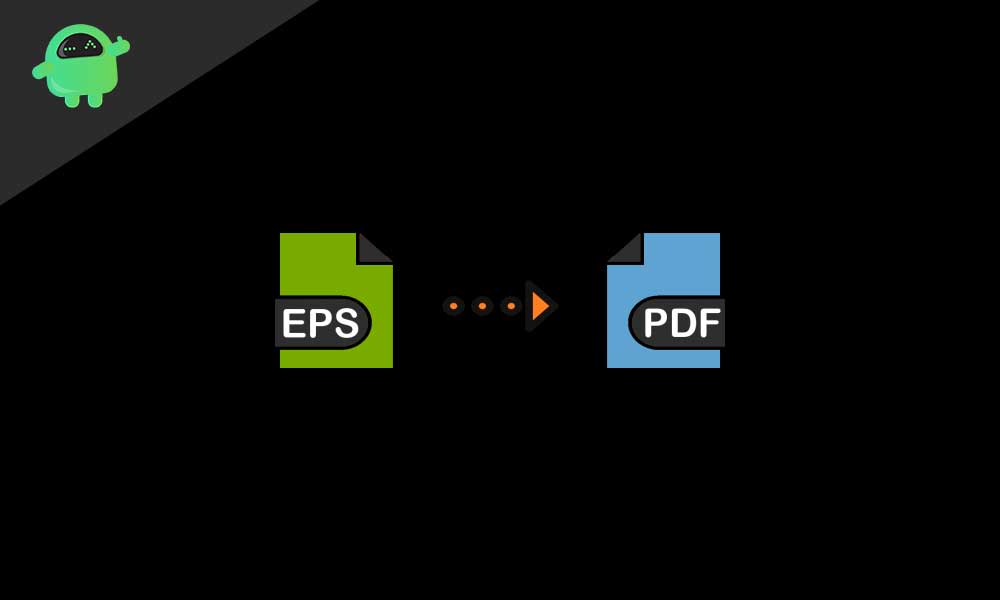 Before knowing more about the tools in detail you have to know about EPS files
What are EPS files (Encapsulated PostScript)?
The EPS stands for Encapsulated PostScript. It is a document structuring conventions' PostScript document format. It is a program that includes a low-resolution preview encapsulated into a PostScript program, which allows the application to display graphics as well as text.
Now we can go through the tools used to convert EPS files to PDF;
Online converter
You can depend on an online website to convert EPS files to PDF and it is an easy method also. Using this tool you can save time and more space to finish the task. To use this method you only need to search in Google 'EPS to PDF converter'. There you can find several results. The functions of each and every website are different. The following steps will help you to learn how to use this method.
First of all, open the "online converter" site in any of your browsers.
Then select the "Choose File" button and select the EPS file you need to convert.
Click the Convert button (as you agree with the terms also). An option also available to resize the EPS file image.
Within less time the file conversion will happen and after the file convert, click the "Download Now" button.
Finally, you will get the converted PDF file.
Use the convert software
If you are out of internet access then you can use any offline EPS to PDF converter to convert the files. There is more software available on the internet to use offline. Let's check how to use this tool to convert EPS files to PDF.
Download the "EPS to PDF converter" app on your computer and Install it.
Now open the converter software and select the "Add EPS file" button and browse the EPS file you need to convert to PDF.
Then give the path to save the file and click the "Start Converting to PDF" and wait for some time to finish the process.
Lastly, you can use the converted PDF file from the path you gave to save the file.
Convert using GIMP Image Editor
This Image editor is something different from the above two methods while using this image editor you can edit the EPS file before the file converts to PDF. GIMP is one of the best image editors now using more platforms. You can follow this step to convert EPS files to PDF;
Download and Install an image editor on your computer.
Open the GIMP Image Editor
Click the "File" menu and select the "Open" option
Through two option you can drop EPS files in GIMP image editor, either you can choose the file or can click the "Import file" button
Click the File menu and select "Export As" to use the edition option, before converting the file to PDF.
Then need to give a path and make a change in the extension of the file name from '.eps' to '.pdf'
Click the "Export" button.
There the EPS file change to PDF
To exchange images, drawings such as maps, logos; EPS file formats are used as a standard file format. But due to certain reasons, sometimes the poor quality of EPS files, users try to convert EPS files to PDF (Portable Document Format). So many users have doubts about how to convert EPS files to PDF.
This writing helps you to learn how to convert EPS files to PDF. Follow the above-mentioned details to quickly convert the files. We hope you enjoy this writing and you will be successful in converting EPS files to PDF. We hope this guide was helpful to you. If you have any queries or feedback, feel free to comment down below with your Name and E-mail ID. Likewise, check out our iPhone Tips and Tricks, PC tips and tricks, and Android Tips and Tricks for more such tips and tricks. Thank You.