If you use any smartphone, you must regularly update its firmware. Gone are the days when you have to search hither & thither for getting the correct firmware for your device. Besides, earlier flashing firmware manually was not a cakewalk. Many people without sufficient technological information mess up trying to install the firmware on their own. That usually ends in the device getting hard-bricked. However, with changing times technology has been getting simpler. The process of flashing firmwares has been made easier thanks to the various tools that are available today. Today, we bring you one such flash tool. It is the Amlogic Burn Card Maker.
You can use this app to flash firmwares from a micro SD card in an Android device. Unfortunately, this tool does not support all Android devices. Only those phones which run on Amlogic processors can use this software for firmware flashing. This guide includes the download link for the latest version of Amlogic Burn Card Maker. Also, I have put up the firmware installation guide for your convenience in installation. It is quite simple to use. Apart from firmware flashing it has other uses as well. This tool can perform various actions like creating partition and formatting, erase flash, erase the bootloader, and reboot the device.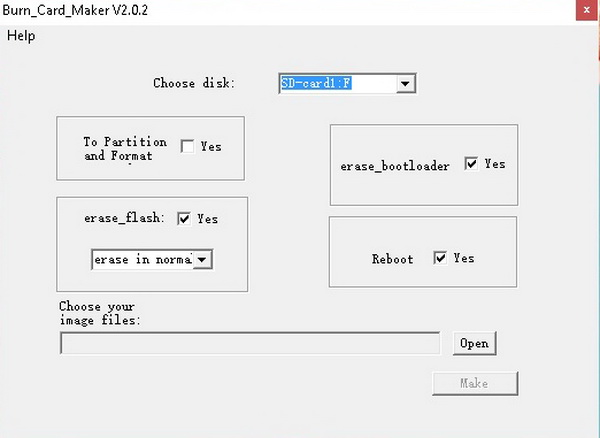 Download Amlogic Burn Card Maker Tool
Here is the download link for this flash tool for Android devices running on Amlogic chipset. It is a very small file of 3.96 MB.
Amlogic Burn Card Maker v2.0.2
|
Download
Guide | How to Download and Use Amlogic USB Burning Tool
How To Use the Amlogic Firmware Flash Tool
Before starting on the guide, here are some guidelines you must follow and also have some things you to carry out with the firmware flashing process.
Pre-Requisite
This tool is exclusively for Android devices running on Amlogic chipset. Don't try it on devices running on other processors.
A PC/Laptop
Charge the battery of your Android device sufficiently before starting the firmware installtion
A microSD card
Make sure to take a complete backup of your device data before flashing a new firmware.
Disclaimer
If you want to use third-party firmware modification and flash tools then GetDroidTips will not be responsible for any incidental technical issues like firmware corruption, device bricking, data loss, etc. Understand the steps of the guide properly and then carry out the firmware flashing at your own risk.
Guide to Flash Firmware Using the Amlogic Burn Card Maker
Download the Amlogic Burn Card Maker from the download section above.
Extract the archive and run the Burn_Card_Maker.exe file to run the tool.
Click on the upper left Chinese menu and choose the second option, check 'English Version',
You have to restart the application.
Choose disk then 'Choose your image files' to open the image and select your specific .img firmware for your Amlogic device.
Press the 'Make' button and wait to finish.
Now insert the micro SD card in your Amlogic device and switch it on.
The device will enter into recovery mode and the firmware will be flash automatically.
When the device reboots, remove the micro SD Card,
Wait for a few minutes as the firmware update finishes up.
So, that's it guys, if you sport any Android device with Amlogic processor, then use the Amlogic Burn card maker to flash the required firmware on the device. I hope that this guide was helpful to you.