If you have an Android TV Box and want to upgrade its firmware, you have to use a flash tool called the Amlogic USB Burning Tool. This USB Burning tool comes with all the keys to fix "Get Key Failed" errors along with the upgrading.  This tool will exclusively work on any Windows PC. It will update Amlogic based Android TV boxes that have .img firmware.
In this post, we bring you the Amlogic USB Burning Tool and tell you how you can update the firmware of the Android TV Box. You can find the download link and installation guide below.  Usually, Android TV boxes have firmware files with .img extensions. It's quite different than other firmware files that have multiple files.
What is Amlogic USB Burning Tool?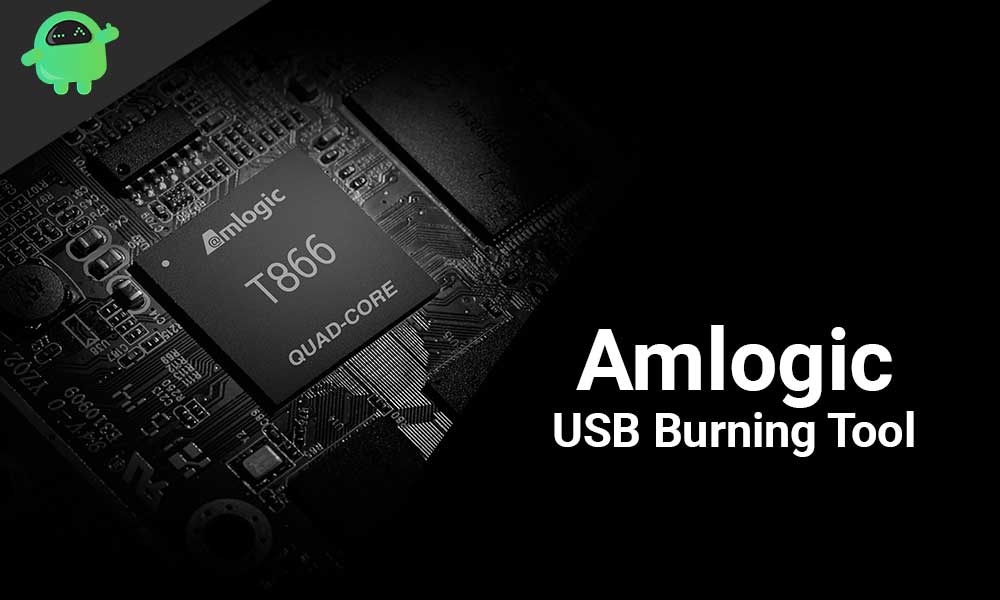 Like Android smartphones, there is a wave of several other Android products in the recent past that has connected us more with the technology and made it more streamlined. And being an Android device, these Android smart products are often treated with firmware updates that are meant to increase the overall facility or functions of the device. Although these updates are not very frequent, only a few companies can push out more updates for their Android devices. However, the updates are being sent over the OTA, but often these are not the case as we are stuck with a .img file of the update, which we have to update manually.
Here comes into picture the Amlogic USB burning tool. However, you should note that this tool is only for Amlogic devices, so it is advised to check whether your device is Amlogic based device. Amlogic USB Burning tool is a small firmware upgrading tool meant for the Microsoft Windows platform. You can flash firmware to any Amlogic based device or Amlogic powered chipset. So, you can make use of the Amlogic USB burning tool to upgrade the Amlogic-powered device to a new firmware.
Features of the Amlogic USB Burning Tool?
Now that we know that you can flash firmware files to any Amlogic powered device using the Amlogic USB burning tool, let us take a look at what more you can do with this tool via a list of features of the Amlogic USB burning tool:
Installer: It needs to be installed on your PC by simply downloading the installation file and executing it. This also makes it easy to burn firmware to USB as you will be using a computer, for that matter.
Flash Firmware: You can make use of the Amlogic USB Burning Tool to update the firmware of your Amlogic chipset-powered device. You can do that easily by:

First, launch the Amlogic Burning tool on your PC.
Load the firmware file by heading over to File>>Import Image (.img).
Connect your Amlogic powered device to the PC.
Click the Start button to begin the flashing process.

Other Functions: You can also perform several other functions to your Amlogic powered device using this tool like erase data, erase flash, erase the bootloader, overwrite key. The Erase Flash further supports four types of flash: Normal erase, Force erase, Erase all, Force Erase all.
Languages: The Amlogic USB Burning tool comes in multiple languages like English and Chinese, making it easier for the users of both worlds to use it.
Download Amlogic USB Burning Tool
Here is the download link for the Amlogic USB Burning Tool.
Download USB Burning Tool for Android TV Box
You May Also Like,
How To Flash/Upgrade Firmware on Android TV Box Using Amlogiv USB Burning Tool
Now let's look at the exact steps you must follow to flash the firmware image file on your Android TV Box. Before installation, you have to keep in mind some guidelines.
Pre-Requisites
Make sure that the Android TV box is connected to your PC
Power on the TV should with the power adapter
This USB tool only supports on Windows PC
Installation Guide
Step-1 Download the Amlogic USB tool zip file and extract it to the PC.
Step-2 In the folder, you have the InstallDriver.exe. This will install the required drivers for Amlogic TV boxes.
Step-3 First, connect your device to the PC, then click the Driver Installation wizard.
Step-4 Open the folder "USB_Burning_Tool"  >> then click the "USB_Burning_Tool.exe" to start the USB burning tool.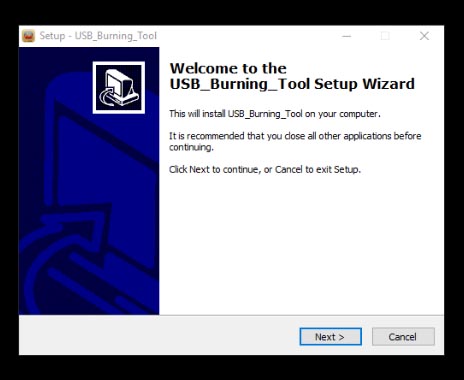 Step-5 Once the setup wizard opens, click yes to all the options.
Step-6 Click the second option on the top bar to reveal the option for changing the language.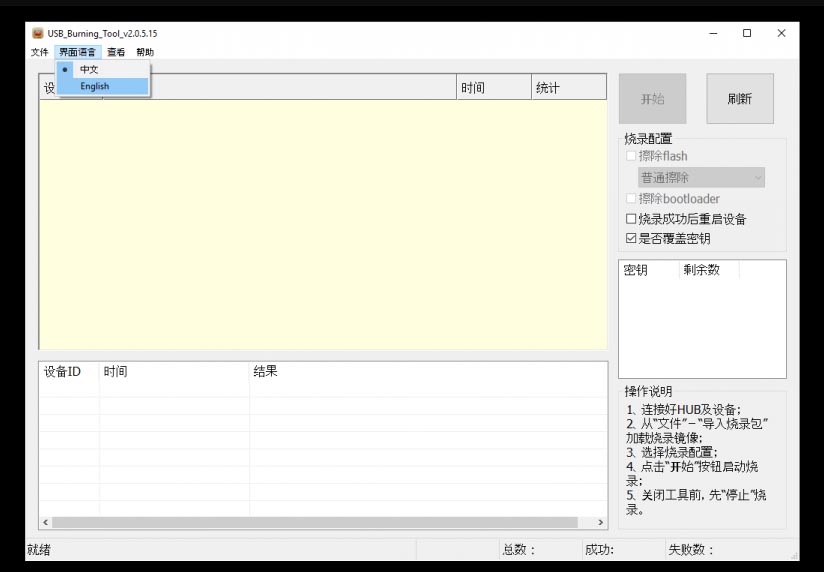 Step-7 You have to put your device into recovery mode. This is differently done on all TV boxes. Some have little reset holes, and some have buttons on the bottom of your device.
Step-8  Connect your Android TV box to your PC to upgrade your firmware when it's in recovery mode. If done correctly, you will have a connect success like in the image below.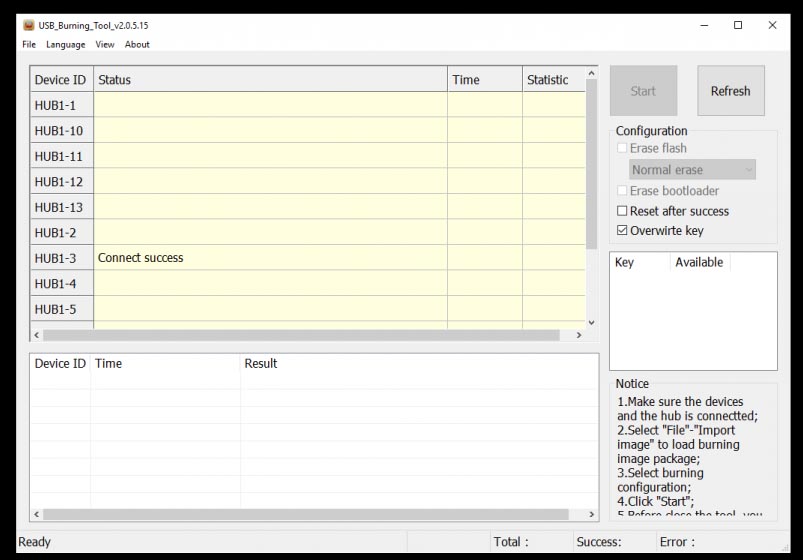 Step-9 Now, click on the File option and browse to find your firmware .img file.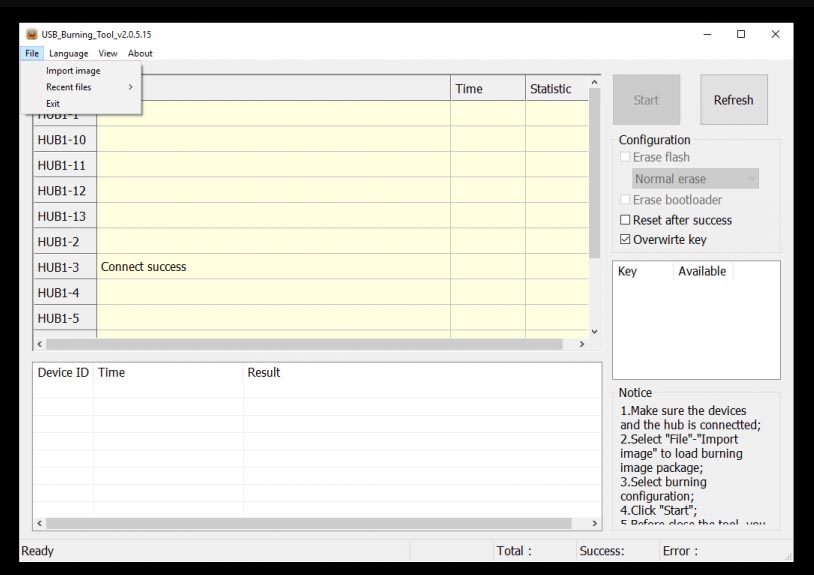 Step-10 Make sure to untick the overwrite key box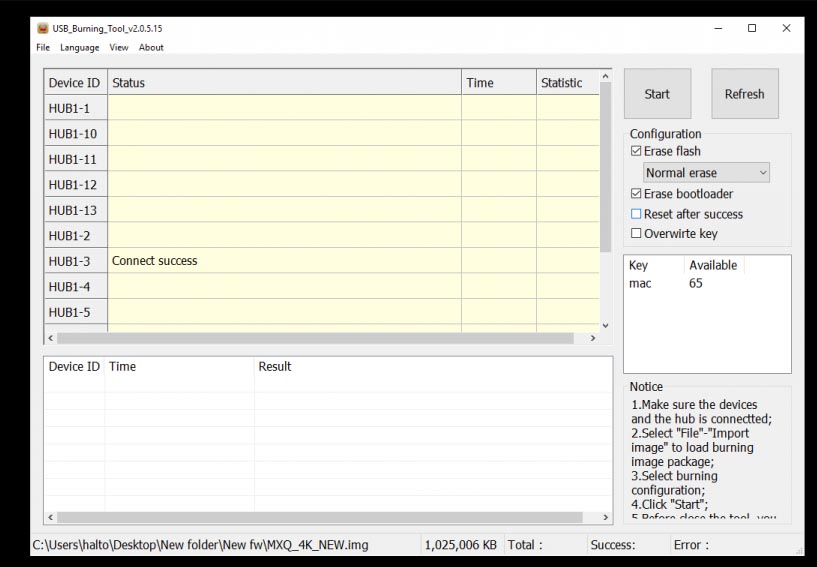 Step-11  Click Start to begin the firmware upgrade process.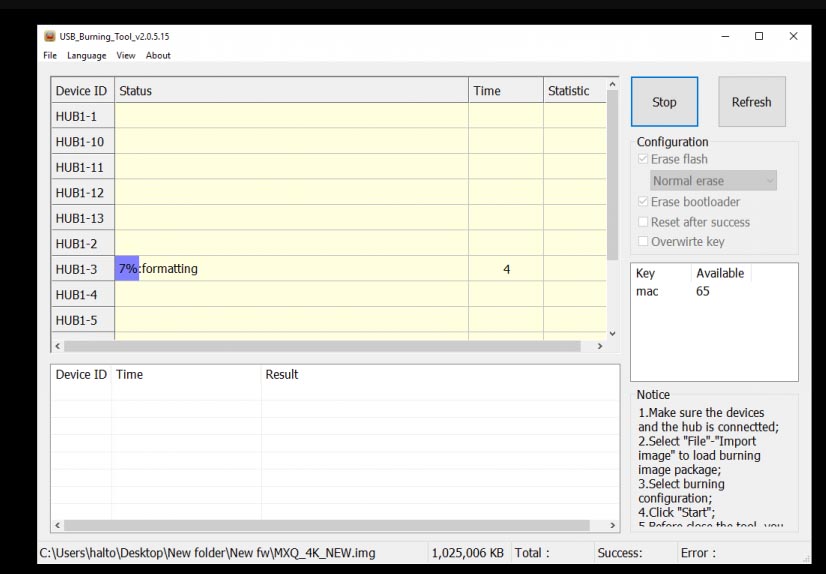 Step-12 Wait for a while; the firmware upgradation is taking place. After it finishes, click on Stop.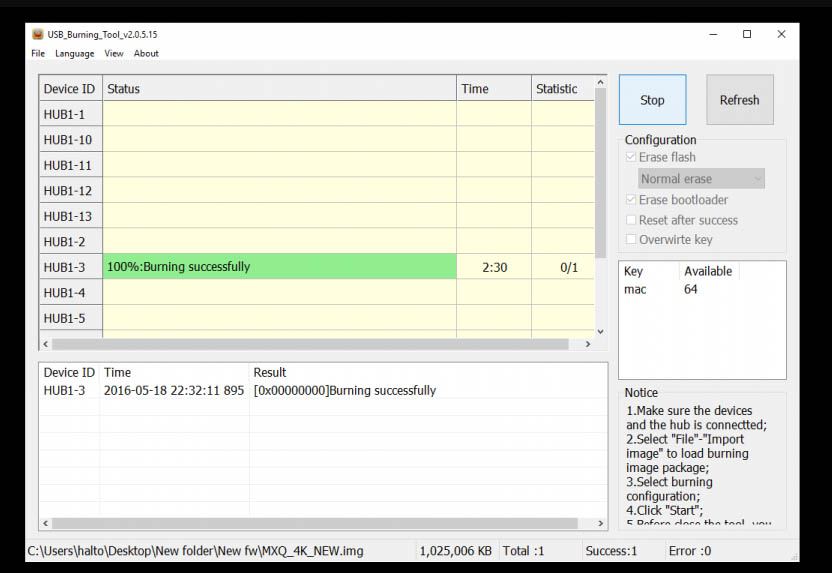 So, that's it, guys. Now the firmware on your Android TV Box is updated. We hope this guide about the Amlogic USB Burning tool was helpful to you. If you have any queries, do let us know in the comments.