It's needless to say that Android is one of the most popular and widely used mobile operating systems globally. The open-source platform allows developers and users to do whatever they want. However, due to privacy measures, if you cannot remember your Google Account credentials to unlock the device after performing Factory Reset, this article is only for you. Here you can Download Android Fastboot Reset Tool. It simply bypasses or removes the Google Account Lock or the Factory Reset Protection (FRP Lock) from your handset.
Everything is possible on Android only, from visual changes to system improvements, app customisations, flashing third-party files, etc. Customization lovers always prefer Android over iOS or any other mobile OS. But due to software glitches, performance issues, or any other bug, some users may perform a factory reset on their devices to fix all the software glitches or even network issues. However, Google's new FRP Lock protection ensures device ownership after a factory reset, and users may have to enter validly and previously used Google Account credentials to unlock it.
Today we have the latest version of the Android Fastboot Reset Tool v1.2. Well, the Android Fastboot Reset Tool v1.2 is a command prompt tool which you can use to perform various tasks on your Android device. This guide will show you how to download Android Fastboot Reset Tool v1.2. So, without any further ado, let us get straight into the article itself;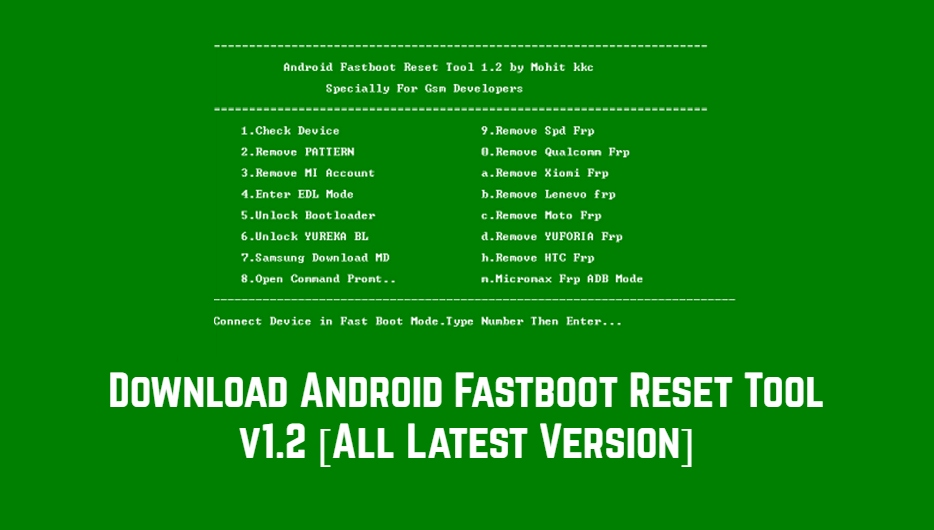 Download Android Fastboot Reset Tool v1.2 [All Latest Version]
Before heading straight into how to download the Android Fastboot tool, let us first gain information on what is the Android Fastboot Reset Tool? and what are features of the Android Fastboot tool.;
What is the Android Fastboot Reset Tool?
The Android Fastboot Reset Tool is a very useful and simple yet powerful tool that lets you bypass the factory reset protection lock from any Android device like Qualcomm, MediaTek, Spreadtrum, etc. It has easy to use interface that both the noob and advanced users can play with the functionalities. While this tool also removes HTC FRP, Micromax FRP, Yuforia FRP, Remove Lenovo FRP, Remove Xiaomi FRP, Remove Moto FRP, etc.
Additionally, this tool offers bypassing the Google Account Lock from your Android phones or tablet devices via Fastboot Mode, Removes Mi Account Lock, Unlock Yeureka Bootloader, Remove SPD FRP, Removes Pattern Lock, Unlocking Bootloader, and a lot more. The Android Fastboot Reset Tool includes plenty of options, like Checking Device Details, Enter EDL Mode (Emergency Download Mode), Bootloader Unlock, and Open Command Prompt, etc.
Features of Android Fastboot Reset Tool v1.2
Remove pattern/pin lock from your Android phone or tablet.
Bypass Mi Cloud account verification.
Remove FRP lock on SPD devices.
Unlock FRP lock on Qualcomm Android phones and tablets.
Unlock FRP on MediaTek devices.
Enter in EDL mode of your device.
Unlock Bootloader easily.
Unlock Yureka DL.
Samsung Download MD.
Bypass Xiaomi FRP lock.
Unlock Lenovo FRP.
Bypass Moto FRP.
Ability to bypass Yuforia FRP.
Unlock HTC FRP lock.
Remove Micromax FRP Lock.
The above list of features gives us an idea of the tasks that you can perform with this all-in-one multipurpose software.
Also Read: Download Qualcomm HS-USB QDloader 9008 driver
Download Android Fastboot Tool v1.2
This tool is developed by Mohit kkc. So, thanks go to Mohit kkc for creating and sharing this awesome tool with us. You can download the Android Fastboot Tool v1.2 from the link given below;
Updated on September 12, 2020: Today we have added the latest version of the Android Fastboot Reset Tool and guide to follow.
How To Install the Android Fastboot Tool on Windows PC
Use this tool at your own risk, as unlocking the bootloader can void the warranty of your device. Moreover, sometimes it bricks the device if the procedure is not followed correctly. GetDroidTips or the Author will not be responsible for any damage caused to your device while using this tool.
Download the Android Fastboot Tool from the download section above.
Once you have downloaded the file, extract the zip file.
Once you are done with the extraction, you will see a list of files like the one below;
That's It! You can open the tool by clicking on the Android Fastboot .exe file.
How to Use Android Fastboot Reset Tool
Firstly, download the USB drivers compatible with your smartphone on your PC.
Download the Android Fastboot Reset Tool on your PC and extract it.
Once that is done, run the "Android Fastboot Reset Tool V1.2.exe" as an administrator.
You will notice that a command prompt with a list of operations that the tool can perform will open, just like the image shown below;
Now, you need to boot into the Fastboot mode on your Android device.

To enter the Fastboot mode, first, turn OFF your Android device.
Then press the Power + Volume Down button together. (varies for different devices)

Connect your device to the PC via a USB cable.
Now, you must check the connection between the device and the PC. To do that, in the command prompt window type 1 and hit Enter.
If the connection is successful, you can use any feature listed on the command prompt using the tool.
You can type in the number or alphabet that shows the operation it performs and press Enter.
Once the process is completed, you need to disconnect your device from the PC and turn off your device. Moreover, in some devices, the device will reboot automatically.
However, if the device does not reboot, press the Power button and reboot it manually.
That's it! You can now all the operations supported by the Android Fastboot Reset tool on your Android device.
So, there you have it from my side in this post. I hope you guys successfully downloaded and installed the Android Fastboot Reset Tool v1.2 on your PC. Let us know in the comments below if you liked this post and used this tool for any of the operations on your Android device. Also, let us know if you encounter any link failures or other issues while following the steps mentioned above. Until the next post…Cheers!
Check Our Useful Articles: