Apple has released its latest iOS 13 on June 3, 2019, at Worldwide Developers Conference (WWDC). It's a successor of previous-generation iOS 12 and the OS comes with huge improvements and new features. Some of the top features of iOS 13 are mentioned below with brief descriptions. Additionally, like all other versions of iOS, Apple also released some of the iOS 13 Stock Wallpapers as well in this event. Now, you can download these wallpapers from the link given the bottom of this article.
There are a total of 8 stock wallpapers available right now which you can download. The images are in 1242×2208 pixels resolution quality. You need to just download and extract the zip file on your device and set your preferred wallpapers easily. These wallpapers are compressed in a zip file and come in PNG format. But before going to the wallpaper download section, let's take a look at the iOS 13 features.
iOS 13 Top Features
Apple iOS becomes faster and efficient with every version. Apple improves faster app updates. This time app download sizes are up to 50% smaller than previous. Apps launch offer twice as fast and Face ID is also now 30% faster than the iOS 12. Here are some of the features mentioned below: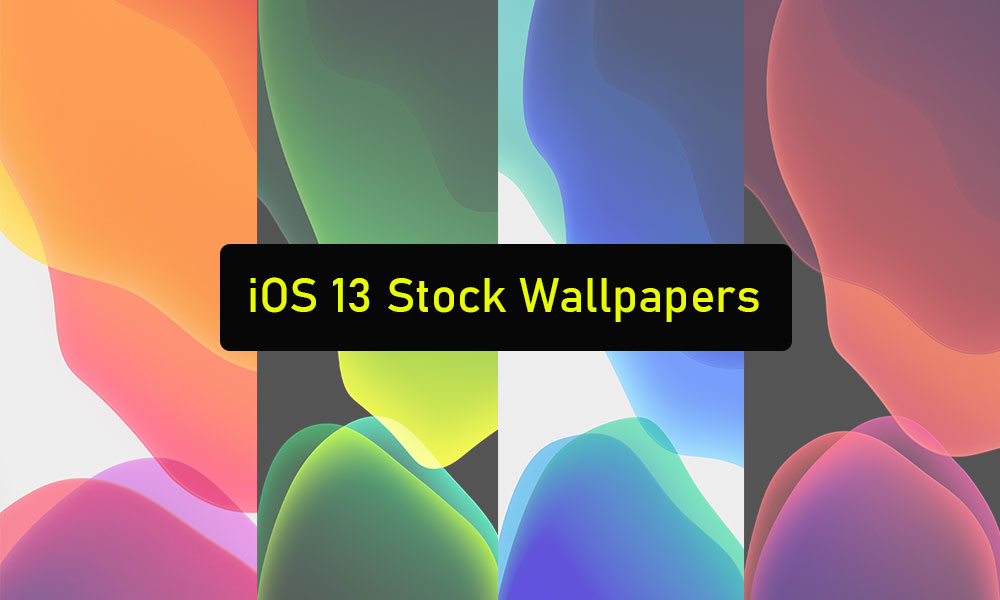 Dark Mode
Dark Mode is one of the most trending features of 2019 in the apps and OS. Apple started the dark mode with macOS Mojave and now it comes to the iOS 13. The system-wide Dark Mode changes the entire look of the Operating System. The light to a dark theme is really stunning and users will love it. Meanwhile, the users can manually set a light theme to dark theme manually. Whereas, all the pre-installed iOS apps support dark mode completely.
Images and Videos
Apple Photos app is now similar to the Google Photos and it will automatically organize the images and videos properly. It will also adjust the photos library according to the day, month, or year. The built-in photo editor is now more advanced and easier than earlier.
Read More: Download Oppo Reno Z Stock Wallpapers
Swipe Keyboard
Apple has finally brought the swipe to type functionality in the default iOS keyboard. The new Swipe Keyboard typing or you can say the gesture typing is named as QuickPath typing.
Find My Device
Apple's Find My Device app now lets you find your Apple devices even in offline mode via a Bluetooth connection. It will definitely come in handy for the iOS 13 users.
Sign in with Apple ID
Apple has introduced a new privacy feature called Sign in with Apple ID. You can now sign in with Facebook or Google account. That will be helpful too. Because nowadays, each and every app or sites offer social login. In order to set the personal information, the users need to initiate FaceID.
Siri
Siri comes with a new voice tone which will sound more like natural and soothing. It offers some of the features like create personalized shortcuts, creates a template, Siri also reads messages when they arrive. Additionally, users can share media files with contacts with one tap, Siri Suggestions now open to the Safari browser by default.
iOS 13 Stock Wallpapers: Download
As we already mentioned above that iOS 13 wallpapers are now available to download from the link given below. Just download and extract the wallpapers and search for it. Then set on the device lock screen or home screen easily via the File Manager or Gallery app.
All the images come in 1242×2208 pixels resolution quality. You will simply love these images with the resolution. Any of the 18:9 or higher aspect ratio display devices will fit perfectly. Just enjoy these wallpapers.
Download iOS 13 Stock Wallpapers