In this tutorial, you can download and install the latest Motorola RSD Lite V6.2.4 Flash Tool for your Windows PC. The OEM, since adopting the Android One ecosystem, has managed to retain a decent chunk of the audience. Then its array into the folding smartphone domain has also managed to generate quite a few hypes. All in all, it seems to have finally picked up a decent trajectory. Furthermore, it has always remained in the limelight when it comes to custom development.
Be it flashing ROMs and recoveries or the availability of custom binaries; there's a lot to try out. However, the risks of things not going out according to the plan is always there. There is a possibility of the device getting soft bricked or in a boot loop in these cases. But even if that happens, you could quickly bring your device back to life by flashing the stock firmware. And this is just one of the many nifty features of the Motorola RSD Lite V6.2.4 Flash Tool. Let's check out some of its other useful functionalities.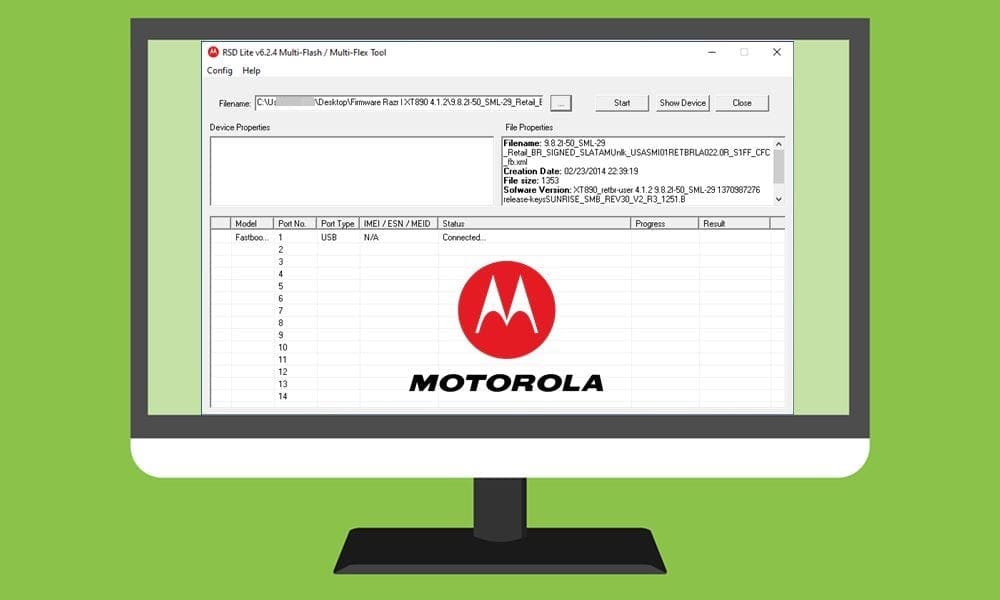 What is Motorola RSD Lite V6.2.4 Flash Tool
As is evident from its name, this tool is used to flash the official stock firmware onto Motorola devices. Apart from that, it also beholds a plethora of other noteworthy features, such as:
Easy to Use Interface
Even with such a long list of feature sets, the tool is quite easy to use and navigate. Each option is clearly laid down under separate sections and as a result, it manages to score quite high on UI/UX front.
Flashing Firmware
As mentioned before, it supports flashing the stock firmware. The OEM usually rolls out the updates in batches. So if your device is yet to receive the latest OTA, then you could manually flash it directly via this tool. Apart from that, it also comes in handy if you are looking to fix soft-brick or bootloop devices.
Support for Multiple Firmware Formats
When it comes to the firmware part, there isn't any universal format as such. Fortunately, the Motorola RSD Lite V6.2.4 Flash Tool has taken note of the same as it supports all the major firmware formats. These include XML, zip, bzip, shx, hs, hsx, bz2, tbz2, gz, tgz, among others.
Complete Device Information
Once your device gets identified by its tool, you could get hold of all the required information pertaining to your device. These include the Model Number, IMEI Number, MEID Number, as well as the connected Port Number and Port Type.
Numerous Built-In Configurations
There are a ton of useful configuration settings that tech enthusiasts could look forward to. Some of the most important ones include Flash Flex, UID, Restart after Flexing, TI Blank Flash, Image File, Flash Mode, ODM Serial, Switch to MTK Download.
So with this, you might have got a perfect idea regarding this tool. Let's now check out the download and installation steps for the latest Motorola RSD Lite V6.2.4 Flash Tool. Follow along.
Download Motorola RSD Lite V6.2.4 Flash Tool
You may now grab hold of the latest version of this tool from the given link-
Likewise, you should also install the USB Drivers so that your PC is able to recognize your device: Motorola USB Drivers.
Next up, you should download the stock firmware for your Motorola device. You may check out our repository or search and download from a trustworthy source online.
How to Install Motorola RSD Lite V6.2.4 Flash Tool
To begin with, extract the downloaded RSD Lite Flash Tool to any convenient location on your PC.
Then double click on the RSD_Lite_V6.2.4.msi file to launch the setup wizard.

Proceed with the onscreen instructions to install the tool.
Once done, launch the tool and connect your device to the PC via USB cable.
Now click on the menu button and load the firmware file.

Finally, click on the Start button and wait for the flashing to complete. Once done, you shall be notified of the same.
You may then close the tool and remove your device from the PC as well.
So this was all from this guide on how to download and install the latest Motorola RSD Lite V6.2.4 Flash Tool for your Windows PC. If you have any queries concerning the aforementioned steps, let us know in the comments section. Rounding off, here are some iPhone Tips and Tricks, PC tips and tricks, and Android Tips and Tricks that deserve your attention as well.