Privacy is very important these days if you are using gadgets like laptops and smartphones. Hackers can see through your webcam and hear you through your microphone. It may sound crazy but anyone that knows how data theft, eavesdropping works can affirm this. Modern-day laptops come with a camera shutter. You can cover the camera when not using it. If you have an older model laptop that doesn't provide a shutter, you can disable the camera manually. In this guide, I will explain to you how to easily enable or disable the camera and microphone on any Windows 10 PC.
The camera can be turned off completely for all installed apps on your PC. You do not have to do it individually for each installed apps. Still, those users who do regular video conferencing can enable or disable camera access for individual apps. Not only the camera, but the hackers can also find their way into your conversations through the microphone. It is wise to disable the microphone on your Windows computer when you do not require it.
Enable or Disable Camera in Windows 10
Here are the steps you have to follow.
Press Windows + I to open the Settings page
Click on Privacy
Then on the left-hand side under App permissions click on Camera
Below the status Camera Access is On for this device, click Change

Here you can click the toggle to turn on or off the camera access entirely for all apps installed on your computer
How to Allow/Disallow Any App to Access the Camera App
You can individually enable or disable any Microsoft Store-based app to access the camera. Go under the list of apps mentioned in Which Microsoft Store Apps can access Your Camera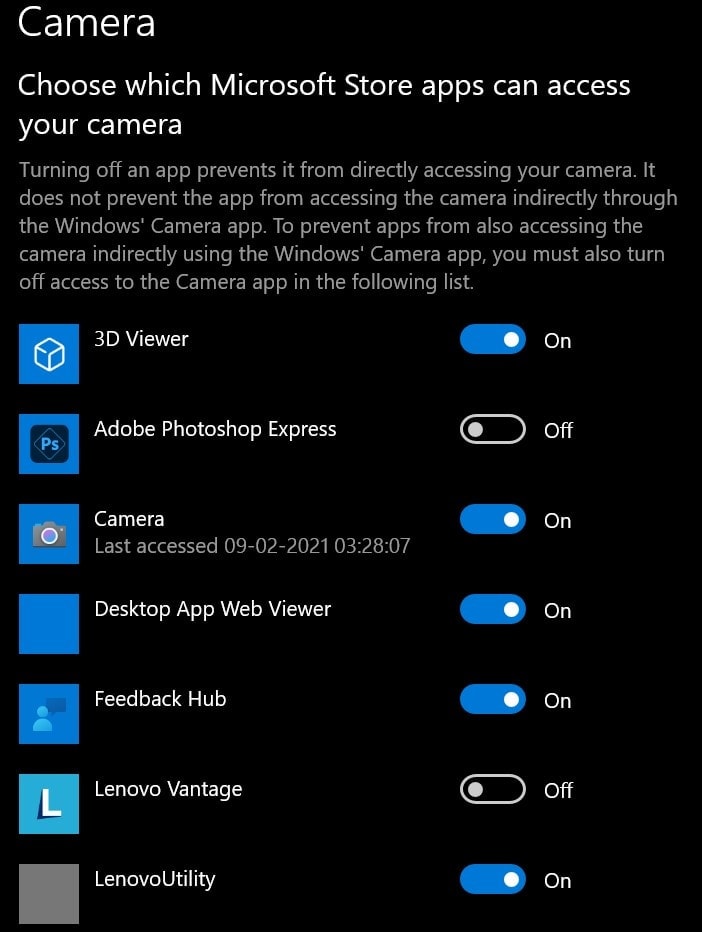 Similarly, scroll down a bit to find another option Allow desktop apps to access your camera. There will be a toggle that you can use to allow or disallow the camera access to the regular desktop apps installed on your device.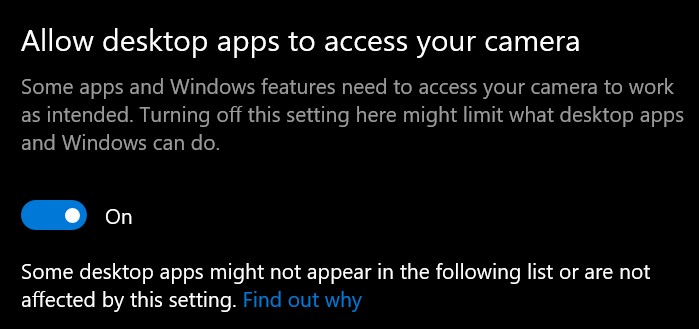 Enable or Disable Microphone on Windows 10
Just the way you enable or disable camera access for the whole system or individual apps, the same you can do for the microphone as well.
Open Windows Settings > click on Privacy [same as the previous section steps]
On the left-hand side click Microphone
There is a universal toggle that will turn the Microphone on or off for all the installed apps

If you want to selectively permit any one or more apps to access the Microphone, then you can do it as well
Scroll down to Allow Microsoft Store apps to access your Microphone

Under that, you will see a list of apps. Simply click the toggle to turn on or off the mic access to any app

To enable or disable Microphone access to desktop apps, similar to the camera there is a section for that.

Hit the toggle beside to allow or disallow the permission
So, that's all about how to enable or disable the camera and microphone on Windows 10 computer. I hope this guide helps you out.