Error Codes on the Windows operating system have become increasingly common these days. They can be as inevitable as rain during the monsoon season. These Error Codes often appear out of nowhere, like bugs, and can typically be fixed with a simple restart. However, sometimes they can cause harm to the system as well. Today, we will discuss one such Error Code – 0x800704ec. Interestingly, this code manifests itself in two different ways. Some users encounter it when trying to use or update Windows Defender, while others face it when installing applications from the Windows Store. If you've landed here, you're probably experiencing this error code in one of its two forms. So, let's dive in and explore some solutions.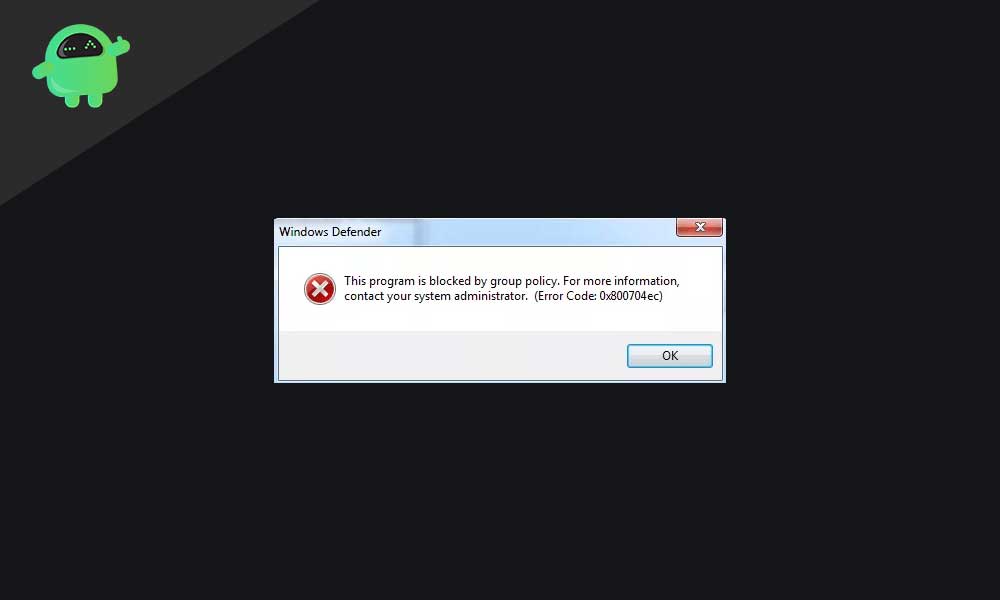 What is Error Code 0x800704ec?
Error Code 0x800704ec appears in two distinct scenarios. The first involves Windows Defender, and the second is related to downloading applications from the Windows Store. In both cases, the primary issue is that the entire system becomes unresponsive and turns grey, causing panic among users. When attempting to run Windows Defender, the screen greys out, ceasing all activity. As a result, the only option left for users is to force restart the system.
Similarly, when users try to download an application from the Windows Store, the store becomes unresponsive, displaying the usual "Your PC ran into a problem" message along with the 0x800704ec error code. In this article, we will discuss essential tips and tricks to resolve this error code and prevent it from reappearing the next time you use your PC. We will focus on the Error Code 0x800704ec that persistently pops up while using Windows Defender Antivirus. So, let's dive in and explore some solutions.
How to Fix Error Code 0x800704ec On Windows Defender?
This is the most frustrating part of this error code. In particular, you are not able to turn on the Windows Defender, so your first line of security is disabled. The worst part of this is that your system is vulnerable to threats. So your computer becomes less secure in all the ways. So to overcome this, we have brought all the possible fixes to free up your system from error code 0x800704ec. Follow the repairs below to continue.
Fix 1: Disable Third-Party Antivirus Software

To understand the leading cause, we must know that Error Code 0x800704ec is mainly caused due to malfunctioning of the Windows Defender security. The malfunctioning can be fixed with some tweaks on the software front and mainly by disabling the third-party Antivirus Programs. But the condition with Windows Defender is that it cannot work with other antivirus programs. You have to disable any of the two first. But in reality, you don't have to uninstall any of your paid antiviruses; you just need to turn off the Real-time protection. So now we will discuss how to do that with some of the most popular antivirus programs.
ESET
Follow the below steps to turn off the Real-time protection of all versions of ESET antivirus.
Open the software by double-clicking on the icon or from the Start menu
Now after opening, on the right panel, click on Setup.
Now in the setup dialogue box, look on the left side and select Computer protection
After that, click on "Pause Antivirus and Spyware Protection".
Click on Apply.
This will stop the real-time protection of ESET Smart security. Remember that ESET restarts real-time protection when you reboot the system. So it would be best if you did this each time.
McAfee Security
Follow the below steps to turn of real-time protection for McAfee Security Centre
Open the software
Click on the PC Security tab.
After that, you will see the toggle for "Real-Time Protection" switch that off.
It will then ask when to resume, and you can choose never if you wish to use Defender as your main security software.
Click on Apply
Next, you need to turn off the firewall of McAfee, follow the steps below to do that.
After opening the McAfee, you'll see the firewall option at the extreme left, click on that.
Now, turn it off.
You can choose for how long and even choose Never.
That was all for McAfee, and now you will not see the error again if you use Defender now.
BitDefender
To turn off the Real-time protection in BitDefender, follow the steps below
Open BitDefender.
Go to options and select Preferences.
Now, toggle the switch to turn off the antivirus, and do the same for Vulnerability Scan
Now, click on Apply, then OK.
This will turn off the Realtime protection from BitDefender.
Avast Antivirus
The Avast Antivirus is universally famous for making the system slow. To turn off the real-time protection from Avast, follow the steps below.
Open the Avast Antivirus by clicking on the System icon tray at the taskbar.
Now, make your mouse over "Avast shields control" and expand it; now click on "Disable Permanently".
Now a confirmation window will appear. Click OK to confirm.
Fix 2: Removing the Third-Party Antivirus Software
If the above ways of disabling the Real-Time protection of Antivirus software do not solve your 0x800704ec error code, Then you can try to remove them permanently. But you don't need to worry if you have paid for their subscription. Installing them again on your system and logging in with your respective accounts will continue the subscription.
To uninstall any antivirus software, there is a universal way. Follow the steps below.
Restart your computer in Safe mode by choosing advanced startup options.
Open programs and features, then uninstall them.
There will be no fuss in this process, and you will restart your system as usual again.
You will not see the Error code 0x800704ec again, probably. But we have more for you if you still see this error code.
Fix 3: Enable the Windows Services for Windows Defender
Sometimes, the services of Windows Defender are disabled after using third-party antivirus software. So enabling them becomes a necessity. To enable the Windows Services for Defender to follow the steps below.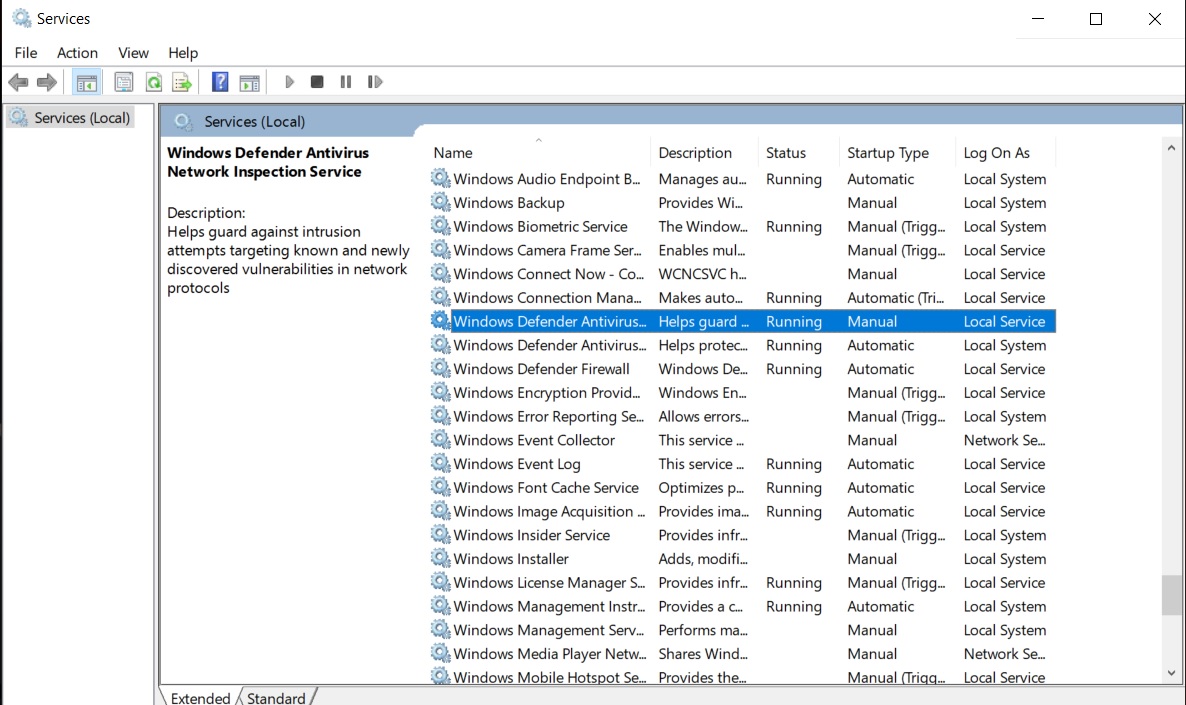 Press the Windows+R button together, Run dialogue box opens.
In the run dialogue box, type "services.msc" and press enter.
Now scroll down, and you will find Windows Defender named services.
Please enable them and Restart your system
If everything goes as per expectations. You will not face any problems from now onwards. But still, if you suffer, move on to Fix 4.
Fix 4: Change Values in Registry Editor
Changing the values on Registry Editor for Windows defender may help sort out this problem of error code 0x800704ec. So to do this, follow the steps below.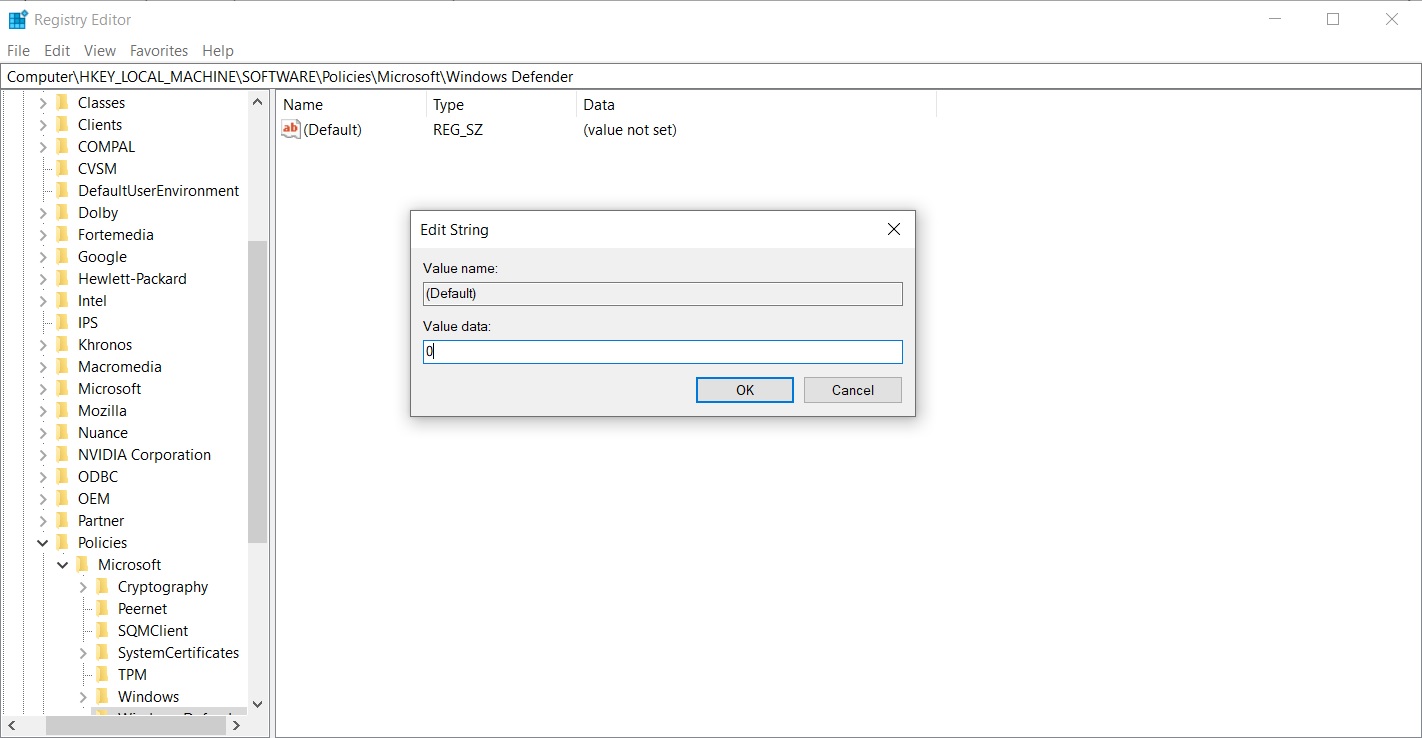 Press the Windows+R button together, Run dialogue box opens.
In the run dialogue box, type "regedit" and press enter.
In the Registry Editor window, copy and paste this address: Computer\HKEY_LOCAL_MACHINE\SOFTWARE\Policies\Microsoft\Windows Defender
Now on the left, you will find a key named "Default" double click on that and change the value to 0.
Click on OK and exit the Registry Editor.
Now restart the computer.
You won't see the error code popping up any other time from now onwards. But wait, as always, we have a bonus fix for you.
Fix 5: Enable Defender in Local Group Policy Editor
Somehow we found out that sometimes the main problem lies with the Local Group policy if you can edit that it can solve all your error code issues. To edit the Group Policy, follow the steps below.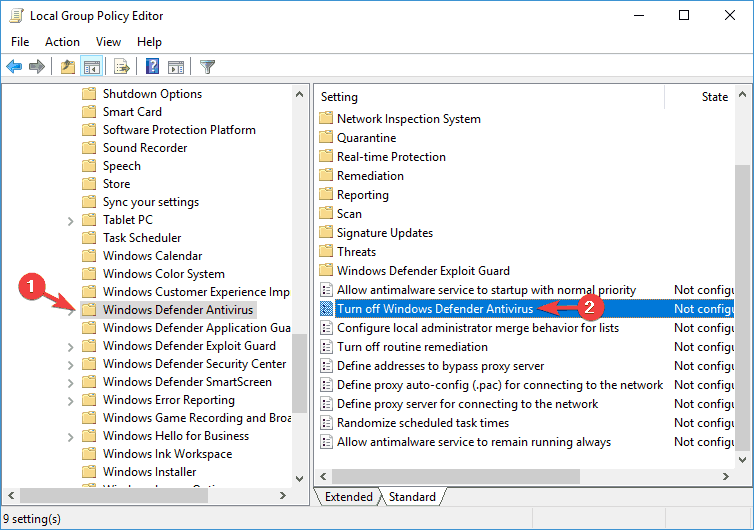 Press Windows+R button together, Run dialogue box opens.
In the run dialogue box, type "gpedit.msc" and press enter.
In the admin window, look for local computer policies
Now scroll down to Windows Defender Antivirus
Double Click on windows defender, then you will see all the settings available for Windows Defender.
Click on Disable, then Apply
At last, click on the OK button.
Editing the group policy solves all the issues related to Windows defender antivirus.
About Error Codes
Error codes are now universal in Windows operating system appearing now and then. So the users are having a tough time dealing with these problems. We have brought the list of fixes that will surely help users solving the issues related to their system. And if any problem arises, they should try to do a fresh installation of Windows. That will surely solve all the ongoing issues. Also, sometimes a simple restart can help to manage the problems.
That was all from us, and we hope this guide was useful to you. If you still have any queries or feedback, please comment down below with your name and E-mail ID. Before rounding off, do check out our detailed iPhone Tips and Tricks, PC tips and tricks, Games Tips and Tricks, and Android Tips and Tricks as well. Thank you. Have a beautiful day.