Apple's new Apple TV 4K has unprecedented power and features. The price is now lower, but still not relatively cheap, at $129 for the base model. One might argue that it has adopted the HDR10 Plus format that's common on Samsung TVs, which is missing Dolby Vision because they haven't adopted the same AV chip from last year's iPhone 13 – true overkill for a streaming player.
Also, the Siri Remote now has a USB-C port, which is inevitable for iPhones. But, there are many users who reported that their Apple TV is showing no signal issue. That's the reason why we are here; in this article, we have explained some needy fixes that will help you resolve this problem. So, let's get started with the guide.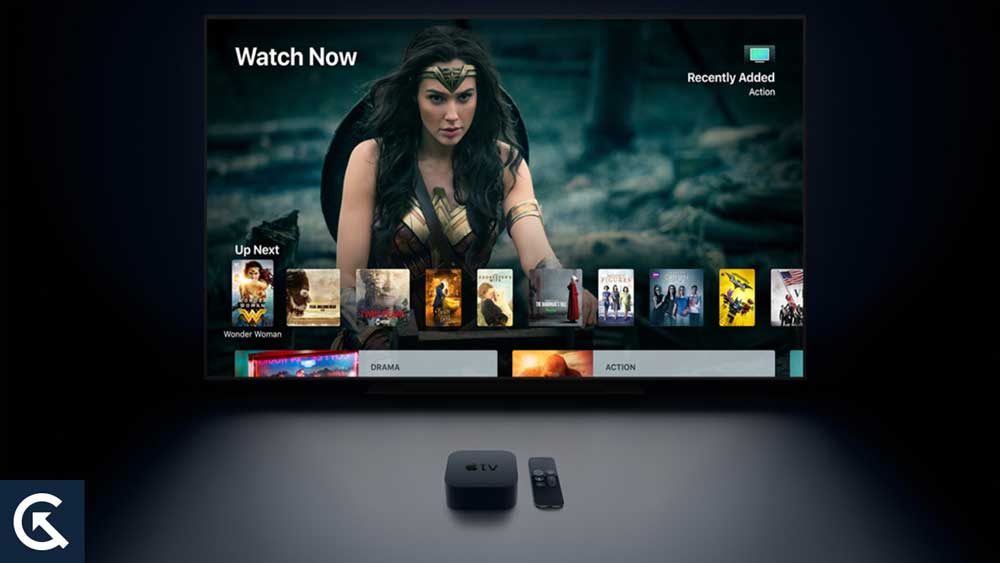 Why Does My TV Say No Signal?
No Signal may also be reported by Apple TV for a variety of other reasons. Most commonly, this message occurs for the following reasons:
Signal failure on the antenna.

There is an error with the product.

Neither device may be working properly due to a network problem.

The HDMI-enhanced format setting might not be turned on for Apple TV 4K, resulting in an unreliable signal.
In order to solve this irritating issue, let's adopt the problem-oriented approach after understanding the causes.
How To Fix Apple TV No Signal Issue
So, here are some fixes that will help you resolve you fixing the Apple TV No Signal issue. Therefore, in case you are facing this problem, make sure to perform these fixes carefully:
Fix 1: Reboot Apple TV
When Apple TV no signal notification appears on your screen, rebooting the device is one of the easiest ways to solve the problem. It is important to restart your TV to provide it with a fresh start and to eliminate software bugs. You can restart your Apple TV by following these steps:
Go to Settings, then General.

From the list of options, choose "Restart." It will automatically reboot your Apple TV.
Fix 2: Check HDMI Cable
You should check your HDMI cable if the reboot does not fix the problem. Maybe there is a loose HDMI connection between your Apple TV box and the TV, which is causing the problem. The HDMI cable needs to be checked to make sure it works properly. If your laptop and a displaying monitor are not working, you can test the cable by connecting them together. If you want to use a new HDMI cable, you can also do so. It could go a long way towards solving the problem of no signal on Apple TV.
Fix 3: Factory Reset Apple TV
It is highly likely that an iOS glitch may cause the problem if none of the above remedies solve the Apple TV signal issue. The only way to resolve this issue is to factory reset your Apple TV, which means you will lose all of your media files and TV settings. If you want to avoid this from happening, you should back up your data before resetting your TV. To reset your device, follow the steps below once your data has been saved.
Go to "Settings" and click on "General."

The "Reset" option can be found in the menu displayed. Click it.

To reset, click on "Restore." Once the software update is complete, your Apple TV will no longer have any signal issues.
Fix 4: Power Cycle Your Apple TV
You may try power cycling your device if you've tried restarting your app multiple times but nothing has changed. Your device will be brought back to its original state once the RAM is flushed, giving the apps a fresh start. There is no hit-and-miss method to power cycle the Apple TV, however.
Plug out all the cables and wires from your Apple TV, turn the power off, and wait about a minute before plugging them back in. It's that simple. Check if the issue gets resolved by turning on the power button and launching the app.
Fix 5: Check Your Internet Connection
A good internet connection is required to access OTT apps because they are subscription-based online video streaming platforms. In order to accomplish this, you must ensure that your device is connected to a reliable internet connection. Is there a way to measure your internet speed?
Getting the Ookla speed tester is as simple as visiting the website. Once you have clicked the Go button, the test will begin. You can then try power cycling your router/modem if you find that your connection speed is not as good as you thought.
Also, if your ISP fails to fix the connection error, you can contact them. However, the problem with Discovery Plus will automatically disappear once that's done.
Fix 6: Update Your TV OS
Do you know if your Apple TV runs the latest operating System? You might be using an older version of the OS on your Apple TV, which is why the app does not work properly on it. We recommend you check immediately if any firmware updates are pending for your device. You must, however, follow these steps in order to do so:
To begin, hover over to the Apple TV's Settings.

Select System> Software Updates and click Update Software. An update notification appears if one is available.

Then you need to click the Download and then the Install buttons to begin downloading.
Fix 7: Reach To Help Desk
No luck yet? You don't need to worry! You should contact the Apple customer service desk and register your complaint about this problem. It may take up to 24 hours for an official to reply, along with suggestions for fixing the problem.
Also Read: Fix: Apple TV Screen Flickering or Blinking On Off
So, that's how to fix the Apple TV no signal issue. We hope that this guide has helped you. Furthermore, in case you need more help, comment below and let us know.