2017 was the best year yet when it comes to the Chinese manufacturer Xiaomi. They have gained a lot of good reviews which resulted in a good amount of sale. Xiaomi target nothing but the same or a better result as the year of 2018 starts. They have a lot of devices yet to be launched coming with some cool features and offering great value for money. Their 2018 lineup has started with the unveiling of the Redmi Note 5 Pro. Read through to find out various ways to fix battery not charging or charging slow on Redmi Note 5 Pro.
Talking about the specification offered by the new device from Xiaomi, it comes with a 5.99-inch display. The device is powered by the Qualcomm SDM636 Snapdragon 636 processor. There are two variants with 4 GB and 6 GB RAM, both the variants come with a ROM of 64 GB. While the external memory can be expanded up to 256 GB. Android 7.1.2 Nougat can be experienced by users out of the box. A 12 MP and 5 MP sensors at the rear and a 20 MP sensor at the front is added. A 4000 mAh battery is also added.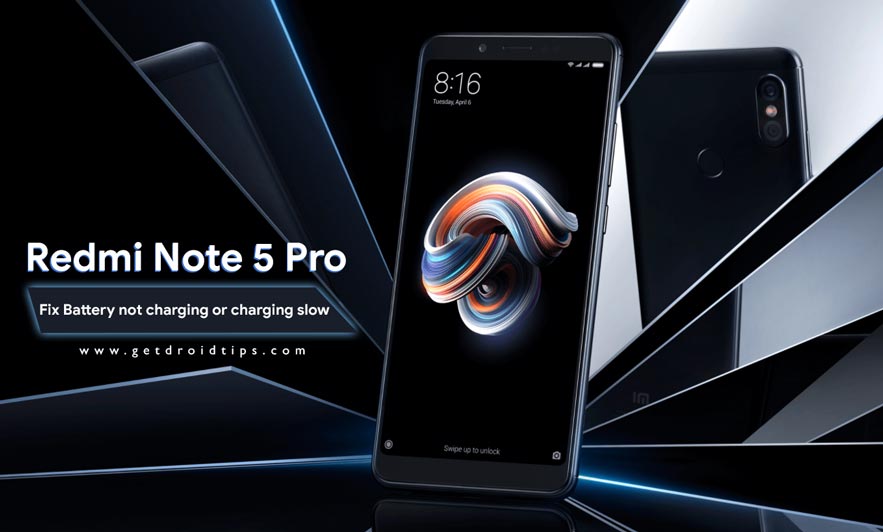 Ways to fix Battery not charging or charging slow on Redmi Note 5 Pro
Issues with battery charging are the biggest headache smartphone users have been facing for a long time. No matter which manufacturer the device is from battery issues are a common thing reported often. There can be issues with battery draining fast or the issue can be with charging. In this guide we will be discussing the ways to fix issues with charging, please read through to find out.
Clean the charging port
Clearing the charging port is an important thing you should do occasionally. If you miss out on this your port might get filled with dust and dirt and this can seriously affect charging. So if you are facing issues with charging try cleaning your charging port. Make sure you clean it gently without damaging the port.
Change your charger
Chargers from most manufacturers face the issue in the long run. Although the damage will be based on your usage it will happen at a time. So first make sure if the charging issue is caused by your charger. You can do it by using it with another device, or by using a different charger with your device. If the charger is the issue, consider replacing it with a new compatible charger.
Hard reset
Open settings
Scroll down and tap on back & reset
Tap on factory data reset
Now tap on Reset phone
Tap on erase everything
I hope this guide was useful in understanding how to fix battery not charging or charging slow on Redmi Note 5 Pro. If any queries or feedback, please leave a comment below.