Bluetooth technology is a wireless communications technology that replaced the cables connecting electronic devices, such that a person can have a phone conversation via a headset, use a wireless mouse as well as synchronize information from a mobile device to a PC or between two mobile devices. Here in this guide, we will troubleshoot to fix the Bluetooth Connectivity on Redmi 5 and 5 Plus.
It is one of the most important features of any mobile device as its uses cannot be overstated. It allows you send images, text, contacts, documents, videos, audios, apps, even internet data to other Bluetooth enabled devices easily. It's one of the most widely used wireless technology in the world, according to the Bluetooth Special Interest Group.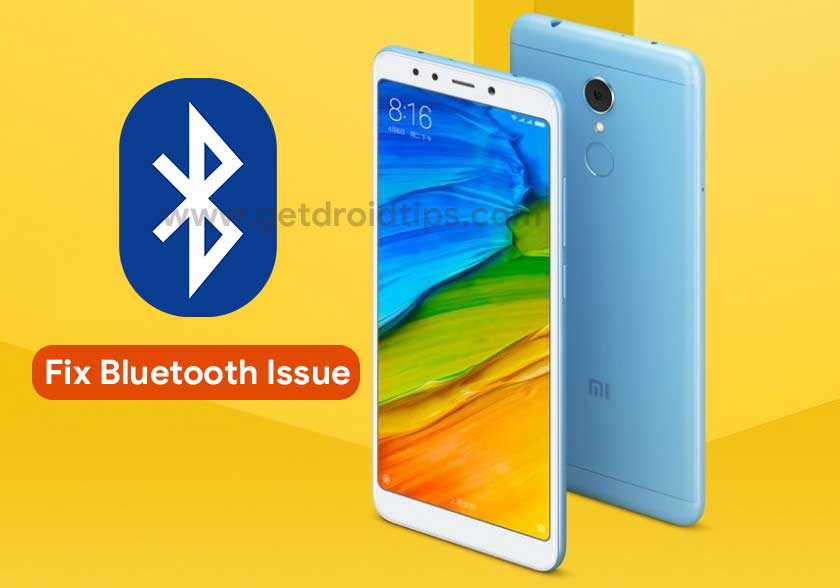 One of the challenges linked with wireless technology is the process of connecting wireless devices. Users have turned out to be familiar with the process of connecting wired devices by plugging one end of a cable into one device and the other end into the complementary device. Although Bluetooth is quite common nowadays, occasionally, users experience series of connectivity issues with the stuff ranging from inability to pair new devices, inability to send or receive files and most times invisibility problem. To be able to fix any Bluetooth problem, we need to discover the cause. However, these basic connectivity problems should be solvable without visiting Carl care or any service center, saving you precious time and money.
RECOMMENDED READ: Common Redmi 5 Problems and Fixes
How to Fix Bluetooth Connectivity on Redmi 5 and 5 Plus
In a case where you are having troubles trying to create a Bluetooth connection with your Redmi5 plus device and any Bluetooth device, kindly follow the following steps. We can assure you that your problem will be fixed before you get to the last step.
Power On Bluetooth Connectivity
As absurd as this may sound, we could actually forget to power on our Bluetooth connectivity. So checking to ensure Bluetooth is on, is actually not out of place. You could switch it off and then back on when you check and it was on.
Also, check to turn on visibility. Go to Bluetooth setting and set discovery to always visible. Then try connecting to other devices. If it doesn't work, kindly proceed to the next step.
Power Off and On your device
When your mobile device start having Bluetooth issue unexpectedly, simply power off your Redmi device completely, wait for few seconds (30-60 seconds), and then power the phone back on. This is a form of soft reset. Then try creating a connection again to see if this simple trick helped to fix it. If it doesn't, then proceed to the next step.
Check the other device
If you are having difficulties pairing to another device, then ensure that you check the other device to make sure that it is functioning properly. It may not be an issue with your Redmi device but an issue with that other device you're trying to connect with.
Clear Bluetooth Cache
Assuming your Bluetooth was connecting and working properly and you tried to adjust a setting on your device, and afterward, you find out that your Bluetooth stopped connecting or pairing, then you need to clear your Bluetooth cache. This function is found in the Application Manager of your phone setting. Locate your Bluetooth app in the app manager, tap on it to open it, then tap on "clear cache".
Once you've cleared the cache, restart your smartphone device, try your Bluetooth and see if it's working properly. If not, then you will as well need to clear your Bluetooth Data alongside the cache.
Clear Bluetooth Data
Clearing the Bluetooth data is just like resetting your Bluetooth connection so that it starts with a newly installed app. We clear these data so that any corrupt file(s) will be removed. All the Bluetooth data will be erased permanently which include all files, settings, accounts, databases, paired devices as well, etc.
This function is also located in the Application Manager of your phone setting. Locate your Bluetooth app in the app manager, tap on it to open it, then tap on "clear data".
Once the data has been cleared, restart your phone, then switch on the Bluetooth and try connecting to see if it's now working properly.
Safe Mode
Safe Mode allows your device run without any third party applications. This can help you to locate the apps that are causing the Bluetooth problem. If your device works smoothly in this safe mode, simply uninstall the recently installed app(s) that you believe might be the cause. Then reboot your phone normally and check if Bluetooth is now connecting properly.
Factory Data Reset
This should be the last resort after all other steps have failed to fix your Bluetooth problem.
Factory Reset wipes out all data and all third party applications from your Redmi 5 Plus phone. It is essential that all information is backed up when you want to reset your smartphone to factory settings. This gives you the chance of starting afresh, more like a clean slate, a new device.
This is located in the Backup and Reset menu of your device's setting. Then tap on Factory Data Reset to reset your phone.
You could click on the option Backup and Reset in case you might want to backup your data before resetting the device.
Once the process of reset completes, you can try switching the Bluetooth on and connecting to check if it works. If your problem is fixed then you can restore all the backed up data to your device.
However, if your Bluetooth connectivity problem persists then there may actually be a problem in the physical connections which can be causing the issue. To solve this issue, you'll need to take your phone to the nearest Carl care center or any service center. If your Redmi 5 plus device is still under the warranty period, you could get a replacement from the manufacturers.