Bluetooth can be a crucial connectivity element in most smartphones, as it helps us to connect with peripherals such as AirPods, headsets, wireless mics, and other accessories. But what if you are particularly facing issues like Bluetooth won't turn on, or won't stay on. In some cases, the Bluetooth option itself is greyed out and users are not able to connect any device to it.
The Bluetooth connectivity problem on iPhone 12, 12 Pro, and 12 Pro Max is not common and only affects a small group of users. But once this problem hits, you will notice that Bluetooth does not discover nearby devices, especially if you are trying to connect with devices such as car media players, AirPods, or TV soundbars.
I personally use iPhone 12 Pro for casually air casting to my smart TV, but sometimes the soundbar doesn't connect. The same Bluetooth issue my friend is facing is where his iPhone 12 Bluetooth is not connecting automatically in his car, even when he uses it daily. If you are also facing such issues with Bluetooth lately, then the below troubleshooting will help you fix the issue.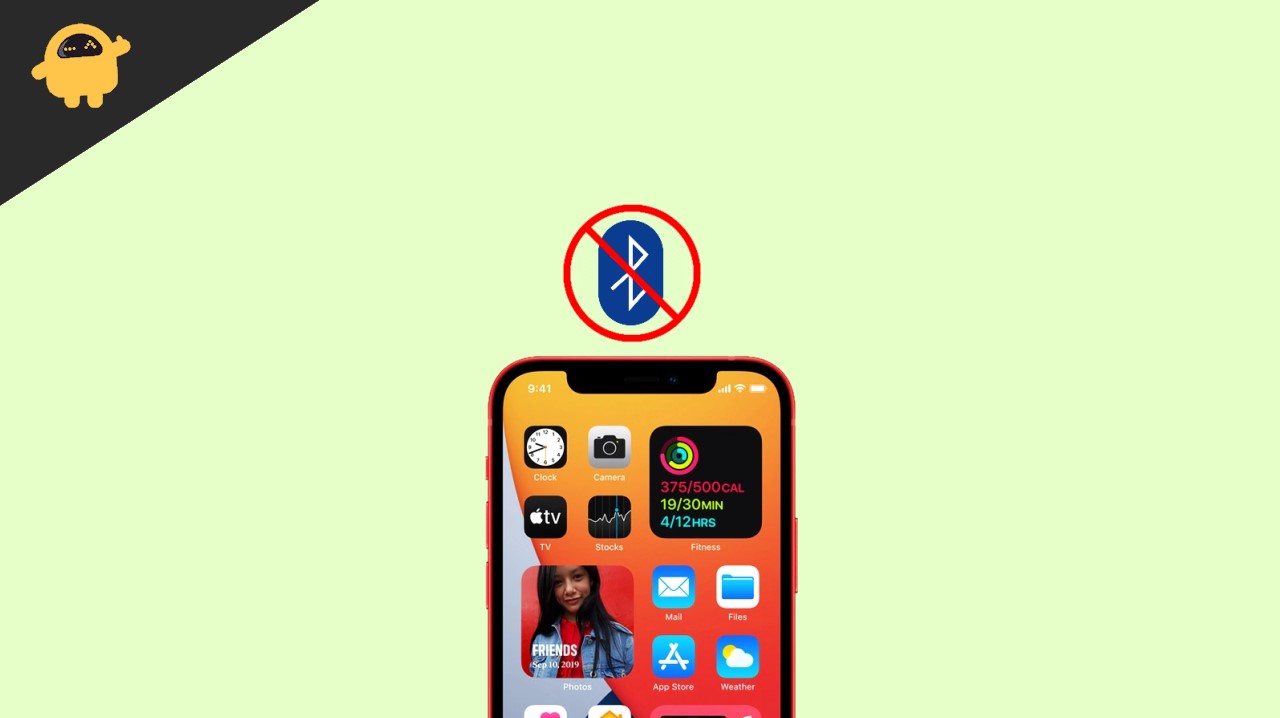 Fix: iPhone 12, 12 Pro, 12 Pro Max Bluetooth Connectivity Problem
Connectivity issues on iPhone can be common with the latest iOS 15 and above updates, but don't worry as the below troubleshooting steps will help you fix all Bluetooth-related problems on iPhone 12 series.
Before moving with the below methods, make sure the device to which you wish to connect, their Bluetooth should be turned on and searchability is set to everyone. So it is easy to pair them with your latest iPhone 12.
Method 1: Toggle Bluetooth Off & On
In many cases, the Bluetooth is particularly turned on with iOS, which means that it is not actively seeking Bluetooth connections. So you usually have to toggle it back to turn it on, and once it is done; you will be able to connect with devices such as your car media player, TV, soundbar, external speakers, or headsets easily.
Method 2: Restart iPhone
Although iOS has a good reputation for being a very stable operating system for smartphones, sometimes the Bluetooth permissions may get corrupted in the background phone process. So as a result, the Bluetooth will be turned on but users will not be able to connect it with other devices.
This is the prime reason behind many pairing issues such as Bluetooth not discovering devices, Bluetooth won't turn on, Bluetooth greyed out, not working in the car, not connecting to the soundbar or speakers, etc. So simply restart your iPhone 12 and see if it helps to fix the issue.
Method 3: Update iOS
In recent iOS updates, several Bluetooth connectivity bugs were there, but all f them has been addressed in the latest iOS 15.5 updates. So if you still haven't updated your iPhone 12 to the latest version, we recommend you to do so.
Steps to update your iPhone 12 to the latest iOS version:
Open the Settings app and navigate to General > Software update.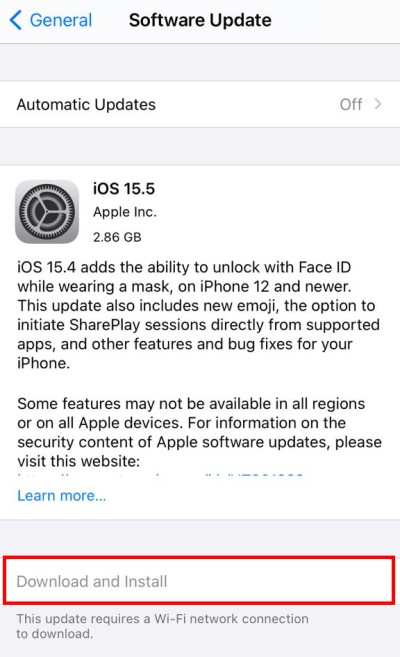 Here check if any updates are available for your iPhone and install them.
Method 4: Remove Existing paired devices
In order to connect any Bluetooth device to the iPhone 12 series, we first have to pair it. But if you have multiple pre-existing paired devices, then the new device may not connect properly. So remove all the existing paired Bluetooth devices. Once all the pre-existing devices are removed, you can pair your Bluetooth device with iPhone 12 as new.
Steps to remove existing paired devices on iPhone 12:
Open the Settings app and navigate to Bluetooth.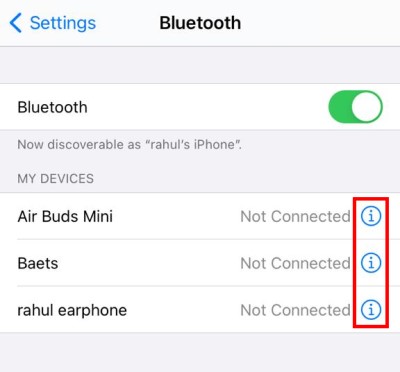 Click on the (i) icon for the connection you wish to remove.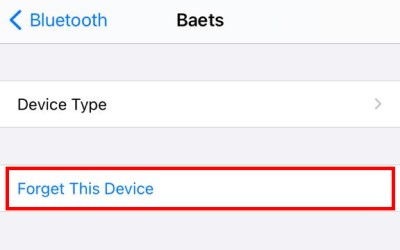 Now click on forget this device option.
Do this with all the existing paired devices, then pair them again.
Method 5: Disable Bluetooth Permissions for Third-party Apps
Many apps ask for Bluetooth permissions which are not used all the time. But such apps can block the Bluetooth access for other system apps, creating issues while connecting with your Bluetooth devices. Here is how you can disable these permissions.
Open settings and navigate to the app which has Bluetooth permissions.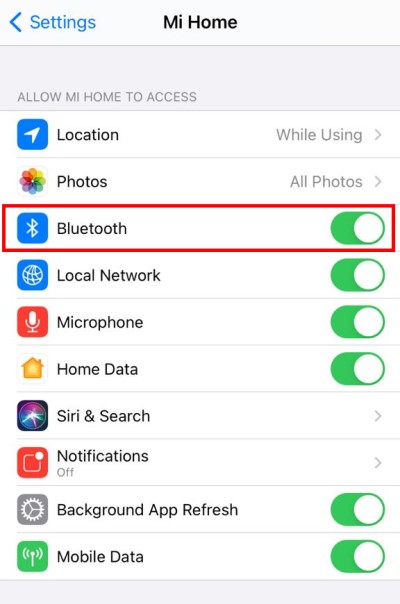 Make sure the Bluetooth permission slider is turned off.
Method 6: Reset Network Settings
A good way to get rid of any network issues on your iPhone without having to completely reset it is to just reset its network settings. This will not affect any data on your iPhone, and will not tamper with any of the other settings.
Steps to reset network settings on your iPhone 12:
Open the Settings app on your iPhone.
Navigate to General > Reset.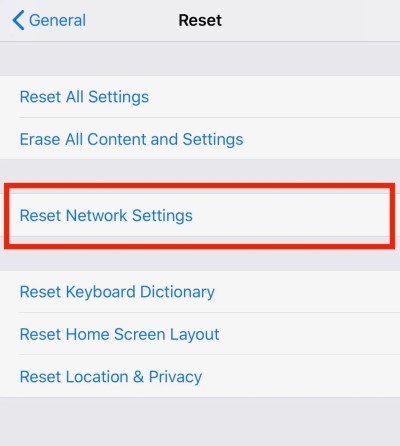 Tap on Reset Network Settings.
Method 7: Set Bluetooth Shortcut
iPhone 12 comes with special shortcuts feature which can help you to easily turn on or off connectivity features such as Bluetooth or wifi. Because of several system glitches, the Bluetooth doesn't get turned on when you turn it on from the settings menu. This is the primary reason why the Bluetooth option is greyed out when you try to connect it with external devices.
Steps to set Bluetooth shortcut on iPhone 12:
Open the Shortcuts app on your iPhone.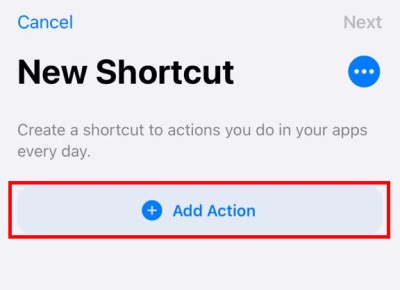 Click on the plus button to create a new shortcut.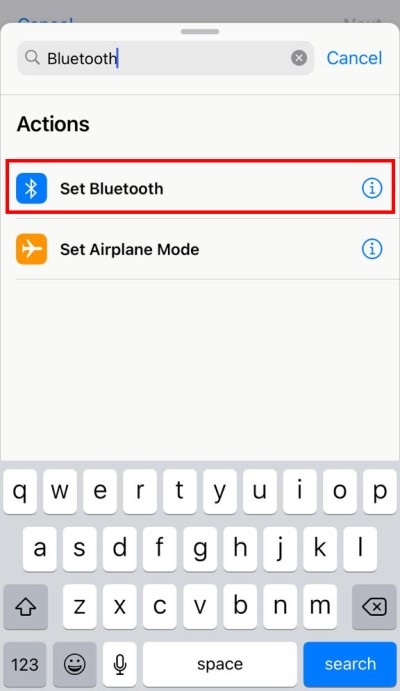 Here click on add action and choose set action.
A new shortcut for turning on Bluetooth will be created.
Now save this shortcut.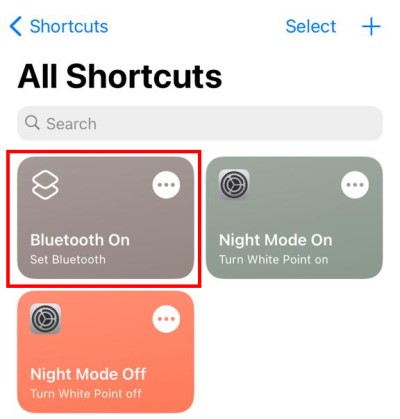 Open the Shortcut app and click on the shortcut you just created to turn on Bluetooth.
Method 8: Check Bluetooth Hardware Damage
If none of the above methods work for you, then most likely the Bluetooth chip is malfunctioning on your iPhone. Since it is a hardware fault, there is not much you can do except getting it fixed from your nearest Apple authorized service center.
Steps to check Bluetooth hardware damage on iPhone 12:
Download and install the Phone Diagnostic app from iOS Appstore.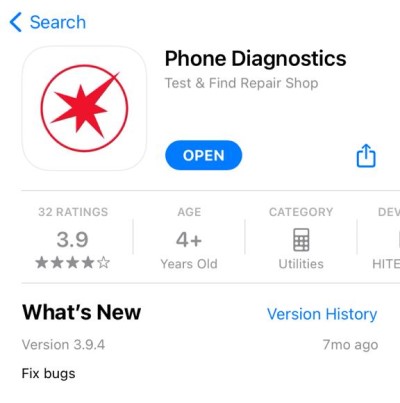 Open the app and look for the Bluetooth option.
If your device's Bluetooth hardware is working correctly, the app will mark it green.
Conclusion
This brings us to the end of this guide for fixing iPhone 12, 12 Pro, 12 Pro Max Bluetooth connectivity problems. Please note that sometimes the issue of Bluetooth is not with your iPhone itself, but with the device that you're trying to connect. So also check if the other device's Bluetooth configurations are correct, and if not, you may reset configurations or get a new device.