Xiaomi Redmi smartphones come with excellent key features of the market which makes them favorite among the users. Display integrated touchscreen revolutionized smartphone market. Physical buttons disappeared by the introduction of capacitive touch screens. So the screen is the most used part of a smartphone. Since smartphones are operated by touch screens, for availing any applications we have to physically touch the screen.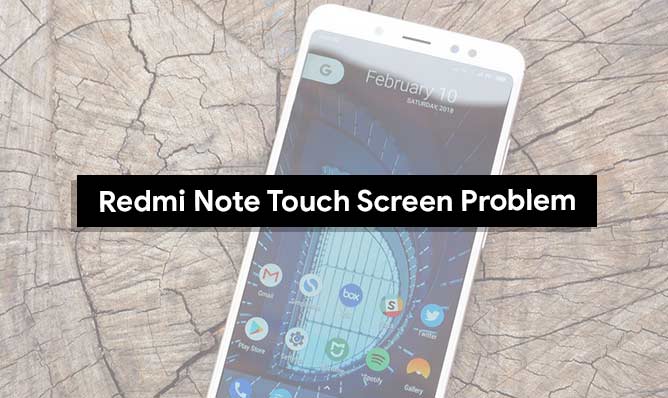 Is it normal to have touchscreen problems?
It depends on the frequency at which you encounter the touchscreen problems. If this doesn't happen often then it is quite normal to have rare touchscreen issues that get fixed easily. And if this issue happens most of the time then you should diagnose your phone by an authorized service professional. Here are some of the fixes for Redmi Note Touch Screen Problem which you can try from home before visiting nearby service center.
Fixes Xiaomi Redmi Note Touch Screen Problem
First, clean the screen and your hand before touching the phone.Dirt, oil or moisture can affect the touch performance in capacitive touchscreen phones.
Try restarting the device. Remove battery (if possible) then connect it again. Then connect it again and restart by holding the power key.
Hard reset. Try hard reset the device. You can do this by clicking on the volume down key and power button simultaneously. On the resulting screen press on factory reset. This will wipe off all the saved data.so before performing hard reset back up the data.
Maybe the issue is hardware related. You can try connecting the digitizer connection if you are ready for it. This may affect the warranty of your device. For doing this remove the cover and then check whether the digitizer connection is loose or not. If it is loose connect it properly.
Sometimes the screen will not work if there is wetness inside the phone. So turn off the phone and keep it close to silica crystals. It will absorb the moisture content on the phone.
Put the phone in safe mode. This is because the screen may not work due to the malfunction of newly installed apps. So safe mode kills the third party app operations. And check whether the issue is resolved.
Advanced fixes.
You can try this at your own risks. To do this
Switch off the phone.
Put the phone in safe mode.
Use device calibration tool or sensitivity settings.
Update or reinstall the drivers.
If none of the above works then you should probably send the phone for further diagnosis. You can contact the customer care support and register the issue for any assistance. If your phone is under warranty period you may even get your phone replaced.
Hope all these solutions will help to fix Xiaomi Redmi Note touch screen problem. If you have any queries, feel free to ask via comment or contact us page.