To recall, Spotify is one of the popular and widely used online music streaming services and users can literally listen to songs anytime, anywhere. However, multiple reports are coming out that Spotify doesn't play songs on both the PC or mobile devices due to some unknown reason. Luckily, there are a couple of ways to easily fix the Spotify Not Playing Songs issue that you can find below.
According to several reports on the Spotify community, whenever the users or subscribers click/tap on any song, it doesn't play at all. Now, the main frustrating thing is that the Spotify app (desktop or mobile) doesn't show any error message or particular reason. So, users can't really understand what's causing this issue.
Some of the affected users are thinking that there are some issues with the Spotify servers or even the app glitch. But we've mentioned some other possible workarounds below that should work for you in most cases. Now, without getting further ado, let's head over to the troubleshooting guide below.
How to Fix Spotify Not Playing Songs
Before going into the solutions, make sure to check some of the common things to confirm whether the problem is happening for some silly reasons or not. To be very specific, make sure to check that whether the song playing progress bar is moving or not, sound volume is turned on or not, keep up-to-date with your Spotify desktop/mobile app, try rebooting your device, checking the internet connection, and more.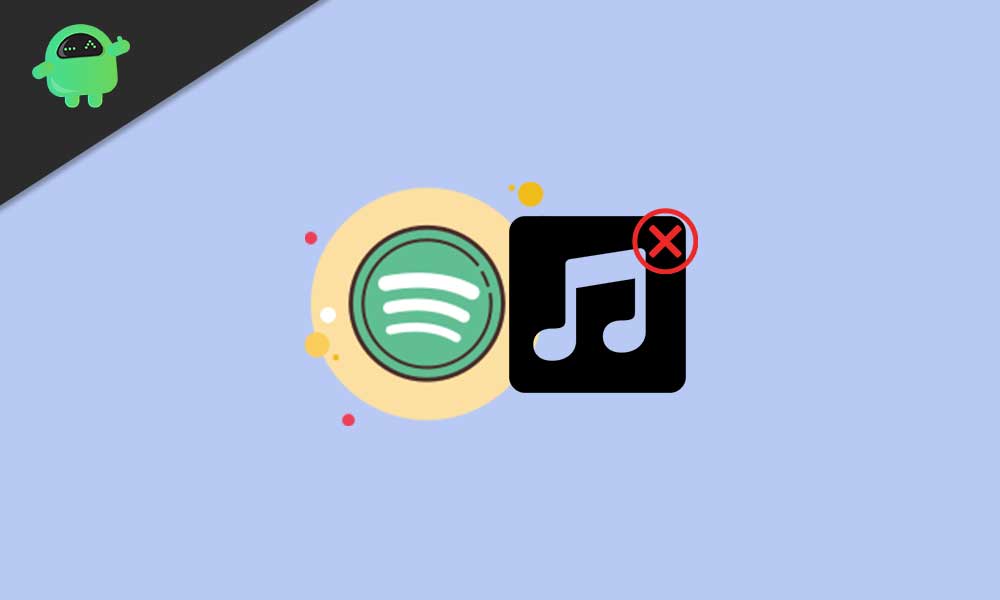 1. Reboot Spotify App
Whether you're using the Spotify desktop app or mobile app, make sure to restart the application. By simply restarting the program, you'll be able to clear the temporary networking glitch or system-level cache and it'll be back on track again in most scenarios.
So, you'll just need to close the Spotify app and then launch the Spotify app again and check if this helps or not. If not, follow another method below.
2. Restart Your Device
Just like the Spotify application, it's also highly recommended to reboot your device whatever you use (computer/mobile). By restarting your device, the system will get refreshed and it may help you out of the songs not playing issue on your Spotify app for some glitch or networking connectivity issue. Just give it a try. Though it's one of the common tricks, it plays a major role.
3. Check Your Internet Connection
It's highly possible that there is some issue with your internet connection which can cause trouble to you while streaming online content. Ensure to try checking the wired (ethernet) internet connection on your PC. Otherwise, if you're using Wi-Fi, try power cycling your Wi-Fi router to clear any temporary glitches.
4. Check for Enough Storage Space
If you're one of the premium Spotify subscribers and come to know that your Spotify app isn't playing songs, unfortunately, ensure to check out the available storage space on your handset. It can possible that you've downloaded plenty of songs to listen to them offline and you don't have enough storage space right now to work the app smoothly.
Therefore, you should remove the local files from your Spotify which literally consumes enough space on your device storage whatsoever. To do this:
Launch the Spotify app > Sign in to your account.
Now, head over to the Settings menu.
Under the Local Files section, just turn off the 'Show Local Files' toggle.
Once turned off, exit the app > Reboot your device.
Finally, run the Spotify app again and check whether the app not playing songs or not.
However, if you want to download the songs on Spotify and play them offline, just keep enough storage space on your device.
5. Re-Sync Spotify
Well, it's needless to say that even if you're a premium subscriber of the Spotify service and want to download your favorite songs to listen to them offline, make sure to connect to the internet and start using it for a while. For the online cloud-based streaming services, it's required to connect to the internet re-sync the app or service to run it properly.
Note: If you haven't connected to the internet for a month, it can possible that your downloaded songs may not also play in the offline mode due to out-of-sync status.
6. Disable Crossfading Playback
Crossfading is one of the useful features that offers smoother transitions between songs without any gap in the playback timing. However, sometimes it may not go as expected and cause playback issues to some unfortunate users. As the Spotify app offers a crossfading playback option, try turning it off to check for the issue.
Open the Spotify app > Log in to your account.
Go to the Settings menu > Select 'Show Advanced Settings'.
Click/Tap on Playback > Turn off the Crossfading option.
However, if you don't want to disable this feature, then set the timing 5 to 0 seconds.
Now, you can try playing your songs on Spotify.
7. Manage Music Streaming Quality
Adjusting the music streaming quality for the online audio streaming services is one of the common and most useful ways to fix plenty of playback-related issues in a jiffy. It can also possible that the very high quality is causing playback issues due to the average internet speed.
Go to the Spotify app and log in to your account.
Next, select Settings > Look for Music Quality.
Then change the Streaming quality option to Normal or Automatic as a default one.
If you're a premium Spotify subscriber, you'll able to set it to Very High quality but that also requires a good internet speed and stability.
8. Update Audio Driver
It seems that updating the audio driver on the Windows computer has already fixed the particular songs not playing issue for some of the affected Spotify users. So, if you're using the Spotify program on your Windows PC/Laptop and having the issue then try updating the audio driver from the Device Manager. To do this:
Right-click on the Start menu to open up the Quick Menu option.
Click on Device Manager > Double-click on Audio inputs and outputs.
Now, right-click on the active audio device from the drop-down list.
Select Update driver > Click on Search automatically for drivers.
Finally, the system will look for the available update. If yes, it'll automatically download and install the latest update.
Once done, restart your computer and try playing the Spotify songs again.
If not available that means your audio driver is already up-to-date. However, if none of the above-mentioned methods worked for you, try following another one.
9. Reinstall Spotify App
Well, reinstalling the software or app or game can always come in handy to plenty of affected users. So, there is no need to say that sometimes corrupted app data can cause multiple issues with the app launching, performance, network connectivity, etc which is very common these days. It's always recommended to at least try reinstalling the app if you're in trouble.
So, whether you're using the Spotify Desktop or Mobile app, just uninstall the application and restart your device. Once done, head over to the official Spotify Download page and grab the latest version according to your platform. Next, you'll need to install the app on your device as usual. Enjoy!
10. Contact Spotify Support
Still, the Spotify not playing songs issue appearing to you? If so, try contacting the Spotify support team for further assistance. You can also directly send the message to the official Spotify Twitter handle.
That's it, guys. We assume you've found this guide useful. Feel free to ask in the comment below for additional queries.