Is the Starling Bank app not working on your device? Well, this could be a serious concern if you have to look into your account details or transfer the money immediately. In this guide, we have shared a curated list of solutions to help you fix the issues with the Starling app. Try them and get the Starling app back up and running again.
Starling App is an easy way to manage your finance using a mobile device. The mobile banking application lets you transfer or receive money, check your balance, and do all other banking-related things. These are essential features every banking app has, but what makes the Starling Bank app interesting is the ability to set financial goals and track spending. You can look into your spending habits and use budgeting tools to manage your finance effectively.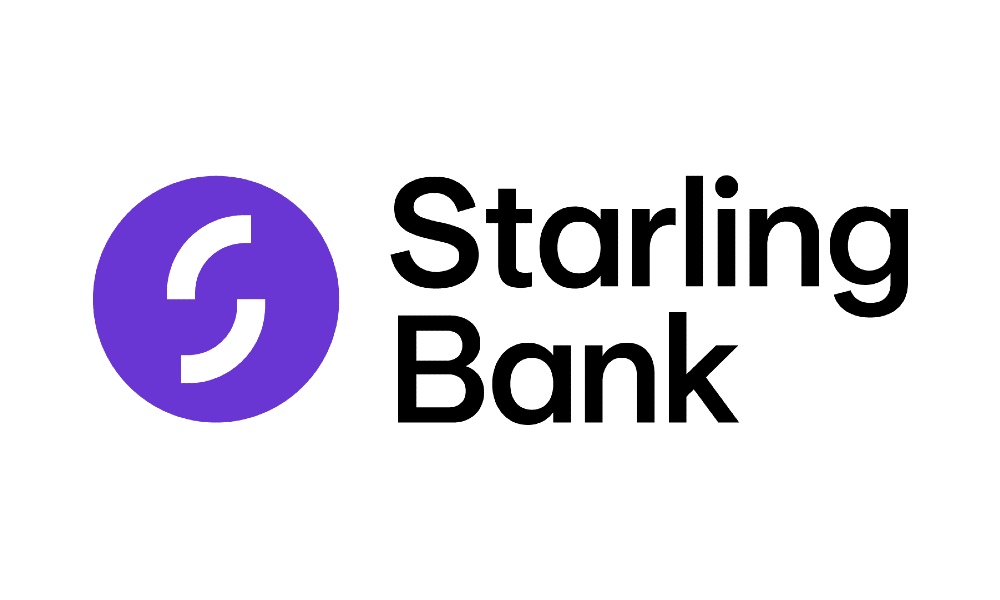 If the Starling app is not working today on your mobile phone or tablet, it could be due to a minor software glitch. Or, the app could be facing downtime. Sometimes, the stored cache can also cause issues with the app launch. Below, we have shared a curated list of effective solutions which will most likely fix the issues with the Starling Bank app on your phone.
Starling App Not Working Today? 8 Ways to Fix It
If the Starling Bank app has stopped working, check if your internet is unstable. Make sure your phone has a stable and fast connection and then try launching the app again.
If you still can't use the Starling Bank app, we'll need to check if it is caused by server problems. More on this is written below. You do not have to try all the below solutions. Simply, apply a solution and check if the problem is fixed. Keep doing this until you get success.
1. Check if Starling Servers Are Down
The first thing you should check is if there's something wrong with Starling servers. Although server issues are pretty uncommon, banks do go under maintenance which could affect their website and app users. Go to https://starlingbank.statuspage.io/ to check if everything is up and running. There you can also check if the Starling app for Android and iOS is operational or not.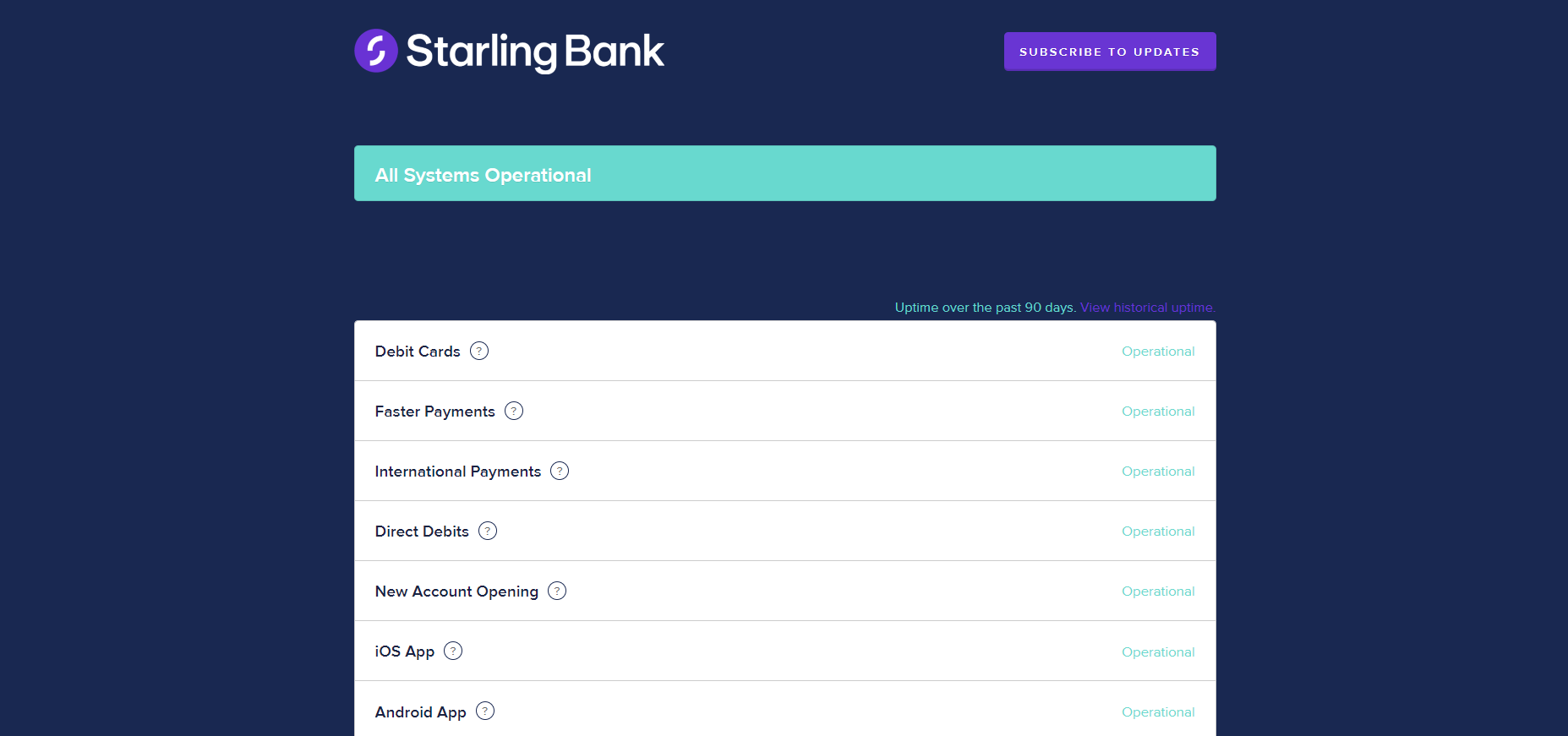 To check if other Starling users are also facing issues, check Down Detector. When the issue is widespread, you should wait for at least an hour while the engineers work on fixing it.
If all the Starling services are operational but you can't use the app, apply the next solution.
2. Restart Your Device
Starling Bank is not working on your device probably because of system glitches or less amount of free RAM. Restarting the device is one of the most easiest and effective ways to do away with these issues. Therefore, you should restart your phone and relaunch the Starling Bank app.
To restart your Android phone, press and hold the power button until you see the power options. Click Restart. On some phones, you will need to press the power button and volume down button to get the power options.
If you own an iOS device, press and hold the power button until the slider shows up on the screen. Slide the switch to power off your iPhone. After a few seconds, press and hold the power button until you see the Apple logo. Launch Startling Bank to check if the issue is fixed.
3. Check Your Internet Connection
You require stable internet to use the Starling Bank app. A banking application may not work if the internet disconnects frequently or when the speed is sluggish.
To check your internet connection, run an internet speed test via speedtest.net. If there's something wrong with the connection, try disconnecting and connecting it again. If it does not work, reboot your router. After doing this, connect your device to the internet and check if the problem is fixed.
Sometimes, switching the connection type do the trick. So, if your phone is connected to Wi-Fi, disconnect it and try using your cellular data or vice versa.
4. Clear the App Cache
All applications on your phone store cache and so does the Starling Bank app. These are nothing but temporary data that makes the app faster by preloading some assets. Although the cache is useful, it keeps getting accumulated over time and may cause problems. Therefore, you should clear the cache for the Starling Bank app.
For Android users:
Open the "Settings" app on your phone.
Go to "Apps".
Find Starling Bank and tap on it.
Tap on "Storage" and click "Clear cache".
For iOS users:
Open the "Settings" app.
Scroll down until you find Starling Bank. Tap on it.
Scroll down to the bottom of the page and turn on the "Reset cache on next start" toggle.
After clearing the cache, launch the Starling Bank app, and do let us know if it fixes the issue.
5. Update Starling Bank App
Be it Starling or any other banking application, they are updated regularly to incorporate the latest security features and bug fixing. If your device has an older version, it might not be compatible or may have some issues. Therefore, update the Starling Bank app.
Steps to update Starling Bank on Android:
Launch "Google Play Store" on your phone.
Search for Starling Bank.
Hit the "Update" button.
If you can't see the update button, it means your device already has the latest version of Starling Bank.
Steps to update Starling Bank on iOS:
Go to "App Store".
Search for Starling Bank and click the Update button.
6. Update Your Phone
If updating the software did not help, you should update your device as well. Perhaps, the latest version includes a fix for the issue you are currently trying to fix. Even when there are no issues, you should keep the device up-to-date for better stability, performance, and compatibility with new apps.
To update your Android phone, go to Settings and tap on Software Update. Now, download and install pending updates (if there are any). If you have an iPhone, you would want to navigate to Settings > General > Software Update. If an update is available, click "Download and Install". Updating your device may take a few minutes to hours. So, be patient while the device is updating.
7. Reinstall the App
If the Starling Bank app is still not working on your device, try uninstalling and reinstalling it. It's an effective solution to fix issues with app files that could be causing the issue.
Uninstall the app. Before you reinstall it again from Google Play Store (Android) or App Store (iOS), restart your device once.
8. Contact Starling Support
If none of the above solutions worked in your favor, try contacting Starling support as the last resort. They can deeply look into the issue and tell better solutions. You can contact them by clicking here.
So, that's it for this post. We hope this guide was useful. If the issue is fixed, do let us know which solution did the trick for you in the comment section below.