In this guide, we will show you the steps to fix the Nvidia GeForce Experience Error Code 0x0003 on your Windows 10 PC. Nowadays, there is no dearth of the graphic intensive game for your PC. Depending on your graphics card, you may be able to run them efficiently with no frame drops or with a little lag.
If you are using an Nvidia graphics card, then you could further enhance the gaming experience using the GeForce Experience. For the unaware, the software allows you to capture and share videos, screenshots, and even live streams your games with your friends.
Also Read: Something went wrong. Try restarting GeForce Experience: How to Fix?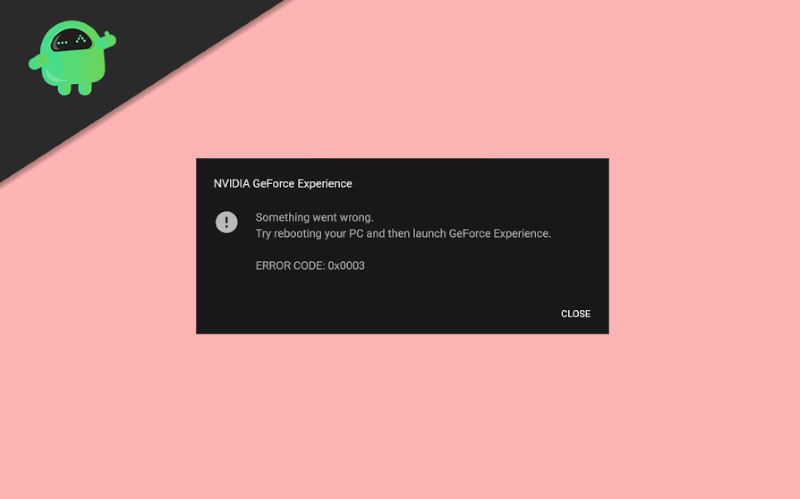 However, recently users have reportedly faced some issues with this application. While this issue occurs, they aren't even able to launch the software, let alone optimize their games. They are being greeted with the "Something went wrong. Try rebooting your PC and then launch GeForce Experience. Error Code: 0x0003" error message. if you are also facing this error, then here are the required tips to fix the GeForce Experience Error Code 0x0003 on your Windows 10 PC.
Error code 0x0003 after reinstalling to fix error 0x0001 and i cant find NVIDIA telementary container in services. from GeForceExperience
What is GeForce Experience Error Code 0x0003?
GeForce is a GPU by NVIDIA. It is the most common GPU used by gamers across the Globe. NVIDIA GeForce is for Windows-based devices though it also supports some of the Linux distros out there too. There is a total of 16 variations of the same GPU. Surely GeForce is the gateway to a great Pc gaming. However, there are many issues that show up sometime related to GeForce. We are particularly gonna discuss the Error Code 0x0003 that users mostly face with GeForce.
The Error Code doesn't tell you the reason for the cause, but every error code has parameters that we can attend to. There are few reasons mentioned below for which you may have the error code 0x0003 issue on your device.
Your NVIDIA driver might be corrupted or damaged. Some time due to third-party driver installation or due to unstable internet, while updating drivers, your drivers might get corrupted. There is also a possibility that your driver is outdated or your device is infected.
Windows can sometimes block certain services, so it is possible that your NVIDIA services are not running properly.
If NVIDIA Telemetry Container has not all the permissions required, then the Telemetry Container is not permitted to interact with the desktop, which causes the error.
If your Network adapter is tucked into Limbo state, then the Glitch will cause 0x0003 error.
Due to the Windows update, the drivers might get affected. There can be a compatibility issue with the latest Windows update for the drives. So you will be shown the Error Code 0x0003 by GeForce.
Also Read: How to Fix GeForce Now Error Code 0XC0F52104?
Steps to Fix GeForce Experience Error Code 0x0003?
There could be quite a few reasons why you might be facing this error in the first place. The Nvidia Telemetry might not be able to interact with your PC, Nvidia services might not be running or the drivers might be corrupt. Apart from that, there might be some other reasons as well. Let us check out all the reasons for this error and their associated fixes as well.
Fix 1: Nvidia Telemetry
Make sure that the Nvidia Telemetry services are allowed to interact with your desktop. If that is not the case, then the said error is bound to happen. Therefore follow the below steps to fix it:
Open the Run dialog box using the Windows+R shortcut key combination.
Type in services.msc and hit Enter. This will open the Services option. You might also need to grant it administrative privileges. For that, log in as an administrator and click on Yes in the prompt that appears.
Now scroll down until you reach the Nividia Telemetry Container services. Right-click on it and select Properties.

Next, head over to the Log On tab and make sure that the Allow service to interact with desktop option is tick marked. For that, you will have to switch over to Local System account from the current This Account section. Once that is done click on Apply.

Now head back to the Services screen and right-click on each of these three programs: Nvidia Display Service, Nvidia Local System Container, and Nvidia Network Service Container. From the menu, select Start for all these three services.
This should have fixed the GeForce Experience Error Code 0x0003 on your Windows 10 PC. If not, give a shot to the next method given below.
Fix 2: Reinstall Nvidia Geforce Experience Applications
Even if one of the Nvidia programs or components is not functioning as expected, you could be greeted with the aforementioned error. To fix this, the only option is to remove all the installed Nvidia files and then perform a fresh install. here is how it could be done:
Use the Windows+R shortcut to launch the Run dialog box.
Within that, type in appwiz.cpl and hit Enter. This will open the Programs and Features screen.
Under that, click on Publishers. This will arrange all the programs on the order of the publisher.

Once that is done, right-click on all the app part of Nvidia Corporations and select Uninstall. Do this for all the apps part of the said publisher.
When that is done, restart your PC. After that, download the GeForce Experience on your PC and follow the on-screen instructions to complete the installation process.

After this fresh install, the GeForce Experience Error Code 0x0003 should be fixed.
Fix 3: Reset Network Adapter
Still no luck? No reason to feel dejected, as we have a couple of more fixes lined up. To begin with, you could try resetting the network adapter to its default configuration. For the tech jargon lovers, this process is also known as Winsock reset or 'comms' reinstall. With that said, here is how you could reset the adapter.
Open the Command Prompt Window. You could either use the Run dialog box (type in cmd and hit Enter) or search Command Prompt from the Start menu. Make sure to launch it as an Administrator.
Next up, in the CMD window, enter the below command and press Enter.

netsh winsock reset

Once the above command has been successfully executed, restart your PC and see if the GeForce Experience Error Code 0x0003 has been fixed or not. If the issue is continuing, here is what else you could do.
Fix 4: Update Geforce Experience Graphics Drivers
If your graphics card is outdated, it might conflict with the normal functioning and might throw an error or two. Therefore it is always recommended to update the graphics card to the latest version. However, users have reported that rather than the automatic update, it was the manual installation that did the trick. So here is how you could do the same.
Type in appwiz.cpl in the Run dialog box (Windows+R) and hit Enter. This will open the Program and Features menu.
Next up, find all the applications from the Nvidia Corporations, right-click on them and select Uninstall.

Once that is done, restart your PC. Then head over to Nvidia Drivers download page and input the GPU model, series, OS version, and the system language.
Then hit Search and it will show you the latest available drivers for your GPU configuration that you have input.
Click the Download button and then follow the on-screen instructions to install it on your PC. Once that is done, restart your PC. The GeForce Experience Error Code 0x0003 should be fixed with this.

Fix 5: Create a New User Account
If none of the above methods managed to give out fruitful results, then here is what you could as a last resort. First of all, create a new user account and give it the required administrative privilege. Once that is done, uninstall all the Nivida Programs from the Programs and Features screen, as discussed in the above section. Restart your PC and then reinstall all Nvidia graphics driver in this newly created account. Once that is done, restart your PC and now the error should be fixed.
Conclusion
With that, we conclude the guide on how to fix the GeForce Experience Error Code 0x0003. We have mentioned five different types of fixes for the same. Anyone of them should work out in your favor. Keep us informed via the comments section through which method you fixed this Nvidia error. On that note, here are some of the iPhone Tips and Tricks, PC tips and tricks, and Android Tips and Tricks that you should check out as well.