Google's Pixel 7 and 7 Pro were fully realized, more refined versions of last year's phones. In addition to an updated design and a new processor, the Pixel 6 and 6 Pro mark a new chapter in Google's mobile device line-up. Often they were great devices with some rough edges, but they were ambitious and often great devices.
It's not entirely smoothed them over in this version, but Google has put together a pair of phones that can stand up to the likes of iPhones and Galaxy S phones. Also, both devices have some issues. Yes, recently, many users reported that their Google Pixel 7 and 7 Pro were not vibrating after the recent patch update. Well, that's the reason why we are here. This article will teach you how to fix if the Pixel 7 series stops vibrating. So, let's get started with them: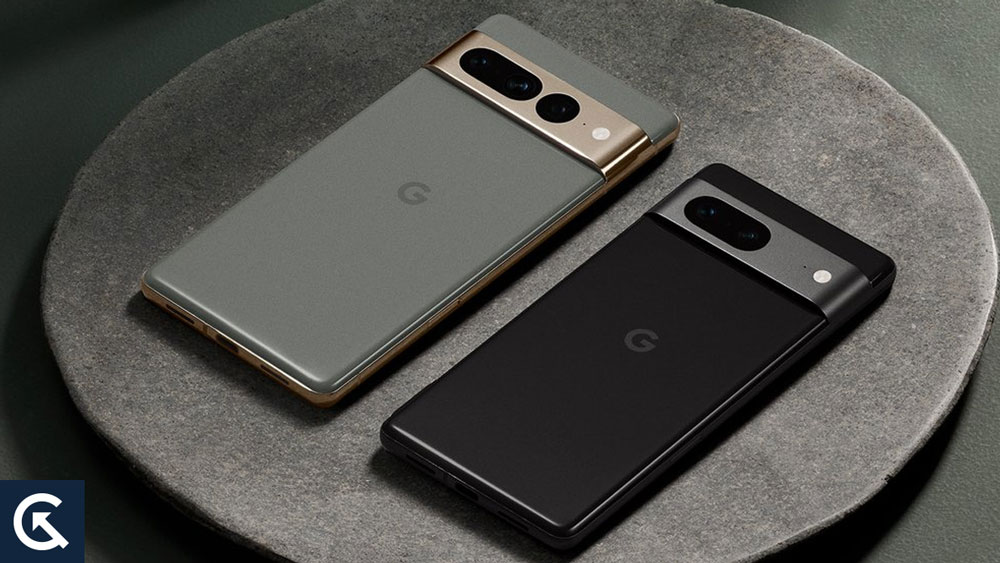 How to Fix Google Pixel 7 and 7 Pro Not Vibrating Issue
So, here are some fixes that you can try to resolve the Google Pixel 7 and 7 Pro not vibrating issue. Therefore, if you are facing this problem, make sure to perform the fixes we have mentioned below:
Fix 1: Check Vibration Settings
Vibration can be configured individually for calls, touch interactions, gestures, and more on your Android phone. To ensure vibration is not disabled for any of these settings, you can go through all the settings on your phone. Here's what you need to do.
Initially, go to the

Settings

app and select

Sound

.

On the Vibrate for calls screen, select

Always vibrate

.

To access the

Sound settings

, click on the

Sound

tab. Be sure to enable your preferred vibration settings by scrolling down to

Other Sounds and Vibrations

.
Fix 2: Check Physical Damage
To ensure the equipment is in good condition, it should first be checked for signs of damage. Is your phone smashed or cracked? It looked like the phone had been soaked in water. When you drop your phone from a certain height, it can sometimes get damaged and be unable to be restarted.
Though IP68 water resistance is rated on the Pixel 7 and 7 Pro, they are still susceptible to water damage. If the issue is caused by water or physical damage, you should seek repair at a service centre authorized to repair it. They will surely help you resolve the not vibrating issue with your Google Pixel 7 and 7 Pro.
Fix 3: Install Software Update
It shouldn't take long for your phone's manufacturer to release a fix if Google Pixel 7 and 7 Pro is not vibrating issue only started after a recent Android update. So, you should check for any pending Android updates and install them immediately to see if that helps.
Fix 4: Reset App Preferences
It is also possible that you will have vibration problems if you recently modified any permissions, restricted any system apps, or disabled any system apps on your Android phone. It may help to reset the app preferences on your phone to see if that fixes the problem.
Go to

Settings > System > Reset

options on your Android device.

Once you have clicked on

Reset

app preference

, you will be prompted to click on

Reset apps

.
If your Android phone is vibrating now, check to see if it is still working.
Fix 5: Force Restart Your Phone
It is possible that this issue is caused by a software glitch. If you are experiencing not vibrating problems with the Pixel 7 and Pixel 7 Pro, it is recommended that you force reboot them. For this process to succeed, the device's operating system must be rebooted and all services had to be reloaded. Regardless of how you choose to backup your information, all your files, apps, and other data will remain on your device.
Fix 6: Check Accessibility Settings
To disable the vibration on your Android, you will also need to check the Accessibility menu, along with the sound settings.
Navigate to the

Accessibility

tab in the

Settings

app.

Select

Vibration & haptic strength

under

Interaction Controls

. Select the vibration settings that are most appropriate for you.
Fix 7: Modify Vibration Intensity
It's possible that the vibration intensity set on your Google Pixel 7 and 7 Pro is too low if you've enabled all the right settings but your device doesn't vibrate. Here's how you can do it.
On your Android, open Settings and navigate to Sound and vibration > Vibration intensity.

Vibration intensity can be increased for incoming calls, notifications, and touch interaction with the sliders.
Fix 8: Try Safe Mode
Diagnostic tools such as Safe Mode can be very useful when troubleshooting Android devices. You can verify whether your vibration is malfunctioning by booting your phone in Safe Mode if you suspect an app is running in the background.
If you would like to boot your Pixel 7 and 7 Pro in Safe Mode, hold down the power button until you see a menu appear. You can then select OK when the Restart option appears after you long press on it. However, if you are able to hear vibrations in Safe Mode, you will need to remove any apps you installed recently.
Fix 9: Test Vibration Motor
It is possible that your Google Pixel 7 and 7 Pro phone lacks vibration because of hardware issues at this point. In the event that your Android's vibration motor has stopped working, you will not be able to vibrate it no matter what you do. By accessing the secret service menu, you can test the vibration motor on your phone to eliminate this possibility.
In your phone's dialing app, dial *#0*# to visit the service menu.
You should immediately feel your phone vibrating after pressing the Vibration tile.
You can check your phone's vibration motor by installing an app like Vibration-Test from the Play Store if your phone doesn't have the secret service menu. If your phone doesn't pass the vibration test, you'll have to take it to your nearest service center to be fixed. You may proceed with the troubleshooting tips below if the vibration works.
Fix 10: Charge your Google Pixel
There is a possibility that your Pixel phone has drained its battery, which is why it doesn't vibrate. Trying charging it for an additional 30 minutes should make your Pixel phone vibrate after being charged for 30 minutes.
When plugging in the power adapter, make sure you use a working electrical outlet.

It is necessary to have a USB-C charging cable that works with your Google Pixel in order to charge it.

Before using the phone, make sure it has been plugged in for at least 30 minutes.
If you are charging your phone, you should verify that both the charger and the outlet are working.
Fix 11: Factory Reset Google Pixel
It may be necessary to boot your phone into recovery mode and perform a factory reset if the problem persists. You can access your phone's firmware in recovery mode while your device's operating system is disabled. When you factory reset your phone in this mode, there will be no data left on it, so make sure you have a backup copy before proceeding. Here are the steps you need to take to factory reset your Pixel:
It is necessary to turn off the device.

It is necessary to hold down both the Volume down and Power buttons simultaneously to accomplish this task.

If you see an exclamation point in a triangle and the Fastboot icon, release both buttons.

If you see an exclamation point and the words No Command, you should hold the power button while pressing the Volume Up button.

Then press the Power button when you have highlighted Wipe data/factory reset.

To highlight, press the volume keys. It is necessary to press the power button. Wait for the deletion to complete.

Simply press the power button and select Reboot system now using your volume keys.
So, that's how to fix the Google Pixel 7 and 7 Pro Not Vibrating Issue. We hope that you find this guide helpful. For, more info, comment below and let us know.