This Graveyard Keeper wiki guide will help you get an overall idea about the game and all the essential stuff you need to know throughout your journey. Graveyard Keeper is one of the most unique graveyard management simulation games. The game features a medieval cemetery management simulation in a very typical manner. The game is based on a very different concept, wherein every player receives a plot of land along with a graveyard originally belonging to their predecessors.
As the main character, your ultimate motive is to clear everything that overruns the cemetery and open a portal to the old world. Well, if you are about to start your journey into the world of Graveyard Keeper, it might be too confusing to understand the complete gameplay just by words. Rather, it's much easier to understand it while walking through the gameplay.
However, as the game features a completely different concept, most players often get stuck from point to point. Fortunately, this is not something new and so if you are going through a similar phase, all you need is a guide to help you walk through.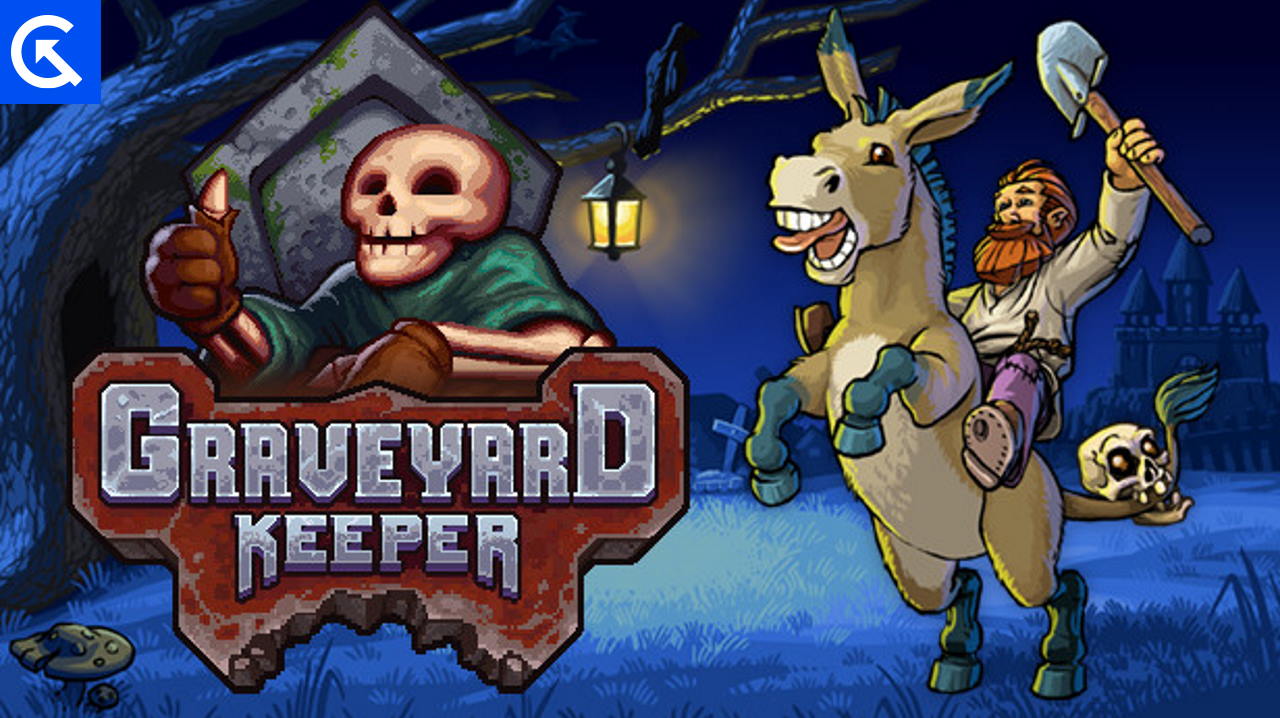 Graveyard Keeper Wiki Guide
In this wiki guide, we are basically going to have a look at the overall storyline of Graveyard Keeper. Additionally, we will see all the key features, locations, items, tech trees, etc. So, if you are willing to know more about the game, keep up with our article till the end.
Graveyard Keeper Storyline
In the beginning, you start as a regular man who got hit by a car and finds himself in a whole new fantasy world as you wake up. You will find yourself in a medieval era where you will be asked to take care of the local cemetery and church. However, in the urge to reunite with your lover, you need to make consistent approaches to get back home.
Throughout the process, you will get along with the locals, help them solve their problems, and so on. Gradually, you will come to know that there exists a portal that can take you back home. But again, it requires some magical items to open the portal, which are mostly held by some influential characters in the village.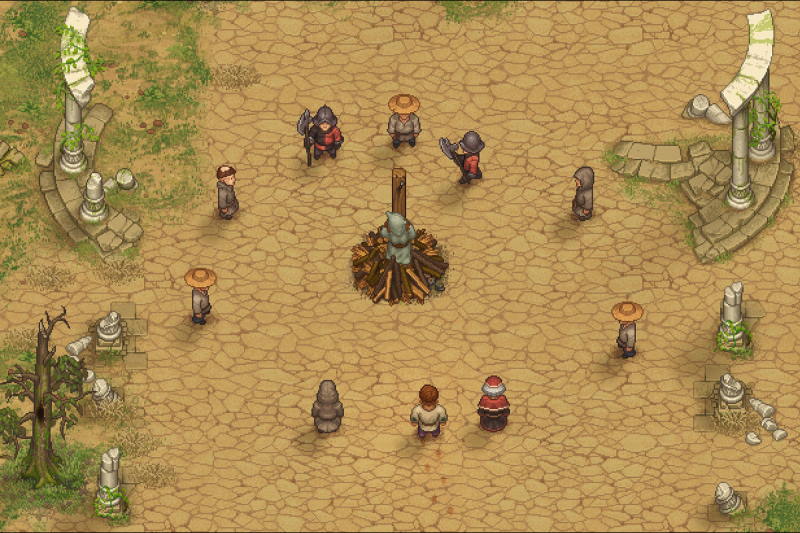 In order to get access to these magical items, you will gain the trust of these characters and finally get your hands on the items. However, as you open the portal, instead of taking you home, it brings your lover to your side. Well, the reason why you cannot go home is another interesting story as revealed by the extra DLC content.
As per the information, the graveyard keeper has the sacred task of performing as the mediator between the villagers and the afterlife world. Moreover, information also says that the Ancient God brought him all this way and split him into two halves. The god sent his aggressive part into the town and brought his compassionate part to the village and made him the new graveyard keeper after wiping out his memory.
Graveyard Keeper Key Features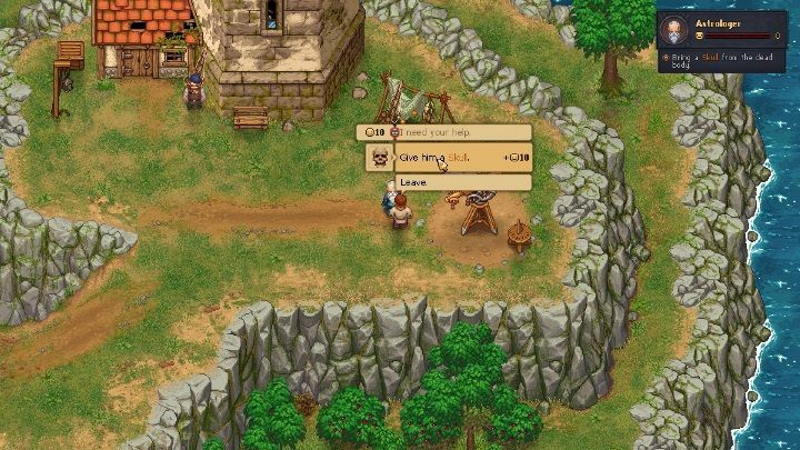 Every game comes with some unique features that make the entire gameplay more interesting. Similarly, here are some key features of Graveyard Keeper that you would love to know about.
Walking into the world of the medieval era, you can expect no less than to explore the mysterious dungeons over there. Take a walk into unknown dark places and discover more unique and essential items on your way.
Explore the vacant lands and find out things it has to offer to you.
Collect more valuable and demanding resources and use them to craft various kinds of items.
Make use of the resources efficiently to grow your graveyard into a successful business hotspot.
Sell the blood and body parts of the dead with good intentions and make new business alliances to thrive throughout the journey.
Graveyard Keeper Locations

The list of locations in Graveyard Keeper holds quite a number. On top of that, it has a bunch of workstations and places with important objects to be found. The World Map in the game shows all the places in a single chart making it easier for you to navigate the places. Here is a list of all the locations available in Graveyard Keeper.
Sweet Home
Crematorium
Church
Cellar
Morgue
Old Graveyard
Alchemy
Vineyard
Workyard
Burned House
Kitchen Garden
Wheat Farm
Apiary
Witch Hill
Lighthouse
Camp
The Dead Horse
Cliffs
Beach
Talking Skull
Talking Skull Cellar
Dungeon
Quarry
Mountain Fort
The Swamp
Forest new the river
Sacrifice Zone
Refugee Camp
Bonfire
Stone Garden
Felling Site
Trade Office
Graveyard Keeper Items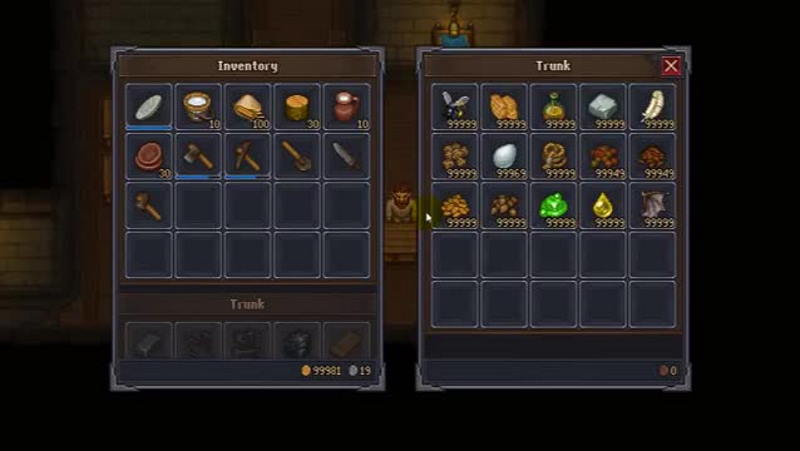 Items are something that will keep you engaged throughout the game. Graveyard Keeper provides you with a lot of items including Wood, seeds, saplings, farming, stone, metal, food, weapons, etc. Here is a list of some of the important items you will need the most as you carry on with your journey.
Graves
Church
Mining
Writing
Food
Mob Drops
Grave Fences
Bodyparts
Fishing Foarging
Weapons Tools
Armor
Stranger Sins Quest
Game of Crone Quest
Graveyard Keeper Technology Tree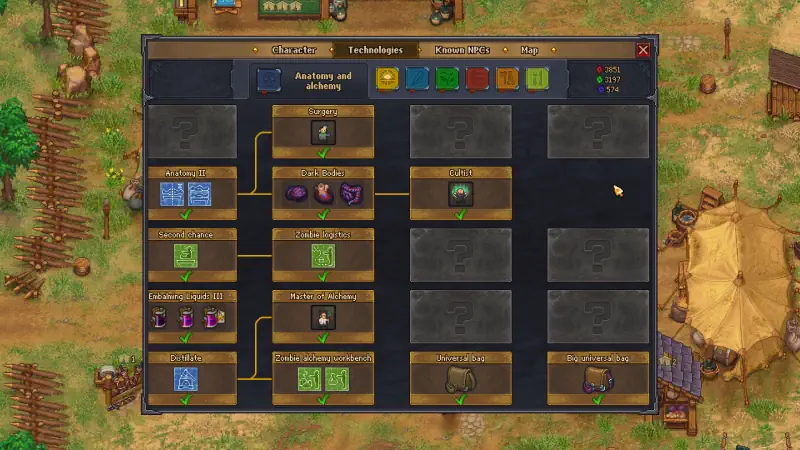 There are basically three types of technology points available in Graveyard Keeper. You can obtain these points by performing various actions and through different items and studies of items. Similarly, the science and faith points and the study table in the church basement are equally important for the study of items. Here are the three types of technologies available in the game that will help enhance your gameplay.
Red: The Red Technology point indicates skills in working with materials and physical labor. It includes cutting down of trees, hand-crafting, operating machines on the farm, mining items, etc. Activities like these will help you earn more Red technology points to improve your stats.
Green: The Green technology points are generated by doing any activity that involves some organic matter. It mainly signifies knowledge about the nature of things and nature itself. Therefore, activities like farming, cutting weeds, etc can generate Green technology points.
Blue: Unlike the red and green technology points, the blue ones certainly have a higher value. It basically refers to the spiritual knowledge of the immaterial world. Generally, most of the activities that generate these blue tech points are graveyard, morgue, alchemy, writing, etc. However, these tasks are not available for most of the early parts of the game. Therefore, the only way to earn these blue points in the early game is via the study table. Study more organs and alchemical substances and gain more blue points.
Graveyard Keeper Perks
Along with all of the things you have seen so far, Graveyard Keeper has a bunch of perks to offer you. These perks vary based on the tech trees and can be unlocked using tech points. The various perks as per their tech trees are as follows:
Anatomy & Alchemy Tech Tree
Scientist
Butcher
Cultist
Surgeon
Book Writing Tech Tree
Writer
Playwright
Journalist
Theology Tech Tree
Farming & Nature Tech Tree
Farmer
Wine Master
Master Gatherer
Beekeeper
Building Tech Tree
Carpenter
Axemen
Mason
Miner
Jeweler
Smithing Tech Tree
Engineer
Fireman
Sword Master
Big Guy
Blacksmith
Conclusion
This brings us to the end of this Graveyard Keeper Wiki Guide. Graveyard Keeper is a game having a very unique concept. Just like most other simulation games, Graveyard Keeper also introduces a lot of features, items, and a lot more to discover. As you keep getting deeper into the game and earn more tech points, you will get more opportunities to discover new items in the game.
Remember that you will be set free in a whole new and huge world. Although it is a good thing, it can sometimes be confusing too. Therefore, whenever things get out of hand or when you feel like you don't know what exactly to do, take a few quests to set small objectives and finish them first. That way you can carry on in this world without any difficulties throughout the long journey.