If you are looking for ways to download a tool that will let you flash TOT or KDZ firmware files on your LG phones then, LGUP which is short for LG Uppercut tool is the best tool to accomplish that. Your devices need to be recognized by the LGUP tool in order to flash any firmware files for your phones. However, there are many users that have reported that the LGUP tool has not been recognizing as their devices. And if you are also facing the same issue and are looking for ways to solve this issue, then, you are in the right place. As in this post, we will guide you on how to download the LG Uppercut tool to flash KDZ and TOT firmware files.
Starting off, the LG Uppercut Tool is an alternative to the LGUP flash tool. If in case, you want to flash KDZ firmware or TOT stock firmware file on any of your LG devices manually, then the LGUP flash tool is a primary choice. However, sometimes, users may find it difficult to install the firmware using the LGUP tool, or even it doesn't detect your connected device as well. Therefore, you can download the LG Uppercut tool from this article in order to Flash KDZ and TOT Stock Firmware Files.
It's also worth mentioning that the Uppercut tool also removes all the dependencies like the use of multiple file formats, customized settings, etc while flashing the stock firmware on your LG device that was previously required. All of those extra tasks were lengthy in process and may end with some issues on your device, if not properly performed. Therefore, the all-new LG Uppercut Tool makes it more compatible with some of the older LG devices as well.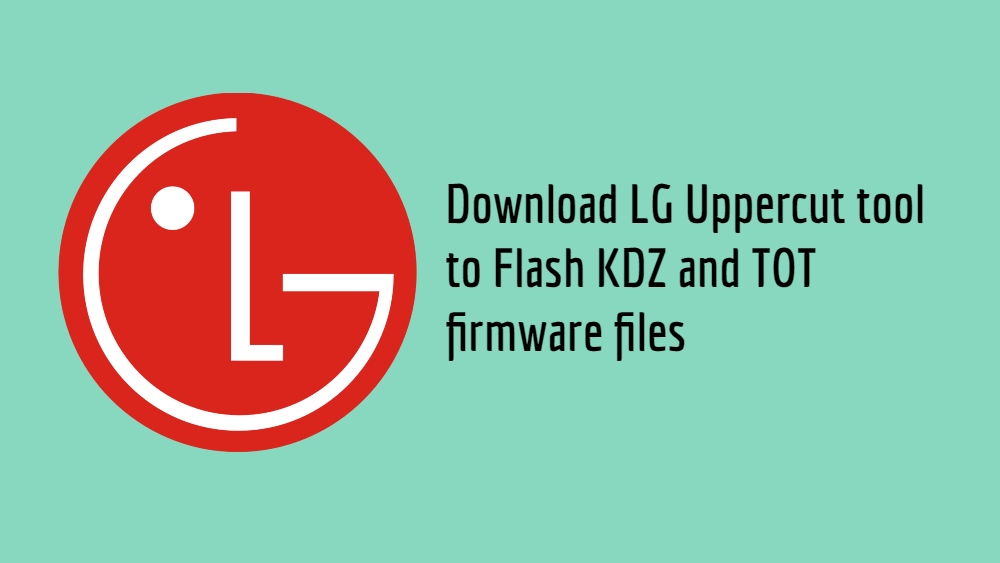 Download LG Uppercut Tool to Flash KDZ and TOT firmware files
The LG Uppercut tool was build and developed by XDA member Autoprime. It works well with almost all LG smartphones and once it recognizes your phone you can install any firmware file or custom files on your phone. Note that it is available for Windows PC only and supports KDZ, TOT, and DZ files only. You can download the LGUP tool from the below download section:
Download LGUP Tool
Pre-requisites:
Make sure that you have all the required tools, drivers, and even firmware files to install using the LGUP tool on your PC.
A Windows PC
This guide is for users with Windows PC or laptops. As we don't have a separate MAC or macOS on our system, we can't assure how genuine this guide will be. So we had to write only for Windows OS now.
LG USB drivers
You need to download and install the official LG USB drivers to support your device to communicate from your phone to PC and vise versa. Here is our complete guide on how to download and install LG USB Drivers. Your LG Device must be recognized under the Device Manager as LG Serial COM Port.
LG Uppercut tool
Download and install the latest version of the LG Uppercut tool on your PC/Laptop. Remember to support the LG uppercut tool, you need to first download the LGUP setup. If you don't then LG uppercut will throw errors on your PC like this.
Download Firmware:
To install the firmware using LGUP tool, you need to download either Kdz, TOT or Dz extension file. These are the file which is currently supported officially by LGUP tool.
Instructions to Install LG Uppercut tool:
To install the LG uppercut tool, you need to install the LGUP tool first.
First, download the LGUP tool setup file on your PC.
Click and confirm to install LGUP Store Frame Ver windows installer file
Confirm the window popup screen to continue the installation
In the installation window, click on Next to continue
Wait for the installation process

Tap on the finish to install the LGUP tool completely.
Now you need to install the LG USB Driver on your device. Follow this guide.
Once you have installed both, now you can open the uppercut tool window.
Steps to Install LG Stock Firmware using LG Uppercut / LG UP tool
If you have installed all USB drivers and tools properly, then you can follow up on the next step.
Now turn your phone off and then Hold the Volume UP key for few seconds.
While holding Volume Up key connect your phone to PC using USB Cable (Don't leave volume key while connecting)
Release the Volume UP key as soon as the phone goes into Download Mode.
Open LG UP software on your PC and Select Upgrade
Now in the Select Path, Select your KDZ file from your downloaded folder.
Once it is loaded, click the start button down below and wait for the installation to complete.
Once it completes your phone will reboot automatically. Booting may take time. So wait patiently till first boot.
Well, That's it! Enjoy the latest Stock Firmware on LG smartphones.
So, there you have it from my side in this post. I hope you guys liked this post and were able to download and use the LGUP tool on your Windows PC to install the Firmware files on your LG smartphone. Let us know in the comments below if you liked this post or not. Until the next post…Cheers!