Honkai Star Rail is part of the Honkai series and the fourth installment in this series. Also, it is not a sequel to Honkai Impact 3rd, but it features familiar characters and is set in the same universe. There were more than 10 million players registered prior to its launch, making this a highly anticipated game. There is a lot of excitement about this new game now that it is here. Many people are experiencing problems with the Honkai Star Rail Pink Screen Issue, which prevents them from playing. If you're in the same boat, here are a few things you can try.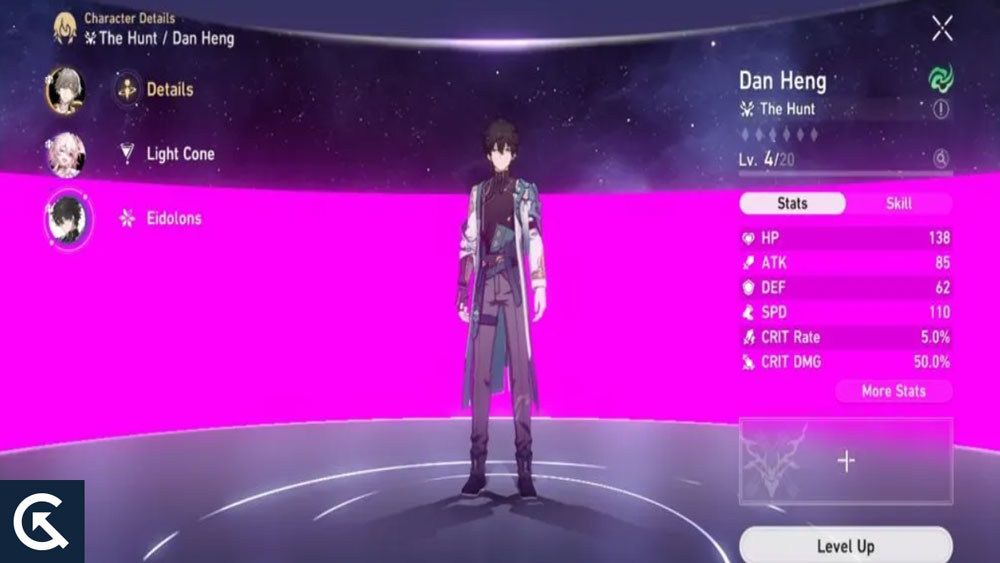 What is Honkai Star Rail Pink Screen Issue?
Honkai Star Rail Pink Screen Issue occurs in the game's loading screen. However, it is really frustrating to not able to play the game because of a silly pink screen issue. Many users reported that when they start the game, in the background, the music plays, but the display shows a pink loading screen that never ends and finally ends up crashing.
What Causes the Honkai Star Rail Pink Screen Issue?
Honkai Star Rail Pink Screen Issue is caused by a number of factors, among which are the following: Some of the most common causes are:
If the graphics card drivers are outdated or not working correctly, it can cause the Honkai Star Rail Pink Screen Issue.

It is possible that the Honkai Star Rail Pink Screen issue may be caused by corrupted or damaged game files.

Overclocking your computer can lead to this type of uncertain error.

It can occur when your antivirus software interferes with the game's files and causes the game to malfunction.

Incompatible hardware can cause the Honkai Star Rail Pink Screen Issue.
How to Fix the Honkai Star Rail Pink Screen Issue?
So, as we have discussed what causes the Honkai Star Rail Pink Screen Issue, let's move on to how to fix it. There are several ways to fix the Honkai Star Rail Pink Screen Issue, and we will discuss them below.
Method 1: Update Graphics Card Drivers
Possibly, the most common reason why users are getting the Pink Screen issue is outdated GPU drivers. Therefore, it becomes more important to keep the GPU drivers up-to-date when it comes to running a high-end game. Also, there are many users who reported that they were successfully able to resolve this problem when they updated their GPU driver. So, you must also try this out. However, to do so, follow these steps:
Initially, you must open the Run dialog box by pressing the Windows + R key.

Type "

devmgmt.msc

" and press Enter.

Afterward, expand the

Display Adapters

category.

Now, simply right-click on your graphics card and select "

Update Driver

."

Finally, follow the on-screen instructions to update your graphics card driver.
Method 2: Verify Game Files
If you updated your GPU driver and still got the Pink screen issue while launching the Honkai Star Rail, there are possibilities that some of your Honaki Star Rail files may be missing or corrupted. So, the best solution to this problem is verifying the game file's integrity. Therefore, to do so, perform these guidelines:
Open the Steam client and go to your library.

Right-click

on Honkai Star Rail and select "

Properties

."

Then, simply click on the "

Local Files

" tab and select "

Verify Integrity of Game Files

."

Wait for the process to complete, and it will automatically download any missing or corrupted game files.
Method 3: Disable Overclocking
Although overclocking is used to enhance the system performance while performing heavy work on our PC, it still sometimes become the reason why the PC starts lagging and showing a different kind of annoying errors while playing any game.
So, there are chances that you may face the Honkai Star Rail pink screen issue because of that. Therefore, you must try disabling the overclocking (if you are using it). Then, relaunch the game and check whether it helps.
Method 4: Temporarily Disable Antivirus Software
In many cases, we have noticed that as the game starts consuming most of the resources of our device, then our device's in-built antivirus starts considering it as a third-party threat that blocks the game from using the resources of our device. So, we advise you to temporarily disable the antivirus software.
Method 5: Check for Incompatible Hardware
Now, if none of the methods works, then chances are high that your device may not meet the minimum system requirements, or the game faces an incompatibility issue with your device hardware. Therefore, we advise you to visit the Honkai Star Rail official website to check the minimum system requirements.
From Author's Desk
Although it is frustrating to see such kind of error on our beloved game, it is not hard to resolve as we have already mentioned the best fixes that have the potential to resolve this type of error. So, that's all we have for you on how to fix Honkai Star Rail pink screen issue. We hope that the fixes we have mentioned in this troubleshooting guide have helped you. For more information, comment below and let us know.