Xiaomi changed the outlook of high-end smartphones which were usually charged at the premium price tag but when Xiaomi unveiled its lineup of Xiaomi Mi phone series, people started buying these phones and its sales figure rose exponentially. Thanks to the efforts made by Xiaomi in perfecting high-end specifications at a mid-range price tag, people were able to try their hands on a super-fast processing handset at a nominal cost. But like any other smartphone, Xiaomi Mi series has its share of issues too which can either be apparent or it can be a gradual error, for instance, Xiaomi Mi Battery Draining problem is very well and thus, people look for its fixes. Since every website on the internet tends to answer this question differently, we decided to compile a list of the methods that you can use to fix this issue. These methods are effective, however, there is no guarantee that it will work on all devices but it is worth a shot. Let's dive into the list without further delay.
How To Fix Xiaomi Mi Battery Draining Problems?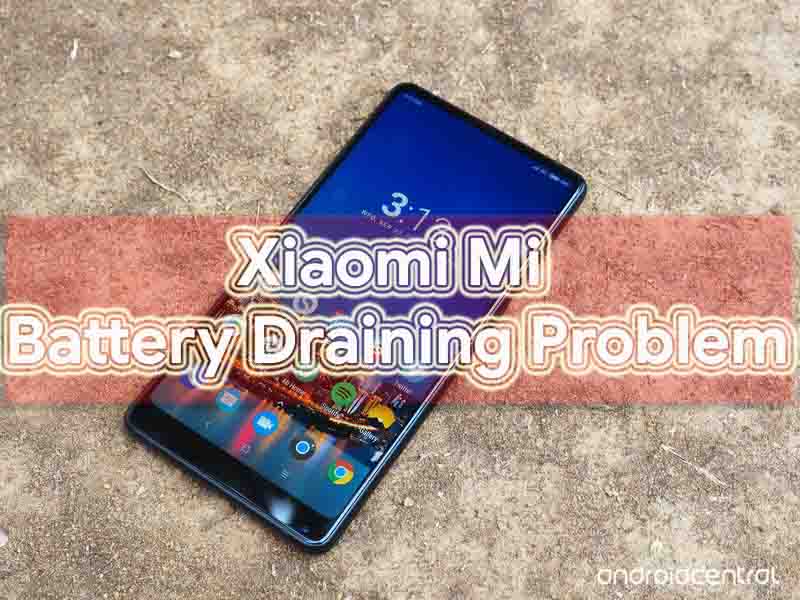 Tip 1 – Decrease Brightness Level
Although this doesn't seem like of much help but believe, altering the brightness throughout the day can save extra ounces of the battery life when you actually need it. You can adjust the brightness to its full extent when outdoors but when you come to your place or office, etc, you can decrease the brightness assuming that there is enough visibility. This will save minutes of battery life and curb its fast draining to a certain extent. But when used with other tips in this explicit guide, it can work wonders.
Tip 2 – Disable WiFi, Location When Not In Use
Okay, this is something we all need to understand. There are people who won't keep their WiFi enabled throughout the day even when there is no network available to access. Similarly, there are other features that are beneficial but only when used. When not in use, they only consume battery life to a great extent. Consider Location, Bluetooth, Mobile Data and others for instance which consume battery life even when not in use. If you have been doing it, chances are that this is the reason why you are observing battery draining problem. The simple fix is to disable all of them when not in use. You can enable it again when you actually need it back again.
Also, Airplane Mode can help save much of the battery life in case you need to save that remaining quarter of the battery life for an important call. Enable the Airplane or Flight Mode that will temporarily cut off the phone from the external network.
Tip 3 – Enable Battery Saving Mode
All modern smartphones including Xiaomi Mi smartphone series with Battery Saving Mode that when enabled, saves plenty of battery by inhibiting apps from consuming above a permissible power. The mode will restrict battery usage by most background apps which are indeed the cause of rapid draining battery life.
You can find the options to enable Battery Saving Mode on your device by going to 'Settings > Battery Saving Mode (Battery Saver). Toggle it ON and test whether the battery is performing better than previous or not. If not, comply with other methods as well or use it all together to improve battery life even further.
Tip 4 – Install Battery Saving Apps
Another method to save battery life from disguised background apps and excess consumption by tools and services that you don't want to use is to use Battery Saving Apps. Remember, you are using a Xiaomi Mi phone which is an Android-enabled smartphone that has a plethora of tools and apps that you can install to do almost anything and that is when Google Play Store will help you fix the battery draining problem. Click on the PlayStore, enter the keywords like "Battery Saver" or "Battery Saving App" or enter "DU Battery" and other recommended apps and install it. Once you have installed it, open and run it. It will prompt you to allow the app to destroy running apps and services which are consuming battery power. These apps will also present details on how much battery will be saved and how actually saved at the end of the operation. There are plenty of apps on your phone that will pop up automatically even after you shut it down. Using Battery Savers, you can cut their resources and close their apps too.
Tip 5 – Uninstall Unused or Dormant Apps
Apps use RAM, ROM, Processing Power, Battery Life and other resources when in use. But that doesn't mean that the app you have on your phone but currently not in use will not consume any battery life. All the apps use at least some battery to keep their background processes running. This can be a potential reason behind rapid battery draining issue that you have been observing. If you aren't using these apps, you can uninstall them from the system at all. This will free a lot of resources which were earlier used and it will make your battery a little faster than earlier.
Tip 6 – Kill Background Activities and Apps
This particular tip is co-related to the previous tip, however, here I am recommending you to destroy the background processes of services and apps and not uninstall it. Take Whatsapp for example which is a popular messaging platform used by more than billion people around the world. Now, when not in use, Whatsapp remains active as a background process so that it can show messages and calls when any user tried to contact you. This is a background process that can hoard up most of the battery life creating a wormhole for faster battery draining problem. On the other hand, stopping such background processes when not in use can save resources both on the memory and the battery. Thus, you must use the following method to clear background activities.
Firstly, press the recent app button on your device and swipe towards closing these apps.

Now, open 'Settings' on your phone and go to 'Apps'.
Next step is to scroll towards 'Running' where a list of all the services and tools will appear.

Note that this list also contains services that are basic for running the operating system and therefore,

refraining from stopping such services.

Instead, look for pre-loaded apps and third-party apps that you install and tap on it.

Press on 'Stop' that will eventually stop the services.

Repeat the procedure with all other apps and services and its done.
Tip 7 – Check If You Have The Right Charger
It is possible that you are using an incompetent charger or charger with less power input and output that can pose battery issues which you will see as battery draining issue. Check out the ampere current of the charger you purchase or use and compare it with the original one that you had as the difference in the current will result in slow charging and faster draining.
Tip 8 – Update The Software
If you are observing that the battery keeps draining faster after upgrading to a new MIUI, then it is the new OS update that is causing the issue. In other cases, outdated OS updates can also pose similar issues for which, you can check the available updates from "Settings > About Phone > System Updates".
Tip 9 – Reset The Phone
You can use any method in this explicit guide to optimize your battery life and make it more reliable. However, resetting your phone is a rather radical but interestingly efficient method. Resetting the phone to its original factory settings fixes most of the software-related issue and that is why you'll find this method in almost every how-to fix issues guide. There are basically two methods to erase data from the phone where first is simple 'Reset' function which is built-in and another is through 'Recovery Mode'.
Using Recovery Mode
This required little knowledge about the recovery mode and how to access it. There is a particular set of instructions that the users are required to feed to enter into recovery mode.
Ensure that the phone is switched OFF.

Next is to click on 'Power Button', 'Volume Up' button and 'Volume Down' button together and hold it.

In few seconds, the phone will reboot and display 'Android' or 'Xiaomi' mascot on the screen.

Release the buttons and let the device dive into the Recovery Mode.

Now, use Volume Up/down button to scroll and Power Button to select options.

Select the option 'wipe data/factory reset' and confirm the same to erase the data.
Select 'wipe cache partition' as an addon and then, reboot the system.
Using 'Reset' Function
If you aren't prepared to enter into the recovery mode, there is an alternative available as well.
Open 'Settings' on your phone and press the option 'Backup and Restore'.
Once you have taken the backup of the data required, click on 'Reset' button.
Enter the password and click on 'Erase Everything'.

Once the process is over, reboot the device and check if the battery is working properly.
Tip 10 – Contact Authorized Service Centre
Well, if nothing seems like working in your favor, you can turn towards professional technicians to get the issue fix. If above tips didn't optimize your battery life, chances are that there is a hardware-related issue with your phone. In such cases, report the battery draining problem to the technicians and get it fixed.
Additional Tips On Fixing Battery Draining Issue
Since the majority of smartphones have a lithium-ion battery, these cells are known to have their own memory which means, in case if you charge the phone to 80% every time, the battery will assume 80% of its capacity as total 100% of output. This can lower the capacity and result in rapid draining issue. The simple fix to this issue is to practice charging after the phone has completely drained of battery power. Charge it to 100% and then repeat the process.