Technology is advancing at a lightning fast speed. It was just a few years ago when phones were heavy, not of much use, thick, and pathetic but now, it fits in your palm with a width less than a centimeter, and of great use. You can play heavy games, do the business transaction, follow millions of people or say, they follow you; talk to someone or a group of people visually using video calls, invest and spend and if you have some time, use it to call or message someone. People have grown dependent on their smartphones and you would barely see anyone leaving their home without it.
Although every aspect of smartphones has gained advanced technology, batteries are one of the aspects that still need to be more efficient. No matter if its a 5,000 mAh battery, a heavy smartphone can drain it completely in hours. But then, there are other issues because of which, the phone battery drains quickly and an accelerated speed which is referred to as battery draining problems. You don't have an unlimited battery power and therefore, a user must take measures to prevent battery draining problems and that is why we at GetDroidTips have compiled a list of to-dos to fix ZTE Nubia battery draining problems.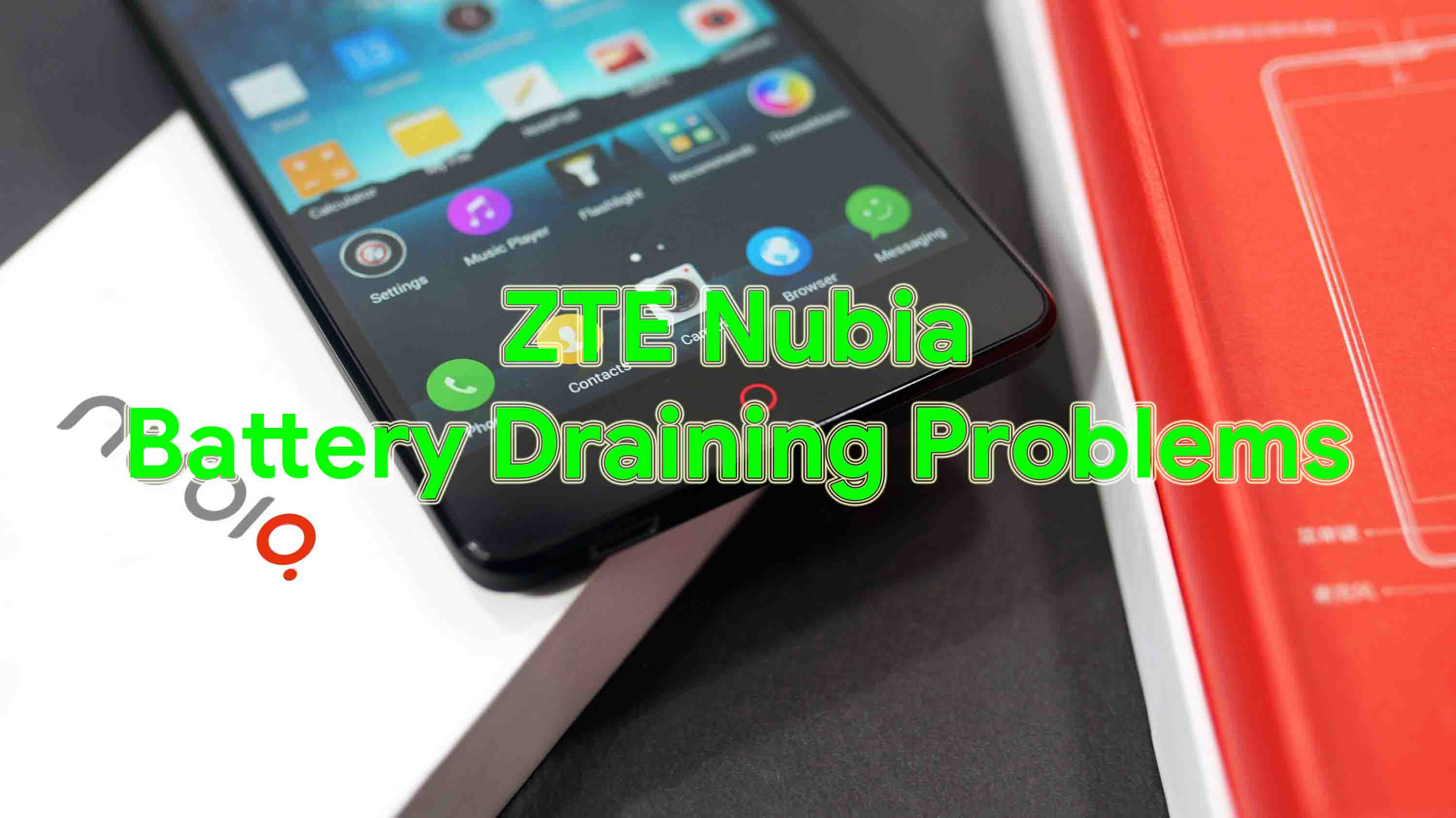 Tweak brightness settings
Setting the Brightness keeps the screen lit as required thanks to the LCDs and LED screens that every smartphone is currently employing. Although it might not be the sole reason why the battery dies quickly, it is one of the many reasons which combinedly cause the battery draining problems and thus, it must be fixed. You need to change the brightness settings as per the needs that are low to moderate during the night or when in the office or at home and moderate to the high outside under the sun. This takes the excess pressure put on the batteries and reducing the draining quotient.
Turn off location/GPS/Wifi when not required
It is a common sight that users would often leave the location or wifi or Bluetooth or any other such services enabled even when not required. This is a clear reason the phone's battery suffers as it still has to provide the services the power even when they are not in use. This increases the power consumption and drains out the battery. What you need to do is to turn off these services when not required.
Close apps or force stop it
What do you do when you want to close an app? Many users would resort to simply pressing the home key that takes the app off the screen and puts it on the recent list. Since the app is still running in the background, it continues to consume resources. Even if you tap on the recent button on-screen and swipe to close it, there are few apps that will still pop up abruptly. This is where force stop comes into play. You need to navigate to Settings >> Apps >> Running and then, Force Stop the app whichever aren't required for the time being.
Know the apps which are power-hungry
If you haven't come across the term 'power-hungry apps', it refers to the apps that consume more than usual or actual battery power. There are plenty of apps such as games and other apps that consume a good chunk of the battery when used and even when not in use. You can check out these apps by going to the Settings >> Battery and check all the apps and how much power they are consuming so that you can limit the usage of these apps or uninstall if they aren't required.
Similarly, there are a bunch of third-party apps available on the Google Play Store that lets the user detect such apps and destroy all the processes and threads and also prevent them from popping up without user consent. Check out Doze or Greenify which are known to enhance battery life.
Restart the phone
There is no rocket science in this method. Whenever you use your phone, it distributes its available resources across the apps and processes occurring at a given time. However, if you feel like the battery is draining too quickly, you can close or force stop these activities. But rebooting the system is fairly an efficient method as it instantly destroys all the ongoing processes and reboots the system thereby releasing all the sources that were being used. In fact, it is also regarded as a must to do the activity at least once a day as it allows the phone to work optimally.
Use power saving mode
As the name suggests, power saving mode helps the phone ease the strain put on its battery by limiting the app or processes in use. This is an efficient method to prevent the battery from draining too quickly, however, it does restricts a few services such as wifi and GPS when enabled. You'll have to manage between power saving mode and wifi/GPS when traveling.
Uninstall unwanted apps
You already have bloatware or pre-installed apps installed on your phone above which, you download a few other apps like WhatsApp, Facebook, etc. Now, if you keep on adding new apps, the phone will eventually succumb as it will affect its performance. As well as drain out the battery too quickly. This is why experts recommend users to avoid installing unwanted apps as they will consume battery and other resources once installed.
Update all the apps
Apps are prone to attract bugs, errors, and issues which can cause a series of problems such as the battery draining problems which is one of the reasons why you must keep the apps updated to get rid of such software glitches. You can check out for available updates by opening the Google Play Store and then, proceed to 'My apps and games' and check out the Updates section.
Check for Software Updates
Similar to how an outdated app might cause potential and harmful bugs and viruses to enter the system, the Android OS is a program in itself that provides a framework for all other drivers, apps, and hardware components to interact with each other. If the Android OS is outdated, it can have far-reaching effects as it affects the whole system or specific aspect of the phone if its a bug. You can to check for updates and do the same to get rid of this ZTE Nubia battery draining problems.
How do you check for software updates available? It is simple as you need to open the Settings tool on the phone, proceed to the About Device section and tap on Software Updates. Here, you can check for available updates if any. Note that if your smartphone is of an older version i.e. more than 2 years old, it must have gone out-of-support. This means you won't receive any further updates. To fix it, you can always downgrade to a previous Android OS to fix the problem.
Wipe cache files
Cache files which have gone rogue or corrupted can have an adverse impact on the phone. You need to clear these temporary files from the phone. There are basically three methods you can employ to get rid of this issue.
Method 01: Proceed to Settings >> Apps >> (Click on individual apps) >> Clear Cache & Clear Data.
Method 02: Proceed to the Settings >> Storage >> Cache memory >> Clear it.
Use Recovery Mode
Recovery Mode is one of the many bootable partitions on a smartphone where the user can perform a number of tasks such as update the software, reboot the system, wipe cache partition or factory reset. Here's how to enter into the recovery mode on your ZTE Nubia smartphone.
Press the power button and select 'Power Off' on the screen.
Afterward, tap on Power button + Volume Up button together and hold it for 5 to 10 seconds.
When the ZTE logo appears on the screen, release the key and allow the phone to enter into the recovery mode.
Wipe cache partition using recovery mode
This particular method needs the user to access the Recovery Mode after which, he/she can select 'wipe cache partition' and then, tap on the 'Yes' button and there you go.
Reset the phone
Another powerful function that recovery mode performs is to reset the phone. Now that you have entered the recovery mode using the procedure explained above, you need to follow the given steps to perform a factory reset.
Use volume up or down key to scroll through the menu on the screen and use power key to select an option.
You'll have to select 'wipe data/factory reset'.
On the resultant screen, select 'Yes — delete all user data' from amidst the menu.
Once the system overhauls the phone to its factory settings, reboot the phone and configure it as if its a new phone.
Contact the manufacturer
If the ZTE Nubia battery draining problems that you are facing is related to hardware since it was software-related, it must fix by now. Now, you can replace the battery to see if it was the culprit but I won't recommend you to walk into an authorized service center to diagnose the component responsible for the issue and get it repaired or replace. Check for the warranty period and report the issue to an authorized center if the phone is in warranty and you want to preserve it.
Read More: