Here in this guide, we will provide you some possible steps How to fix Not registered network errors on the OnePlus 7/7 Pro. Previously, OnePlus device users reported having the "Not Registered on Network" error. That's a very common issue on the OnePlus devices which users find sometimes. Now, the Chinese smartphone manufacturer OnePlus recently launched its two new flagship devices. These are the OnePlus 7 and the OnePlus 7 Pro. Now, the thing is that if in case, you're planning to buy a OnePlus 7 series device or just purchased and using it, take a note. In the future, if you're facing any kind of Not registered network error on OnePlus 7/7 Pro devices, this guide will help you.
Steps to fix Not registered on network error on OnePlus 7/7 Pro
In case your OnePlus 7 or OnePlus 7 Pro handset fails to detect the SIM card in its slot and shows a "Not Registered on Network" issue, follow this guide. If the handset is unable to recognize the SIM card, the service provider can't connect with the IMEI or fails to connect that possibly have the Not Registered on Network error. Now, let's discuss the possible reasons and steps to fix not registered network errors on OnePlus devices.
Update Your APN (Access Point Names)
First, try to update the device Access Point Name (APN) settings for different Network Providers.
Go to your OnePlus device Settings > Connections > Mobile Networks > Access Point Names.
Now, tap on Add (+) icon on the top right corner and then enter the required APN data. [You can easily find these details by calling your Operator Customer Care and ask for it] It's important.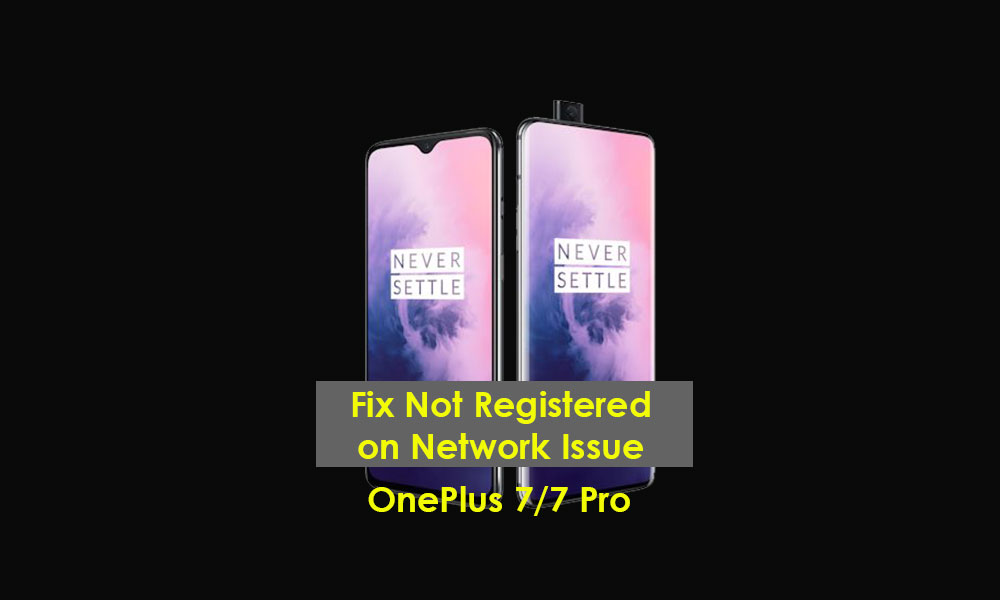 Turn Off All Connection (Wireless)
Sometimes, disabling all the wireless connections on your Android smartphone may fix the issue.
Turn on the Airplane Mode or Flight Mode simply.
Wait for a few minutes then deactivate the flight mode and restart your device. [It may help you in some cases]
Reset Phone Dialer App
Try to reset the dialer app on your device as well, if the above-mentioned tricks won't work for you.
Go to device Settings > Application Manager > All Apps.
Scroll down the page in 'P' alphabet to locate the "Phone app".
Now, tap on it and select wipe cache option.
Now, reboot your phone and check.
Re-insert SIM Card
If the SIM card is not placed in the card slot correctly, your phone will not detect/register on the network. In order to fix not registered on network error on OnePlus 7/7 Pro:
Switch off your device.
Take out the SIM card from the phone and re-insert it properly > then restart your device again.
Also, make sure that your SIM card circuit is not damaged or broken.
Update Device Firmware
Ensure that your OnePlus 7/7 Pro device is running on its latest software and security patch version. Follow the below steps to update your device firmware:
Connect your Android phone to the mobile data or Wi-Fi according to your preference.
Go to phone Settings > System > System update > Check for update.
Wait for the device to download the update and install it.
Once the installation is completed, your device will reboot.
Wait for the complete boot into the new system and you're done.
Corrupted IMEI and EFS Folder
If the above methods fail to fix the problem on your device, it can be caused by the corrupted IMEI and EFS folder. Try to follow the steps mentioned below:
First, take a complete backup your OnePlus 7/7 Pro device data.
You need to enable Root Access on your phone.
Now, follow the full step-by-step guide on:
Restore IMEI Network on Qualcomm Devices using QPST Tool
Fix 'No Service' Issue
If your OnePlus 7 Pro device will show an error "No Service", follow these steps:
Open the Phone Dialer app.
Type *#*#4636#*#*
After typing that number it will automatically appear the Service mode.
Now, enter into Service mode.
Select on the Device information.
Select Run Ping test option.
Tap on the Turn Radio Off button and select Reboot.
Your OnePlus 7/7 Pro will reboot automatically.
That's all. Hope this guide will help you to fix No service error on OnePlus 7/7 Pro device, whenever required. Feel free to comment down below.