It's quite obvious that if your smartphone supports fast charging out-of-the-box and even it's a flagship device, but your device takes slow charging for any reason, you will feel irritated. Now, most of the mid-range to flagship killer to premium smartphones come with fast charging and even wireless fast charging support.
Most of the smartphone OEMs have their own fast charging technology and their own names. OnePlus is one of them and offers WARP charging technology to their latest 2019 smartphones like the OnePlus 7 and the OnePlus 7 Pro. When it comes to the OnePlus devices, they offer flagship-grade specifications, features, and performances as well. But some of the device users often experience slow charging issues or you can say no fast charging issue.
Now, if you've made your mind to go with the OnePlus 7 Pro handset, then you should follow the guide first to understand. Here in this article, we will share with you how to fix OnePlus 7 Pro slow charging issue.
Also Read: How to fix OnePlus 7 Pro screen flickering issue
Steps to fix OnePlus 7 Pro slow charging issue
Now, the slow charging issue isn't a big deal. There are some possible ways to fix this issue completely and it's hassle-free. This doesn't mean that OnePlus devices are not good. The company is simply offering a great user experience with hardware, software, and support team along with frequent updates and more. The OnePlus user base has created a new record in sales of 2019 Q1 worldwide. You can definitely buy OnePlus devices without any second thought. This issue can happen with anyone and with any device.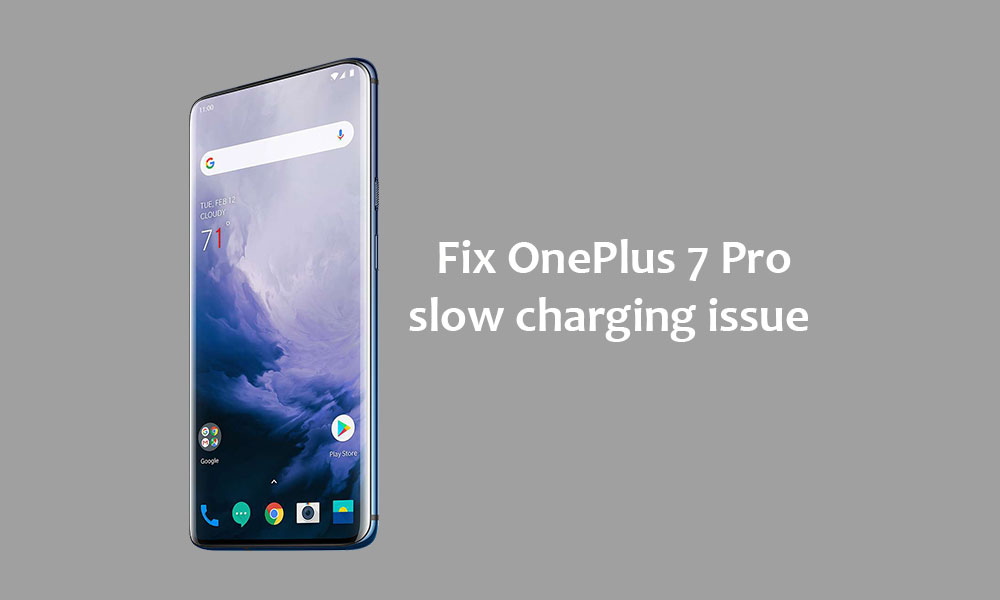 Still, you should check out the slow charging issues and its possible fixes as well.
Slow Charging
Make sure that the power source or switchboard is not weak which one you use to charge your device regularly. This may lead your device battery weaker.
If you're running your device in the safe mode, try to boot into normal mode and run in normal mode on a daily basis.
Avoid installing the apps which are not available on Google Play Store or nicely rated.
try to avoid installing unnecessary apps or games on your device as it may increase the background tasks on your device and drains device battery a lot than expected.
Replace your device charging accessories like USB cable or charging adapter and buy a new stock charger from a verified store or directly from the Samsung store (online/offline).
Check your device USB charging port properly via any nearest service center or mobile repair shop. As sometimes damaged or internally broken charging port can cause the issue.
Troubleshoot Fast Charging
If you're facing slow charging issue, try to switch off your mobile or activate airplane mode while charging. It will boost your charging effectively.
Turn off the mobile data, Bluetooth while charging to reduce the load on the battery.
Try to perform a full factory Reset of your device before judging anything. As some corrupted data or application files can cause a huge battery drain.
Don't use your device while charging for a long time or heavily such as playing hardcore games, streaming movies or videos online/offline, social media browsing, etc. These tasks can take a lot of battery juice. That means your battery will get weaker very quickly.
Turn off the mobile data, Bluetooth, Wi-Fi, Hotspot, LED flash, etc while don't use. This will reduce the battery drain.
Delete the temporary files from the phone (internal storage) via cleaner apps like Google Files. It will automatically notify you to clean the junk files directly from the app. It will increase the RAM storage and performance as well.
Slow charging is something that can be caused by the software or a hardware issue in the device. Make sure to check it.
This is how you can troubleshoot fast charging issue on your OnePlus 7 Pro handset. By following the above-mentioned steps one-by-one, you will understand how to charge up your device quickly.