Smartphones are getting faster, cheaper, and reliably packed with hundreds of apps and more and that is driving people crazy over trying their hands on new smartphones. Xiaomi is a popular smartphone brand whose popularity rose to new heights when it rolled out its Xiaomi Mi and Xiaomi Redmi series of phones with a cheaper price tag but a great deal to pound on. But, it doesn't necessarily mean that you have everything in these phones that you wanted. Protection from water or spills is something very crucial in today's life when our schedules or hectic while some people are clumsy which drives incident like water damage due to spilling tea, coffee or any beverage by mistake or dropping it in a pond or a pool which causes water damage.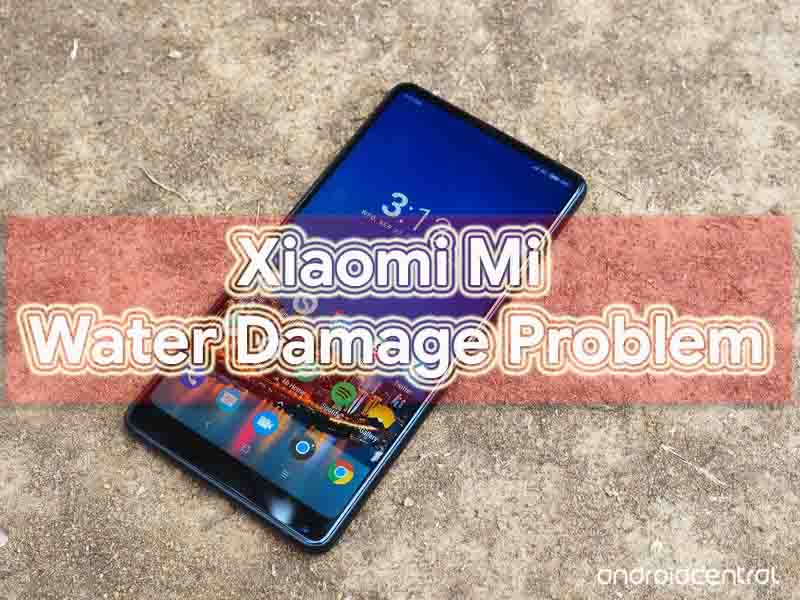 People nowadays are additive to their phones, although they do care for the protection of their device due to accidental dropping, these covers aren't always prepared to buffer water when someone drops their phone in water. Since it is not a software issue, it cannot be fixed with simple tips and tricks. It is a hardware issue if anyhow the water finds its way on or into the internal parts of your device and can cause huge damage. So, finally, we are at the question. How to fix Xiaomi Mi water damage? After considering the request from our readers and Xiaomi Mi users around the globe, we decided to pan a list of tips that you must practice – or not – to fix any water-related damage or most probably, prevent it from happening at the first place.
Before we can jump to do's, let's see the don'ts that you 'shouldn't' do if you dropped your phones in the pool or anywhere where water is present.
The Don'ts –
Tip #1 – Assume your phone 'half-dead' if in case you accidentally drop it. So, instead, it pushing the buttons and trying to switch it ON, switch it OFF and keep it idle for a while. Trying the Switch ON the phone or keeping it ON when it comes in contact with water will pose trouble to the internal components and might cause short circuit too.
Tip #2 – Don't try to turn it ON until it is completely dry.
Tip #3 – Forcefully pressing buttons unnecessarily to revive the phone can have an adverse effect on the device such as it can cause a short circuit. It can also push the water trapped in the device to travel in delicate spot or component or where the components are too hydrophobic as it can worsen the situation by damaging these components. Note that, there are some components in the device which would cost hefty if damaged.
Tip #4 – Blowing, shaking, pressing, tapping, or any such movements must be avoided due to the same reason as mentioned in the previous tip.
Tip #5 – Do not try to heat up the device any heating appliance as it can cause trouble later on.
How to fix Xiaomi Mi Water Damage Issue?
Assume that you accidentally dropped your phone in a pool, now you can recall the don'ts mentioned above as it will reveal what you shouldn't do to revive the phone. Now let's see what you should do to fix Xiaomi Mi water damage issue which is applicable for any smartphone.
Step 1 – Switch OFF the phone.
As we have aforementioned, the risk of excess internal damage and short circuits are high if the phone is still running after taking a dip in the pool. So, once you hurriedly draw the device out of the water, switch it OFF instantly. If it is already switched OFF, then follow the next step.
Step 2 – Remove accessories
Since we weren't aware that your phone might plunge into the water, I assume that you have all the accessories on the phone still intact. Now, it's time to remove SD Card, SIM card, stylus, cover case, and battery if it is removable. Take a clean cloth and wipe these accessories and your phone too. But remember, shaking, tapping at the moment must be the refrain. When wiping the phone with a cloth, avoid pushing the cloth into the headphone jack or other slots as it can possibly push the water deep into the internal assembly.
Step 3 – Shake It Now
Now that you have wiped excess water present on the exterior, now it's time to take a close look at the slots where water can still be present. Tap the phone a bit to loosen up and remove excess water in these slots and wipe it using a dry cloth.
Step 4 – Put It In A Rice Bag
This might sound weird and even fake but users around the world have used such a technique to revive their phone after accidentally dropping it in water. For these, you can take a ziplock bag and put the phone into the bag. Now, take a handful of uncooked dry which is an excellent water absorption and fill up the bag completely. Then, shut the ziplock and keep it in a cool, dry place for several days. Note that I said 'days' and not minutes as it will take around 2 to 3 days for the rice to bring its magic to the conclusion. When the phone is in the ziplock, do not disturb it even if you want to check if its working or not. Take it out of the bag only after the stipulated period.
Step 5 – Check If It's Working Or Not
Although many users have presented their testimonials on its effectiveness, there are still 50% chances that the phone would start up if there is an excess damage. Assuming that you are in the remaining 50% whose phone restarted, you can check it out for few days before completely relying on it. If you belong to the next group whose phone stopped responding even after doing what we said and following all the things that we asked to refrain, the last tip is for you.
Step 6 – Take It To The Authorized Center
If unfortunately, your phone fails to respond even after painstakingly following the procedure mentioned here, it is probably because of excess hardware damage which needs a professional fix and not some kind of "rice-magic" fixes it. If you are looking for a service center, refer the list on Google and find the nearest 'Authorized' center as it will be beneficial if your phone is in warranty period. At authorized center, you can expect a good service at an appropriate pay rather than paying cheaper to other third-party centers with the chances that it won't work.
Did you recently purchase your phone? Although the freelock period differs from brand-to-brand, it is usually between 7 days to 15 days wherein you can get a complete replacement if you discover an issue with the phone. Check if the brand covers liquid damage so that you can ask for a replacement if applicable.
How to Prevent Water Damage From Happening?
If you are clumsy, you'll know it way too earlier before buying a smartphone. If you are clumsy or someone who tends to drop his/her phone too often, maybe this is the time when you can either purchase a phone with built-in water damage protection such as IP67 or IP68 or you can buy a smartphone and a protective cover case with water protection to prevent liquid damage to your device. This is something for which you pay upfront but you'll be on the positive side once you come to know its caliber.
Bonus Tip – Thank you for reading it until now. The above list covers the do's and don'ts as well as what to do to prevent it, but what if you haven't bought a protective covering or the phone got submerged in the water and got wet even after sufficient water protection coating, Insurance can be of great help. Nowadays, you can get insurance for any and every device you buy, the car you drive, home where you stay, office where you work, etc and that is what makes you secure. Now, take an insurance for your device as soon as you buy one to be insured from such uncertain events.