In this tutorial, we will show you how to stop pop-up ads on Android. Ads are known as the necessary evil and are in fact a major source of income for a lot of websites and apps. While that is all well and good, what isn't is when they decide to hijack the entire screen. This completely ruins the entire user experience alongside disrupting the normal functioning of the device. In some cases, it might even slow down the device.
Although some apps have a dedicated portion for displaying ads, not everyone follows this path. Whereas some ads take up your notification panel, others end up covering a major chunk of the screen. In other cases, you might also see some ads right within your browser itself. In this regard, this tutorial will come in handy. We will be outlining the steps to stop all the types of ads, whether they are browser-ads, visible in the notification panel, or Full-Screen Popup Ads. Follow along.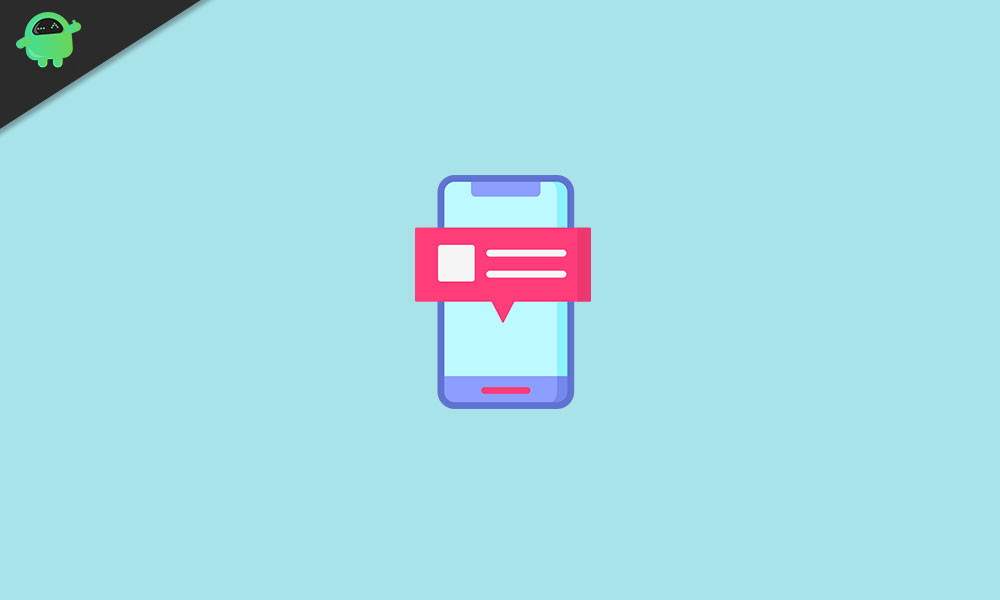 How to Stop Pop-Up Ads in Android
We will be sharing around seven different methods to effectively deal with these ads. There isn't any universal fix for the same, it is recommended to try out all of these tips until you could achieve success. With that said, here are the methods to stop pop-up ads in Android.
Blocking Ads in Browser
To begin with, most of the users seem to face these ad-related issues coming from their browsers. In this regard, near about all Android browsers comes built-in with the option of blocking pop-ups. Since Chrome is the most widely used browser, hence we will be outlining the steps for this browser. The steps should be identical to other browsers as well.
Launch the Chrome browser on your Android device.
Tap on the overflow icon situated at the top right and select Settings from the drop-down menu.
Within that, head over to the Advanced section and tap on Site Settings.

Navigate to the Pop-ups and redirects and make sure that the toggle is Disabled (turned off).
Then go back to the Site Settings and this time, head over to Ads. Make sure that the said toggle is disabled (turned off) as well.

Check if you are able to block pop-up ads on your Android device or not.
Block Full-Screen Popup Ads on Android
Full-screen ads are mostly due to the installation of third-party apps. The major issue with this is that it is quite difficult to identify the culprit app. These types of ads aren't limited to any particular domain, hence getting a hold of them is quite difficult. However, there still exists a couple of ways of identifying them.
The general notion involves booting the device to the Safe mode. But in that, all the third-party apps will automatically be disabled and hence it is quite obvious that you wouldn't notice any ads as such in that mode. So users generally try and uninstall the last few apps until they are able to fix this issue. However, this is mostly related to the hit and trial method.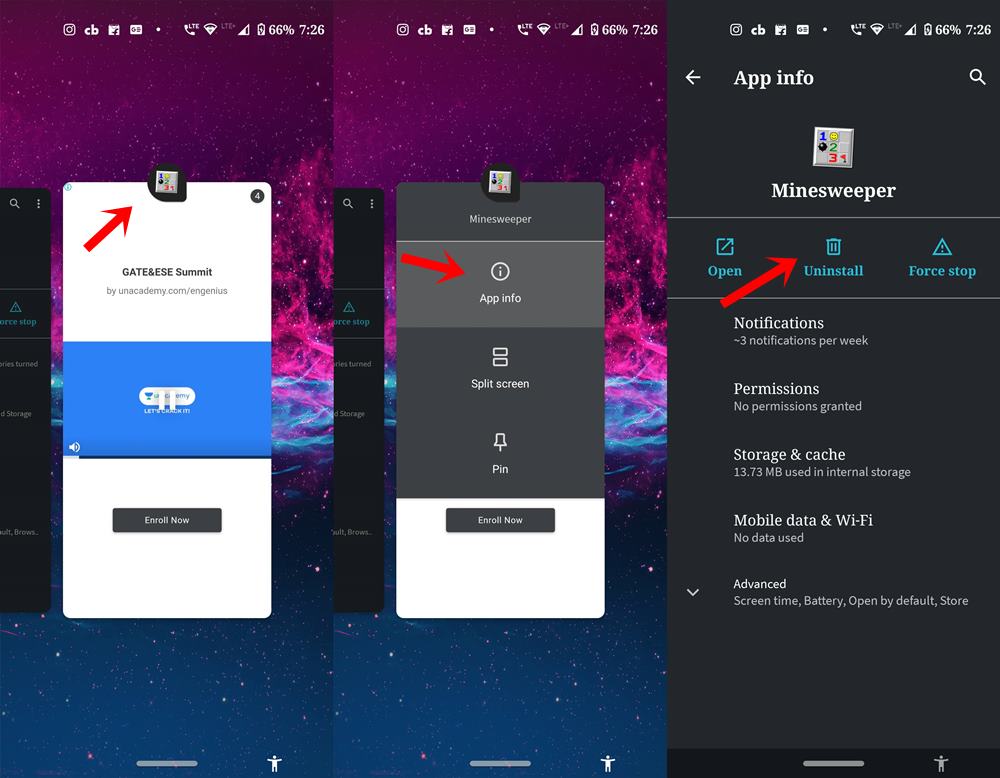 There is another pretty nifty way of identifying these apps. As and when you get a full-screen ad, minimize it (don't close it as of now). Then head over to the Recents Apps section and you should see the minimized ad window there. On top of that window, will be the icon of that app. All you have to do is simply uninstall that app. So long press on that app's icon and head over to the App Info section. Then tap on the Uninstall option and that is it. You would have blocked full-screen pop-up ads on your Android device.
Disable Notifications Ads
Some pop-up ads aren't that much intrusive and might only occupy the notification panel. But they are still quite irritating and should be dealt with at the earliest. Again we will be making use of the same trick that we had used in the above section. So long press on that ad in the notification section and you will be able to grab hold of that app's name.
Now there are a couple of ways to deal with it. If that app isn't of any use to you a such, then you could simply uninstall it. For that, head over to the Settings page. Then go to Apps and Notifications > See All xx apps > Scroll to the desired app and hit the Uninstall button. However, if you can't take the uninstall route owing to the app's importance, then the best bet will be turn off all its Notifications.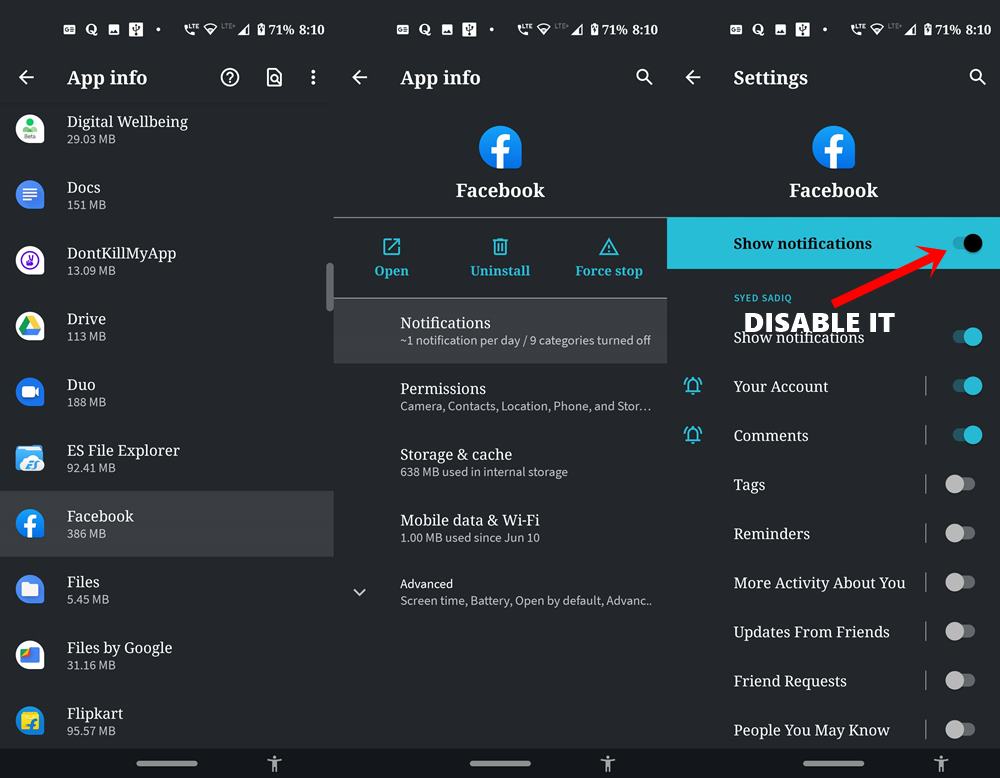 This could be done right from the Notifications panel itself. Just long-press on that ad and tap on Turn off notifications. or you could also head over to Settings > Apps and Notifications > See All xx apps > Go to that app's page and disable the Show notifications toggle. Check whether it is able to block pop-up ads on your Android device or not.
Stop Pop-ups from a certain website
If there is a particular website that is continuously showing pop-ups, then you should consider disabling its access to the Notification section. Here is how this could be achieved via the Chrome browser:
Launch the browser on your device and tap on the overflow icon.
Select Settings from the menu and head over to the Permission section.
Then scroll a little bit down and you should see the Sites section with a Show notifications toggle. Disabling that will stop notification pop-ups from all the sites.

If you wish to act on a single site, then just disable the toggle next to that site and leave the other as they are.
This is another pretty nifty method to stop pop-up ads on your Android device.
Disable Display over other apps
This feature allows an app to display some of its components on top of other apps. While it makes sense for some of the apps to have this feature enabled, but for others, it might not. In this regard, if you find any such apps having access to the Display over other apps that you think should not have been given, then revoke that app's access right away. Here is how to do so:
Head over to Settings on your Android device.
Go to Apps and Notifications and tap on Advanced.
Then select the Special App Access menu and tap on Display over other apps.
There you will see a list of all apps allowed or not allowed to access this feature.
If any app you think shouldn't have access to this feature, then tap on that app's name and just disable the said toggle.
This trick has also been able to stop pop-up ads on Android for a lot of users and should work out for you as well.
Using Play Store Protection
Play Store Protect checks and scans all the installed apps on your device for harmful behavior. If found, it will notify the user and hence you could take any decision accordingly.
To access this feature, head over to the Play Store.
Tap on the hamburger menu situated at the top left and select the Play Protect option.
Now tap on the Scan button and wait for the process to finish.
It will then show the scan results and you could then uninstall the apps that it found to be harmful or suspicious. This should then stop pop-up ads from appearing on your Android device
Use a Third Party-App
Along the same lines, you could also try out any of the third-party apps for this purpose. On the Google Support Forum for the topic, "Remove unwanted ads, pop-ups & malware", they have mentioned that "Consider purchasing and downloading an anti-malware app, like Malwarebytes". So you could give this app a try.
[googleplay url="https://play.google.com/store/apps/details?id=org.malwarebytes.antimalware"]
With this, we conclude the guide on how to stop pop-up ads on Android. We have shared seven different methods for the same. Any single one or a combination of more should yield out the desired result. Do let us know in the comments which method worked out in your favor. Rounding off, here are some iPhone Tips and Tricks, PC tips and tricks, and Android Tips and Trick that you should check out as well.