Although, so many smartphones are coming in 2019 with mid-range and flagship-grade specifications, hardware out-of-the-box. But still, sometimes our device gets frozen or unresponsive. In this situation, we can't do anything on our device using touch or gesture. Here the hardware keys come in handy all the time. The dedicated Power and Volume Up/Down keys are so much important. The low storage/RAM or background processes can cause lagging or performance issues. In that case, sometimes users want to reset their devices for once to get sorted. Today, in this guide, we will share with you How to perform soft or hard reset OnePlus 7 and 7 Pro devices easily.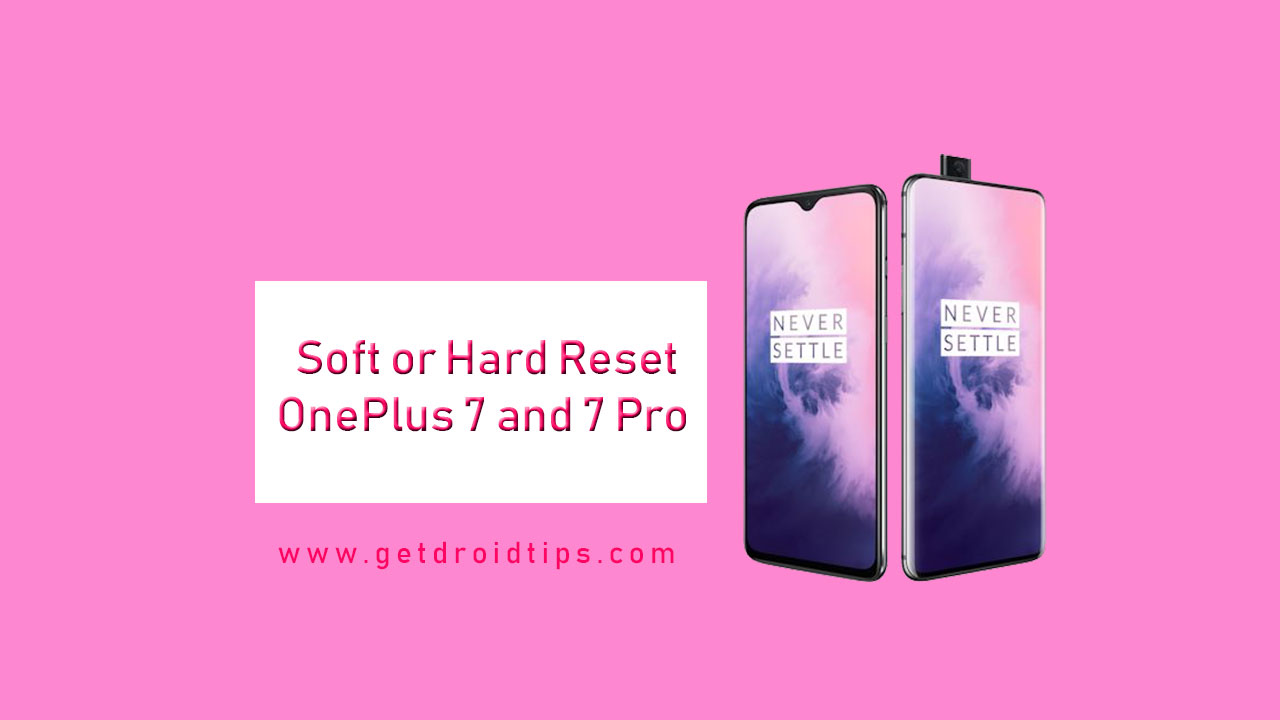 Even if you want to clear all the internal storage, Google accounts, or want to sell your handset, you can perform the reset task on your OnePlus 7 and 7 Pro. Here is the step-by-step guide provided to reset your device.
1. Master Reset from the Settings
A master reset restores the original factory settings and will delete all of your personal data, documents, media files, etc from the internal storage. The internal storage also includes downloads, ringtones, images, apps, contacts, and visual voicemail, etc. It doesn't delete any data stored on the SIM card or SD card.
First, you need to Back up your data of the internal memory.
Go to the device Settings menu.
Tap on System > Reset options > Erase all data.
Tap on RESET PHONE option.
Enter your PIN or Password, then tap on Next button.
Now, tap on ERASE EVERYTHING. The device will reboot and will start to reset your device into factory settings.
2. Master Reset via Hardware Buttons (Recovery)
A Master Reset restores the original factory settings and deletes your personal data from the internal storage. It doesn't delete any data stored on the SIM card or SD card. If in case the device menus are frozen or unresponsive, you can perform master reset using hardware keys.
Press and hold the Volume Down + Power button simultaneously for a few seconds.
When the device vibrates and the OnePlus logo appears, release the Power button, but continue holding the Volume Down button.
Now, enter the Password or PIN number of your device to unlock. Then tap on Ok.
Tap on the English language.
Tap on Wipe data and cache.
Now, tap on Reset everything (Music, pics, etc).
A message will pop-up – This can't be undone, continue? – tap on Yes.
Tap on Reboot to restart your device.
Read More: How to force reboot OnePlus 7 and 7 Pro
3. Soft Reset with Hardware Buttons
A Soft Reset is a simulated battery removal. Use this option to power off a device when the screen is frozen or unresponsive.
But if your device contains a non-removable battery, you need to press an hold the Power + Volume Down key until the device turns off. This process may take up to 30 seconds.
It doesn't cause any loss of personal data on your device.