We are pretty sure you might be looking forward to knowing, "Can I play Android games on PC without an emulator?" and that's why you end up landing here.
Thankfully now, there is no need for users to get an emulator when they wish to play Android games on a PC. But you should know that, to make it happen, there are certain steps that you need to follow or say you need to use some other applications to do so.
To help you in knowing how to play Android games without an emulator, we have created this read and are sharing all the details. Let's get started!
Part 1: Disadvantages & Problems When You Use Emulator to Play Android Games on PC
Before diving into the solution, do know why gamers do not like to use emulators. Well, the major problems and disadvantages of using Emulator to Play Android Games on PC are as follows:
Sometimes it happens that the Android game you wish to play is not well-supported on the emulator, which ultimately ruins your experience of playing the same game.

Consoles play an important role whenever it is about playing the game on an emulator. Some users are not ready to get it, due to which the authenticity of the game gets disturbed.

There are abundance of features in the emulator, which in return contributes to an unpleasant gaming experience for the gamer.

Frame drop problem is very common with the use of emulators during gaming sessions.
So, these were the common problems and disadvantages users experience when they are looking forward to using emulators. So yes, they consider ignoring this when they wish to play Android games on PC.
Part 2: Use MirrorTo to Play Android Games without Emulator
Well, as we have already discussed the disadvantages, this is what can help you out – iMyFone MirrorTo. It is one-stop solution for you all.
This tool is specially designed for all Android and iOS users, helpful for them to have an ultimate gaming experience. A user just needs to use a keyboard in order to control the phone screen and be in the game with more focus. Furthermore, all your gaming records will be saved on your Android or iOS devices which simply means that you will be able to replay them, and if any certain point needs your attention and correction in the next gaming session, you can do it.
Advantages of using MirrorTo tool for gaming sessions:
Gaming records will get saved to your device.

Live streaming on TikTok

and other portals is supported with the help of an HD webcam.

The interface of the application is simple, so yes, no tech knowledge is needed to operate it.

Better communication with other gamers.

A stable connection which means no fluctuations during the intense gaming sessions
Steps to Play Android game on PC:
After knowing about the advantages there is a possibility that your curiosity has boosted, and you wish to know how to use MirrorTo to resolve how to play Android games without an emulator. The steps are as follows: –
Step 1: Get iMyFone MirrorTo on your PC or laptop and launch the program.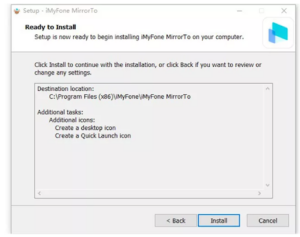 Step 2: With the help of a USB cable, connect your device to the system. It asks to select the activity and choose "Transfer files."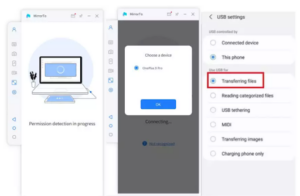 Step 3: On your phone, open "Settings" and then move to "Software information".
Step 4: Click 7 times on the "Build number" and enable "USB debugging".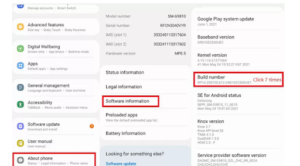 Step 5: Provide the necessary permission to MirrorTo and let it show the things on top.
Step 6: Hit on "Turn on".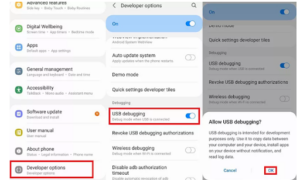 Step 7: The iMyFone MirrorTo APK file will get downloaded to your system.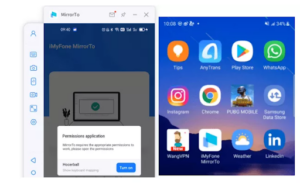 Step 8: When the screen is successfully mirrored, you are all set to enjoy the small screen features on the big screen.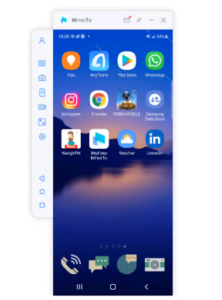 Part 3: Frequently Asked Questions about How to Play Android Games without Emulator
Q1. Which games can be played without an emulator?
All the Android games can be played without an emulator. But one needs to consider applications like MirrorTo to use them effortlessly. If such applications are not there, a player will not be able to play the games.
Q2. How can I play Android games on my laptop without BlueStacks?
To play Android games without BlueStacks, users need to consider the screen mirroring apps like MirrorTo App. These apps are easy to operate and contribute to fluent mirroring.
Q3. How do I install an APK file on Windows 10 without an emulator?
In order to install an APK file on Windows 10 without an emulator, users need to use the extensions available for Chrome browsers. These emulators are helpful for installing the APK files directly.
Q4. How can I download apps on my computer without Google Play?
There are some third-party applications available featuring certain apps. One can consider such apps and lookout to download the web versions or the actual app for their device. But to use these third-party apps, integration of VPN is recommended. Also, make sure to turn on the "Unknown Services" option in your device's settings.
Conclusion:
Gamers can feel relaxed and start their gaming journey without thinking that they need to get an emulator on their device. The "iMyFone MirrorTo" tool is a one-stop destination because this screen-casting application will help you with it. Get this app downloaded on your device and start streaming!