Here is the guide on How to reset network settings on OnePlus 7/7 Pro. In a couple of years, OnePlus device users have faced some of the common issues on their smartphones. It includes 4G connectivity, 4G LTE signal, battery issue, fast charging issue, network issue, camera issue, etc. All these problems can arise after some sort of hardware or software bug or conflict. These issues can also appear due to buggy software update as well. Here in this article, we will share with you the steps to reset network settings on the OnePlus device. So, if you're a OnePlus device user or OnePlus 7 and OnePlus 7 Pro user, check out the possible reasons and fixes of reset network settings.
OnePlus recently has launched its two new flagship smartphone called OnePlus 7 and OnePlus 7 Pro. But there are some issues with the OnePlus devices which can also arise in OnePlus 7 series devices as well. The network related problems are one them and appeared earlier on previous generation OnePlus devices also. Here is the guide on How to fix No 4G LTE signal on OnePlus 7/7 Pro [troubleshoot a network issue].
The network related issues mean 2G/3G/4G network issue, cellular data connection issue, or any wireless connectivity issue like Wi-Fi, Bluetooth, a Hotspot, etc. By resetting the network settings on your device, might fix the software-related bugs or conflicts to work network connection properly.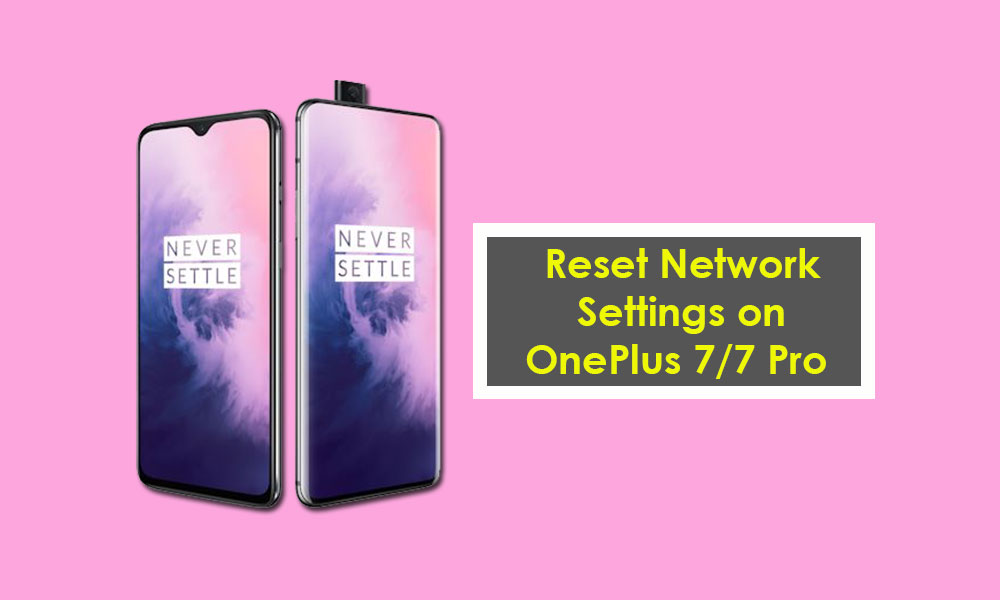 Steps to reset network settings on OnePlus 7/7 Pro
If you're planning to buy or already purchased OnePlus 7 or OnePlus 7 Pro handset, you should check out the possible fixes of Reset Network settings.
This guide is for reset network settings on OnePlus 7/7 Pro devices. In order to solve that problem, check out the guide mentioned below. You can also check out Common OnePlus 7 Problems and Fixes – Wi-Fi, Bluetooth, Camera, SIM, and More.
Follow the possible steps to try and check out the issue:
Go to the device Settings menu.
Tap on Backup & reset.
Tap on Network settings reset.
Now, select the Reset settings option.
It will all reset network settings on OnePlus 7/7 Pro including Wi-Fi, cellular data and Bluetooth connection.
Tap on Reset all network settings? confirmation to initiate.
Wait for the process and you're done.
Perform Factory Data Reset
Go to the Settings menu in your device.
Tap on Backup & Reset option.
Now, tap on Factory Data Reset.
Tap on Reset phone.
Finally, tap on Erase everything > wait for the system to complete the reset process and your device will reboot.
It will erase all your device internal data, messages, Google account, installed third-party apps, games, etc.